Benefits at a glance
Stable measurements and easy maintenance for your pH/ORP measuring points with Liquiline Control. The product bundle consisting of the Liquiline CM448 transmitter, the Cleanfit Control CYC25 cleaning unit and the CYR10B cleaning injector ensures fully automatic cleaning of your sensors. All products are pre-assembled and wired on a mounting plate. The Chemoclean Plus software provides parameterizable flushing and/or cleaning programs. The system is compatible with Cleanfit retractable assemblie

High process reliability and low maintenance

Minimal downtime with Liquiline Control CDC30. With the system, you no longer have to worry about almost anything during measurements, as the system takes care of sensor cleaning completely. You save time and have less work, especially if the sensors in your application need to be cleaned frequently.

Pre-configured and preassembled basic solution

Simple and fast commissioning: Everything ready to go, all you have to do is quickly mount the panel on the wall and/or in the control cabinet. And since everything is already wired, the connection to your measuring point ist also done in no time at all.

Adjustable, pre-configured cleaning programs

Parameterizable rinsing and/or cleaning programs, either time-controlled or cycle-controlled – just as it suits your application.

Rinsing and cleaning cycles without additional dosing pump

The Chemoclean CYR10B cleaning injector for dosing cleaning concentrate is a spray cleaning system for pH/ORP sensors as well as for oxygen and turbidity sensors.
Bundle in Detail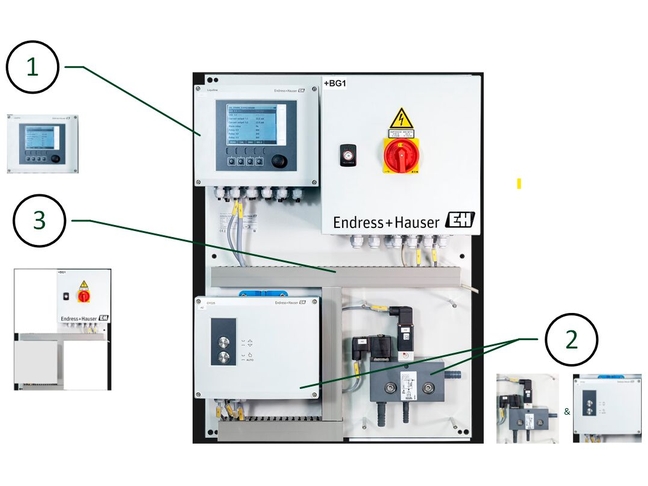 Components and Pre-Configurations
To ensure the compatibility of the components with one another it has given certain fixations. Open parameters give you the freedom for individual configuration.

Components can be configured within the bundle in the cart

1

8-channel transmitter
Liquiline CM448

Webserver+optional outputs

Digital Sensor; Output; Input:

2x; 2x 0/4..20mA, 4x relay,4x digital; 4x digital

Cable Entry Housing, Sensor:

Female Jack Fieldbus Communication:

Cable Entry Set+female Jack:

2

Cleaning unit
Cleanfit Control CYC25


24V DC, provided by customer

Output interface terminal, 2x sensor transformation 8V-24V DC signal analysis position switch

3

Technical Special Product Analysis CSOL

Bundle 17 Liquiline Control CDC30; 115..230 VAC
Simple products

Easy to select, install and operate
Technical excellence
Simplicity
Standard products

Reliable, robust and low-maintenance
Technical excellence
Simplicity
High-end products

Highly functional and convenient
Technical excellence
Simplicity
Specialized products

Designed for demanding applications
Technical excellence
Simplicity
FLEX selections
Technical excellence
Simplicity

Fundamental selection

Meet your basic measurement needs

Technical excellence

Simplicity

Lean selection

Handle your core processes easily

Technical excellence

Simplicity

Extended selection

Optimize your processes with innovative technologies

Technical excellence

Simplicity

Xpert selection

Master your most challenging applications

Technical excellence

Simplicity