Energy Measurement Proving Services
Veillez à ce que vos mesures énergétiques soient correctes et précises !
Ces dernières années, l'économie d'énergie est devenue un paramètre incontournable. D'autres thématiques phares telles que les facteurs financiers, économiques et sociaux vont continuer de renforcer cette tendance dans les prochaines années. Il en va de même pour l'industrie de process qui fait appel à de de nombreux flux d'énergie afin d'assurer une production optimale.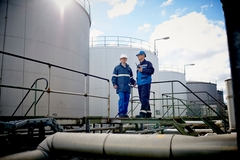 L'utilisation efficace de l'énergie permet à une entreprise ou à une organisation d'économiser de l'argent. Par ailleurs, l'utilisation rationnelle des sources d'énergie disponibles entraîne une diminution de l'empreinte écologique. La cartographie des flux d'énergie dans une entreprise est essentielle à une gestion efficiente de l'énergie. Endress+Hauser est spécialisé dans les mesures énergétiques et veille à ce que vos systèmes de mesure fonctionnent correctement et avec précision. Un écart de quelques pourcents peut vous coûter cher, certainement lorsque l'énergie est achetée ou revendue.
ISO 50001:2011
La norme ISO 50001:2011 aide les entreprises à mettre en place un système de gestion d'énergie adapté à leurs activités. Un cadre de travail clair permet l'introduction de mesures organisationnelles, techniques et comportementales qui génèrent une diminution de la consommation d'énergie. Il en résulte des coûts énergétiques plus bas et la politique énergétique en vigueur aide à limiter les émissions de CO2.
Une exigence de l'ISO 50001:2011 veille également à garantir des données de mesure d'énergie précises et reproductibles, ce qui n'est possible que par une inspection périodique et une calibration des systèmes de mesure mis en œuvre.
Pour quelles sociétés est-ce intéressant ?
L'Energy Measurement Proving Service d'Endress+Hauser s'adresse aux entreprises qui :
Souhaitent améliorer leur efficacité énergétique.

Veulent démontrer qu'elles entretiennent un système de gestion d'énergie actif.

Entreprennent, entre autres, un audit énergétique dans le cadre de l'ISO 50001:2011.

Veulent montrer aux partenaires externes que leurs mesures énergétiques sont précises.

Veulent vérifier la précision des quantités de leurs fournisseurs et/ou la précision de leurs quantités d'énergie produite.

Veulent bénéficier de subsides à l'énergie.
Energy Measurement Proving Service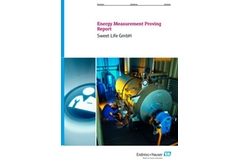 Endress+Hauser a développé une méthode de calcul conforme à la norme internationale IWAPS97 ainsi qu'une procédure pour contrôler et calibrer le système de mesure complet. Cela se traduit par la délivrance d'un 'Energy Measurement Proving Report' qui établit la précision réelle du système de mesure d'énergie dans son ensemble. Ce Measurement Proving Report peut être utilisé en interne par l'entreprise, pour satisfaire aux exigences de l'ISO50001:2011 §4.6.1, ou en externe pour démontrer que le système de mesure est fiable et précis.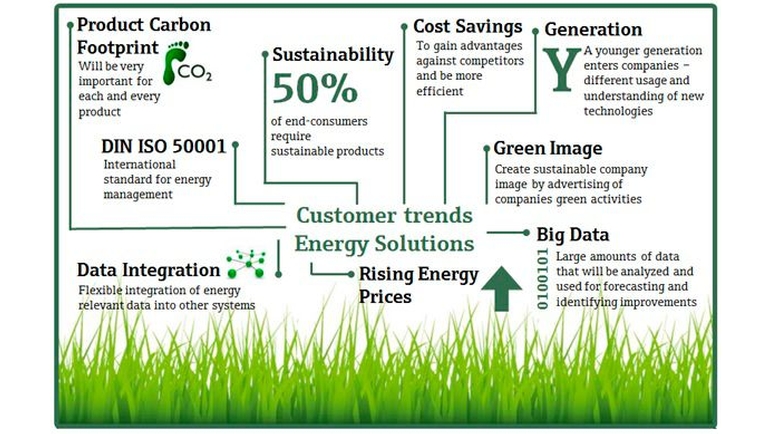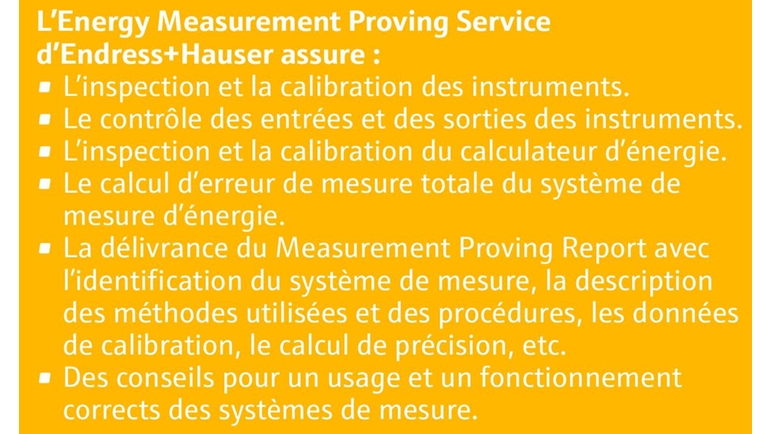 Contact
David Pulinckx, Services Consultant

Rue Carlistraat 17-19
1140 Brussel/Bruxelles, Belgium
Related offering
Asset information management

Improve plant availability and maintenance efficiency with Endress+Hauser asset information management services.
Simple products

Easy to select, install and operate
Technical excellence
Simplicity
Standard products

Reliable, robust and low-maintenance
Technical excellence
Simplicity
High-end products

Highly functional and convenient
Technical excellence
Simplicity
Specialized products

Designed for demanding applications
Technical excellence
Simplicity
FLEX selections
Technical excellence
Simplicity

Fundamental selection

Meet your basic measurement needs

Technical excellence

Simplicity

Lean selection

Handle your core processes easily

Technical excellence

Simplicity

Extended selection

Optimize your processes with innovative technologies

Technical excellence

Simplicity

Xpert selection

Master your most challenging applications

Technical excellence

Simplicity
Success stories
Reliable calibration using hydrocarbons

On the new factory calibration rig from Endress+Hauser, Wintershall Dea can now calibrate Promass F with hydrocarbons as legally mandated – a significantly cheaper option than on-site calibration.

Well-planned maintenance

Access to relevant device information helps the wastewater treatment plant in Thun optimize its maintenance processes.