Fini l'encrassement des capteurs de pH !
Avec le Cleanfit Control CYC25, le capteur de pH reste propre
Les capteurs de pH mis en œuvre dans les applications industrielles sont généralement étalonnés une fois par semaine ou une fois par mois. Préalablement à cela, les capteurs sont régulièrement nettoyés car la mesure de pH est soumise à l'encrassement de l'ampoule en verre (ou élément IsFET) du capteur. L'explication pratique de la raison pour laquelle le capteur de pH n'est pas nettoyé régulièrement est souvent un manque de connaissances et de main d'œuvre.
Benefits
La mesure de pH reste exacte en tout temps.

Le Cleanfit Control CYC25 assure ainsi un déroulement correct du process.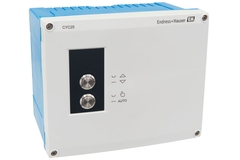 Le laps de temps durant lequel l'encrassement se produit et génère donc un écart de mesure du pH est presque toujours plus court que l'intervalle d'étalonnage établi. D'après une expérience pratique de plusieurs années, il apparaît que pour obtenir une bonne mesure de pH, l'instrument doit être régulièrement nettoyé pour éviter que l'encrassement ne génère un écart de mesure. Mieux : lorsque la saleté a disparu, le capteur de pH réalise des mesures correctes. L'étalonnage à l'aide d'un tampon de pH devient superflu.
L'étalonnage manuel à l'usine est révolu
Vous voulez en finir avec les écarts de mesure de pH mais vous n'avez pas de temps à consacrer au nettoyage de l'instrument ? Pensez au système Cleanfit Control CYC25 ! Via une armature pneumatique 'rétractable' et un pilotage automatique, le capteur de pH est régulièrement extrait du process et entièrement nettoyé, éventuellement avec un détergent chimique. Comme l'intervalle de nettoyage est librement programmable, le capteur reste propre dans presque toutes les applications. Autre avantage : les opérateurs ne se chargent plus du nettoyage. Dans de nombreux cas, l'intervalle d'étalonnage peut être allongé.
Nettoyage du capteur de pH avec un détergent chimique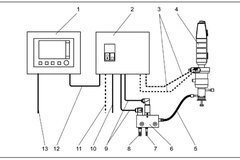 Une première eau de rinçage (n°8) enlève la saleté grossière accumulée sur le capteur de pH.
Lorsque la 2ème électrovanne s'ouvre, un vide est créé par l'écoulement de l'eau de rinçage, du côté du détergent (par ex. 10% d'acide chlorhydrique).
Le détergent est alors aspiré et un flux dilué eau+acide chlorhydrique est généré vers la chambre de rinçage où se trouve le capteur de pH.
Les deux électrovannes se referment, le capteur reste un certain temps dans la chambre de nettoyage (remplie d'acide chlorhydrique dilué) de l'armature rétractable.
Une électrovanne s'ouvre et l'acide chlorhydrique dilué est évacué.
Le capteur de pH est propre et replacé dans le process de manière pneumatique.
Ce procédé peut être utilisé aussi souvent que nécessaire, les opérateurs ne perdent plus de temps au nettoyage.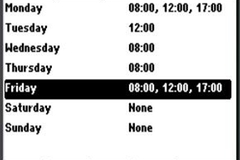 Related offering

Simple products

Easy to select, install and operate
Technical excellence
Simplicity
Standard products

Reliable, robust and low-maintenance
Technical excellence
Simplicity
High-end products

Highly functional and convenient
Technical excellence
Simplicity
Specialized products

Designed for demanding applications
Technical excellence
Simplicity
FLEX selections
Technical excellence
Simplicity

Fundamental selection

Meet your basic measurement needs

Technical excellence

Simplicity

Lean selection

Handle your core processes easily

Technical excellence

Simplicity

Extended selection

Optimize your processes with innovative technologies

Technical excellence

Simplicity

Xpert selection

Master your most challenging applications

Technical excellence

Simplicity
Success stories
Boiler water monitoring made easy

With the SWAS Compact Panel, the continuous monitoring of quality parameters such as pH and conductivity in cheese production can be automated and simplified.

The all-round carefree panel

Water Analysis Panels make continuous monitoring of drinking water easy at the water treatment plant in Frasnacht, Switzerland.

Advanced bioprocess control

From time consuming sample analysis to real-time monitoring of critical parameters in fermentation processes thanks to complete solutions from hardware to development and analytical services.