Endress+Hauser launches RFID TAG
RFID TAGs make identification of measuring points easier
Every plant life cycle phase and all of the assets installed in a plant require data. Easy and safe identification of measuring points - sometimes hundreds of them - is essential to avoid prolonged plant down times and failures in data acquisition. Illegible or unfavorably positioned name plates often impede or make name plate identification almost impossible. Correct identification in extremely soiled environments often takes a great deal of time. Here the RFID TAG is a convenient solution.
Benefits
Easy identification - Devices can be identified without line of sight and even when a nameplate is no longer readable

Easy access - All device documentation can be locally accessed via the Operations app or Field Xpert SFX 370

Open standard - The NFC (Near Field Communication) standard is well known and works with most mobile devices
RFID TAG is the key to all relevant information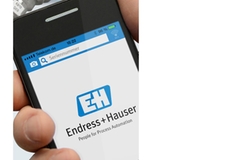 The RFID TAG (Radio Frequency IDentification TAG) uses the established and robust NFC standard. It is a passive device, license free and available worldwide. The RFID TAG facilitates convenient and safe measuring point identification. Visual contact of the name plate is not required if the mobile device is equipped with NFC technology. The integration of this open standard ensures that TAGs will also be serviceable in future and that a large number of devices can be used.
Get technical documentation paperless on site
Interacting with the Endress+Hauser Operations app and the Field Xpert SFX370 , the system makes technical documentation concerning spare parts available for any measuring point on site. This facilitates work across the entire product life cycle. Costs may be particularly reduced in installation, commissioning and maintenance. The Endress+Hauser "Installed Base Audit" service permits not only Endress+Hauser devices to be equipped with TAGs but also the measuring points of other manufacturers.