La famille des analyseurs colorimétriques Liquiline System CA80 s'agrandit !
Pour Endress+Hauser, le monde de l'eau et des eaux usées est un secteur stratégique depuis un certain temps.
Cela se reflète dans la fabrication d'un appareillage de mesure novateur, spécifiquement conçu pour le secteur de l'eau. Les analyseurs colorimétriques Liquiline System CA80 surveillent les points critiques et garantissent une analyse en ligne précise dans les applications de l'eau et des eaux usées, permettant par exemple de répondre aux prescriptions de rejet légales sans problème. Dans le secteur de l'eau et des eaux usées, les mesures de l'ammonium et du phosphate (par ex.) présentent une importance croissante suite aux exigences de rejet plus strictes pour les eaux usées.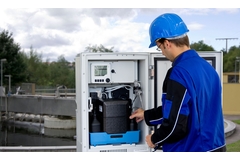 A cet égard, Endress+Hauser a développé l'analyseur Liquiline System CA80. Cette série d'appareils facilite la mesure en ligne de l'ammonium, de l'orthophosphate et du phosphate total, du nitrite, du fer, du chrome, des COD, de la dureté et du silicium.
Avec le contrôleur Liquiline, véritable coeur de l'analyseur, l'installation et la maintenance sont relativement simples. L'analyseur enregistre le nombre d'heures de fonctionnement de l'appareil et émet un signal lorsque des pièces doivent être remplacées.
Installation & entretien aisés et coûts de fonctionnement bas
Les coûts de fonctionnement sont limités car suite à la précision élevée de l'analyseur, il faut travailler avec peu d'échantillons et de réactifs. L'analyseur possède un système de refroidissement intelligent qui allonge la durée de vie des réactifs de plusieurs mois. Les fonctions de nettoyage automatique/étalonnage veillent à ce que l'analyseur & la préparation des échantillons fonctionnent fiablement durant une longue période, sans intervention manuelle. Grâce aux possibilités de diagnostic avancées, la sécurité du process est garantie & le client profite d'un support lors de la fourniture de documentation du process aux pouvoirs publics.
Un filtre céramique génère un filtrat limpide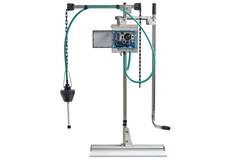 La qualité de la valeur de mesure d'un analyseur est fortement influencée par la qualité du filtrat. C'est pour cette raison qu'Endress+Hauser a introduit l'année dernière un tout nouveau filtre céramique : le Liquiline System CAT820. Ce filtre se caractérise par un concept robuste inégalé qui est facile à nettoyer et qui fournit un filtrat limpide. Une mesure simple et précise est ainsi toujours garantie.
Un concept identique
Cette série Liquiline System CA80 a la particularité que chaque analyseur est quasiment identique. Les deux seules différences se situent au niveau du logiciel et des réactifs utiles. Pour l'utilisateur, cela se traduit pas une simplification du bagage des connaissances et de la gestion des pièces à avoir en stock. Grâce à la commande par menu, l'utilisateur est guidé pas à pas lors de l'entretien. S'il le souhaite, il peut réaliser lui-même cet entretien. Si vous le souhaitez, Endress+Hauser peut se charger de l'entretien de vos analyseurs de sorte à vous assurer un fonctionnement optimal.
Une véritable station d'analyse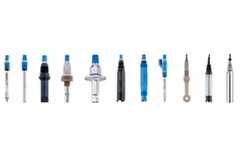 Outre l'analyse colorimétrique spécifique, les analyseurs peuvent accueillir jusqu'à quatre capteurs Memosens. Cette véritable station d'analyse est ainsi capable de mesurer l'orthophosphate, le nitrate, l'oxygène dissous, la matière sèche, le pH ou le rédox.
Related offering

Simple products

Easy to select, install and operate
Technical excellence
Simplicity
Standard products

Reliable, robust and low-maintenance
Technical excellence
Simplicity
High-end products

Highly functional and convenient
Technical excellence
Simplicity
Specialized products

Designed for demanding applications
Technical excellence
Simplicity
FLEX selections
Technical excellence
Simplicity

Fundamental selection

Meet your basic measurement needs

Technical excellence

Simplicity

Lean selection

Handle your core processes easily

Technical excellence

Simplicity

Extended selection

Optimize your processes with innovative technologies

Technical excellence

Simplicity

Xpert selection

Master your most challenging applications

Technical excellence

Simplicity
Success stories
Boiler water monitoring made easy

With the SWAS Compact Panel, the continuous monitoring of quality parameters such as pH and conductivity in cheese production can be automated and simplified.

The all-round carefree panel

Water Analysis Panels make continuous monitoring of drinking water easy at the water treatment plant in Frasnacht, Switzerland.

Advanced bioprocess control

From time consuming sample analysis to real-time monitoring of critical parameters in fermentation processes thanks to complete solutions from hardware to development and analytical services.