Liquiphant FTL51B : Le Pionnier de la détection de niveau
LE détecteur de niveau à lames vibrantes, l'original, le Liquiphant passe au digital
Six millions de Liquiphant ont été installés dans le monde. Développé comme nouveau principe de mesure dans les années 80 pour satisfaire les besoins des clients, il est toujours considéré comme l'un des détecteurs de niveau les plus fiables dans les installations industrielles. Cette toute dernière génération d'instruments aide les entreprises à entrer dans l'industrie 4.0.
Benefits
Mise en service simple et sans réglage pour différents fluides

Principe de mesure universel pour l'utilisation dans tous les types de liquides

Sécurité maximale : diagnostic permanent de la corrosion ou du colmatage grâce à la technologie Heartbeat

Vérification depuis la salle de contrôle ou directement sur l'appareil sans interruption de process grâce à la technologie Heartbeat

Safety by design : développée selon CEI 61508 pour une utilisation directe dans les applications SIL2 et SIL3 en redondance homogène

Vérification de l'état et accès aux documentations via un appareil mobile Bluetooth®

Maintenance avec minimum d'effort : le test de fonctionnement périodique selon SIL et WHG se déroule sans interruption de process, un assistant simple et intuitif guide le test de fonctionnement via l'application SmartBlue.
A la fin des années 70, Georg H. Endress a demandé à sa R&D de créer un capteur répondant aux contraintes suivantes : étanche, métallique et fonctionnant sans défaillance. C'est ainsi qu'est né un nouveau principe de mesure : la vibronique, le concept de lames vibrantes. Rapidement, le Liquiphant est devenu un best-seller : détecteur extrêmement fiable et sûr. Même les principes de mesure les plus simples doivent faire face à l'évolution digitale. Ainsi, le capteur, éprouvé des millions de fois, est prêt pour l'industrie du futur.
Potentiel digital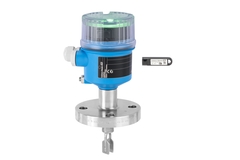 La transformation digitale des entreprises passe par une évolution des protocoles de communication numérique et les équipements de terrain qui transmettent des informations de process. Dans la feuille de route technologique « Process sensors 4.0 », NAMUR exige l'ouverture d'une seconde voie de communication mobile avec le capteur. Cette voie doit fournir des informations sur les capteurs pour la maintenance préventive. NAMUR exige également que les informations sur les appareils, telles que les manuels ou les certificats, soient disponibles à tout moment sur site sous une forme mobile.
Configuration Bluetooth®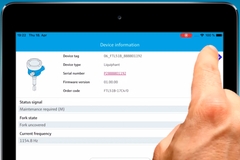 Avec la toute dernière génération de Liquiphant, la communication avec le capteur se fait via la technologie Bluetooth® et l'application Endress+Hauser SmartBlue. Toutes les données et paramètres qui étaient très compliqués à obtenir dans le passé sont désormais immédiatement accessibles via l'application. Les réglages pour différents fluides ou la mise en service fastidieuse de l'électronique sont complètement simplifiés. En plus de la vérification, du diagnostic de l'appareil, la technologie Heartbeat permet une documentation continue.
Maintenance simplifiée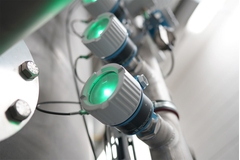 Le Liquiphant accélère considérablement la maintenance des installations, en particulier pour les endroits difficiles d'accès, où des échafaudages étaient nécessaires. Il affiche notamment l'état de l'appareil via une LED ou via la fonction de diagnostic Heartbeat Technology dans l'application SmartBlue. Le nouvel assistant SIL guide l'utilisateur à travers le test itératif (proof test) sans arrêter le process, sans démonter le capteur. Les résultats sont documentés et utilisables pendant les audits.
Applications
Le Liquiphant est essentiel dans l'automatisation des process en assurant la sécurité antidébordement et la protection contre la marche à vide. Il est utilisé dans les réservoirs, cuves de stockage, conteneurs et conduites pour détecter le niveau de toutes sortes de liquides. Il fonctionne là où les autres s'arrêtent en raison de la conductivité, colmatage, turbulences, bulles d'air… Dans les applications chimiques, du pétrole et du gaz, il remplace les flotteurs et les capteurs optiques trop sensibles. Quasiment sans maintenance, il a une longue durée de vie. Développé selon la norme CEI 61508 - sécurité par conception, il est SIL2 et SIL3.
Related offering
Liquiphant FTL41

The vibronic level switch in basic applications reduces complexities in your plant
Simple products

Easy to select, install and operate
Technical excellence
Simplicity
Standard products

Reliable, robust and low-maintenance
Technical excellence
Simplicity
High-end products

Highly functional and convenient
Technical excellence
Simplicity
Specialized products

Designed for demanding applications
Technical excellence
Simplicity
FLEX selections
Technical excellence
Simplicity

Fundamental selection

Meet your basic measurement needs

Technical excellence

Simplicity

Lean selection

Handle your core processes easily

Technical excellence

Simplicity

Extended selection

Optimize your processes with innovative technologies

Technical excellence

Simplicity

Xpert selection

Master your most challenging applications

Technical excellence

Simplicity
Success stories

Proud to be a Techie !

Mesure de niveau dans les applications de l'eau et des eaux usées : quelle est la meilleure technologie ? Ultrasons ou radar ?