A retrofit that saves you money
Wireless temperature monitoring for detecting damage to bearings
Every company has an interest in making sure that its processes are running at optimum levels. Incidents which cause a system to shut down may not only lead to costly repairs but may result in considerable losses. Ilsenburger Grobblech GmbH optimized its plant availability through recording temperatures at the roll neck bearings and a straightforward implementation using WirelessHART.
Benefits
Detection of any damage to the friction bearings

Predictive maintenance intervention

Protection of the extreme costly friction bearings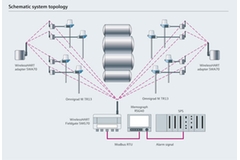 Customer challenge
The four-high rolling stand at Ilsenburger Grobblech comprises of two work rolls which reshape the steel slabs directly, and two back-up rolls, which transfer roll pressure to the work rolls. The four-high stand has a maximum rolling force of 80,000 kilonewton. This situation is very demanding, even for roll neck bearings. The roll neck bearings are located on the operating and drive side of the upper and lower back-up rolls.
These are known as Morgoil® friction bearings. A lubrication circuit ensures that the Morgoil bearings get the lubrication they need. The temperature of this circuit should be monitored at the inlet and outlet. An increase in the temperature differential indicates a higher degree of friction inside the bearings which may result in damage. However, the ambient conditions which prevail at the rolling stand make it difficult to wire up the necessary temperature sensors securely
The solution
For temperature measurement, TR15 resistance thermometers with a weld-in thermowell and replaceable insert are used. These have already proven their worth a thousand times over in challenging industrial applications. Each temperature sensor is fitted with an adapter which enables wireless data transmission based on the WirelessHART standard.
Due to space limitations and possibly restricted radio communication, installing the adapter directly on the temperature sensor is not advised. The adapter is therefore installed remotely and connected to the temperature sensor using a short cable. The adapter not only facilitates data transmission, it also powers the connected device via the battery integrated in the adapter.
Simple products

Easy to select, install and operate
Technical excellence
Simplicity
Standard products

Reliable, robust and low-maintenance
Technical excellence
Simplicity
High-end products

Highly functional and convenient
Technical excellence
Simplicity
Specialized products

Designed for demanding applications
Technical excellence
Simplicity
FLEX selections
Technical excellence
Simplicity

Fundamental selection

Meet your basic measurement needs

Technical excellence

Simplicity

Lean selection

Handle your core processes easily

Technical excellence

Simplicity

Extended selection

Optimize your processes with innovative technologies

Technical excellence

Simplicity

Xpert selection

Master your most challenging applications

Technical excellence

Simplicity
Success stories
Optimize clinker production performance

Total energy cost can represent 65-75% of variable costs in the process. To save energy, we help improve clinker production with integrated online monitoring and optimized fuel management.