Débitmètre massique thermique t-mass T150
Le débitmètre pour une surveillance fiable et aisée de liquides
Dans de nombreuses installations industrielles, la mesure, le contrôle et la surveillance du débit de liquides au moyen de mesures simples mais fiables sont indispensables. Le nouveau Proline t-mass T 150 fonctionne suivant le principe de dispersion thermique et est à même de mesurer toutes les substances aqueuses indépendamment de leur conductivité électrique.
Sa conception compacte permet d'insérer le débitmètre t-mass T150 dans n'importe quelle tuyauterie allant du DN 40 (1 ½ ") au DN 1000 (40"). Outre une mesure de débit simple, le t-mass peut également être usité dans de nombreuses autres applications.
Une mesure économique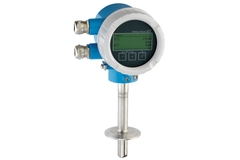 Le t-mass T150 n'est constitué d'aucune pièce mobile, ce qui rend sa maintenance superflue. Cet appareil s'installe facilement et peut être livré préconfiguré. Cela permet ainsi d'adapter facilement l'instrument à des conditions de fonctionnement spécifiques. Les pertes de charge sont bien négligeables et une grande rangeabilité de 100:1 permet des mesures de faibles débits.
Robuste et fiable
Sa conception robuste assure des résultats de mesure fiables et une stabilité à long-terme, même dans des conditions de process extrêmes. La compensation de température intégrée offre également des mesure fiables en matière de reproductibilité et de précision.
Mise en service rapide
L'interface utilisateur intelligent permet une configuration rapide et simple de fonctions essentielles telles que la gamme de mesure, le reset du totalisateur ou la désactivation de la mesure lors du nettoyage CIP ou SIP. Toutes ces fonctionnalités garantissent une mise en service rapide et fiable de l'appareil de mesure.
Applications hygiéniques
Outre son utilisation dans des applications standards, le t-mass T150 est aussi disponible en exécution hygiénique (avec certificats de conformité 3A et EHEDG). Les processus de nettoyage SIP et CIP jusqu'à 130 °C, peuvent être effectués durant 1 heure sans le moindre problème, ouvrant ainsi des possibilités dans les domaines des sciences de la vie et de l'agro-alimentaire.
22.10.2019 - 25.10.2019

With the help of actual hands-on tasks you will learn how PROFIBUS fieldbus technology works in detail.

22.06.2020 - 26.06.2020

With the help of actual hands-on tasks you will learn how PROFIBUS fieldbus technology works in detail. At the end of the course you will be able to design and commission a PROFIBUS fieldbus network.