MID/ OIML custody transfer approval for LNG
Coriolis meter Promass 84F features recognized metrological approvals
We are proud to announce that our already proven Promass F Coriolis flow meter is now approved for custody transfer of cryogenic fluids such as LNG.
Voordelen
Designed for custody transfer - featuring worldwide recognized metrological approvals

Robust flow measurement at cryogenic temperatures

Space-saving installation - compact devices requiring no inlet/ outlet runs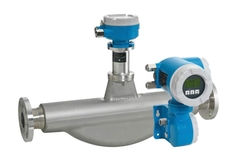 We have obtained custody approvals according to Annex MI-005 (liquids other than water).
Accuracy: Class 1.5 according to OIML R-117 (MI-005) and Class 2.5 according to OIML R81. The approval cover line sizes from 3/8" to 10" (DN8 to DN250)
Please contact your local representative for further information.
Gerelateerde producten
Analysepanelen

Verbeter uw proceskwaliteit en -veiligheid met onze controlepanelen. Deze bieden u een 'plug and play'-solution die de meest geschikte instrumenten combineert met deskundige service zodat uw meetopdrachten eenvoudiger worden.

Meetsystemen voor bunkerbrandstof

Dagelijks worden enorme hoeveelheden bunkerolie in de brandstoftanks van schepen gepompt. Zelfs de kleinste onnauwkeurigheid in de meting tijdens dit laadproces, kan tekorten in de 'kassa' opleveren.
Eenvoudige producten

Gemakkelijk te selecteren, installeren en gebruiken
Technische topkwaliteit
Eenvoud
Standaardproducten

Betrouwbaar, robuust en onderhoudsarm
Technische topkwaliteit
Eenvoud
High-end producten

Functioneel en uiterst doelmatig
Technische topkwaliteit
Eenvoud
Gespecialiseerde producten

Ontworpen voor veeleisende applicaties
Technische topkwaliteit
Eenvoud
FLEX selectie
Technische topkwaliteit
Eenvoud

Fundamental selectie

Voldoe aan uw basismeetvoorwaarden

Technische topkwaliteit

Eenvoud

Lean selectie

Beheers eenvoudig uw belangrijkste processen

Technische topkwaliteit

Eenvoud

Extended selectie

Optimaliseer uw processen met innovatieve technologieën

Technische topkwaliteit

Eenvoud

Xpert selectie

Beheers uw meest uitdagende applicaties

Technische topkwaliteit

Eenvoud
Succesverhalen
Reliable calibration using hydrocarbons

On the new factory calibration rig from Endress+Hauser, Wintershall Dea can now calibrate Promass F with hydrocarbons as legally mandated – a significantly cheaper option than on-site calibration.
The ExiCalculator app

When the correct length is key for safety - The ExiCalculator app calculates for you the exact cable length you need to make the 2-wire concept safe in your hazardous area. It is simple and for free!