A stainless performance Liquiphant in the Oil & Gas industry
A more robust device resistant to high temperatures and high pressures
Proven in more than 3 million applications worldwide, our Liquiphant is the market-leading liquid level switch – and for good reason! Now its application possibilities have opened up further with the introduction of the stainless steel housing specifically designed for the demands of the Oil & Gas industry.
Heavy-duty steel housing for a more robust device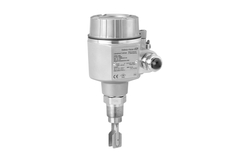 This heavy-duty stainless steel housing addresses the need for a more robust device, offering ATEX Ex d certification on its dual compartment housing. Liquiphant is the ideal replacement for maintenance-intensive float switches. Simple and cost-effective, it offers real benefits in terms of its self-monitoring function and SIL2 and SIL3 ratings. Also, Liquiphant's process connections are now available in a C22 highly resistant nickel-chromium alloy with a 3.1 certificate for all wetted parts.
Resistant to extreme conditions in Oil & Gas
Able to withstand high temperatures (up to 280°C/ 536°F) and high pressures (up to 100 bar), our level switch has truly been made-to-measure for oil & gas processes! And, with its patented piezo drive, Liquiphant offers improved immunity to both foam and plant vibration. Able to be mounted in any position, its small process connections make it ideal for applications where space is at a premium e.g. on offshore rigs and downstream installations.
Maintenance-free
Better still, Liquiphant is maintenance-free and operation is unaffected by flow, turbulence, air bubbles or build-up, making it the perfect choice for high level and low level alarms. Its integral function check means that Liquiphant can be remotely tested without being removed from the process, improving safety procedures and saving valuable time!
Gerelateerde producten
World-class LNG tank gauging for the Oil and Gas industry

Tank gauging and operational safety for LNG inventory management
Eenvoudige producten

Gemakkelijk te selecteren, installeren en gebruiken
Technische topkwaliteit
Eenvoud
Standaardproducten

Betrouwbaar, robuust en onderhoudsarm
Technische topkwaliteit
Eenvoud
High-end producten

Functioneel en uiterst doelmatig
Technische topkwaliteit
Eenvoud
Gespecialiseerde producten

Ontworpen voor veeleisende applicaties
Technische topkwaliteit
Eenvoud
FLEX selectie
Technische topkwaliteit
Eenvoud

Fundamental selectie

Voldoe aan uw basismeetvoorwaarden

Technische topkwaliteit

Eenvoud

Lean selectie

Beheers eenvoudig uw belangrijkste processen

Technische topkwaliteit

Eenvoud

Extended selectie

Optimaliseer uw processen met innovatieve technologieën

Technische topkwaliteit

Eenvoud

Xpert selectie

Beheers uw meest uitdagende applicaties

Technische topkwaliteit

Eenvoud
Succesverhalen
Reliable calibration using hydrocarbons

On the new factory calibration rig from Endress+Hauser, Wintershall Dea can now calibrate Promass F with hydrocarbons as legally mandated – a significantly cheaper option than on-site calibration.
The ExiCalculator app

When the correct length is key for safety - The ExiCalculator app calculates for you the exact cable length you need to make the 2-wire concept safe in your hazardous area. It is simple and for free!