Water quality monitoring for longer lifetime of power plants
Minimize corrosion and scaling with Endress+Hauser's SWAS (Steam / Water Analysis System) solution
Water quality is a crucial factor for avoiding corrosion and scaling of turbines, boilers and pipes in power plants. Particles in the boiler feed water and steam shorten the lifetime of the turbines, leading to costly repairs or even replacement. Additionally, bad water quality leads to inefficient processes and increases maintenance efforts.
Modular system for all water and steam cycles of your plant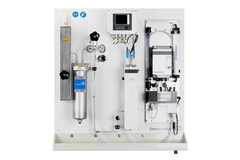 Our SWAS panels monitor the water quality in your power plant and keep the integrity of the water steam circuit safe at all times. Critical parameters such as pH, conductivity or sodium are reliably measured to prevent the accumulation of precipitation in heat exchangers, boiler pipes and superheaters. As a result, you get increased process control, minimized downtime and longer operational life for your plant. Moreover, our SWAS solution is modular, scalable and customization to all your needs.
Real-time monitoring and on-line analysis
The real-time monitoring of your processes, as well as the on-line analysis of steam and water at different points in the power plant's cycles, allow you to proactively respond to system stresses. Erosive and corrosive elements are detected reliably and imbalances causing mechanical damages are avoided. Additionally, the tamper-proof documentation of the measured values provided by our instruments, supports you when it comes to warranty issues with your boiler and turbine suppliers.
What is unique about the Endress+Hauser SWAS solution?
Application specific, customized solution

High quality instrumentation for increased plant safety and efficiency

Suitable for use with Memosens digital technology for easy calibration, reliable measurement and user-friendly maintenance

One transmitter for all parameters possible with Liquiline multichannel controllers

Modular, scalable and easy to retrofit

Reliable and safe operation according to various industry standards
What a customer said about it
"Endress+Hauser already offers the infrastructure for changing demands within modern power plants with its modular system (multivariable multichannel transmitter with Memosens and modular panels). Let it be base load, mid or peak load adaptation, or upgrading for additional parameters, modular means flexible and it implies Endress+Hauser." - Mr. Sener Guenes, Hitachi Power Europe GmbH, Lead Engineer Chemistry
Gerelateerde producten

Eenvoudige producten

Gemakkelijk te selecteren, installeren en gebruiken
Technische topkwaliteit
Eenvoud
Standaardproducten

Betrouwbaar, robuust en onderhoudsarm
Technische topkwaliteit
Eenvoud
High-end producten

Functioneel en uiterst doelmatig
Technische topkwaliteit
Eenvoud
Gespecialiseerde producten

Ontworpen voor veeleisende applicaties
Technische topkwaliteit
Eenvoud
FLEX selectie
Technische topkwaliteit
Eenvoud

Fundamental selectie

Voldoe aan uw basismeetvoorwaarden

Technische topkwaliteit

Eenvoud

Lean selectie

Beheers eenvoudig uw belangrijkste processen

Technische topkwaliteit

Eenvoud

Extended selectie

Optimaliseer uw processen met innovatieve technologieën

Technische topkwaliteit

Eenvoud

Xpert selectie

Beheers uw meest uitdagende applicaties

Technische topkwaliteit

Eenvoud
Succesverhalen
Houd de turbine aan de praat (EN)

Heizkraftwerk Zwickau Süd GmbH (HKWZS) heeft een nieuwe energiecentrale op biomassa gebouwd om de stad Zwickau van energie te voorzien. De fabriek is uitgerust met de analytische state-of-the-art SWAS-solution.