CNGmass DCI
Coriolis flowmeter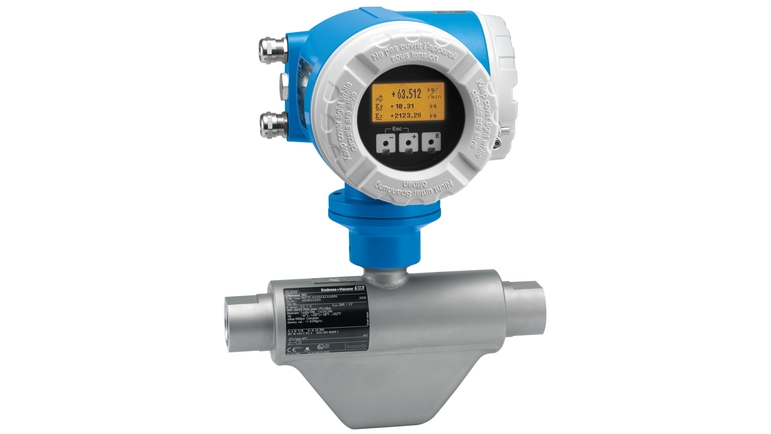 Refueling application flowmeter with seamless system integration
CNGmass DCI is specially designed for refueling with environmentally friendly natural gas (CNG). The natural gas volume can be both measured with precision and displayed directly onsite. The device is operated from the outside via "Touch Control" and can be operated at any time during maintenance. A MODBUS interface is included for optimal data exchange.
Snelle selectie
Kies uit één van de voorgestelde opties
Individuele configuratie
Ga verder met uw keuze uit alle mogelijke opties
Voordelen

Excellent operational safety – reliable under extreme process conditions

Fewer process measuring points – multivariable measurement (flow, density, temperature)

Space-saving installation – no in/outlet run needs

High flexibility in system integration –...
Toepassingsgebied

Measuring principle operates independently of physical fluid properties such as viscosity or density

Accurate measurement of compressed natural gas (CNG) in high-pressure refueling applications.

Device properties

Flow rates up to 150 kg/min (330 lb/min)

Process pressure up to 350 bar (5080...
Documenten / handleidingen / software
Accessoires / Spare parts
PNG 40/8x 85-260 VAC voedingsprint

220V = 85-260VAC

Kit p.s.b.8X 85-260VAC HE

HE = zware omgevingscondities

P40/P8x voeding AC EX

220V = 85-260VAC

Kit p.s.b.8X 220V REx120 HE Ex

HE = harsh environment 220V = 85-260VAC

P40/8x voeding16-62 VDC

24V = 20-55VAC / 16-62VDC

Kit p.s.b. 8X 24V REx000 HE

HE = harsh environment 24V = 20-55VAC / 16-62VDC

P40/8x voeding DC/EX

24V = 20-55VAC / 16-62VDC

Kit P.s.b. 8X 24V REx120 HE Ex

HE = zware omgevingscondities 24V = 20-55VAC / 16-62VDC

Kit 10 fuses 250 VAC T800 MA

Set 10 zekeringen T 2A00/250V

Kit amplifier CNGmass DCI WEA Ex

WEA= Language DE+EN+FR+IT+ES+PT+NL

Kit amplifier CNGmass DCI WEA HE Ex

WEA= Language DE+EN+FR+IT+ES+PT+NL HE = harsh environment

Kit amplifier CNGmass DCI EES Ex

EES= Language SV+FI+NO+RU+PL+CS+EN

Kit amplifier CNGmass DCI EES HE Ex

EES= Language SV+FI+NO+RU+PL+CS+EN HE = harsh environment

Kit amplifier CNGmass DCI SEA Ex

SEA= Language JA+ID+EN

Kit amplifier CNGmass DCI SEA HE Ex

SEA= Language JA+ID+EN HE = harsh environment

Kit amplifier CNGmass DCI CN Ex

CN= Language ZH + EN

Kit amplifier CNGmass DCI CN HE Ex

CN= Language ZH + EN HE = harsh environment

P53/40/8x/93 Iout passief/freq.exi

50/53/40/8X/93/65

Kit I/O Iout passive/Frequency HE Exi

50/53/8X HE = zware omgevingscondities

P5x/40/8x/93 Iout aktief/freq. Exi

50/53/40/8X/93/65

Kit I/O Iout active/Frequency HE Exi

50/53/8X HE = harsh environment

Kit Com 53/83/65 ModbusRS485 2Interf.Ex

53/83/84/65/8CN/8DF

Kit I/O Modb.RS485+Stat.In 2Interf.HE EX

53/83/84/8CN/8DF HE = Harsh environment

P53/8x/93 stroom+3 interface Ex

53/55/8X/93/65

Kit I/O current out 3 Interface HE EX

53/55/8X HE = harsh environment

P53/P8x/P93 stroomuitgang

53/55/8X/93/65

Kit Sub PCB current out HE

53/55/8X HE = harsh environment

P53/8x/93 status ingang

53/55/8X/93/65

Kit Sub PCB Status input HE

53/55/8X HE = harsh environment

Nr

31

Order code

50108692

Nr

31

Order code

50108692

Nr

31

Order code

71039490

Nr

31

Order code

71039490

P53/83/93 display wandbehuizing

53/55/83/84/93/8CN/8DF

Nr

19

Order code

50098637

PNG aansluitprint 8x wandbehuizing

Nr

19

Order code

71039493

Kit connec. board 8X wall enclosur HE

HE = harsh environment

PNG aansluitprint 8x A/I/M/F FS

Sensor: A/I/M/F/H/E/S/P/O/X

Kit connection board 8X FS HE

Sensor: A/I/M/F/H/E/S/P/O/X HE = zware omstandigheden

PNG aansluitprint 8x A/I/M/F FS ex

Sensor: A/I/M/F/H/E/S/P/O/X

Kit connection board 8X FS HE EX

Sensor: A/I/M/F/H/E/S/O/X, HE = zware omstandigheden

P84 S-DAT geprogr., oud serienr. nodig

Serialnumber is forceful required

Nr

10

Order code

50094038

Nr

10

Order code

50094038

Nr

10

Order code

50094038

Nr

10

Order code

71247838

Repair kit cover, remote version

Gebruik: 10/5X/8X/8DF/8CN/92F/65/400/800 acc. service-info SI01351D-1/06 Bestaat uit: Deksel Rep.set voor G14, O-Ring 110.00 x 4.50 HNBR, Grease

Nr

10

Order code

50094038

Nr

15

Order code

50098036

Nr

15

Order code

50098036

Nr

15

Order code

50096840

Nr

15

Order code

50096840

Nr

15

Order code

71029349

Nr

15

Order code

71029349

Kit 2 Screening sheet wall enclo.

PNG afschermblik veldbehuizing

Nr

25

Order code

50098703

PNG Behuizings onderdelen 40 kompakt

Sensor: E/F-HT/X

Nr

24

Order code

50098704

PNG Behuizingsafdichting A/I/M/F FS

Sensor: A/I/M/F/H/E/S/P/C/O/X

Nr

28

Order code

50093554

PNG KABELSET FS L=10 METER

Nr

28

Order code

50093573

PNG Kabelset FS L=20 meter

Nr

28

Order code

50098567

Kabel set Promass separate versie, 10 me

Nr

28

Order code

50098568

Kit cable PROMASS remote version 20m Ex

Kit Screw sealing 84/8DF/8FE/8FF

Commubox FXA193 (RS232) - Service

De Service adapter verbindt de service poort van Proline en TOF apparaten met de seriële interface RS-232C (9 pin.) van een PC of Laptop. Levering bestaat uit: :: Service adpater met RS 232C aansluitkabel (9 pins). :: Externe USB voedingskabel.

Transmitter 80/83/84, mounting set