Proline Prosonic Flow 91W
Ultrasonic flowmeter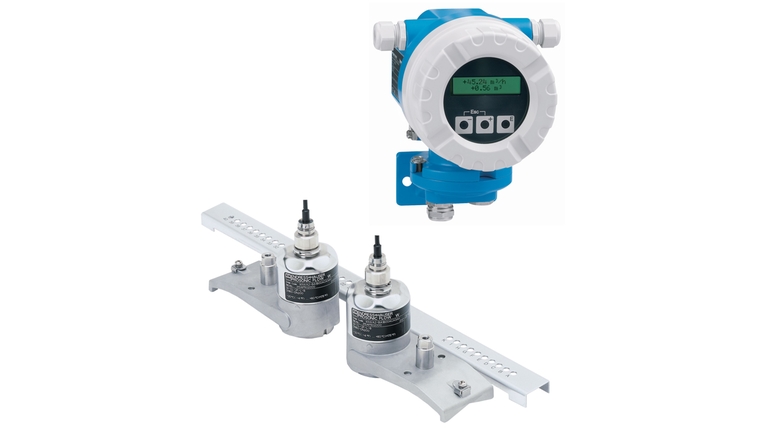 Device with automatic frequency scan for max. measuring performance and cost-effective transmitter
The Prosonic Flow W clamp-on sensor is specially designed for water and wastewater applications. Combined with the cost-effective Prosonic Flow 91 transmitter with push buttons, Prosonic Flow 91W is ideally suited for flow monitoring in the water industry.
Snelle selectie
Kies uit één van de voorgestelde opties
Individuele configuratie
Ga verder met uw keuze uit alle mogelijke opties
Voordelen

Low capital investment – cost-effectiveness increases with pipe diameter (up to DN 4000)

Long-term stable signal - maintenance-free permanent mounting from outside with coupling pads

Process transparency – diagnostic capability

Economical transmitter –...
Toepassingsgebied

The measuring principle is independent of pressure, density, temperature, conductivity and viscosity

Clamp-on flow measurement of process water, salt water, deminerialized water, drinking & wastewater.

Device properties:

Medium temperature: –20 to +80...
Documenten / handleidingen / software
Accessoires / Spare parts
Kit Main-PCB 91W 85-250VAC

Kit Main-PCB 91W 20-28VAC 11-40VDC

Glaszekering 1 Amp/ traag (10 stuks)

Glaszekering 1,6A/250V traag (10 stuks)

PNG AARDKLEM

10/1YH/23/65/72/73/91W/92F/8FF/8FE/8CM

PNG Wartel verloop M20 x 1,5/G 1/2" (10

PNG Wartel verloop M20 x 1,5/NPT 1/2" (1

Kit 10 cable glands M20x1,5 grey

Overview auxiliary equipment see spare part picture

Prosonic Flow W, flow sensor set

Voor Prosonic flow 90/91/92T/93

Prosonic Flow 91/93/93T,sensor kabel set

Sensor houder set voor Prosonic Flow W/P

Prosonic Flow W/P, install.set Clamp On

Alleen voor Prosinic Flow 91 en 93 transmitter

Prosonic Flow 91/93 W/P, conduit adapter

Transmitter 90/93, montageset

Prosonic Flow, koppelpasta

Gebruik: Prosonic Flow 91W/93W/93P