Proline Prosonic Flow 93T
Ultrasonic flowmeter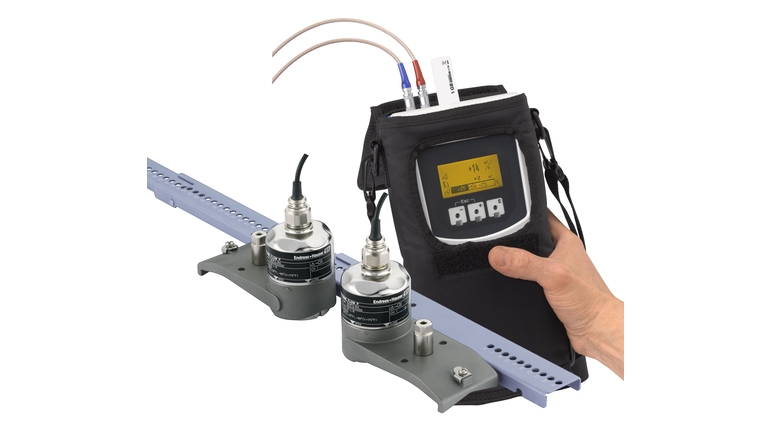 The economical flowmeter for easy data transfer via USB stick without additional software
The portable ultrasonic flowmeter Prosonic Flow 93T is designed for temporary monitoring and test measurements with clamp on sensors. It is operated independently of the mains power using a battery. The Prosonic Flow 93T is ideal for conducting verification measurements at existing flow metering points.
Snelle selectie
Kies uit één van de voorgestelde opties
Individuele configuratie
Ga verder met uw keuze uit alle mogelijke opties
Voordelen

Automatic frequency scan for maximum measuring performance

Quick and secure installation – specially designed mounting kits

No additional leakage paths – external measurement from outside the pipe

Process transparency – diagnostic capability

Temporary...
Toepassingsgebied

The sensors are perfectly suited for the non-contact measurement of pure or slightly contaminated liquids, regardless of the pressure or electrical conductivity.

Ideal solution for temporary use everywhere precise measurement or verification is required

Can be used with all metal and plastic pipes lined or unlined and with composite pipes

...
Documenten / handleidingen / software
Accessoires / Spare parts
Sensor paar-40...80oC Prosonic F DDU18

Sensoren voor het meten van de geluidsnelheid i.c.m. een Prosonic 93.

Sensor paar 0...170oC Prosonic F DDU 18

Sensoren voor het meten van de geluidsnelheid i.c.m. een Prosonic 93 0...+170°C, DN50...2500

Sensor -20...60oC Prosonic Flow DDU 20

Wanddiktesensor voor de Prosonic Flow 93T; sensor voor het meten van de wanddikte van de buis.

Overview auxiliary equipment see spare part picture

Prosonic Flow 93T portable

Accu gevoede draagbare Ultrasone flowmeter incl. datalog functie met tijd stempel, 1 Gb USB stick, draagtas, lader, accu, accoustische pasta. Geschikt voor 8 uur continue gebruik

Prosonic Flow 93T, flow sensor set

Voor gebruik met de Prosonic Flow 92T Portable transmitter

Prosonic Flow 91/93/93T,sensor kabel set

Sensor houder set voor Prosonic Flow W/P

Prosonic Flow 93T portable, accessoire

Commubox FXA193 (RS232) - Service

De Service adapter verbindt de service poort van Proline en TOF apparaten met de seriële interface RS-232C (9 pin.) van een PC of Laptop. Levering bestaat uit: :: Service adpater met RS 232C aansluitkabel (9 pins). :: Externe USB voedingskabel.