Teqwave F – Device with surface acoustic wave technology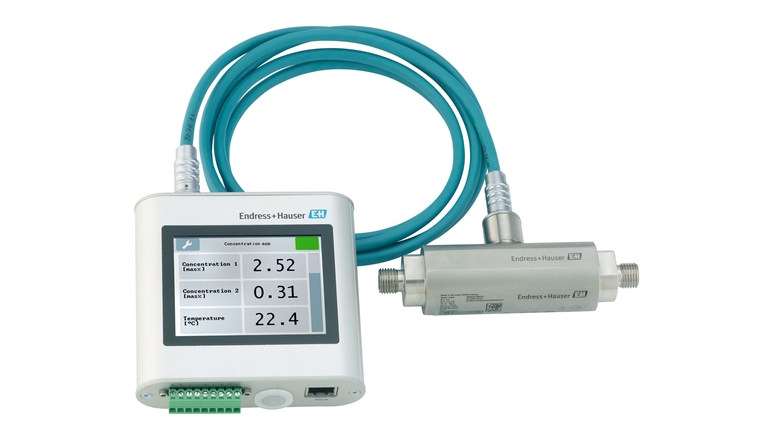 Smart, flexible concentration measuring device as inline version – individually for your process
Teqwave F is ideal for real-time liquid analysis in pipes, particularly in skids. Equipment manufacturers and end customers value the inline device for its accurate in situ concentration measurement. Teqwave reduces the operational expenditure by monitoring up to four measuring parameters at once. Match your Teqwave transmitter perfectly to your production needs: You can individually define and extend your application range by use of the flexible app concept.
Voordelen

Easy and efficient – real-time in situ liquid analysis

Full transparency – constant monitoring of product quality without sampling

Highest process safety – reliable metering due to robust, maintenance-free sensor

Cost-saving – fewer measuring points due to...
Toepassingsgebied

The acoustic waveguide measures precisely and reliably, even the smallest changes are detected

Continuous concentration measurement of liquids in pipes.

Device properties

Accurate and pressure-resistant

Nominal diameter: DN 8 to 25 (3/8 to 1")

Industry...
Documenten / handleidingen / software
Accessoires / Spare parts
Nr

61

Order code

XPD0047-

Cable remote version, Teqwave

Verbindingskabel tussen sensor en transmitter.

Teqwave F, D9FB, Inline

Meetapparaat met SAW-technologie Inline-versie. Toepassing: continu concentratiemeting van vloeistoffen in pijpen. Nauwkeurig en drukbestendig. Innovatief app-concept. Transmitter: installatie op DIN-rail. :: Inline-concentratiemeetapparaat - slim, flexibel en individueel. :: Eenvoudig en efficiënt - real-time in situ vloeistofanalyse

Software Appl. Package Teqwave Viewer

Update en upgrade van pc-software voor Teqwave F en Teqwave I. Updates van bestaande softwareversie naar de nieuwste softwareversie. Upgrade van het basispakket van Teqwave Viewer software om Viewer mee te variëren interface voor gegevensdownload. Leveringsomvang: multi-computerlicentie, licentie voor meerdere gebruikers.
09.09.2019 - 13.09.2019

With the help of actual hands-on tasks you will learn how PROFIBUS fieldbus technology works in detail. At the end of the course you will be able to design and commission a PROFIBUS fieldbus network.

22.10.2019 - 25.10.2019

With the help of actual hands-on tasks you will learn how PROFIBUS fieldbus technology works in detail.