Hydrostatic
Level measurement
Deltapilot FMB52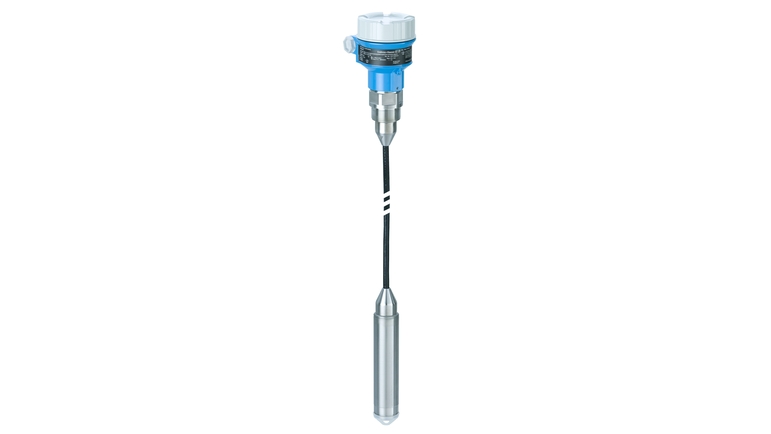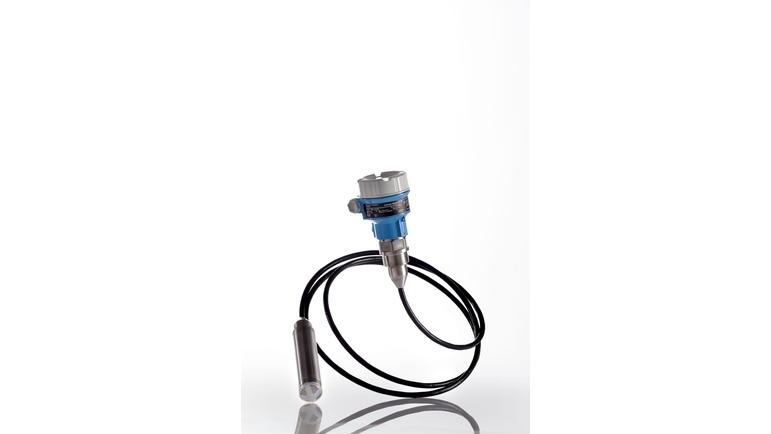 Pressure sensor with Contite measuring cell for hydrostatic level measurement
The Deltapilot FMB52 is a cable version including a fixed process connection. This device with the Contite measuring cell is typically used in the process and environmental industries. It is made for level measurement in liquid and paste-like media in open or closed containers and is unaffected by possible foam formation. For use in SIL2 safety systems.
Snelle selectie
Kies uit één van de voorgestelde opties
Individuele configuratie
Ga verder met uw keuze uit alle mogelijke opties
Voordelen

Hermetically sealed Contite measuring cell with condensate-resistance, high reference accuracy: ±0.2%, optionally ±0.1% and minimum temperature effects

Modular concept for easy replacement of display or electronics

Seamless and independent system...
Toepassingsgebied

For level measurement.


Process connections: Threads and flanges

Temperature: With PE cable: -10 to +70°C (+14 to +158°F),

with FEP cable: -10 to +80°C (14 to 176°F)

Measuring range: 0.1 to 10bar / 100m H2O (1.5 to 150psi / 300ft H2O)

Accuracy: ±0.2...
Documenten / handleidingen / software
Accessoires / Spare parts
Ground terminal T14/T15/T17, F30/F31

Consists of: spring washer, screw, earth handle, clamp. Usage: PMC71, PMP71/PMP75, PMD70/PMD75, FMD71/FMD72, FMD77/FMD78, FMB70,housing T14/T15/T17. PMC51, PMP51/PMP55, FMB50/FMB51/FMB52/FMB53, PMD55, housing F30/F31.

Nr

19

Order code

71111056

Housing filter VA,EPDM,F15/31/T14/17,1pc

Bestaat uit: Vent schroef 304, compensatie druk filter, O-ring EPDM, dekseltje. Gebruik: Huisvesting T14, PMC71, PMP71/PMP75, PMD70/PMD75, FMD76/FMD77/FMD78, FMD72. Behuizing F31, FMB50/51/52/53, PMC51, PMP51/PMP55. Behuizing F15 w / o B1, BB, BD, BF, GA, ID, I1, FMB50/51/52/53, PMC51, PMP51/PMP55.

Nr

19

Order code

71219639

Housing filter VA, VMQ, F15, T17, 1 pc.

Bestaat uit: Vent schroef 304, compensatie druk filter, O-ring VMQ, dekseltje. Usage: Huisvesting T17, PMC71, PMP71 / PMP75, PMD70/PMD75, FMD76/FMD77/FMD78. Huisvesting F15 voor B1, BB, BD, BF, GA, ID, I1, FMB50/51/52/53, PMC51, PMP51/PMP55.

Nr

20

Order code

52027000

Deksel voor 316L F15 behuizing

Met dichtring 67,5x2,9x1,5, VMQ/PTFE voor RVS behuizing F15

Nr

20

Order code

52027002

Cover F15 316L, sight glass, gasket

Sight glass: glass. Gasket 67.5x2.9x1.5, VMQ/PTFE. Usage: housing F15, stainless steel.

Nr

20

Order code

52028207

Cover F15, sight glass PC, 316L, gasket

Display glas van polycarbonaat Afdichtingsring 67,5x2,9x1,5 VMQ/PTFE Voor gebruik in explosie veilig gebied Geen ATEX RSV huis F15

Nr

20

Order code

52028267

Cover F15 316L,claw,sight glass,gasket

Kijkglas. Dekking klauw. Pakking 67,5x2,9x1,5, VMQ/PTFE. Gebruik: stof Ex-uitvoering, behuizing F15 roestvrij staal, FMB50/FMB51/FMB51/FMB52/FMB53. PMC51, PMP51/PMP55.

Nr

20

Order code

52028268

FTI51/52 deksel F15 behuizing

Cover claw. Gasket 67,5x2,9x1,5, VMQ/PTFE. Usage: Housing F15 Stainless Steel, Cerabar M, Deltapilot M.

Nr

20

Order code

71092705

Deksel F30/31 Alu, pakking

Material: Aluminium. O-ring: EPDM. Not for Ex d/XP. Usage: FTC260/FTC262, PMC51, PMP51/PMP55, PMD55, FMB50/FMB51/FMB52/FMB53.

Nr

20

Order code

71092707

Cover F30/31 Alu, sight glass, gasket

Material: Aluminium. Sight glass: Mineral glass. O-ring: EPDM. Not for Ex d/XP. Usage: FTC260/FTC262, PMC51, PMP51/PMP55, PMD55, FMB50/FMB51/FMB52/FMB53.

Nr

21

Order code

52020429

Dichtingsset EPDM, deksel T14, 5 stuks

Bestaat uit: 5x O-ring 75,87x2.62, EPDM,PTFE,FDA. Gebruik: Huisvesting 30/F31/F34,T14/T15.

Nr

21

Order code

52028179

Afdichting 67,5x2,9x1,5 VMQ/PTFE 5st.

Geprofileerde dichtringen voor deksel van RVS F15 behuizing.

Nr

15

Order code

52002449

PMC4x wartel M201,5 compleet

Bestaat uit: kabelwartel M20x1.5 pakking NBR stop Pg13.5 voor CERABAR M

Nr

15

Order code

52005984

Plug 3p M12/M20, pakking

Consists of: terminal block, gasket. Usage: FMB50/51/52/53, PMC51, PMD55, PMP51/55.

Nr

15

Order code

52020762

Plug 2/7-pole, HAN7D, gasket

Bestaat uit: harting plug set. Gebruik: FMB50/FMB51/FMB52/FMB53, FMB70, FMD76/FMD77/FMD78, PMC51, PMC71, PMD55, PMD70/PMD75, PMP51/PMP55, PMP71/PMP75.

Nr

15

Order code

71092709

Cable gland M20 PA, o-ring EPDM/PTFE

Consists of: Cable gland M20, Synthetic. O-Ring 17,0x2,0 EPDM + PTFE/FDA. Usage: Housing F30/31 PMC51, PMP51/55, FMB50/51/52/53, PMD55.

Nr

15

Order code

71092711

Cable gland M20 Metal, gasket

Consists of: Cable gland M20, Metal. O-Ring 17,0x2,0 EPDM + PTFE/FDA. Usage: Housing F15/F31 PMC51, PMP51/PMP55, FMB50/FMB51/FMB52/FMB53. Housing F30 PMD55.

Nr

15

Order code

71092712

Cable entry G1/2, gasket, adapter

Consists of: gasket 18.72x2.51 NBR 70. Adapter M20 > G1/2. Not for Ex d. Usage: FMB50/FMB51/FMB52/FMB53, PMC51, PMD55, PMP51/PMP55.

Nr

15

Order code

71120017

Plug valve, F30/F31, seal NBR

Consists of: Plug, seal, screw. Usage: PMC51, PMP51/55, PMD55, FMB50/51/52/53.

Nr

40

Order code

71091670

Display module VU340, Cbar/Dbar/Dpilot M

Digitaal display, 3 druktoetsen, klembevestiging. Geschikt voor: PMD55, PMC51,PMP51/PMP55, FMB50/FMB51/FMB52/FMB53.

Nr

40

Order code

71094113

Houder Display Dbar/Cbar/Dpilot M

Geschikt voor: Display module VU340, PMD55, PMC51, PMP51/PMP55, FMB50/FMB51/FMB52/FMB53.

Membran protection FMB51/52/53, 5 pieces

Gebruik: FMB51/FMB52/FMB53.

Modificatietypeplaat, non Ex

Blanco. Te voorzien van een nieuwe typecodering wanneer een non Ex instrument gemodificeerd is.

Test adapter DB5x, FMB5x, FMX21, FMX167

Drukingang + functietest. Kalibratie. Gebruik: FMB51/52/53,DB51/52/53, FMX21, FMX167, 42mm.

Montageset Cerabar,Deltapilot,Levelflex

Materiaal: RVS 304. Geschikt voor: wand/pijp montage (2"), PMC71, PMP71/75, FMB70, PMC51, PMP51/55, FMB50/51/52/53. FMP50/51/52/53/54/55/56/57.

Laspuntstuk G1-1/2, 316L

Laspuntstuk G1-1/2 Materiaal: 316L Correcte installatie alleen met dummy. Gebruik:PMC71,PMP71,PMP75,FMB50/FMB51/ FMB52,FMB70,PMC51,PMP51/PMP55.

Weld-in adapter G1-1/2, 316L, 3.1

Montageproces aansluiting G1-1 / 2. Materiaal: 316L. Inspectie cert. NL 10.204-3,1 materiaal. Gebruik: PMC71, PMP71, PMP75, FMB50/51/52, FMB70, PMC51, PMP51, PMP55.

M12 aansluiting, 90deg, 5m kabel

M12-stekkerdoos, kabelzijde. 5m kabel PVC, Cu Sn/Ni slot. Gebruik: FMB50/FMB51/FMB52/FMB53, FTL31/FTL33, FTL51B, FTW23, FTW33, PMC11, PMC21, PMC51, PMP11, PMP21/PMP23, PMP51/PMP55, PTC31B, PTP31B/PTP33B, QMW43. Dit betreft een product uit het E-direct portfolio met een scherpe netto prijs. Kijk voor meer informatie op www.e-direct.endress.com

M12 aansluiting, 90deg, kabelzijde

Zelf-confectionerende aansluiting. Gebruik: M12 stekkerdoos, kabelzijde. Dit betreft een product uit het E-direct portfolio met een scherpe netto prijs. Kijk voor meer informatie op www.e-direct.endress.com

Cable PE, L=2m/80inch, separate housing

Aansluitkabel sensor>sep. housing. Gebruik: PMC71, PMP71/PMP75, PMD70/PMD75, FMD76/FMD77/FMD78, FMB50/FMB51/FMB52/FMB70, PMC51/PMP51/PMP55.

Cable PE, L=5m/200inch, separate housing

Aansluitkabel kabel sensor>sep.behuizing Gebruik: PMC71, PMP71/PMP75, PMD70/PMD75, FMD76/FMD77/FMD78, FMB50/FMB51/FMB52/FMB70, PMC51/PMP51/PMP55.

Cable PE, L=10m/400inch,separate housing

Aansluitkabel sensor> sep. huisvesting. Gebruik: PMC71, PMP71/PMP75, PMD70/PMD75, FMD76/FMD77/FMD78, FMB50/FMB51/FMB52/FMB70, PMC51/PMP51/PMP55.

Cable FEP, L=5m/200inch,separate housing

Aansluitkabel sensor> sep. huisvesting. Gebruik: FMB50/FMB51/FMB52, FMB70, FMD76/FMD77/FMD78, PMC51, PMC71, PMD70/PMD75, PMP51/PMP55, PMP71/PMP75.

Spare RFID TAG

Consists of: RFID TAG, fixing wire, crimp sleeve.

M12 aansluiting, kabelzijde

M12-connectoraansluiting, kabelzijde. Zelfconfigureerbare verbinding. Toepassing: FMB50/FMB51/FMB52/FMB53, FMB70, FTL31/FTL33, FTW23, FTW33,PMP11, PMP21, PMP51, PTC31B, PTP31B, QMW43. Dit betreft een product uit het E-direct portfolio met een scherpe netto prijs. Kijk voor meer informatie op www.e-direct.endress.com