Gateway for
measurement values
Fieldgate FXA42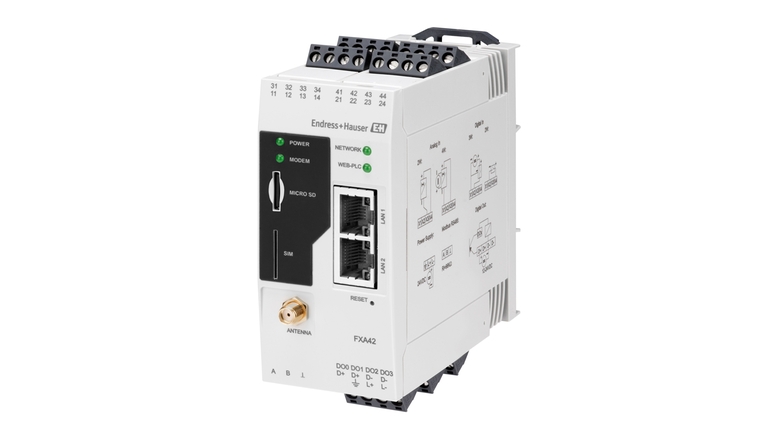 Communication of measurement values of connected 4 to 20mA analog as well as digital field devices
Fieldgate FXA42 is developed for monitoring of field devices with digital or 4 to 20mA interface regardless of location. It supports communication interfaces like Ethernet, WLAN or cellular communication. With its integrated web server technology it can easily be configured online and measured values can be visualized online. FXA42 also offers data logging and alarm management functions.
Snelle selectie
Kies uit één van de voorgestelde opties
Individuele configuratie
Ga verder met uw keuze uit alle mogelijke opties
Voordelen

Level, flow and pressure visualization at the desk regardless of location

Simple configuration of Fieldgate and easy visualization of measured values via its integrated web server

Connects to SupplyCare Enterprise and SupplyCare Hosting

Advanced...
Toepassingsgebied

For remote monitoring of connected 4 to 20mA analog as well as digital field devices via Ethernet, WLAN or cellular communication.

Measured values can be viewed with a standard internet browser

Configuration of measuring and transmission cycles

...
Documenten / handleidingen / software
Accessoires / Spare parts
Fixed Antenna: LTE, GSM, UMTS, WLAN

Vaste antenne voor montage aan verticale oppervlakken. Kabellengte: 3m. Toepassing: LTE 800MHz, LTE 2.6GHz, GSM 900/1800, UMTS, WLAN 2,4 GHz (WiMAX, WiFi). Gebruik: FXA42. Binnen en buiten gebruik. Montage via beugel. Omnidirectionele karakteristiek. Radiator beschermd door een plastic buis. HF-kabel rechtstreeks aangesloten op antenne. 10 cm ruimte tussen de antenne van 15dB isolatie.

HG1 Plus Modbus to HART Gateway

Geavanceerde HART-communicatiemodule. HART naar Modbus protocol conversie. Voor gebruik met Fieldgate FXA42 om de gegevens over te brengen naar SupplyCare Hosting en Enterprise. Werkt ook met een directe verbinding naar SupplyCare Enterprise. Gebruik: FXA42. Toepassing: HART Multidrop-luscommunicatie. Modbus TCP-server. Modbus RS485-slave.

Power Supply UNO-PS/1AC, 24DC/30W

Compacte voeding met hoog vermogen dichtheid voor compacte schakelkasten. Gebruik: FXA42. Toepassing: Primaire-geschakelde voeding voor DIN rail montage. Input: 1-fase. Output: 24VDC/30W.

SD card FXA42

Gebruik: Fieldgate FXA42.

HART Ethernet multiplexer hoofdstation

Gebruik: Modulaire gateway Ethernet, FXA42. Maximaal 5 uitbreidingsmodules. Ondersteunt Modbus TCP, HARTIP, DTM.

4-kanaals HART uitbreidingsmodule

Bestaat uit: Schroefverbinding, montage van DIN rail. Voeding: 19.2V DC-30V DC. Gebruik: FXA42.

8-channel HART expansion module

Bestaat uit: Schroefverbinding, montage van DIN rail. Voeding: 19.2V DC - 30V DC. Gebruik: FXA42.

Analog to Modbus TCP converter

Datexel DAT8017-I server. Ethernet 10/100 Base-T, Modbus TCP. 8 analoge ingangen. DIN rail montage. Toepassing: Conversie analoog aan Modbus-protocol. Galvanisch geïsoleerde verbinding voor maximaal 8 analoge sensoren met actieve stroomuitgang Geïntegreerde webserver. Gebruik: FXA42.