TP analyzer
Liquiline System CA80TP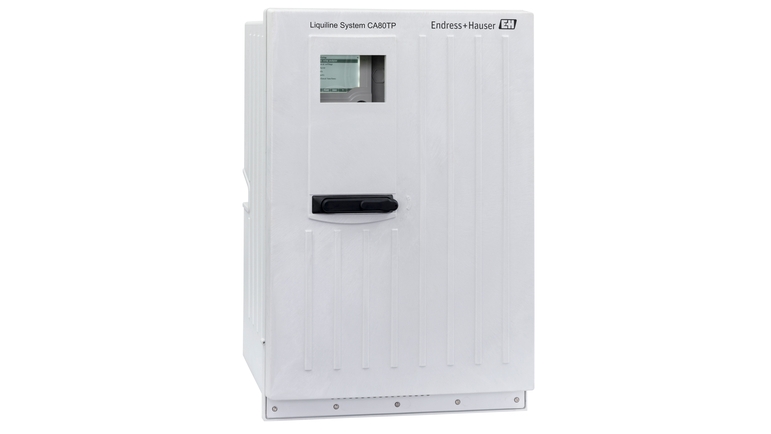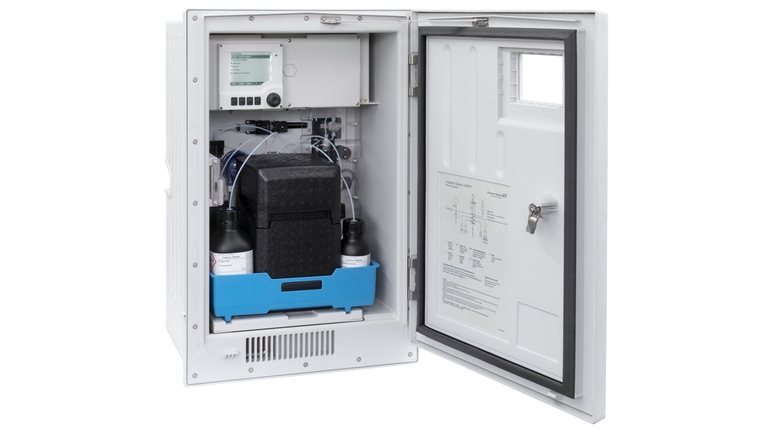 Total phosphorus analyzer for environmental monitoring, industrial and municipal wastewater
Phosphorus is the decisive factor for excessive algae and plant growth in water bodies, that's why continuous monitoring of this parameter is essential. The Liquiline System TP analyzer offers precise online measurement of total phosphorus and ensures highest process safety. Automatic calibration and cleaning save you operating costs while advanced diagnostics with remote access support you in providing process documentation to the authorities.

Snelle selectie
Kies uit één van de voorgestelde opties
Individuele configuratie
Ga verder met uw keuze uit alle mogelijke opties
Voordelen

Molybdenum blue method according to EN ISO 6878:2004 guarantees direct comparability to laboratory results

Meeting industry needs: The analyzer is perfectly suited for environmental monitoring, industrial and municipal wastewater

Fast and easy process...
Toepassingsgebied

The Liquiline System TP analyzer monitors:

Inlet and outlet of wastewater treatment plants for documentation purposes and calculation of the cleaning capacity

Discharges of industrial wastewater treatment plants to determine discharge fees and to...
Documenten / handleidingen / software
Liquiline System CA80TP

Analyzer for total phosphorous

Technische informatie (TI)

Memosens Operating Instructions

Sensor inputs with Memosens protocol

Inbedrijfsstellingsvoorschriften (BA)

Liquiline System CA80TP

Colorimetric analyzer for total phosphorus

Inbedrijfsstellingsvoorschriften (BA)

Liquiline System CA80TP

Colorimetrische analyzer voor totaal fosfor

Short Instruction (KA)

02/20

Kit CA80 Outdoor

Kit for mounting analyzer on a post outdoor

CM44x/R/P / CSFxx / CA80xx

PROFIBUS Guideline

Speciale Documentatie (SD)

Special Documentation Liquiline 4-wire Platform

EtherNet/IP guideline

Speciale Documentatie (SD)

CY80TP für/for Liquiline System CA80TP Mischen der Reagenzien / Mixing of the reagent Special Documentation

Mischen der Reagenzien / Mixing of the reagent

Speciale Documentatie (SD)

CM44x/R/P / CSFxx / CA80xx

Webserver Guideline

Speciale Documentatie (SD)

Activation codes kit

For extended functionality

Speciale Documentatie (SD)

Special Documentation Liquiline 4-wire Platform

Modbus Guideline

Speciale Documentatie (SD)

Making sure your WWTP runs and runs and runs

Efficient and effective wastewater treatment

Competentie Brochure (CP)

08/18

Damit Ihre Kläranlage läuft und läuft und läuft

Effizienz und Effektivität in der Abwasseraufbereitung

Competentie Brochure (CP)

08/18

符合磷排放标准,保护水资源

Liquiline System CA80TP 实现高精度总磷测量

Phosphorgrenzwerte einhalten, Gewässer schützen

Präzisionsmessung mit Liquiline System CA80TP

Comply with phosphorus limits, protect surface waters

High-precision measurement with Liquiline System CA80TP


Gesamt Phosphor Analysator Liquiline System CA80TP

Gesamt - Phosphor -Analysengerät für die
• Überwachung des Kläranlagenzulaufs
• Überwachung des Kläranlagenablaufs
• Überwachungindustrieller Abwässer

Firmware for Liquiline platform - version 01.08.00

Firmware for Liquiline CM44(R), Liquiline CM44P(R), Liquistation CSF34,
Liquistation CSF48, Liquiport CSP44, Liquiline System CA80

GSD Single, GSD_EH_DP_AN_LiquilineCA80xx_0x155E, 29.06.2020 (Analysis, Liquiline, 0x155E)

PROFIBUS DP,

PROFIBUS System Version: Any

General Station Description (GSD)

1.30

EDS Single, EDS_EH_EIP_AN_Liquiline_0x109F_0x02_0x01, 30.07.2016 (Analysis, Liquiline)

EtherNet/IP,

EtherNet IP System Version: Any

Electronic Data Sheet (EDS)

2.1

EDD Single, PDM_DP_AN_Liquiline_0x155E_0x04_0x01, 05.08.2016 (Analysis, Liquiline, 0x155E)

PROFIBUS DP,

PDM Version: 6.1, 8.2

Electronic Data Description (EDD)

1.00.00

DTM Single, Liquiline_CA80xx_DP_FW_01_06_zz_Dev_Rev_4, 06.11.2020 (Analysis, Liquiline, 0x155E)

PROFIBUS DP,

DeviceCare Version: 1.07.00

Field Xpert - SMT70 Version: 1.05.00

FieldCare Version: 2.15.00

PACTware Version: 4.1

Device Type Manager (DTM)

1.11.0.0

DTM Single, Liquiline_CA80xx_DP_FW_01_07_zz_Dev_Rev_4, 06.11.2020 (Analysis, Liquiline, 0x155E)

PROFIBUS DP,

DeviceCare Version: 1.07.00

Field Xpert - SMT70 Version: 1.05.00

FieldCare Version: 2.15.00

PACTware Version: 5.0

Device Type Manager (DTM)

1.11.0.0

DTM Single, Liquiline_CA80xx_CDI_FW_1_06_zz_Dev_Rev_01, 11.07.2019 (Analysis, Liquiline, 0x119F)

Common Device Interface,

DeviceCare Version: 1.06.00

Field Xpert - SMT70 Version: 1.03.00

FieldCare Version: 2.13.00

Device Type Manager (DTM)

1.0.14.0

AOP Single, RS_EIP_AN_Liquiline_CA80xx_0x109F_0x02_0x01_AOP, 27.06.2018 (Analysis, Liquiline)

EtherNet/IP,

RA RSLogix 5000 Version: V15 and later

Add On Profile (AOP)

1.22

ComDTM Single, CDI_CommDTM, 21.01.2019

Common Device Interface,

DeviceCare Version: 1.05.00

FieldCare Version: 2.13.00

Communication DTM

2.09.06

CY80TP-FF+TQ (Estonia)

Standard solution PO4-P 20 mg/l

Reagents/standard solutions/cleaner for analyzer

CY80TP-FF+TM (Poland)

Standard solution PO4-P 2,0 mg/l

Reagents/standard solutions/cleaner for analyzer

CY80TP-FF+SH (Spain)

Reagent set (SH) for CA80TP

Reagents/standard solutions/cleaner for analyzer

CY80TP-FF+TS (Poland)

Standard solution PO4-P 50 mg/l

Reagents/standard solutions/cleaner for analyzer

CY80TP-FF+TL (India)

Standard solution PO4-P 1,0 mg/l

Reagents/standard solutions/cleaner for analyzer

CY80TP-FF+SO (United Arab Emirates)

Reagent set (SO) for CA80TP

Reagents/standard solutions/cleaner for analyzer

CY80TP-FF+TL (Hungary)

Standard solution PO4-P 1,0 mg/l

Reagents/standard solutions/cleaner for analyzer

CY80TP-FF+TP (New Zealand)

Standard solution PO4-P 10 mg/l

Reagents/standard solutions/cleaner for analyzer

CY80TP-RB (Hungary)

Ready to use reagent RB for CA80TP

Reagents/standard solutions/cleaner for analyzer

CY80TP-FF+TM (India)

Standard solution PO4-P 2,0 mg/l

Reagents/standard solutions/cleaner for analyzer

CY80TP-FF+TG (Slovenia)

Standard solution PO4-P 0 mg/l

Reagents/standard solutions/cleaner for analyzer

CY800-FF11 (Finland)

Cleaning solution for CA80TP

Reagents/standard solutions/cleaner for analyzer

CY80TP-FF+TP (Belgium)

Standard solution PO4-P 10 mg/l

Reagents/standard solutions/cleaner for analyzer

CY80TP-RN (United Arab Emirates)

Ready to use reagent RN for CA80TP

Reagents/standard solutions/cleaner for analyzer

CY80TP-FF+TG (Greece)

Standard solution PO4-P 0 mg/l

Reagents/standard solutions/cleaner for analyzer

CY80TP-RB (Belgium)

Ready to use reagent RB for CA80TP

Reagents/standard solutions/cleaner for analyzer

CY80TP-FF+TS (Ukraine)

Standard solution PO4-P 50 mg/l

Reagents/standard solutions/cleaner for analyzer

CY80TP-FF+TS (Japan)

Standard solution PO4-P 50 mg/l

Reagents/standard solutions/cleaner for analyzer

CY80TP-RB (Finland)

Ready to use reagent RB for CA80TP

Reagents/standard solutions/cleaner for analyzer

CY80TP-FF+TM (Norway)

Standard solution PO4-P 2,0 mg/l

Reagents/standard solutions/cleaner for analyzer

CY80TP-FF+TL (Australia)

Standard solution PO4-P 1,0 mg/l

Reagents/standard solutions/cleaner for analyzer

CY80TP-FF+TM (Hungary)

Standard solution PO4-P 2,0 mg/l

Reagents/standard solutions/cleaner for analyzer

CY80TP-FF+TN (India)

Standard solution PO4-P 5 mg/l

Reagents/standard solutions/cleaner for analyzer

CY80TP-FF+TG (Bulgaria)

Standard solution PO4-P 0 mg/l

Reagents/standard solutions/cleaner for analyzer

CY80TP-FF+TG (Ireland)

Standard solution PO4-P 0 mg/l

Reagents/standard solutions/cleaner for analyzer

CY80TP-FF+TN (Latvia)

Standard solution PO4-P 5 mg/l

Reagents/standard solutions/cleaner for analyzer

CY80TP-RB (Canada)

Ready to use reagent RB for CA80TP

Reagents/standard solutions/cleaner for analyzer

CY80TP-FF+TQ (Sweden)

Standard solution PO4-P 20 mg/l

Reagents/standard solutions/cleaner for analyzer

CY80TP-FF+SH (USA)

Reagent set (SH) for CA80TP

Reagents/standard solutions/cleaner for analyzer

CY80TP-FF+TG (Russia)

Standard solution PO4-P 0 mg/l

Reagents/standard solutions/cleaner for analyzer

CY80TP-FF+SO (Sweden)

Reagent set (SO) for CA80TP

Reagents/standard solutions/cleaner for analyzer

CY80TP-FF+TM (Finland)

Standard solution PO4-P 2,0 mg/l

Reagents/standard solutions/cleaner for analyzer

CY80TP-FF+TN (China)

Standard solution PO4-P 5 mg/l

Reagents/standard solutions/cleaner for analyzer

CY80TP-FF+TS (Romania)

Standard solution PO4-P 50 mg/l

Reagents/standard solutions/cleaner for analyzer

CY80TP-RB (Sweden)

Ready to use reagent RB for CA80TP

Reagents/standard solutions/cleaner for analyzer

CY80TP-RB (Slovenia)

Ready to use reagent RB for CA80TP

Reagents/standard solutions/cleaner for analyzer

CY80TP-FF+TM (Croatia)

Standard solution PO4-P 2,0 mg/l

Reagents/standard solutions/cleaner for analyzer

CY80TP-RK (Ukraine)

Ready to use reagent RK for CA80TP

Reagents/standard solutions/cleaner for analyzer

CY80TP-FF+TN (Ireland)

Standard solution PO4-P 5 mg/l

Reagents/standard solutions/cleaner for analyzer

CY80TP-FF+TL (Switzerland (French))

Standard solution PO4-P 1,0 mg/l

Reagents/standard solutions/cleaner for analyzer

CY800-FF11 (Croatia)

Cleaning solution for CA80TP

Reagents/standard solutions/cleaner for analyzer

CY80TP-FF+TL (Italy)

Standard solution PO4-P 1,0 mg/l

Reagents/standard solutions/cleaner for analyzer

CY80TP-FF+TP (Belgium (Dutch))

Standard solution PO4-P 10 mg/l

Reagents/standard solutions/cleaner for analyzer

CY80TP-RK (Saudi Arabien)

Ready to use reagent RK for CA80TP

Reagents/standard solutions/cleaner for analyzer

CY80TP-FF+TP (USA)

Standard solution PO4-P 10 mg/l

Reagents/standard solutions/cleaner for analyzer

CY80TP-FF+SO (Australia)

Reagent set (SO) for CA80TP

Reagents/standard solutions/cleaner for analyzer

CY80TP-RB (Czech Republic)

Ready to use reagent RB for CA80TP

Reagents/standard solutions/cleaner for analyzer

CY80TP-FF+TN (Norway)

Standard solution PO4-P 5 mg/l

Reagents/standard solutions/cleaner for analyzer

CY80TP-FF+TQ (South Africa)

Standard solution PO4-P 20 mg/l

Reagents/standard solutions/cleaner for analyzer

CY80TP-RK (Czech Republic)

Ready to use reagent RK for CA80TP

Reagents/standard solutions/cleaner for analyzer

CY80TP-FF+TL (Austria)

Standard solution PO4-P 1,0 mg/l

Reagents/standard solutions/cleaner for analyzer

CY80TP-FF+SO (Germany)

Reagent set (SO) for CA80TP

Reagents/standard solutions/cleaner for analyzer

CY80TP-RB (Turkey)

Ready to use reagent RB for CA80TP

Reagents/standard solutions/cleaner for analyzer

CY80TP-FF+TM (United Arab Emirates)

Standard solution PO4-P 2,0 mg/l

Reagents/standard solutions/cleaner for analyzer

CY80TP-FF+TG (Croatia)

Standard solution PO4-P 0 mg/l

Reagents/standard solutions/cleaner for analyzer

CY80TP-FF+TN (Germany)

Standard solution PO4-P 5 mg/l

Reagents/standard solutions/cleaner for analyzer

CY80TP-RB (Latvia)

Ready to use reagent RB for CA80TP

Reagents/standard solutions/cleaner for analyzer

CY80TP-RN (Finland)

Ready to use reagent RN for CA80TP

Reagents/standard solutions/cleaner for analyzer

CY80TP-FF+SH (Canada (French))

Reagent set (SH) for CA80TP

Reagents/standard solutions/cleaner for analyzer

CY80TP-FF+TL (Mexico)

Standard solution PO4-P 1,0 mg/l

Reagents/standard solutions/cleaner for analyzer

CY80TP-FF+TM (Sweden)

Standard solution PO4-P 2,0 mg/l

Reagents/standard solutions/cleaner for analyzer

CY80TP-FF+SH (Belgium (Dutch))

Reagent set (SH) for CA80TP

Reagents/standard solutions/cleaner for analyzer

CY80TP-FF+SH (Netherlands)

Reagent set (SH) for CA80TP

Reagents/standard solutions/cleaner for analyzer

CY80TP-RB (Austria)

Ready to use reagent RB for CA80TP

Reagents/standard solutions/cleaner for analyzer

CY80TP-FF+SH (Portugal)

Reagent set (SH) for CA80TP

Reagents/standard solutions/cleaner for analyzer

CY80TP-RB (USA)

Ready to use reagent RB for CA80TP

Reagents/standard solutions/cleaner for analyzer

CY80TP-FF+TL (Germany)

Standard solution PO4-P 1,0 mg/l

Reagents/standard solutions/cleaner for analyzer

CY80TP-FF+TP (Poland)

Standard solution PO4-P 10 mg/l

Reagents/standard solutions/cleaner for analyzer

CY80TP-FF+SO (Croatia)

Reagent set (SO) for CA80TP

Reagents/standard solutions/cleaner for analyzer

CY80TP-FF+TN (Croatia)

Standard solution PO4-P 5 mg/l

Reagents/standard solutions/cleaner for analyzer

CY80TP-FF+TM (Australia)

Standard solution PO4-P 2,0 mg/l

Reagents/standard solutions/cleaner for analyzer

CY80TP-FF+SO (Ukraine)

Reagent set (SO) for CA80TP

Reagents/standard solutions/cleaner for analyzer

CY80TP-RN (Norway)

Ready to use reagent RN for CA80TP

Reagents/standard solutions/cleaner for analyzer

CY80TP-FF+TG (European Union)

Standard solution PO4-P 0 mg/l

Reagents/standard solutions/cleaner for analyzer

CY80TP-FF+TN (USA)

Standard solution PO4-P 5 mg/l

Reagents/standard solutions/cleaner for analyzer

CY80TP-FF+TS (Mexico)

Standard solution PO4-P 50 mg/l

Reagents/standard solutions/cleaner for analyzer

CY80TP-RN (Sweden)

Ready to use reagent RN for CA80TP

Reagents/standard solutions/cleaner for analyzer

CY80TP-FF+TQ (Canada)

Standard solution PO4-P 20 mg/l

Reagents/standard solutions/cleaner for analyzer

CY80TP-FF+TS (USA)

Standard solution PO4-P 50 mg/l

Reagents/standard solutions/cleaner for analyzer

CY80TP-FF+TS (Denmark)

Standard solution PO4-P 50 mg/l

Reagents/standard solutions/cleaner for analyzer

CY80TP-FF+TP (Australia)

Standard solution PO4-P 10 mg/l

Reagents/standard solutions/cleaner for analyzer

CY80TP-FF+TM (Denmark)

Standard solution PO4-P 2,0 mg/l

Reagents/standard solutions/cleaner for analyzer

CY80TP-FF+TM (European Union)

Standard solution PO4-P 2,0 mg/l

Reagents/standard solutions/cleaner for analyzer

CY80TP-FF+TL (Greece)

Standard solution PO4-P 1,0 mg/l

Reagents/standard solutions/cleaner for analyzer

CY800-FF11 (Ireland)

Cleaning solution for CA80TP

Reagents/standard solutions/cleaner for analyzer

CY80TP-FF+SH (Switzerland (Italian))

Reagent set (SH) for CA80TP

Reagents/standard solutions/cleaner for analyzer

CY80TP-FF+TG (Japan)

Standard solution PO4-P 0 mg/l

Reagents/standard solutions/cleaner for analyzer

CY80TP-FF+TP (Austria)

Standard solution PO4-P 10 mg/l

Reagents/standard solutions/cleaner for analyzer

CY80TP-FF+TG (France)

Standard solution PO4-P 0 mg/l

Reagents/standard solutions/cleaner for analyzer

CY80TP-FF+TG (Australia)

Standard solution PO4-P 0 mg/l

Reagents/standard solutions/cleaner for analyzer

CY80TP-FF+TP (Ukraine)

Standard solution PO4-P 10 mg/l

Reagents/standard solutions/cleaner for analyzer

CY80TP-FF+TN (Slovakia)

Standard solution PO4-P 5 mg/l

Reagents/standard solutions/cleaner for analyzer

CY80TP-FF+TN (Ukraine)

Standard solution PO4-P 5 mg/l

Reagents/standard solutions/cleaner for analyzer

CY80TP-FF+SH (Hungary)

Reagent set (SH) for CA80TP

Reagents/standard solutions/cleaner for analyzer

CY80TP-RN (France)

Ready to use reagent RN for CA80TP

Reagents/standard solutions/cleaner for analyzer

CY80TP-RK (China)

Ready to use reagent RK for CA80TP

Reagents/standard solutions/cleaner for analyzer

CY80TP-FF+TN (Russia)

Standard solution PO4-P 5 mg/l

Reagents/standard solutions/cleaner for analyzer

CY80TP-FF+SO (Slovenia)

Reagent set (SO) for CA80TP

Reagents/standard solutions/cleaner for analyzer

CY80TP-FF+TP (Bulgaria)

Standard solution PO4-P 10 mg/l

Reagents/standard solutions/cleaner for analyzer

CY80TP-FF+SO (Norway)

Reagent set (SO) for CA80TP

Reagents/standard solutions/cleaner for analyzer

CY80TP-FF+TG (Canada)

Standard solution PO4-P 0 mg/l

Reagents/standard solutions/cleaner for analyzer

CY80TP-FF+TS (Netherlands)

Standard solution PO4-P 50 mg/l

Reagents/standard solutions/cleaner for analyzer

CY80TP-FF+SH (France)

Reagent set (SH) for CA80TP

Reagents/standard solutions/cleaner for analyzer

CY80TP-RK (Italy)

Ready to use reagent RK for CA80TP

Reagents/standard solutions/cleaner for analyzer

CY80TP-FF+SO (Belgium)

Reagent set (SO) for CA80TP

Reagents/standard solutions/cleaner for analyzer

CY80TP-RB (India)

Ready to use reagent RB for CA80TP

Reagents/standard solutions/cleaner for analyzer

CY80TP-FF+TQ (Norway)

Standard solution PO4-P 20 mg/l

Reagents/standard solutions/cleaner for analyzer

CY80TP-RK (France)

Ready to use reagent RK for CA80TP

Reagents/standard solutions/cleaner for analyzer

CY80TP-RK (Russia)

Ready to use reagent RK for CA80TP

Reagents/standard solutions/cleaner for analyzer

CY80TP-FF+TL (Finland)

Standard solution PO4-P 1,0 mg/l

Reagents/standard solutions/cleaner for analyzer

CY800-FF11 (India)

Cleaning solution for CA80TP

Reagents/standard solutions/cleaner for analyzer

CY80TP-FF+TS (Russia)

Standard solution PO4-P 50 mg/l

Reagents/standard solutions/cleaner for analyzer

CY80TP-FF+TQ (Lithuania)

Standard solution PO4-P 20 mg/l

Reagents/standard solutions/cleaner for analyzer

CY80TP-RB (United Kingdom)

Ready to use reagent RB for CA80TP

Reagents/standard solutions/cleaner for analyzer

CY80TP-RN (Poland)

Ready to use reagent RN for CA80TP

Reagents/standard solutions/cleaner for analyzer

CY80TP-FF+TS (United Arab Emirates)

Standard solution PO4-P 50 mg/l

Reagents/standard solutions/cleaner for analyzer

CY80TP-FF+TN (Finland)

Standard solution PO4-P 5 mg/l

Reagents/standard solutions/cleaner for analyzer

CY800-FF11 (USA)

Cleaning solution for CA80TP

Reagents/standard solutions/cleaner for analyzer

CY80TP-RN (Italy)

Ready to use reagent RN for CA80TP

Reagents/standard solutions/cleaner for analyzer

CY80TP-FF+TL (European Union)

Standard solution PO4-P 1,0 mg/l

Reagents/standard solutions/cleaner for analyzer

CY80TP-FF+TM (France)

Standard solution PO4-P 2,0 mg/l

Reagents/standard solutions/cleaner for analyzer

CY80TP-FF+SO (South Africa)

Reagent set (SO) for CA80TP

Reagents/standard solutions/cleaner for analyzer

CY80TP-FF+TQ (Slovenia)

Standard solution PO4-P 20 mg/l

Reagents/standard solutions/cleaner for analyzer

CY80TP-RK (USA)

Ready to use reagent RK for CA80TP

Reagents/standard solutions/cleaner for analyzer

CY80TP-RB (Belgium (Dutch))

Ready to use reagent RB for CA80TP

Reagents/standard solutions/cleaner for analyzer

CY80TP-FF+TQ (United Kingdom)

Standard solution PO4-P 20 mg/l

Reagents/standard solutions/cleaner for analyzer

CY80TP-FF+SH (Romania)

Reagent set (SH) for CA80TP

Reagents/standard solutions/cleaner for analyzer

CY80TP-FF+TG (Estonia)

Standard solution PO4-P 0 mg/l

Reagents/standard solutions/cleaner for analyzer

CY80TP-FF+TP (Greece)

Standard solution PO4-P 10 mg/l

Reagents/standard solutions/cleaner for analyzer

CY80TP-FF+SO (South Korea)

Reagent set (SO) for CA80TP

Reagents/standard solutions/cleaner for analyzer

CY80TP-FF+TQ (Slovakia)

Standard solution PO4-P 20 mg/l

Reagents/standard solutions/cleaner for analyzer

CY800-FF11 (Greece)

Cleaning solution for CA80TP

Reagents/standard solutions/cleaner for analyzer

CY80TP-FF+TS (Estonia)

Standard solution PO4-P 50 mg/l

Reagents/standard solutions/cleaner for analyzer

CY80TP-FF+TL (USA)

Standard solution PO4-P 1,0 mg/l

Reagents/standard solutions/cleaner for analyzer

CY80TP-FF+TS (United Arab Emirates)

Standard solution PO4-P 50 mg/l

Reagents/standard solutions/cleaner for analyzer

CY80TP-FF+SH (Estonia)

Reagent set (SH) for CA80TP

Reagents/standard solutions/cleaner for analyzer

CY80TP-RK (Finland)

Ready to use reagent RK for CA80TP

Reagents/standard solutions/cleaner for analyzer

CY80TP-RK (United Kingdom)

Ready to use reagent RK for CA80TP

Reagents/standard solutions/cleaner for analyzer

CY80TP-RN (Malta)

Ready to use reagent RN for CA80TP

Reagents/standard solutions/cleaner for analyzer

CY80TP-FF+TM (Ireland)

Standard solution PO4-P 2,0 mg/l

Reagents/standard solutions/cleaner for analyzer

CY80TP-FF+TN (France)

Standard solution PO4-P 5 mg/l

Reagents/standard solutions/cleaner for analyzer

CY80TP-RK (New Zealand)

Ready to use reagent RK for CA80TP

Reagents/standard solutions/cleaner for analyzer

CY80TP-FF+TQ (India)

Standard solution PO4-P 20 mg/l

Reagents/standard solutions/cleaner for analyzer

CY80TP-FF+SH (China)

Reagent set (SH) for CA80TP

Reagents/standard solutions/cleaner for analyzer

CY80TP-FF+TG (Belgium (Dutch))

Standard solution PO4-P 0 mg/l

Reagents/standard solutions/cleaner for analyzer

CY80TP-FF+TL (South Africa)

Standard solution PO4-P 1,0 mg/l

Reagents/standard solutions/cleaner for analyzer

CY80TP-FF+TP (Mexico)

Standard solution PO4-P 10 mg/l

Reagents/standard solutions/cleaner for analyzer

CY80TP-RN (European Union)

Ready to use reagent RN for CA80TP

Reagents/standard solutions/cleaner for analyzer

CY80TP-RK (Japan)

Ready to use reagent RK for CA80TP

Reagents/standard solutions/cleaner for analyzer

CY800-FF11 (Portugal)

Cleaning solution for CA80TP

Reagents/standard solutions/cleaner for analyzer

CY80TP-FF+SO (Netherlands)

Reagent set (SO) for CA80TP

Reagents/standard solutions/cleaner for analyzer

CY80TP-FF+TG (Malta)

Standard solution PO4-P 0 mg/l

Reagents/standard solutions/cleaner for analyzer

CY80TP-FF+TQ (Bulgaria)

Standard solution PO4-P 20 mg/l

Reagents/standard solutions/cleaner for analyzer

CY80TP-FF+SO (Slovakia)

Reagent set (SO) for CA80TP

Reagents/standard solutions/cleaner for analyzer

CY800-FF11 (United Kingdom)

Cleaning solution for CA80TP

Reagents/standard solutions/cleaner for analyzer

CY80TP-FF+SO (Estonia)

Reagent set (SO) for CA80TP

Reagents/standard solutions/cleaner for analyzer

CY80TP-RN (Estonia)

Ready to use reagent RN for CA80TP

Reagents/standard solutions/cleaner for analyzer

CY80TP-RN (India)

Ready to use reagent RN for CA80TP

Reagents/standard solutions/cleaner for analyzer

CY80TP-FF+TG (Romania)

Standard solution PO4-P 0 mg/l

Reagents/standard solutions/cleaner for analyzer

CY80TP-FF+TS (Belgium)

Standard solution PO4-P 50 mg/l

Reagents/standard solutions/cleaner for analyzer

CY80TP-FF+SH (United Kingdom)

Reagent set (SH) for CA80TP

Reagents/standard solutions/cleaner for analyzer

CY80TP-FF+TG (Spain)

Standard solution PO4-P 0 mg/l

Reagents/standard solutions/cleaner for analyzer

CY800-FF11 (Hungary)

Cleaning solution for CA80TP

Reagents/standard solutions/cleaner for analyzer

CY80TP-RB (Australia)

Ready to use reagent RB for CA80TP

Reagents/standard solutions/cleaner for analyzer

CY80TP-RK (Spain)

Ready to use reagent RK for CA80TP

Reagents/standard solutions/cleaner for analyzer

CY80TP-FF+TG (Denmark)

Standard solution PO4-P 0 mg/l

Reagents/standard solutions/cleaner for analyzer

CY80TP-FF+SH (Latvia)

Reagent set (SH) for CA80TP

Reagents/standard solutions/cleaner for analyzer

CY80TP-FF+TS (Switzerland)

Standard solution PO4-P 50 mg/l

Reagents/standard solutions/cleaner for analyzer

CY80TP-RB (Slovakia)

Ready to use reagent RB for CA80TP

Reagents/standard solutions/cleaner for analyzer

CY80TP-FF+TP (Russia)

Standard solution PO4-P 10 mg/l

Reagents/standard solutions/cleaner for analyzer

CY80TP-FF+TM (Belgium)

Standard solution PO4-P 2,0 mg/l

Reagents/standard solutions/cleaner for analyzer

CY80TP-RN (South Africa)

Ready to use reagent RN for CA80TP

Reagents/standard solutions/cleaner for analyzer

CY80TP-FF+TP (Switzerland (Italian))

Standard solution PO4-P 10 mg/l

Reagents/standard solutions/cleaner for analyzer

CY80TP-FF+TG (China)

Standard solution PO4-P 0 mg/l

Reagents/standard solutions/cleaner for analyzer

CY80TP-FF+SH (Croatia)

Reagent set (SH) for CA80TP

Reagents/standard solutions/cleaner for analyzer

CY80TP-RB (Romania)

Ready to use reagent RB for CA80TP

Reagents/standard solutions/cleaner for analyzer

CY80TP-FF+TL (Switzerland (Italian))

Standard solution PO4-P 1,0 mg/l

Reagents/standard solutions/cleaner for analyzer

CY80TP-RK (Greece)

Ready to use reagent RK for CA80TP

Reagents/standard solutions/cleaner for analyzer

CY80TP-FF+TL (New Zealand)

Standard solution PO4-P 1,0 mg/l

Reagents/standard solutions/cleaner for analyzer

CY80TP-FF+SO (India)

Reagent set (SO) for CA80TP

Reagents/standard solutions/cleaner for analyzer

CY80TP-RK (Estonia)

Ready to use reagent RK for CA80TP

Reagents/standard solutions/cleaner for analyzer

CY80TP-FF+TM (Bulgaria)

Standard solution PO4-P 2,0 mg/l

Reagents/standard solutions/cleaner for analyzer

CY80TP-FF+TM (South Africa)

Standard solution PO4-P 2,0 mg/l

Reagents/standard solutions/cleaner for analyzer

CY80TP-FF+TP (Sweden)

Standard solution PO4-P 10 mg/l

Reagents/standard solutions/cleaner for analyzer

CY80TP-FF+TQ (Netherlands)

Standard solution PO4-P 20 mg/l

Reagents/standard solutions/cleaner for analyzer

CY80TP-FF+TP (Netherlands)

Standard solution PO4-P 10 mg/l

Reagents/standard solutions/cleaner for analyzer

CY80TP-FF+TN (United Arab Emirates)

Standard solution PO4-P 5 mg/l

Reagents/standard solutions/cleaner for analyzer

CY80TP-FF+TQ (United Arab Emirates)

Standard solution PO4-P 20 mg/l

Reagents/standard solutions/cleaner for analyzer

CY80TP-FF+SH (Sweden)

Reagent set (SH) for CA80TP

Reagents/standard solutions/cleaner for analyzer

CY80TP-RK (Romania)

Ready to use reagent RK for CA80TP

Reagents/standard solutions/cleaner for analyzer

CY80TP-FF+SH (Germany)

Reagent set (SH) for CA80TP

Reagents/standard solutions/cleaner for analyzer

CY80TP-RK (Switzerland (French))

Ready to use reagent RK for CA80TP

Reagents/standard solutions/cleaner for analyzer

CY80TP-FF+TL (Turkey)

Standard solution PO4-P 1,0 mg/l

Reagents/standard solutions/cleaner for analyzer

CY80TP-FF+TN (European Union)

Standard solution PO4-P 5 mg/l

Reagents/standard solutions/cleaner for analyzer

CY80TP-RK (United Arab Emirates)

Ready to use reagent RK for CA80TP

Reagents/standard solutions/cleaner for analyzer

CY80TP-RK (Latvia)

Ready to use reagent RK for CA80TP

Reagents/standard solutions/cleaner for analyzer

CY80TP-FF+TM (Italy)

Standard solution PO4-P 2,0 mg/l

Reagents/standard solutions/cleaner for analyzer

CY80TP-FF+TQ (United Arab Emirates)

Standard solution PO4-P 20 mg/l

Reagents/standard solutions/cleaner for analyzer

CY80TP-FF+TP (South Korea)

Standard solution PO4-P 10 mg/l

Reagents/standard solutions/cleaner for analyzer

CY80TP-RB (Ukraine)

Ready to use reagent RB for CA80TP

Reagents/standard solutions/cleaner for analyzer

CY80TP-FF+TN (Switzerland)

Standard solution PO4-P 5 mg/l

Reagents/standard solutions/cleaner for analyzer

CY80TP-FF+TS (France)

Standard solution PO4-P 50 mg/l

Reagents/standard solutions/cleaner for analyzer

CY80TP-FF+TL (South Korea)

Standard solution PO4-P 1,0 mg/l

Reagents/standard solutions/cleaner for analyzer

CY80TP-FF+TP (Denmark)

Standard solution PO4-P 10 mg/l

Reagents/standard solutions/cleaner for analyzer

CY80TP-FF+TP (Malta)

Standard solution PO4-P 10 mg/l

Reagents/standard solutions/cleaner for analyzer

CY80TP-FF+SH (Greece)

Reagent set (SH) for CA80TP

Reagents/standard solutions/cleaner for analyzer

CY80TP-RN (USA)

Ready to use reagent RN for CA80TP

Reagents/standard solutions/cleaner for analyzer

CY80TP-FF+TN (Canada)

Standard solution PO4-P 5 mg/l

Reagents/standard solutions/cleaner for analyzer

CY80TP-FF+TN (New Zealand)

Standard solution PO4-P 5 mg/l

Reagents/standard solutions/cleaner for analyzer

CY800-FF11 (South Korea)

Cleaning solution for CA80TP

Reagents/standard solutions/cleaner for analyzer

CY80TP-FF+SO (Switzerland (Italian))

Reagent set (SO) for CA80TP

Reagents/standard solutions/cleaner for analyzer

CY80TP-FF+TP (Slovenia)

Standard solution PO4-P 10 mg/l

Reagents/standard solutions/cleaner for analyzer

CY80TP-FF+TL (Estonia)

Standard solution PO4-P 1,0 mg/l

Reagents/standard solutions/cleaner for analyzer

CY80TP-FF+TS (European Union)

Standard solution PO4-P 50 mg/l

Reagents/standard solutions/cleaner for analyzer

CY80TP-RB (New Zealand)

Ready to use reagent RB for CA80TP

Reagents/standard solutions/cleaner for analyzer

CY80TP-RN (Latvia)

Ready to use reagent RN for CA80TP

Reagents/standard solutions/cleaner for analyzer

CY80TP-FF+TG (Canada (French))

Standard solution PO4-P 0 mg/l

Reagents/standard solutions/cleaner for analyzer

CY80TP-FF+TP (South Africa)

Standard solution PO4-P 10 mg/l

Reagents/standard solutions/cleaner for analyzer

CY80TP-FF+TG (Austria)

Standard solution PO4-P 0 mg/l

Reagents/standard solutions/cleaner for analyzer

CY80TP-FF+TS (Turkey)

Standard solution PO4-P 50 mg/l

Reagents/standard solutions/cleaner for analyzer

CY80TP-FF+TG (South Africa)

Standard solution PO4-P 0 mg/l

Reagents/standard solutions/cleaner for analyzer

CY800-FF11 (Malta)

Cleaning solution for CA80TP

Reagents/standard solutions/cleaner for analyzer

CY80TP-RB (France)

Ready to use reagent RB for CA80TP

Reagents/standard solutions/cleaner for analyzer

CY80TP-FF+TS (Sweden)

Standard solution PO4-P 50 mg/l

Reagents/standard solutions/cleaner for analyzer

CY80TP-FF+TP (United Kingdom)

Standard solution PO4-P 10 mg/l

Reagents/standard solutions/cleaner for analyzer

CY80TP-FF+TM (New Zealand)

Standard solution PO4-P 2,0 mg/l

Reagents/standard solutions/cleaner for analyzer

CY80TP-RN (China)

Ready to use reagent RN for CA80TP

Reagents/standard solutions/cleaner for analyzer

CY80TP-FF+SO (Turkey)

Reagent set (SO) for CA80TP

Reagents/standard solutions/cleaner for analyzer

CY80TP-RB (Germany)

Ready to use reagent RB for CA80TP

Reagents/standard solutions/cleaner for analyzer

CY800-FF11 (United Arab Emirates)

Cleaning solution for CA80TP

Reagents/standard solutions/cleaner for analyzer

CY80TP-FF+TP (Hungary)

Standard solution PO4-P 10 mg/l

Reagents/standard solutions/cleaner for analyzer

CY80TP-FF+TL (Russia)

Standard solution PO4-P 1,0 mg/l

Reagents/standard solutions/cleaner for analyzer

CY80TP-FF+TS (Canada (French))

Standard solution PO4-P 50 mg/l

Reagents/standard solutions/cleaner for analyzer

CY80TP-FF+TQ (Turkey)

Standard solution PO4-P 20 mg/l

Reagents/standard solutions/cleaner for analyzer

CY800-FF11 (Estonia)

Cleaning solution for CA80TP

Reagents/standard solutions/cleaner for analyzer

CY80TP-FF+TN (Malta)

Standard solution PO4-P 5 mg/l

Reagents/standard solutions/cleaner for analyzer

CY80TP-RK (European Union)

Ready to use reagent RK for CA80TP

Reagents/standard solutions/cleaner for analyzer

CY80TP-FF+TP (Estonia)

Standard solution PO4-P 10 mg/l

Reagents/standard solutions/cleaner for analyzer

CY80TP-RK (Malta)

Ready to use reagent RK for CA80TP

Reagents/standard solutions/cleaner for analyzer

CY80TP-FF+SH (United Arab Emirates)

Reagent set (SH) for CA80TP

Reagents/standard solutions/cleaner for analyzer

CY80TP-FF+TL (United Arab Emirates)

Standard solution PO4-P 1,0 mg/l

Reagents/standard solutions/cleaner for analyzer

CY800-FF11 (European Union)

Cleaning solution for CA80TP

Reagents/standard solutions/cleaner for analyzer

CY800-FF11 (Lithuania)

Cleaning solution for CA80TP

Reagents/standard solutions/cleaner for analyzer

CY80TP-FF+TS (Lithuania)

Standard solution PO4-P 50 mg/l

Reagents/standard solutions/cleaner for analyzer

CY80TP-FF+TL (Switzerland)

Standard solution PO4-P 1,0 mg/l

Reagents/standard solutions/cleaner for analyzer

CY80TP-FF+SO (Denmark)

Reagent set (SO) for CA80TP

Reagents/standard solutions/cleaner for analyzer

CY80TP-RK (Australia)

Ready to use reagent RK for CA80TP

Reagents/standard solutions/cleaner for analyzer

CY80TP-FF+TM (Belgium (Dutch))

Standard solution PO4-P 2,0 mg/l

Reagents/standard solutions/cleaner for analyzer

CY80TP-FF+TG (Ukraine)

Standard solution PO4-P 0 mg/l

Reagents/standard solutions/cleaner for analyzer

CY80TP-FF+TN (United Kingdom)

Standard solution PO4-P 5 mg/l

Reagents/standard solutions/cleaner for analyzer

CY80TP-RK (Sweden)

Ready to use reagent RK for CA80TP

Reagents/standard solutions/cleaner for analyzer

CY80TP-FF+TP (Japan)

Standard solution PO4-P 10 mg/l

Reagents/standard solutions/cleaner for analyzer

CY80TP-FF+TN (Saudi Arabien)

Standard solution PO4-P 5 mg/l

Reagents/standard solutions/cleaner for analyzer

CY800-FF11 (Saudi Arabien)

Cleaning solution for CA80TP

Reagents/standard solutions/cleaner for analyzer

CY80TP-FF+TM (Switzerland (French))

Standard solution PO4-P 2,0 mg/l

Reagents/standard solutions/cleaner for analyzer

CY80TP-RB (Bulgaria)

Ready to use reagent RB for CA80TP

Reagents/standard solutions/cleaner for analyzer

CY80TP-FF+TQ (Finland)

Standard solution PO4-P 20 mg/l

Reagents/standard solutions/cleaner for analyzer

CY80TP-FF+TS (Slovenia)

Standard solution PO4-P 50 mg/l

Reagents/standard solutions/cleaner for analyzer

CY80TP-FF+TP (France)

Standard solution PO4-P 10 mg/l

Reagents/standard solutions/cleaner for analyzer

CY800-FF11 (Switzerland)

Cleaning solution for CA80TP

Reagents/standard solutions/cleaner for analyzer

CY80TP-RK (South Korea)

Ready to use reagent RK for CA80TP

Reagents/standard solutions/cleaner for analyzer

CY80TP-FF+SH (Switzerland (French))

Reagent set (SH) for CA80TP

Reagents/standard solutions/cleaner for analyzer

CY800-FF11 (South Africa)

Cleaning solution for CA80TP

Reagents/standard solutions/cleaner for analyzer

CY80TP-FF+TS (Germany)

Standard solution PO4-P 50 mg/l

Reagents/standard solutions/cleaner for analyzer

CY80TP-RB (Denmark)

Ready to use reagent RB for CA80TP

Reagents/standard solutions/cleaner for analyzer

CY80TP-RN (United Arab Emirates)

Ready to use reagent RN for CA80TP

Reagents/standard solutions/cleaner for analyzer

CY80TP-FF+TP (India)

Standard solution PO4-P 10 mg/l

Reagents/standard solutions/cleaner for analyzer

CY80TP-FF+TN (Hungary)

Standard solution PO4-P 5 mg/l

Reagents/standard solutions/cleaner for analyzer

CY80TP-FF+TP (Czech Republic)

Standard solution PO4-P 10 mg/l

Reagents/standard solutions/cleaner for analyzer

CY80TP-FF+SO (Lithuania)

Reagent set (SO) for CA80TP

Reagents/standard solutions/cleaner for analyzer

CY80TP-FF+SH (Lithuania)

Reagent set (SH) for CA80TP

Reagents/standard solutions/cleaner for analyzer

CY80TP-FF+SO (Hungary)

Reagent set (SO) for CA80TP

Reagents/standard solutions/cleaner for analyzer

CY80TP-FF+TN (Belgium (Dutch))

Standard solution PO4-P 5 mg/l

Reagents/standard solutions/cleaner for analyzer

CY80TP-FF+SH (Belgium)

Reagent set (SH) for CA80TP

Reagents/standard solutions/cleaner for analyzer

CY80TP-RB (Lithuania)

Ready to use reagent RB for CA80TP

Reagents/standard solutions/cleaner for analyzer

CY80TP-RK (Belgium (Dutch))

Ready to use reagent RK for CA80TP

Reagents/standard solutions/cleaner for analyzer

CY80TP-FF+SO (Canada (French))

Reagent set (SO) for CA80TP

Reagents/standard solutions/cleaner for analyzer

CY80TP-RB (South Africa)

Ready to use reagent RB for CA80TP

Reagents/standard solutions/cleaner for analyzer

CY80TP-FF+TG (Lithuania)

Standard solution PO4-P 0 mg/l

Reagents/standard solutions/cleaner for analyzer

CY80TP-FF+TN (Bulgaria)

Standard solution PO4-P 5 mg/l

Reagents/standard solutions/cleaner for analyzer

CY80TP-FF+TG (USA)

Standard solution PO4-P 0 mg/l

Reagents/standard solutions/cleaner for analyzer

CY80TP-FF+TS (Finland)

Standard solution PO4-P 50 mg/l

Reagents/standard solutions/cleaner for analyzer

CY80TP-FF+SO (Finland)

Reagent set (SO) for CA80TP

Reagents/standard solutions/cleaner for analyzer

CY80TP-FF+TQ (South Korea)

Standard solution PO4-P 20 mg/l

Reagents/standard solutions/cleaner for analyzer

CY80TP-RB (Estonia)

Ready to use reagent RB for CA80TP

Reagents/standard solutions/cleaner for analyzer

CY80TP-FF+SH (South Africa)

Reagent set (SH) for CA80TP

Reagents/standard solutions/cleaner for analyzer

CY80TP-FF+TM (Romania)

Standard solution PO4-P 2,0 mg/l

Reagents/standard solutions/cleaner for analyzer

CY80TP-FF+SO (Malta)

Reagent set (SO) for CA80TP

Reagents/standard solutions/cleaner for analyzer

CY80TP-FF+TQ (Croatia)

Standard solution PO4-P 20 mg/l

Reagents/standard solutions/cleaner for analyzer

CY80TP-RK (Slovenia)

Ready to use reagent RK for CA80TP

Reagents/standard solutions/cleaner for analyzer

CY80TP-FF+TP (United Arab Emirates)

Standard solution PO4-P 10 mg/l

Reagents/standard solutions/cleaner for analyzer

CY80TP-RK (Canada)

Ready to use reagent RK for CA80TP

Reagents/standard solutions/cleaner for analyzer

CY80TP-RN (United Kingdom)

Ready to use reagent RN for CA80TP

Reagents/standard solutions/cleaner for analyzer

CY80TP-FF+TP (Lithuania)

Standard solution PO4-P 10 mg/l

Reagents/standard solutions/cleaner for analyzer

CY80TP-FF+TS (United Kingdom)

Standard solution PO4-P 50 mg/l

Reagents/standard solutions/cleaner for analyzer

CY80TP-FF+TS (Switzerland (French))

Standard solution PO4-P 50 mg/l

Reagents/standard solutions/cleaner for analyzer

CY80TP-FF+TQ (European Union)

Standard solution PO4-P 20 mg/l

Reagents/standard solutions/cleaner for analyzer

CY80TP-RN (New Zealand)

Ready to use reagent RN for CA80TP

Reagents/standard solutions/cleaner for analyzer

CY80TP-FF+TG (Poland)

Standard solution PO4-P 0 mg/l

Reagents/standard solutions/cleaner for analyzer

CY80TP-FF+TN (Estonia)

Standard solution PO4-P 5 mg/l

Reagents/standard solutions/cleaner for analyzer

CY80TP-FF+TG (United Arab Emirates)

Standard solution PO4-P 0 mg/l

Reagents/standard solutions/cleaner for analyzer

CY80TP-RK (Switzerland)

Ready to use reagent RK for CA80TP

Reagents/standard solutions/cleaner for analyzer

CY80TP-FF+SO (Canada)

Reagent set (SO) for CA80TP

Reagents/standard solutions/cleaner for analyzer

CY800-FF11 (Germany)

Cleaning solution for CA80TP

Reagents/standard solutions/cleaner for analyzer

CY80TP-RK (Denmark)

Ready to use reagent RK for CA80TP

Reagents/standard solutions/cleaner for analyzer

CY80TP-FF+TQ (Canada (French))

Standard solution PO4-P 20 mg/l

Reagents/standard solutions/cleaner for analyzer

CY80TP-FF+TQ (Romania)

Standard solution PO4-P 20 mg/l

Reagents/standard solutions/cleaner for analyzer

CY80TP-FF+SH (Australia)

Reagent set (SH) for CA80TP

Reagents/standard solutions/cleaner for analyzer

CY80TP-FF+TM (China)

Standard solution PO4-P 2,0 mg/l

Reagents/standard solutions/cleaner for analyzer

CY80TP-FF+SO (Russia)

Reagent set (SO) for CA80TP

Reagents/standard solutions/cleaner for analyzer

CY80TP-FF+TQ (Switzerland (Italian))

Standard solution PO4-P 20 mg/l

Reagents/standard solutions/cleaner for analyzer

CY80TP-FF+TG (Czech Republic)

Standard solution PO4-P 0 mg/l

Reagents/standard solutions/cleaner for analyzer

CY80TP-FF+SH (Austria)

Reagent set (SH) for CA80TP

Reagents/standard solutions/cleaner for analyzer

CY80TP-RN (Netherlands)

Ready to use reagent RN for CA80TP

Reagents/standard solutions/cleaner for analyzer

CY80TP-FF+TL (Latvia)

Standard solution PO4-P 1,0 mg/l

Reagents/standard solutions/cleaner for analyzer

CY800-FF11 (United Arab Emirates)

Cleaning solution for CA80TP

Reagents/standard solutions/cleaner for analyzer

CY800-FF11 (Italy)

Cleaning solution for CA80TP

Reagents/standard solutions/cleaner for analyzer

CY80TP-FF+TS (Latvia)

Standard solution PO4-P 50 mg/l

Reagents/standard solutions/cleaner for analyzer

CY800-FF11 (Canada (French))

Cleaning solution for CA80TP

Reagents/standard solutions/cleaner for analyzer

CY80TP-RK (Slovakia)

Ready to use reagent RK for CA80TP

Reagents/standard solutions/cleaner for analyzer

CY80TP-FF+TL (China)

Standard solution PO4-P 1,0 mg/l

Reagents/standard solutions/cleaner for analyzer

CY80TP-FF+TN (Czech Republic)

Standard solution PO4-P 5 mg/l

Reagents/standard solutions/cleaner for analyzer

CY80TP-RK (Portugal)

Ready to use reagent RK for CA80TP

Reagents/standard solutions/cleaner for analyzer

CY80TP-FF+SO (Poland)

Reagent set (SO) for CA80TP

Reagents/standard solutions/cleaner for analyzer

CY80TP-RK (United Arab Emirates)

Ready to use reagent RK for CA80TP

Reagents/standard solutions/cleaner for analyzer

CY80TP-RN (Denmark)

Ready to use reagent RN for CA80TP

Reagents/standard solutions/cleaner for analyzer

CY80TP-FF+TG (South Korea)

Standard solution PO4-P 0 mg/l

Reagents/standard solutions/cleaner for analyzer

CY80TP-FF+TN (Austria)

Standard solution PO4-P 5 mg/l

Reagents/standard solutions/cleaner for analyzer

CY80TP-FF+SH (Finland)

Reagent set (SH) for CA80TP

Reagents/standard solutions/cleaner for analyzer

CY80TP-RN (Switzerland (Italian))

Ready to use reagent RN for CA80TP

Reagents/standard solutions/cleaner for analyzer

CY80TP-FF+TQ (Czech Republic)

Standard solution PO4-P 20 mg/l

Reagents/standard solutions/cleaner for analyzer

CY80TP-FF+TP (Canada)

Standard solution PO4-P 10 mg/l

Reagents/standard solutions/cleaner for analyzer

CY80TP-FF+TQ (Mexico)

Standard solution PO4-P 20 mg/l

Reagents/standard solutions/cleaner for analyzer

CY80TP-FF+TL (Romania)

Standard solution PO4-P 1,0 mg/l

Reagents/standard solutions/cleaner for analyzer

CY800-FF11 (Mexico)

Cleaning solution for CA80TP

Reagents/standard solutions/cleaner for analyzer

CY80TP-FF+SH (Switzerland)

Reagent set (SH) for CA80TP

Reagents/standard solutions/cleaner for analyzer

CY80TP-FF+TQ (Malta)

Standard solution PO4-P 20 mg/l

Reagents/standard solutions/cleaner for analyzer

CY80TP-FF+TP (Germany)

Standard solution PO4-P 10 mg/l

Reagents/standard solutions/cleaner for analyzer

CY80TP-FF+TQ (Austria)

Standard solution PO4-P 20 mg/l

Reagents/standard solutions/cleaner for analyzer

CY80TP-FF+TM (Canada (French))

Standard solution PO4-P 2,0 mg/l

Reagents/standard solutions/cleaner for analyzer

CY80TP-RK (Switzerland (Italian))

Ready to use reagent RK for CA80TP

Reagents/standard solutions/cleaner for analyzer

CY800-FF11 (Latvia)

Cleaning solution for CA80TP

Reagents/standard solutions/cleaner for analyzer

CY80TP-FF+TG (Hungary)

Standard solution PO4-P 0 mg/l

Reagents/standard solutions/cleaner for analyzer

CY80TP-FF+TM (Turkey)

Standard solution PO4-P 2,0 mg/l

Reagents/standard solutions/cleaner for analyzer

CY80TP-FF+SO (United Kingdom)

Reagent set (SO) for CA80TP

Reagents/standard solutions/cleaner for analyzer

CY80TP-FF+TG (Switzerland (French))

Standard solution PO4-P 0 mg/l

Reagents/standard solutions/cleaner for analyzer

CY80TP-FF+TG (Norway)

Standard solution PO4-P 0 mg/l

Reagents/standard solutions/cleaner for analyzer

CY80TP-FF+TS (Bulgaria)

Standard solution PO4-P 50 mg/l

Reagents/standard solutions/cleaner for analyzer

CY80TP-FF+TM (Saudi Arabien)

Standard solution PO4-P 2,0 mg/l

Reagents/standard solutions/cleaner for analyzer

CY80TP-FF+TM (United Kingdom)

Standard solution PO4-P 2,0 mg/l

Reagents/standard solutions/cleaner for analyzer

CY80TP-FF+TG (Netherlands)

Standard solution PO4-P 0 mg/l

Reagents/standard solutions/cleaner for analyzer

CY80TP-FF+TL (United Kingdom)

Standard solution PO4-P 1,0 mg/l

Reagents/standard solutions/cleaner for analyzer

CY80TP-RN (Portugal)

Ready to use reagent RN for CA80TP

Reagents/standard solutions/cleaner for analyzer

CY80TP-RN (Slovenia)

Ready to use reagent RN for CA80TP

Reagents/standard solutions/cleaner for analyzer

CY800-FF11 (Austria)

Cleaning solution for CA80TP

Reagents/standard solutions/cleaner for analyzer

CY800-FF11 (Poland)

Cleaning solution for CA80TP

Reagents/standard solutions/cleaner for analyzer

CY80TP-FF+TM (Canada)

Standard solution PO4-P 2,0 mg/l

Reagents/standard solutions/cleaner for analyzer

CY80TP-RB (Ireland)

Ready to use reagent RB for CA80TP

Reagents/standard solutions/cleaner for analyzer

CY80TP-FF+TS (Italy)

Standard solution PO4-P 50 mg/l

Reagents/standard solutions/cleaner for analyzer

CY80TP-FF+SO (France)

Reagent set (SO) for CA80TP

Reagents/standard solutions/cleaner for analyzer

CY80TP-FF+TP (Saudi Arabien)

Standard solution PO4-P 10 mg/l

Reagents/standard solutions/cleaner for analyzer

CY80TP-FF+SH (Ireland)

Reagent set (SH) for CA80TP

Reagents/standard solutions/cleaner for analyzer

CY80TP-RN (Germany)

Ready to use reagent RN for CA80TP

Reagents/standard solutions/cleaner for analyzer

CY80TP-RN (Japan)

Ready to use reagent RN for CA80TP

Reagents/standard solutions/cleaner for analyzer

CY80TP-FF+TN (Switzerland (French))

Standard solution PO4-P 5 mg/l

Reagents/standard solutions/cleaner for analyzer

CY80TP-FF+SH (European Union)

Reagent set (SH) for CA80TP

Reagents/standard solutions/cleaner for analyzer

CY80TP-FF+TP (Croatia)

Standard solution PO4-P 10 mg/l

Reagents/standard solutions/cleaner for analyzer

CY80TP-FF+TP (Ireland)

Standard solution PO4-P 10 mg/l

Reagents/standard solutions/cleaner for analyzer

CY80TP-FF+TL (Portugal)

Standard solution PO4-P 1,0 mg/l

Reagents/standard solutions/cleaner for analyzer

CY80TP-FF+TQ (Australia)

Standard solution PO4-P 20 mg/l

Reagents/standard solutions/cleaner for analyzer

CY80TP-RB (Switzerland (French))

Ready to use reagent RB for CA80TP

Reagents/standard solutions/cleaner for analyzer

CY80TP-FF+TS (Portugal)

Standard solution PO4-P 50 mg/l

Reagents/standard solutions/cleaner for analyzer

CY80TP-FF+TQ (Belgium)

Standard solution PO4-P 20 mg/l

Reagents/standard solutions/cleaner for analyzer

CY80TP-RK (Belgium)

Ready to use reagent RK for CA80TP

Reagents/standard solutions/cleaner for analyzer

CY80TP-FF+TM (Germany)

Standard solution PO4-P 2,0 mg/l

Reagents/standard solutions/cleaner for analyzer

CY80TP-FF+TS (Belgium (Dutch))

Standard solution PO4-P 50 mg/l

Reagents/standard solutions/cleaner for analyzer

CY80TP-FF+TL (Ireland)

Standard solution PO4-P 1,0 mg/l

Reagents/standard solutions/cleaner for analyzer

CY80TP-FF+TS (Australia)

Standard solution PO4-P 50 mg/l

Reagents/standard solutions/cleaner for analyzer

CY80TP-FF+TG (Turkey)

Standard solution PO4-P 0 mg/l

Reagents/standard solutions/cleaner for analyzer

CY80TP-FF+TS (Norway)

Standard solution PO4-P 50 mg/l

Reagents/standard solutions/cleaner for analyzer

CY80TP-FF+TM (Switzerland (Italian))

Standard solution PO4-P 2,0 mg/l

Reagents/standard solutions/cleaner for analyzer

CY800-FF11 (Norway)

Cleaning solution for CA80TP

Reagents/standard solutions/cleaner for analyzer

CY80TP-RN (Lithuania)

Ready to use reagent RN for CA80TP

Reagents/standard solutions/cleaner for analyzer

CY80TP-FF+TL (Belgium (Dutch))

Standard solution PO4-P 1,0 mg/l

Reagents/standard solutions/cleaner for analyzer

CY80TP-FF+TM (Czech Republic)

Standard solution PO4-P 2,0 mg/l

Reagents/standard solutions/cleaner for analyzer

CY80TP-RK (Austria)

Ready to use reagent RK for CA80TP

Reagents/standard solutions/cleaner for analyzer

CY80TP-RK (Canada (French))

Ready to use reagent RK for CA80TP

Reagents/standard solutions/cleaner for analyzer

CY800-FF11 (Netherlands)

Cleaning solution for CA80TP

Reagents/standard solutions/cleaner for analyzer

CY80TP-RK (Hungary)

Ready to use reagent RK for CA80TP

Reagents/standard solutions/cleaner for analyzer

CY80TP-FF+SH (Slovakia)

Reagent set (SH) for CA80TP

Reagents/standard solutions/cleaner for analyzer

CY800-FF11 (Switzerland (French))

Cleaning solution for CA80TP

Reagents/standard solutions/cleaner for analyzer

CY80TP-FF+TN (Belgium)

Standard solution PO4-P 5 mg/l

Reagents/standard solutions/cleaner for analyzer

CY80TP-FF+TL (Spain)

Standard solution PO4-P 1,0 mg/l

Reagents/standard solutions/cleaner for analyzer

CY80TP-RK (Bulgaria)

Ready to use reagent RK for CA80TP

Reagents/standard solutions/cleaner for analyzer

CY80TP-FF+TP (United Arab Emirates)

Standard solution PO4-P 10 mg/l

Reagents/standard solutions/cleaner for analyzer

CY80TP-FF+SO (Czech Republic)

Reagent set (SO) for CA80TP

Reagents/standard solutions/cleaner for analyzer

CY80TP-RB (Malta)

Ready to use reagent RB for CA80TP

Reagents/standard solutions/cleaner for analyzer

CY80TP-FF+TL (Japan)

Standard solution PO4-P 1,0 mg/l

Reagents/standard solutions/cleaner for analyzer

CY80TP-FF+TQ (New Zealand)

Standard solution PO4-P 20 mg/l

Reagents/standard solutions/cleaner for analyzer

CY80TP-RK (Croatia)

Ready to use reagent RK for CA80TP

Reagents/standard solutions/cleaner for analyzer

CY80TP-FF+TS (Switzerland (Italian))

Standard solution PO4-P 50 mg/l

Reagents/standard solutions/cleaner for analyzer

CY800-FF11 (Russia)

Cleaning solution for CA80TP

Reagents/standard solutions/cleaner for analyzer

CY80TP-FF+TN (Slovenia)

Standard solution PO4-P 5 mg/l

Reagents/standard solutions/cleaner for analyzer

CY80TP-FF+TP (Spain)

Standard solution PO4-P 10 mg/l

Reagents/standard solutions/cleaner for analyzer

CY80TP-FF+SO (European Union)

Reagent set (SO) for CA80TP

Reagents/standard solutions/cleaner for analyzer

CY800-FF11 (Bulgaria)

Cleaning solution for CA80TP

Reagents/standard solutions/cleaner for analyzer

CY80TP-FF+TG (Finland)

Standard solution PO4-P 0 mg/l

Reagents/standard solutions/cleaner for analyzer

CY80TP-FF+TL (Slovakia)

Standard solution PO4-P 1,0 mg/l

Reagents/standard solutions/cleaner for analyzer

CY80TP-FF+TN (Netherlands)

Standard solution PO4-P 5 mg/l

Reagents/standard solutions/cleaner for analyzer

CY80TP-FF+SH (Japan)

Reagent set (SH) for CA80TP

Reagents/standard solutions/cleaner for analyzer

CY80TP-FF+TG (Latvia)

Standard solution PO4-P 0 mg/l

Reagents/standard solutions/cleaner for analyzer

CY80TP-FF+SO (Switzerland (French))

Reagent set (SO) for CA80TP

Reagents/standard solutions/cleaner for analyzer

CY800-FF11 (China)

Cleaning solution for CA80TP

Reagents/standard solutions/cleaner for analyzer

CY80TP-RN (Austria)

Ready to use reagent RN for CA80TP

Reagents/standard solutions/cleaner for analyzer

CY80TP-RN (South Korea)

Ready to use reagent RN for CA80TP

Reagents/standard solutions/cleaner for analyzer

CY80TP-RB (Mexico)

Ready to use reagent RB for CA80TP

Reagents/standard solutions/cleaner for analyzer

CY80TP-FF+TM (South Korea)

Standard solution PO4-P 2,0 mg/l

Reagents/standard solutions/cleaner for analyzer

CY80TP-FF+TP (Italy)

Standard solution PO4-P 10 mg/l

Reagents/standard solutions/cleaner for analyzer

CY80TP-FF+TQ (Latvia)

Standard solution PO4-P 20 mg/l

Reagents/standard solutions/cleaner for analyzer

CY80TP-RK (Turkey)

Ready to use reagent RK for CA80TP

Reagents/standard solutions/cleaner for analyzer

CY80TP-FF+SO (Romania)

Reagent set (SO) for CA80TP

Reagents/standard solutions/cleaner for analyzer

CY80TP-RB (Saudi Arabien)

Ready to use reagent RB for CA80TP

Reagents/standard solutions/cleaner for analyzer

CY80TP-FF+SO (Portugal)

Reagent set (SO) for CA80TP

Reagents/standard solutions/cleaner for analyzer

CY80TP-RK (Netherlands)

Ready to use reagent RK for CA80TP

Reagents/standard solutions/cleaner for analyzer

CY80TP-FF+TS (New Zealand)

Standard solution PO4-P 50 mg/l

Reagents/standard solutions/cleaner for analyzer

CY80TP-FF+SH (Malta)

Reagent set (SH) for CA80TP

Reagents/standard solutions/cleaner for analyzer

CY80TP-FF+TN (Australia)

Standard solution PO4-P 5 mg/l

Reagents/standard solutions/cleaner for analyzer

CY80TP-FF+TQ (China)

Standard solution PO4-P 20 mg/l

Reagents/standard solutions/cleaner for analyzer

CY80TP-FF+TG (Saudi Arabien)

Standard solution PO4-P 0 mg/l

Reagents/standard solutions/cleaner for analyzer

CY80TP-FF+TP (Canada (French))

Standard solution PO4-P 10 mg/l

Reagents/standard solutions/cleaner for analyzer

CY80TP-FF+TN (Denmark)

Standard solution PO4-P 5 mg/l

Reagents/standard solutions/cleaner for analyzer

CY80TP-RK (India)

Ready to use reagent RK for CA80TP

Reagents/standard solutions/cleaner for analyzer

CY80TP-FF+TL (Norway)

Standard solution PO4-P 1,0 mg/l

Reagents/standard solutions/cleaner for analyzer

CY80TP-FF+TP (European Union)

Standard solution PO4-P 10 mg/l

Reagents/standard solutions/cleaner for analyzer

CY80TP-FF+SO (Saudi Arabien)

Reagent set (SO) for CA80TP

Reagents/standard solutions/cleaner for analyzer

CY800-FF11 (Spain)

Cleaning solution for CA80TP

Reagents/standard solutions/cleaner for analyzer

CY80TP-FF+SH (Ukraine)

Reagent set (SH) for CA80TP

Reagents/standard solutions/cleaner for analyzer

CY80TP-FF+SO (Italy)

Reagent set (SO) for CA80TP

Reagents/standard solutions/cleaner for analyzer

CY80TP-FF+TL (Canada)

Standard solution PO4-P 1,0 mg/l

Reagents/standard solutions/cleaner for analyzer

CY800-FF11 (Czech Republic)

Cleaning solution for CA80TP

Reagents/standard solutions/cleaner for analyzer

CY800-FF11 (Denmark)

Cleaning solution for CA80TP

Reagents/standard solutions/cleaner for analyzer

CY80TP-RN (Australia)

Ready to use reagent RN for CA80TP

Reagents/standard solutions/cleaner for analyzer

CY80TP-FF+TN (Japan)

Standard solution PO4-P 5 mg/l

Reagents/standard solutions/cleaner for analyzer

CY80TP-FF+TM (Ukraine)

Standard solution PO4-P 2,0 mg/l

Reagents/standard solutions/cleaner for analyzer

CY80TP-FF+TG (Italy)

Standard solution PO4-P 0 mg/l

Reagents/standard solutions/cleaner for analyzer

CY80TP-FF+SO (New Zealand)

Reagent set (SO) for CA80TP

Reagents/standard solutions/cleaner for analyzer

CY80TP-FF+TP (Norway)

Standard solution PO4-P 10 mg/l

Reagents/standard solutions/cleaner for analyzer

CY80TP-FF+TS (South Africa)

Standard solution PO4-P 50 mg/l

Reagents/standard solutions/cleaner for analyzer

CY80TP-RN (Canada)

Ready to use reagent RN for CA80TP

Reagents/standard solutions/cleaner for analyzer

CY80TP-FF+TL (Belgium)

Standard solution PO4-P 1,0 mg/l

Reagents/standard solutions/cleaner for analyzer

CY80TP-FF+SH (Poland)

Reagent set (SH) for CA80TP

Reagents/standard solutions/cleaner for analyzer

CY80TP-FF+TS (Greece)

Standard solution PO4-P 50 mg/l

Reagents/standard solutions/cleaner for analyzer

CY80TP-FF+TQ (Spain)

Standard solution PO4-P 20 mg/l

Reagents/standard solutions/cleaner for analyzer

CY80TP-FF+TS (South Korea)

Standard solution PO4-P 50 mg/l

Reagents/standard solutions/cleaner for analyzer

CY80TP-RN (Romania)

Ready to use reagent RN for CA80TP

Reagents/standard solutions/cleaner for analyzer

CY800-FF11 (Belgium (Dutch))

Cleaning solution for CA80TP

Reagents/standard solutions/cleaner for analyzer

CY80TP-FF+SH (United Arab Emirates)

Reagent set (SH) for CA80TP

Reagents/standard solutions/cleaner for analyzer

CY80TP-FF+TP (Portugal)

Standard solution PO4-P 10 mg/l

Reagents/standard solutions/cleaner for analyzer

CY800-FF11 (Switzerland (Italian))

Cleaning solution for CA80TP

Reagents/standard solutions/cleaner for analyzer

CY80TP-FF+TQ (Russia)

Standard solution PO4-P 20 mg/l

Reagents/standard solutions/cleaner for analyzer

CY80TP-RB (South Korea)

Ready to use reagent RB for CA80TP

Reagents/standard solutions/cleaner for analyzer

CY800-FF11 (Slovenia)

Cleaning solution for CA80TP

Reagents/standard solutions/cleaner for analyzer

CY80TP-FF+TL (Poland)

Standard solution PO4-P 1,0 mg/l

Reagents/standard solutions/cleaner for analyzer

CY80TP-FF+TQ (Hungary)

Standard solution PO4-P 20 mg/l

Reagents/standard solutions/cleaner for analyzer

CY80TP-FF+TM (Estonia)

Standard solution PO4-P 2,0 mg/l

Reagents/standard solutions/cleaner for analyzer

CY80TP-FF+SO (Austria)

Reagent set (SO) for CA80TP

Reagents/standard solutions/cleaner for analyzer

CY80TP-FF+TP (Switzerland)

Standard solution PO4-P 10 mg/l

Reagents/standard solutions/cleaner for analyzer

CY80TP-FF+SO (Mexico)

Reagent set (SO) for CA80TP

Reagents/standard solutions/cleaner for analyzer

CY80TP-FF+SO (Switzerland)

Reagent set (SO) for CA80TP

Reagents/standard solutions/cleaner for analyzer

CY80TP-FF+TQ (Switzerland (French))

Standard solution PO4-P 20 mg/l

Reagents/standard solutions/cleaner for analyzer

CY80TP-FF+TL (Denmark)

Standard solution PO4-P 1,0 mg/l

Reagents/standard solutions/cleaner for analyzer

CY80TP-FF+TQ (Switzerland)

Standard solution PO4-P 20 mg/l

Reagents/standard solutions/cleaner for analyzer

CY80TP-FF+TL (Bulgaria)

Standard solution PO4-P 1,0 mg/l

Reagents/standard solutions/cleaner for analyzer

CY80TP-RN (Belgium (Dutch))

Ready to use reagent RN for CA80TP

Reagents/standard solutions/cleaner for analyzer

CY80TP-RB (Poland)

Ready to use reagent RB for CA80TP

Reagents/standard solutions/cleaner for analyzer

CY800-FF11 (Turkey)

Cleaning solution for CA80TP

Reagents/standard solutions/cleaner for analyzer

CY80TP-FF+TP (Switzerland (French))

Standard solution PO4-P 10 mg/l

Reagents/standard solutions/cleaner for analyzer

CY80TP-FF+SH (Norway)

Reagent set (SH) for CA80TP

Reagents/standard solutions/cleaner for analyzer

CY80TP-FF+TS (Croatia)

Standard solution PO4-P 50 mg/l

Reagents/standard solutions/cleaner for analyzer

CY80TP-FF+TQ (Poland)

Standard solution PO4-P 20 mg/l

Reagents/standard solutions/cleaner for analyzer

CY80TP-RK (Poland)

Ready to use reagent RK for CA80TP

Reagents/standard solutions/cleaner for analyzer

CY80TP-FF+TM (Russia)

Standard solution PO4-P 2,0 mg/l

Reagents/standard solutions/cleaner for analyzer

CY80TP-FF+TN (Lithuania)

Standard solution PO4-P 5 mg/l

Reagents/standard solutions/cleaner for analyzer

CY80TP-RB (Italy)

Ready to use reagent RB for CA80TP

Reagents/standard solutions/cleaner for analyzer

CY80TP-FF+TL (United Arab Emirates)

Standard solution PO4-P 1,0 mg/l

Reagents/standard solutions/cleaner for analyzer

CY80TP-FF+SH (Denmark)

Reagent set (SH) for CA80TP

Reagents/standard solutions/cleaner for analyzer

CY80TP-FF+TG (Switzerland (Italian))

Standard solution PO4-P 0 mg/l

Reagents/standard solutions/cleaner for analyzer

CY80TP-FF+TG (India)

Standard solution PO4-P 0 mg/l

Reagents/standard solutions/cleaner for analyzer

CY80TP-FF+SO (Spain)

Reagent set (SO) for CA80TP

Reagents/standard solutions/cleaner for analyzer

CY80TP-RB (China)

Ready to use reagent RB for CA80TP

Reagents/standard solutions/cleaner for analyzer

CY80TP-FF+SH (India)

Reagent set (SH) for CA80TP

Reagents/standard solutions/cleaner for analyzer

CY800-FF11 (France)

Cleaning solution for CA80TP

Reagents/standard solutions/cleaner for analyzer

CY80TP-FF+TN (Poland)

Standard solution PO4-P 5 mg/l

Reagents/standard solutions/cleaner for analyzer

CY80TP-FF+TN (Turkey)

Standard solution PO4-P 5 mg/l

Reagents/standard solutions/cleaner for analyzer

CY80TP-FF+TG (Belgium)

Standard solution PO4-P 0 mg/l

Reagents/standard solutions/cleaner for analyzer

CY80TP-FF+SH (Russia)

Reagent set (SH) for CA80TP

Reagents/standard solutions/cleaner for analyzer

CY80TP-FF+TS (Canada)

Standard solution PO4-P 50 mg/l

Reagents/standard solutions/cleaner for analyzer

CY80TP-FF+TN (Portugal)

Standard solution PO4-P 5 mg/l

Reagents/standard solutions/cleaner for analyzer

CY80TP-FF+TN (South Korea)

Standard solution PO4-P 5 mg/l

Reagents/standard solutions/cleaner for analyzer

CY80TP-FF+TG (United Kingdom)

Standard solution PO4-P 0 mg/l

Reagents/standard solutions/cleaner for analyzer

CY800-FF11 (New Zealand)

Cleaning solution for CA80TP

Reagents/standard solutions/cleaner for analyzer

CY80TP-FF+TS (India)

Standard solution PO4-P 50 mg/l

Reagents/standard solutions/cleaner for analyzer

CY80TP-RK (Norway)

Ready to use reagent RK for CA80TP

Reagents/standard solutions/cleaner for analyzer

CY80TP-FF+TQ (Ukraine)

Standard solution PO4-P 20 mg/l

Reagents/standard solutions/cleaner for analyzer

CY80TP-FF+SO (Latvia)

Reagent set (SO) for CA80TP

Reagents/standard solutions/cleaner for analyzer

CY80TP-FF+TQ (Belgium (Dutch))

Standard solution PO4-P 20 mg/l

Reagents/standard solutions/cleaner for analyzer

CY80TP-FF+SH (South Korea)

Reagent set (SH) for CA80TP

Reagents/standard solutions/cleaner for analyzer

CY80TP-FF+TP (Romania)

Standard solution PO4-P 10 mg/l

Reagents/standard solutions/cleaner for analyzer

CY80TP-FF+TL (Slovenia)

Standard solution PO4-P 1,0 mg/l

Reagents/standard solutions/cleaner for analyzer

CY80TP-FF+SH (Saudi Arabien)

Reagent set (SH) for CA80TP

Reagents/standard solutions/cleaner for analyzer

CY800-FF11 (Canada)

Cleaning solution for CA80TP

Reagents/standard solutions/cleaner for analyzer

CY80TP-FF+TL (Ukraine)

Standard solution PO4-P 1,0 mg/l

Reagents/standard solutions/cleaner for analyzer

CY80TP-FF+SH (Canada)

Reagent set (SH) for CA80TP

Reagents/standard solutions/cleaner for analyzer

CY80TP-FF+TQ (Portugal)

Standard solution PO4-P 20 mg/l

Reagents/standard solutions/cleaner for analyzer

CY80TP-FF+TL (Saudi Arabien)

Standard solution PO4-P 1,0 mg/l

Reagents/standard solutions/cleaner for analyzer

CY80TP-FF+SH (Italy)

Reagent set (SH) for CA80TP

Reagents/standard solutions/cleaner for analyzer

CY80TP-RB (Netherlands)

Ready to use reagent RB for CA80TP

Reagents/standard solutions/cleaner for analyzer

CY80TP-FF+TN (Canada (French))

Standard solution PO4-P 5 mg/l

Reagents/standard solutions/cleaner for analyzer

CY80TP-FF+TM (Slovenia)

Standard solution PO4-P 2,0 mg/l

Reagents/standard solutions/cleaner for analyzer

CY80TP-FF+TM (Austria)

Standard solution PO4-P 2,0 mg/l

Reagents/standard solutions/cleaner for analyzer

CY80TP-FF+TM (USA)

Standard solution PO4-P 2,0 mg/l

Reagents/standard solutions/cleaner for analyzer

CY80TP-FF+TN (Sweden)

Standard solution PO4-P 5 mg/l

Reagents/standard solutions/cleaner for analyzer

CY80TP-FF+TS (Hungary)

Standard solution PO4-P 50 mg/l

Reagents/standard solutions/cleaner for analyzer

CY80TP-FF+TL (Canada (French))

Standard solution PO4-P 1,0 mg/l

Reagents/standard solutions/cleaner for analyzer

CY80TP-RB (United Arab Emirates)

Ready to use reagent RB for CA80TP

Reagents/standard solutions/cleaner for analyzer

CY80TP-FF+TN (Mexico)

Standard solution PO4-P 5 mg/l

Reagents/standard solutions/cleaner for analyzer

CY80TP-FF+TN (Italy)

Standard solution PO4-P 5 mg/l

Reagents/standard solutions/cleaner for analyzer

CY80TP-FF+TS (Spain)

Standard solution PO4-P 50 mg/l

Reagents/standard solutions/cleaner for analyzer

CY80TP-RK (South Africa)

Ready to use reagent RK for CA80TP

Reagents/standard solutions/cleaner for analyzer

CY80TP-FF+TM (Netherlands)

Standard solution PO4-P 2,0 mg/l

Reagents/standard solutions/cleaner for analyzer

CY80TP-RN (Hungary)

Ready to use reagent RN for CA80TP

Reagents/standard solutions/cleaner for analyzer

CY80TP-RN (Croatia)

Ready to use reagent RN for CA80TP

Reagents/standard solutions/cleaner for analyzer

CY80TP-RN (Ukraine)

Ready to use reagent RN for CA80TP

Reagents/standard solutions/cleaner for analyzer

CY80TP-FF+TM (United Arab Emirates)

Standard solution PO4-P 2,0 mg/l

Reagents/standard solutions/cleaner for analyzer

CY80TP-FF+TQ (USA)

Standard solution PO4-P 20 mg/l

Reagents/standard solutions/cleaner for analyzer

CY80TP-FF+TN (Spain)

Standard solution PO4-P 5 mg/l

Reagents/standard solutions/cleaner for analyzer

CY80TP-FF+TQ (Japan)

Standard solution PO4-P 20 mg/l

Reagents/standard solutions/cleaner for analyzer

CY80TP-FF+TM (Portugal)

Standard solution PO4-P 2,0 mg/l

Reagents/standard solutions/cleaner for analyzer

CY80TP-FF+TL (Lithuania)

Standard solution PO4-P 1,0 mg/l

Reagents/standard solutions/cleaner for analyzer

CY80TP-FF+TM (Japan)

Standard solution PO4-P 2,0 mg/l

Reagents/standard solutions/cleaner for analyzer

CY80TP-RB (European Union)

Ready to use reagent RB for CA80TP

Reagents/standard solutions/cleaner for analyzer

CY80TP-FF+TG (Sweden)

Standard solution PO4-P 0 mg/l

Reagents/standard solutions/cleaner for analyzer

CY80TP-FF+TN (South Africa)

Standard solution PO4-P 5 mg/l

Reagents/standard solutions/cleaner for analyzer

CY80TP-FF+TP (Slovakia)

Standard solution PO4-P 10 mg/l

Reagents/standard solutions/cleaner for analyzer

CY80TP-FF+TS (Austria)

Standard solution PO4-P 50 mg/l

Reagents/standard solutions/cleaner for analyzer

CY80TP-FF+TM (Slovakia)

Standard solution PO4-P 2,0 mg/l

Reagents/standard solutions/cleaner for analyzer

CY80TP-FF+TQ (Ireland)

Standard solution PO4-P 20 mg/l

Reagents/standard solutions/cleaner for analyzer

CY80TP-FF+SH (Czech Republic)

Reagent set (SH) for CA80TP

Reagents/standard solutions/cleaner for analyzer

CY80TP-RN (Greece)

Ready to use reagent RN for CA80TP

Reagents/standard solutions/cleaner for analyzer

CY80TP-RB (Russia)

Ready to use reagent RB for CA80TP

Reagents/standard solutions/cleaner for analyzer

CY80TP-FF+SH (Mexico)

Reagent set (SH) for CA80TP

Reagents/standard solutions/cleaner for analyzer

CY80TP-FF+TS (Malta)

Standard solution PO4-P 50 mg/l

Reagents/standard solutions/cleaner for analyzer

CY800-FF11 (Ukraine)

Cleaning solution for CA80TP

Reagents/standard solutions/cleaner for analyzer

CY80TP-FF+SO (Greece)

Reagent set (SO) for CA80TP

Reagents/standard solutions/cleaner for analyzer

CY80TP-RN (Bulgaria)

Ready to use reagent RN for CA80TP

Reagents/standard solutions/cleaner for analyzer

CY80TP-FF+TN (United Arab Emirates)

Standard solution PO4-P 5 mg/l

Reagents/standard solutions/cleaner for analyzer

CY80TP-FF+TL (Czech Republic)

Standard solution PO4-P 1,0 mg/l

Reagents/standard solutions/cleaner for analyzer

CY80TP-FF+TN (Switzerland (Italian))

Standard solution PO4-P 5 mg/l

Reagents/standard solutions/cleaner for analyzer

CY80TP-FF+TM (Mexico)

Standard solution PO4-P 2,0 mg/l

Reagents/standard solutions/cleaner for analyzer

CY80TP-RB (United Arab Emirates)

Ready to use reagent RB for CA80TP

Reagents/standard solutions/cleaner for analyzer

CY80TP-FF+TS (Ireland)

Standard solution PO4-P 50 mg/l

Reagents/standard solutions/cleaner for analyzer

CY80TP-RK (Lithuania)

Ready to use reagent RK for CA80TP

Reagents/standard solutions/cleaner for analyzer

CY80TP-FF+SH (New Zealand)

Reagent set (SH) for CA80TP

Reagents/standard solutions/cleaner for analyzer

CY80TP-RN (Switzerland (French))

Ready to use reagent RN for CA80TP

Reagents/standard solutions/cleaner for analyzer

CY80TP-FF+TG (New Zealand)

Standard solution PO4-P 0 mg/l

Reagents/standard solutions/cleaner for analyzer

CY80TP-FF+TM (Spain)

Standard solution PO4-P 2,0 mg/l

Reagents/standard solutions/cleaner for analyzer

CY80TP-FF+TQ (Greece)

Standard solution PO4-P 20 mg/l

Reagents/standard solutions/cleaner for analyzer

CY80TP-FF+TQ (Denmark)

Standard solution PO4-P 20 mg/l

Reagents/standard solutions/cleaner for analyzer

CY800-FF11 (Slovakia)

Cleaning solution for CA80TP

Reagents/standard solutions/cleaner for analyzer

CY80TP-RN (Russia)

Ready to use reagent RN for CA80TP

Reagents/standard solutions/cleaner for analyzer

CY80TP-FF+TM (Malta)

Standard solution PO4-P 2,0 mg/l

Reagents/standard solutions/cleaner for analyzer

CY80TP-FF+TL (Croatia)

Standard solution PO4-P 1,0 mg/l

Reagents/standard solutions/cleaner for analyzer

CY80TP-RN (Turkey)

Ready to use reagent RN for CA80TP

Reagents/standard solutions/cleaner for analyzer

CY80TP-FF+TP (China)

Standard solution PO4-P 10 mg/l

Reagents/standard solutions/cleaner for analyzer

CY80TP-RB (Norway)

Ready to use reagent RB for CA80TP

Reagents/standard solutions/cleaner for analyzer

CY80TP-FF+TS (Slovakia)

Standard solution PO4-P 50 mg/l

Reagents/standard solutions/cleaner for analyzer

CY80TP-FF+SO (Bulgaria)

Reagent set (SO) for CA80TP

Reagents/standard solutions/cleaner for analyzer

CY80TP-FF+TG (United Arab Emirates)

Standard solution PO4-P 0 mg/l

Reagents/standard solutions/cleaner for analyzer

CY80TP-FF+SO (USA)

Reagent set (SO) for CA80TP

Reagents/standard solutions/cleaner for analyzer

CY80TP-FF+TM (Greece)

Standard solution PO4-P 2,0 mg/l

Reagents/standard solutions/cleaner for analyzer

CY80TP-FF+TG (Portugal)

Standard solution PO4-P 0 mg/l

Reagents/standard solutions/cleaner for analyzer

CY80TP-FF+TN (Romania)

Standard solution PO4-P 5 mg/l

Reagents/standard solutions/cleaner for analyzer

CY80TP-RN (Spain)

Ready to use reagent RN for CA80TP

Reagents/standard solutions/cleaner for analyzer

CY80TP-RB (Canada (French))

Ready to use reagent RB for CA80TP

Reagents/standard solutions/cleaner for analyzer

CY800-FF11 (Romania)

Cleaning solution for CA80TP

Reagents/standard solutions/cleaner for analyzer

CY80TP-RB (Switzerland)

Ready to use reagent RB for CA80TP

Reagents/standard solutions/cleaner for analyzer