Waterhardheidsanalyzer
Liquiline System CA80HA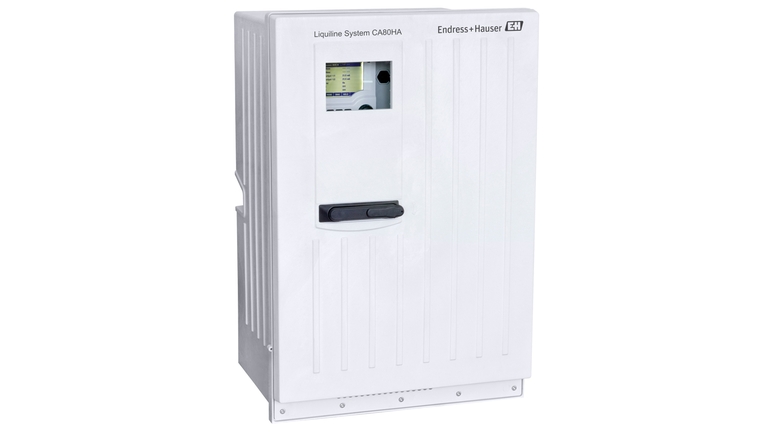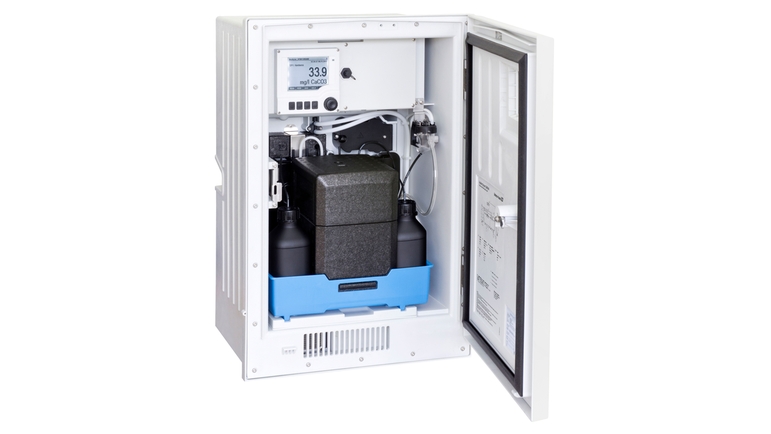 Colorimetrisch systeem voor online-bewaking van drinkwater en proceswater
De Liquiline System CA80HA biedt een nauwkeurige online-analyse van de waterhardheid van drinkwater en proceswater. Het instrument helpt u de bewaking van wateronthardingsprocessen, zoals ionenuitwisseling of omgekeerde osmose, te optimaliseren en zorgt voor een optimale kwaliteit van producten die door de waterhardheid worden beïnvloed. De automatische kalibratie en reiniging van de analyzer en het lage reagensverbruik verlagen de bedrijfskosten, terwijl een geavanceerde diagnosefunctie met toegang op afstand een consistente procesveiligheid garandeert.
Eenvoudige producten

Gemakkelijk te selecteren, installeren en gebruiken
Technische topkwaliteit
Eenvoud
Standaardproducten

Betrouwbaar, robuust en onderhoudsarm
Technische topkwaliteit
Eenvoud
High-end producten

Functioneel en uiterst doelmatig
Technische topkwaliteit
Eenvoud
Gespecialiseerde producten

Ontworpen voor veeleisende applicaties
Technische topkwaliteit
Eenvoud
FLEX selectie
Technische topkwaliteit
Eenvoud

Fundamental selectie

Voldoe aan uw basismeetvoorwaarden

Technische topkwaliteit

Eenvoud

Lean selectie

Beheers eenvoudig uw belangrijkste processen

Technische topkwaliteit

Eenvoud

Extended selectie

Optimaliseer uw processen met innovatieve technologieën

Technische topkwaliteit

Eenvoud

Xpert selectie

Beheers uw meest uitdagende applicaties

Technische topkwaliteit

Eenvoud
Overzicht specificaties

Measurement range

0 to 80 mg/l CaCO3
0 to 80 mg/l with dilution function to maximum 16 to 1600 mg/l CaCO3

Process temperature

4 to 40 °C (39 to 104 °F)

Process pressure
Loading alternative products
Snelle selectie
Kies uit één van de voorgestelde opties
Individuele configuratie
Ga verder met uw keuze uit alle mogelijke opties
Aanvullende componenten

Voordelen

De waterhardheidsanalyzer maakt gebruik van de ftaleïne-paars-methode, zodat de resultaten direct vergelijkbaar zijn met die van het laboratorium

Snelle inbedrijfstelling met plug & play dankzij Memosens-technologie en gebruikersvriendelijke bediening

...
Toepassingsgebied

De Liquiline System CA80HA helpt u bij het bewaken van de totale waterhardheid:

Om omgekeerde osmose- en ionenwisselaarsystemen te optimaliseren

Om de waterhardheid van drinkwater te classificeren

Om de kwaliteit van het proceswater in productie-...
Documenten / handleidingen / software
Liquiline System CA80HA

Colorimetric analyzer for total hardness

Technische informatie (TI)

Memosens Operating Instructions

Sensor inputs with Memosens protocol

Inbedrijfsstellingsvoorschriften (BA)

Liquiline System CA80HA

Colorimetric analyzer for total hardness

Inbedrijfsstellingsvoorschriften (BA)

Liquiline System CA80HA

Colorimetrische analyzer voor totale hardheid

Short Instruction (KA)

05/21

Special Documentation Liquiline 4-wire Platform

Modbus Guideline

Speciale Documentatie (SD)

CY80HA for Liquiline System CA80HA Mixing of the reagent Special Documentation

Mixing of the reagent

Speciale Documentatie (SD)

CM44x/R/P / CSFxx / CA80xx

PROFIBUS Guideline

Speciale Documentatie (SD)

CM44x/R/P / CSFxx / CA80xx

Webserver Guideline

Speciale Documentatie (SD)

Activation codes kit

For extended functionality

Speciale Documentatie (SD)

Special Documentation Liquiline 4-wire Platform

EtherNet/IP guideline

Speciale Documentatie (SD)

Incineration plant

A complete range of process instrumentation and tailor-made solutions

Industrieoplossingen (SO)

02/21

Firmware for Liquiline platform - version 01.09.02

Firmware for Liquiline CM44(R), Liquiline CM44P(R), Liquistation CSF34,
Liquistation CSF48, Liquiport CSP44, Liquiline System CA80

Firmware for Liquiline platform - version 01.09.00

Firmware for LiquilineCM44(R), Liquiline CM44P(R), Liquistation CSF34,
Liquistation CSF48, Liquiport CSP44, Liquiline System CA80

Firmware for Liquiline platform - version 01.09.01

Firmware for Liquiline CM44(R), Liquiline CM44P(R), Liquistation CSF34,
Liquistation CSF48, Liquiport CSP44, Liquiline System CA80

GSD Single, GSD_EH_DP_AN_LiquilineCA80xx_0x155E, 29.06.2020 (Analysis, Liquiline, 0x155E)

PROFIBUS DP,

PROFIBUS System Version: Any

Step 7 TIA Portal Version: 15.1

Step7-300 Version: 5.6.0.2

General Station Description (GSD)

1.30

GSD Single, GSD_EH_DP_AN_LiquilineCA80xx_0x155E_0x05, 04.09.2021 (Analysis, Liquiline, 0x155E)

PROFIBUS DP,

PROFIBUS System Version: Any

Step 7 TIA Portal Version: 16

Step7-300 Version: 5.6

General Station Description (GSD)

1.30

GSD Single, GSD_PN_AN_Liquiline_0x859F_0x01_01_09_00, 04.09.2021 (Analysis, Liquiline, 0x859F)

PROFINET,

ABB 800xA Control Builder M Version: 6.1 and newer

PROFINET System Version: Any

General Station Description (GSD)

1.00.00

GSD Single, GSD_PN_AN_Liquiline_0x859F_0x01, 22.03.2021 (Analysis, Liquiline, 0x859F)

PROFINET,

PROFINET System Version: Any

General Station Description (GSD)

1.00.00

EDS Single, EDS_EH_EIP_AN_Liquiline_0x109F_0x02_0x01_0109zz, 04.09.2021 (Analysis, Liquiline, 0x109

EtherNet/IP,

EtherNet IP System Version: Any

Electronic Data Sheet (EDS)

3.1

EDS Single, EDS_EH_EIP_AN_Liquiline_0x109F_0x02_0x01, 30.07.2016 (Analysis, Liquiline)

EtherNet/IP,

EtherNet IP System Version: Any

Electronic Data Sheet (EDS)

2.1

EDD Single, PDM_DP_AN_Liquiline_0x155E_0x04_0x01, 05.08.2016 (Analysis, Liquiline, 0x155E)

PROFIBUS DP,

PDM Version: 6.1, 8.2

Electronic Data Description (EDD)

1.00.00

DTM Single, Liquiline_CA80xx_DP_FW_01_09_zz_Dev_Rev_05, 04.09.2021 (Analysis, Liquiline, 0x155E)

PROFIBUS DP,

DeviceCare Version: 1.07.00

Field Xpert - SMT70 Version: 1.05.00

FieldCare Version: 2.15.00

Device Type Manager (DTM)

1.11.0.0

DTM Single, Liquiline_CA80xx_DP_FW_01_06_zz_Dev_Rev_4, 06.11.2020 (Analysis, Liquiline, 0x155E)

PROFIBUS DP,

DeviceCare Version: 1.07.00

Field Xpert - SMT70 Version: 1.05.00

FieldCare Version: 2.15.00

PACTware Version: 4.1

Device Type Manager (DTM)

1.11.0.0

DTM Single, Liquiline_CA80xx_DP_FW_01_07_zz_Dev_Rev_4, 06.11.2020 (Analysis, Liquiline, 0x155E)

PROFIBUS DP,

DeviceCare Version: 1.07.00

Field Xpert - SMT70 Version: 1.05.00

FieldCare Version: 2.15.00

PACTware Version: 5.0

Device Type Manager (DTM)

1.11.0.0

DTM Single, Liquiline_CA80xx_CDI_FW_1_06_zz_Dev_Rev_01, 18.11.2020 (Analysis, Liquiline, 0x119F)

Common Device Interface,

DeviceCare Version: 1.07.00

Field Xpert - SMT70 Version: 1.05.00

FieldCare Version: 2.15.00

Device Type Manager (DTM)

1.0.14.0

AOP Single, RS_EIP_AN_Liquiline_CA80xx_0x109F_0x02_0x01_AOP, 12.07.2021 (Analysis, Liquiline)

EtherNet/IP,

RA RSLogix 5000 Version: V15 and later

RA Studio 5000 Version: V21 and later

Add On Profile (AOP)

1.25.01

Faceplate Single, PRM_HART_AN_Liquiline_0x119F_0x02_0x02, 23.07.2021 (Analysis, Liquiline, 0x119F)

HART,

Plant Resource Manager Version: R4.03

Certificate Single, Certificate_PN_AN_Liquiline_0x859F_1_8_0, 02.03.2021 (Analysis, Liquiline, 0x85

PROFINET,

PROFINET System Version: Any

ComDTM Single, CDI_CommDTM, 22.07.2021

Common Device Interface,

DeviceCare Version: 1.05.00

FieldCare Version: 2.13.00

Communication DTM

2.09.08

CY80HA-R2+TT (New Zealand)

Standard solution CaCO3 65 mg/l

Reagents/standard solutions/cleaner for analyzer

CY80HA-R2+TP (Lithuania)

Standard solution CaCO3 10 mg/l

Reagents/standard solutions/cleaner for analyzer

CY80HA-R2+TT (Slovakia)

Standard solution CaCO3 65 mg/l

Reagents/standard solutions/cleaner for analyzer

CY80HA-R2+TL (European Union)

Standard solution CaCO3 1,0 mg/l

Reagents/standard solutions/cleaner for analyzer

CY80HA-R2+TT (Greece)

Standard solution CaCO3 65 mg/l

Reagents/standard solutions/cleaner for analyzer

CY80HA-R2+TT (Australia)

Standard solution CaCO3 65 mg/l

Reagents/standard solutions/cleaner for analyzer

CY80HA-R2+MT (Japan)

standard solution 1600mg/L CaCO3

Reagents/standard solutions/cleaner for analyzer

CY80HA-R2+TA (USA)

Standard solution CaCO3 0 mg/l

Reagents/standard solutions/cleaner for analyzer

CY80HA-R2+MT (New Zealand)

standard solution 1600mg/L CaCO3

Reagents/standard solutions/cleaner for analyzer

CY80HA-R2+TP (Spain)

Standard solution CaCO3 10 mg/l

Reagents/standard solutions/cleaner for analyzer

CY80HA-R2+TT (Mexico)

Standard solution CaCO3 65 mg/l

Reagents/standard solutions/cleaner for analyzer

CY800-R211 (European Union)

Cleaning solution for CA80HA

Reagents/standard solutions/cleaner for analyzer

CY80HA-R2+SP (Mexico)

Reagent set (SP) for CA80HA

Reagents/standard solutions/cleaner for analyzer

CY80HA-R2+TL (Austria)

Standard solution CaCO3 1,0 mg/l

Reagents/standard solutions/cleaner for analyzer

CY80HA_aktiv (China)

Reagent RK for CA80HA

Reagents/standard solutions/cleaner for analyzer

CY80HA_aktiv (Ukraine)

Reagent RK for CA80HA

Reagents/standard solutions/cleaner for analyzer

CY80HA-R2+TT (India)

Standard solution CaCO3 65 mg/l

Reagents/standard solutions/cleaner for analyzer

CY800-R211 (United Kingdom)

Cleaning solution for CA80HA

Reagents/standard solutions/cleaner for analyzer

CY80HA-R2+ST (Ukraine)

Reagent set for CA80HA, ready to prepare

Reagents/standard solutions/cleaner for analyzer

CY80HA-R2+TL (Switzerland (Italian))

Standard solution CaCO3 1,0 mg/l

Reagents/standard solutions/cleaner for analyzer

CY80HA-R2+ST (Russia)

Reagent set for CA80HA, ready to prepare

Reagents/standard solutions/cleaner for analyzer

CY80HA_aktiv (Bulgaria)

Reagent RK for CA80HA

Reagents/standard solutions/cleaner for analyzer

CY800-R211 (Poland)

Cleaning solution for CA80HA

Reagents/standard solutions/cleaner for analyzer

CY80HA-R2+TP (Hungary)

Standard solution CaCO3 10 mg/l

Reagents/standard solutions/cleaner for analyzer

CY80HA_aktiv (Norway)

Reagent RK for CA80HA

Reagents/standard solutions/cleaner for analyzer

CY800-R211 (Latvia)

Cleaning solution for CA80HA

Reagents/standard solutions/cleaner for analyzer

CY800-R211 (United Arab Emirates)

Cleaning solution for CA80HA

Reagents/standard solutions/cleaner for analyzer

CY80HA-R2+TA (Germany)

Standard solution CaCO3 0 mg/l

Reagents/standard solutions/cleaner for analyzer

CY800-R211 (Canada (French))

Cleaning solution for CA80HA

Reagents/standard solutions/cleaner for analyzer

CY80HA-R2+ST (Croatia)

Reagent set for CA80HA, ready to prepare

Reagents/standard solutions/cleaner for analyzer

CY80HA-R2+TL (Sweden)

Standard solution CaCO3 1,0 mg/l

Reagents/standard solutions/cleaner for analyzer

CY80HA-R2+TL (Slovenia)

Standard solution CaCO3 1,0 mg/l

Reagents/standard solutions/cleaner for analyzer

CY80HA-R2+SP (Denmark)

Reagent set (SP) for CA80HA

Reagents/standard solutions/cleaner for analyzer

CY80HA-R2+SP (Ukraine)

Reagent set (SP) for CA80HA

Reagents/standard solutions/cleaner for analyzer

CY80HA-R2+TT (Sweden)

Standard solution CaCO3 65 mg/l

Reagents/standard solutions/cleaner for analyzer

CY80HA-R2+SP (Portugal)

Reagent set (SP) for CA80HA

Reagents/standard solutions/cleaner for analyzer

CY80HA-R2+SP (Germany)

Reagent set (SP) for CA80HA

Reagents/standard solutions/cleaner for analyzer

CY80HA-R2+MT (Saudi Arabien)

standard solution 1600mg/L CaCO3

Reagents/standard solutions/cleaner for analyzer

CY800-R211 (Malta)

Cleaning solution for CA80HA

Reagents/standard solutions/cleaner for analyzer

CY80HA-R2+ST (Greece)

Reagent set for CA80HA, ready to prepare

Reagents/standard solutions/cleaner for analyzer

CY80HA-R2+TA (Norway)

Standard solution CaCO3 0 mg/l

Reagents/standard solutions/cleaner for analyzer

CY80HA-R2+SP (Switzerland (Italian))

Reagent set (SP) for CA80HA

Reagents/standard solutions/cleaner for analyzer

CY800-R211 (Russia)

Cleaning solution for CA80HA

Reagents/standard solutions/cleaner for analyzer

CY80HA-R2+TA (Japan)

Standard solution CaCO3 0 mg/l

Reagents/standard solutions/cleaner for analyzer

CY80HA-R2+TL (Canada (French))

Standard solution CaCO3 1,0 mg/l

Reagents/standard solutions/cleaner for analyzer

CY80HA_aktiv (USA)

Reagent RK for CA80HA

Reagents/standard solutions/cleaner for analyzer

CY80HA-R2+SP (South Africa)

Reagent set (SP) for CA80HA

Reagents/standard solutions/cleaner for analyzer

CY800-R211 (Ukraine)

Cleaning solution for CA80HA

Reagents/standard solutions/cleaner for analyzer

CY80HA-R2+SP (Brasilien)

Reagent set (SP) for CA80HA

Reagents/standard solutions/cleaner for analyzer

CY80HA_aktiv (Estonia)

Reagent RK for CA80HA

Reagents/standard solutions/cleaner for analyzer

CY80HA_aktiv (United Kingdom)

Reagent RK for CA80HA

Reagents/standard solutions/cleaner for analyzer

CY80HA_aktiv (Romania)

Reagent RK for CA80HA

Reagents/standard solutions/cleaner for analyzer

CY80HA_aktiv (Greece)

Reagent RK for CA80HA

Reagents/standard solutions/cleaner for analyzer

CY800-R211 (Belgium)

Cleaning solution for CA80HA

Reagents/standard solutions/cleaner for analyzer

CY80HA-R2+SP (Greece)

Reagent set (SP) for CA80HA

Reagents/standard solutions/cleaner for analyzer

CY80HA-R2+TA (Austria)

Standard solution CaCO3 0 mg/l

Reagents/standard solutions/cleaner for analyzer

CY80HA_aktiv (Ireland)

Reagent RK for CA80HA

Reagents/standard solutions/cleaner for analyzer

CY80HA-R2+TL (Belgium)

Standard solution CaCO3 1,0 mg/l

Reagents/standard solutions/cleaner for analyzer

CY80HA-R2+SP (Canada)

Reagent set (SP) for CA80HA

Reagents/standard solutions/cleaner for analyzer

CY80HA-R2+TT (Austria)

Standard solution CaCO3 65 mg/l

Reagents/standard solutions/cleaner for analyzer

CY80HA-R2+TL (Canada)

Standard solution CaCO3 1,0 mg/l

Reagents/standard solutions/cleaner for analyzer

CY800-R211 (Czech Republic)

Cleaning solution for CA80HA

Reagents/standard solutions/cleaner for analyzer

CY800-R211 (Spain)

Cleaning solution for CA80HA

Reagents/standard solutions/cleaner for analyzer

CY80HA_aktiv (Russia)

Reagent RK for CA80HA

Reagents/standard solutions/cleaner for analyzer

CY80HA-R2+TA (India)

Standard solution CaCO3 0 mg/l

Reagents/standard solutions/cleaner for analyzer

CY80HA-R2+TL (Belgium (Dutch))

Standard solution CaCO3 1,0 mg/l

Reagents/standard solutions/cleaner for analyzer

CY80HA-R2+ST (Estonia)

Reagent set for CA80HA, ready to prepare

Reagents/standard solutions/cleaner for analyzer

CY80HA-R2+TA (United Arab Emirates)

Standard solution CaCO3 0 mg/l

Reagents/standard solutions/cleaner for analyzer

CY80HA-R2+TL (Switzerland)

Standard solution CaCO3 1,0 mg/l

Reagents/standard solutions/cleaner for analyzer

CY800-R211 (Switzerland (Italian))

Cleaning solution for CA80HA

Reagents/standard solutions/cleaner for analyzer

CY80HA-R2+MT (Austria)

standard solution 1600mg/L CaCO3

Reagents/standard solutions/cleaner for analyzer

CY80HA-R2+TT (Germany)

Standard solution CaCO3 65 mg/l

Reagents/standard solutions/cleaner for analyzer

CY800-R211 (Norway)

Cleaning solution for CA80HA

Reagents/standard solutions/cleaner for analyzer

CY80HA-R2+TA (Belgium)

Standard solution CaCO3 0 mg/l

Reagents/standard solutions/cleaner for analyzer

CY80HA-R2+ST (Netherlands)

Reagent set for CA80HA, ready to prepare

Reagents/standard solutions/cleaner for analyzer

CY800-R211 (Estonia)

Cleaning solution for CA80HA

Reagents/standard solutions/cleaner for analyzer

CY800-R211 (Austria)

Cleaning solution for CA80HA

Reagents/standard solutions/cleaner for analyzer

CY80HA-R2+TA (Switzerland (Italian))

Standard solution CaCO3 0 mg/l

Reagents/standard solutions/cleaner for analyzer

CY80HA-R2+SP (New Zealand)

Reagent set (SP) for CA80HA

Reagents/standard solutions/cleaner for analyzer

CY80HA-R2+TL (Romania)

Standard solution CaCO3 1,0 mg/l

Reagents/standard solutions/cleaner for analyzer

CY80HA-R2+MT (Russia)

standard solution 1600mg/L CaCO3

Reagents/standard solutions/cleaner for analyzer

CY80HA_aktiv (Latvia)

Reagent RK for CA80HA

Reagents/standard solutions/cleaner for analyzer

CY80HA-R2+TL (Lithuania)

Standard solution CaCO3 1,0 mg/l

Reagents/standard solutions/cleaner for analyzer

CY80HA-R2+SP (Saudi Arabien)

Reagent set (SP) for CA80HA

Reagents/standard solutions/cleaner for analyzer

CY80HA-R2+TA (Slovenia)

Standard solution CaCO3 0 mg/l

Reagents/standard solutions/cleaner for analyzer

CY80HA-R2+ST (Lithuania)

Reagent set for CA80HA, ready to prepare

Reagents/standard solutions/cleaner for analyzer

CY80HA_aktiv (Belgium)

Reagent RK for CA80HA

Reagents/standard solutions/cleaner for analyzer

CY80HA-R2+TA (Belgium (Dutch))

Standard solution CaCO3 0 mg/l

Reagents/standard solutions/cleaner for analyzer

CY80HA-R2+TP (Portugal)

Standard solution CaCO3 10 mg/l

Reagents/standard solutions/cleaner for analyzer

CY80HA-R2+TT (Romania)

Standard solution CaCO3 65 mg/l

Reagents/standard solutions/cleaner for analyzer

CY80HA-R2+TA (Finland)

Standard solution CaCO3 0 mg/l

Reagents/standard solutions/cleaner for analyzer

CY80HA-R2+MT (Germany)

standard solution 1600mg/L CaCO3

Reagents/standard solutions/cleaner for analyzer

CY80HA-R2+TA (Greece)

Standard solution CaCO3 0 mg/l

Reagents/standard solutions/cleaner for analyzer

CY80HA-R2+TL (Saudi Arabien)

Standard solution CaCO3 1,0 mg/l

Reagents/standard solutions/cleaner for analyzer

CY80HA-R2+TP (China)

Standard solution CaCO3 10 mg/l

Reagents/standard solutions/cleaner for analyzer

CY80HA-R2+SP (India)

Reagent set (SP) for CA80HA

Reagents/standard solutions/cleaner for analyzer

CY80HA-R2+TA (Romania)

Standard solution CaCO3 0 mg/l

Reagents/standard solutions/cleaner for analyzer

CY80HA-R2+TP (Bulgaria)

Standard solution CaCO3 10 mg/l

Reagents/standard solutions/cleaner for analyzer

CY80HA-R2+MT (Slovenia)

standard solution 1600mg/L CaCO3

Reagents/standard solutions/cleaner for analyzer

CY800-R211 (Sweden)

Cleaning solution for CA80HA

Reagents/standard solutions/cleaner for analyzer

CY80HA-R2+SP (Sweden)

Reagent set (SP) for CA80HA

Reagents/standard solutions/cleaner for analyzer

CY80HA-R2+SP (United Kingdom)

Reagent set (SP) for CA80HA

Reagents/standard solutions/cleaner for analyzer

CY80HA-R2+SP (China)

Reagent set (SP) for CA80HA

Reagents/standard solutions/cleaner for analyzer

CY80HA-R2+TL (Norway)

Standard solution CaCO3 1,0 mg/l

Reagents/standard solutions/cleaner for analyzer

CY80HA-R2+MT (India)

standard solution 1600mg/L CaCO3

Reagents/standard solutions/cleaner for analyzer

CY80HA-R2+ST (South Africa)

Reagent set for CA80HA, ready to prepare

Reagents/standard solutions/cleaner for analyzer

CY80HA-R2+ST (Belgium (Dutch))

Reagent set for CA80HA, ready to prepare

Reagents/standard solutions/cleaner for analyzer

CY80HA-R2+TT (USA)

Standard solution CaCO3 65 mg/l

Reagents/standard solutions/cleaner for analyzer

CY80HA-R2+TP (Japan)

Standard solution CaCO3 10 mg/l

Reagents/standard solutions/cleaner for analyzer

CY80HA-R2+TA (South Africa)

Standard solution CaCO3 0 mg/l

Reagents/standard solutions/cleaner for analyzer

CY80HA-R2+TT (South Africa)

Standard solution CaCO3 65 mg/l

Reagents/standard solutions/cleaner for analyzer

CY80HA-R2+SP (Japan)

Reagent set (SP) for CA80HA

Reagents/standard solutions/cleaner for analyzer

CY800-R211 (Ireland)

Cleaning solution for CA80HA

Reagents/standard solutions/cleaner for analyzer

CY80HA-R2+TP (Switzerland)

Standard solution CaCO3 10 mg/l

Reagents/standard solutions/cleaner for analyzer

CY80HA-R2+ST (Germany)

Reagent set for CA80HA, ready to prepare

Reagents/standard solutions/cleaner for analyzer

CY800-R211 (France)

Cleaning solution for CA80HA

Reagents/standard solutions/cleaner for analyzer

CY80HA-R2+TP (Poland)

Standard solution CaCO3 10 mg/l

Reagents/standard solutions/cleaner for analyzer

CY80HA-R2+MT (Croatia)

standard solution 1600mg/L CaCO3

Reagents/standard solutions/cleaner for analyzer

CY80HA-R2+TL (Slovakia)

Standard solution CaCO3 1,0 mg/l

Reagents/standard solutions/cleaner for analyzer

CY80HA-R2+TP (New Zealand)

Standard solution CaCO3 10 mg/l

Reagents/standard solutions/cleaner for analyzer

CY80HA_aktiv (Australia)

Reagent RK for CA80HA

Reagents/standard solutions/cleaner for analyzer

CY800-R211 (Belgium (Dutch))

Cleaning solution for CA80HA

Reagents/standard solutions/cleaner for analyzer

CY80HA-R2+MT (Bulgaria)

standard solution 1600mg/L CaCO3

Reagents/standard solutions/cleaner for analyzer

CY80HA-R2+TT (Italy)

Standard solution CaCO3 65 mg/l

Reagents/standard solutions/cleaner for analyzer

CY80HA-R2+TL (Ukraine)

Standard solution CaCO3 1,0 mg/l

Reagents/standard solutions/cleaner for analyzer

CY80HA-R2+TP (Slovenia)

Standard solution CaCO3 10 mg/l

Reagents/standard solutions/cleaner for analyzer

CY80HA-R2+MT (Switzerland)

standard solution 1600mg/L CaCO3

Reagents/standard solutions/cleaner for analyzer

CY80HA-R2+MT (Canada (French))

standard solution 1600mg/L CaCO3

Reagents/standard solutions/cleaner for analyzer

CY80HA_aktiv (Lithuania)

Reagent RK for CA80HA

Reagents/standard solutions/cleaner for analyzer

CY80HA-R2+ST (Switzerland)

Reagent set for CA80HA, ready to prepare

Reagents/standard solutions/cleaner for analyzer

CY80HA_aktiv (Finland)

Reagent RK for CA80HA

Reagents/standard solutions/cleaner for analyzer

CY80HA-R2+TP (Switzerland (Italian))

Standard solution CaCO3 10 mg/l

Reagents/standard solutions/cleaner for analyzer

CY80HA-R2+ST (United Arab Emirates)

Reagent set for CA80HA, ready to prepare

Reagents/standard solutions/cleaner for analyzer

CY80HA-R2+TL (New Zealand)

Standard solution CaCO3 1,0 mg/l

Reagents/standard solutions/cleaner for analyzer

CY80HA-R2+SP (Poland)

Reagent set (SP) for CA80HA

Reagents/standard solutions/cleaner for analyzer

CY80HA_aktiv (Spain)

Reagent RK for CA80HA

Reagents/standard solutions/cleaner for analyzer

CY80HA_aktiv (United Arab Emirates)

Reagent RK for CA80HA

Reagents/standard solutions/cleaner for analyzer

CY80HA-R2+MT (United Kingdom)

standard solution 1600mg/L CaCO3

Reagents/standard solutions/cleaner for analyzer

CY80HA-R2+SP (South Korea)

Reagent set (SP) for CA80HA

Reagents/standard solutions/cleaner for analyzer

CY80HA-R2+MT (Norway)

standard solution 1600mg/L CaCO3

Reagents/standard solutions/cleaner for analyzer

CY80HA-R2+TT (Denmark)

Standard solution CaCO3 65 mg/l

Reagents/standard solutions/cleaner for analyzer

CY80HA-R2+SP (Spain)

Reagent set (SP) for CA80HA

Reagents/standard solutions/cleaner for analyzer

CY80HA-R2+SP (Australia)

Reagent set (SP) for CA80HA

Reagents/standard solutions/cleaner for analyzer

CY80HA-R2+MT (China)

standard solution 1600mg/L CaCO3

Reagents/standard solutions/cleaner for analyzer

CY800-R211 (Croatia)

Cleaning solution for CA80HA

Reagents/standard solutions/cleaner for analyzer

CY80HA-R2+TT (Ireland)

Standard solution CaCO3 65 mg/l

Reagents/standard solutions/cleaner for analyzer

CY80HA_aktiv (Slovakia)

Reagent RK for CA80HA

Reagents/standard solutions/cleaner for analyzer

CY80HA-R2+ST (Latvia)

Reagent set for CA80HA, ready to prepare

Reagents/standard solutions/cleaner for analyzer

CY80HA-R2+TP (Croatia)

Standard solution CaCO3 10 mg/l

Reagents/standard solutions/cleaner for analyzer

CY80HA-R2+TP (Turkey)

Standard solution CaCO3 10 mg/l

Reagents/standard solutions/cleaner for analyzer

CY80HA-R2+SP (Lithuania)

Reagent set (SP) for CA80HA

Reagents/standard solutions/cleaner for analyzer

CY80HA-R2+TP (United Kingdom)

Standard solution CaCO3 10 mg/l

Reagents/standard solutions/cleaner for analyzer

CY80HA_aktiv (Austria)

Reagent RK for CA80HA

Reagents/standard solutions/cleaner for analyzer

CY80HA-R2+TL (Greece)

Standard solution CaCO3 1,0 mg/l

Reagents/standard solutions/cleaner for analyzer

CY80HA-R2+TT (Bulgaria)

Standard solution CaCO3 65 mg/l

Reagents/standard solutions/cleaner for analyzer

CY80HA-R2+MT (Ireland)

standard solution 1600mg/L CaCO3

Reagents/standard solutions/cleaner for analyzer

CY80HA-R2+TP (Latvia)

Standard solution CaCO3 10 mg/l

Reagents/standard solutions/cleaner for analyzer

CY80HA-R2+TT (Saudi Arabien)

Standard solution CaCO3 65 mg/l

Reagents/standard solutions/cleaner for analyzer

CY80HA-R2+ST (Bulgaria)

Reagent set for CA80HA, ready to prepare

Reagents/standard solutions/cleaner for analyzer

CY80HA-R2+SP (United Arab Emirates)

Reagent set (SP) for CA80HA

Reagents/standard solutions/cleaner for analyzer

CY80HA-R2+SP (Finland)

Reagent set (SP) for CA80HA

Reagents/standard solutions/cleaner for analyzer

CY80HA-R2+TT (Switzerland (Italian))

Standard solution CaCO3 65 mg/l

Reagents/standard solutions/cleaner for analyzer

CY80HA-R2+TL (Turkey)

Standard solution CaCO3 1,0 mg/l

Reagents/standard solutions/cleaner for analyzer

CY80HA_aktiv (Turkey)

Reagent RK for CA80HA

Reagents/standard solutions/cleaner for analyzer

CY80HA-R2+ST (Spain)

Reagent set for CA80HA, ready to prepare

Reagents/standard solutions/cleaner for analyzer

CY80HA-R2+MT (European Union)

standard solution 1600mg/L CaCO3

Reagents/standard solutions/cleaner for analyzer

CY80HA-R2+TA (Canada)

Standard solution CaCO3 0 mg/l

Reagents/standard solutions/cleaner for analyzer

CY80HA-R2+TP (France)

Standard solution CaCO3 10 mg/l

Reagents/standard solutions/cleaner for analyzer

CY80HA-R2+MT (United Arab Emirates)

standard solution 1600mg/L CaCO3

Reagents/standard solutions/cleaner for analyzer

CY80HA-R2+SP (European Union)

Reagent set (SP) for CA80HA

Reagents/standard solutions/cleaner for analyzer

CY80HA-R2+TA (Latvia)

Standard solution CaCO3 0 mg/l

Reagents/standard solutions/cleaner for analyzer

CY80HA-R2+TT (Hungary)

Standard solution CaCO3 65 mg/l

Reagents/standard solutions/cleaner for analyzer

CY80HA-R2+TA (Ukraine)

Standard solution CaCO3 0 mg/l

Reagents/standard solutions/cleaner for analyzer

CY800-R211 (Portugal)

Cleaning solution for CA80HA

Reagents/standard solutions/cleaner for analyzer

CY80HA-R2+TL (Poland)

Standard solution CaCO3 1,0 mg/l

Reagents/standard solutions/cleaner for analyzer

CY800-R211 (Lithuania)

Cleaning solution for CA80HA

Reagents/standard solutions/cleaner for analyzer

CY80HA-R2+MT (Belgium (Dutch))

standard solution 1600mg/L CaCO3

Reagents/standard solutions/cleaner for analyzer

CY80HA-R2+TA (Croatia)

Standard solution CaCO3 0 mg/l

Reagents/standard solutions/cleaner for analyzer

CY80HA_aktiv (Portugal)

Reagent RK for CA80HA

Reagents/standard solutions/cleaner for analyzer

CY80HA-R2+TA (Estonia)

Standard solution CaCO3 0 mg/l

Reagents/standard solutions/cleaner for analyzer

CY80HA-R2+TL (Ireland)

Standard solution CaCO3 1,0 mg/l

Reagents/standard solutions/cleaner for analyzer

CY80HA-R2+ST (Ireland)

Reagent set for CA80HA, ready to prepare

Reagents/standard solutions/cleaner for analyzer

CY80HA-R2+TA (Spain)

Standard solution CaCO3 0 mg/l

Reagents/standard solutions/cleaner for analyzer

CY80HA_aktiv (Croatia)

Reagent RK for CA80HA

Reagents/standard solutions/cleaner for analyzer

CY80HA-R2+ST (Hungary)

Reagent set for CA80HA, ready to prepare

Reagents/standard solutions/cleaner for analyzer

CY80HA_aktiv (European Union)

Reagent RK for CA80HA

Reagents/standard solutions/cleaner for analyzer

CY80HA-R2+TP (Estonia)

Standard solution CaCO3 10 mg/l

Reagents/standard solutions/cleaner for analyzer

CY80HA-R2+MT (Portugal)

standard solution 1600mg/L CaCO3

Reagents/standard solutions/cleaner for analyzer

CY80HA-R2+SP (Canada (French))

Reagent set (SP) for CA80HA

Reagents/standard solutions/cleaner for analyzer

CY80HA-R2+SP (Turkey)

Reagent set (SP) for CA80HA

Reagents/standard solutions/cleaner for analyzer

CY80HA-R2+TL (Spain)

Standard solution CaCO3 1,0 mg/l

Reagents/standard solutions/cleaner for analyzer

CY80HA_aktiv (New Zealand)

Reagent RK for CA80HA

Reagents/standard solutions/cleaner for analyzer

CY80HA-R2+TL (Hungary)

Standard solution CaCO3 1,0 mg/l

Reagents/standard solutions/cleaner for analyzer

CY80HA-R2+SP (United Arab Emirates)

Reagent set (SP) for CA80HA

Reagents/standard solutions/cleaner for analyzer

CY80HA-R2+TA (Hungary)

Standard solution CaCO3 0 mg/l

Reagents/standard solutions/cleaner for analyzer

CY80HA-R2+ST (South Korea)

Reagent set for CA80HA, ready to prepare

Reagents/standard solutions/cleaner for analyzer

CY80HA-R2+ST (New Zealand)

Reagent set for CA80HA, ready to prepare

Reagents/standard solutions/cleaner for analyzer

CY80HA-R2+MT (South Korea)

standard solution 1600mg/L CaCO3

Reagents/standard solutions/cleaner for analyzer

CY80HA-R2+MT (Denmark)

standard solution 1600mg/L CaCO3

Reagents/standard solutions/cleaner for analyzer

CY80HA-R2+SP (Belgium (Dutch))

Reagent set (SP) for CA80HA

Reagents/standard solutions/cleaner for analyzer

CY80HA-R2+TL (Germany)

Standard solution CaCO3 1,0 mg/l

Reagents/standard solutions/cleaner for analyzer

CY80HA-R2+SP (France)

Reagent set (SP) for CA80HA

Reagents/standard solutions/cleaner for analyzer

CY80HA-R2+TA (United Kingdom)

Standard solution CaCO3 0 mg/l

Reagents/standard solutions/cleaner for analyzer

CY80HA-R2+TA (Canada (French))

Standard solution CaCO3 0 mg/l

Reagents/standard solutions/cleaner for analyzer

CY80HA-R2+TL (South Africa)

Standard solution CaCO3 1,0 mg/l

Reagents/standard solutions/cleaner for analyzer

CY80HA-R2+TL (France)

Standard solution CaCO3 1,0 mg/l

Reagents/standard solutions/cleaner for analyzer

CY80HA-R2+TA (Sweden)

Standard solution CaCO3 0 mg/l

Reagents/standard solutions/cleaner for analyzer

CY80HA-R2+SP (Netherlands)

Reagent set (SP) for CA80HA

Reagents/standard solutions/cleaner for analyzer

CY800-R211 (Hungary)

Cleaning solution for CA80HA

Reagents/standard solutions/cleaner for analyzer

CY80HA-R2+TP (Canada)

Standard solution CaCO3 10 mg/l

Reagents/standard solutions/cleaner for analyzer

CY80HA-R2+TL (Switzerland (French))

Standard solution CaCO3 1,0 mg/l

Reagents/standard solutions/cleaner for analyzer

CY800-R211 (Denmark)

Cleaning solution for CA80HA

Reagents/standard solutions/cleaner for analyzer

CY80HA-R2+MT (Sweden)

standard solution 1600mg/L CaCO3

Reagents/standard solutions/cleaner for analyzer

CY80HA-R2+TT (United Kingdom)

Standard solution CaCO3 65 mg/l

Reagents/standard solutions/cleaner for analyzer

CY80HA-R2+ST (United Kingdom)

Reagent set for CA80HA, ready to prepare

Reagents/standard solutions/cleaner for analyzer

CY80HA-R2+ST (Saudi Arabien)

Reagent set for CA80HA, ready to prepare

Reagents/standard solutions/cleaner for analyzer

CY80HA-R2+TL (Denmark)

Standard solution CaCO3 1,0 mg/l

Reagents/standard solutions/cleaner for analyzer

CY80HA-R2+TT (Finland)

Standard solution CaCO3 65 mg/l

Reagents/standard solutions/cleaner for analyzer

CY80HA-R2+TL (Malta)

Standard solution CaCO3 1,0 mg/l

Reagents/standard solutions/cleaner for analyzer

CY80HA-R2+MT (Greece)

standard solution 1600mg/L CaCO3

Reagents/standard solutions/cleaner for analyzer

CY80HA-R2+TL (Russia)

Standard solution CaCO3 1,0 mg/l

Reagents/standard solutions/cleaner for analyzer

CY80HA-R2+TP (European Union)

Standard solution CaCO3 10 mg/l

Reagents/standard solutions/cleaner for analyzer

CY80HA-R2+TT (Netherlands)

Standard solution CaCO3 65 mg/l

Reagents/standard solutions/cleaner for analyzer

CY800-R211 (Japan)

Cleaning solution for CA80HA

Reagents/standard solutions/cleaner for analyzer

CY80HA-R2+TL (United Arab Emirates)

Standard solution CaCO3 1,0 mg/l

Reagents/standard solutions/cleaner for analyzer

CY800-R211 (Canada)

Cleaning solution for CA80HA

Reagents/standard solutions/cleaner for analyzer

CY80HA-R2+TA (Netherlands)

Standard solution CaCO3 0 mg/l

Reagents/standard solutions/cleaner for analyzer

CY800-R211 (China)

Cleaning solution for CA80HA

Reagents/standard solutions/cleaner for analyzer

CY80HA-R2+TT (Japan)

Standard solution CaCO3 65 mg/l

Reagents/standard solutions/cleaner for analyzer

CY80HA-R2+MT (Switzerland (Italian))

standard solution 1600mg/L CaCO3

Reagents/standard solutions/cleaner for analyzer

CY80HA-R2+TA (Malta)

Standard solution CaCO3 0 mg/l

Reagents/standard solutions/cleaner for analyzer

CY800-R211 (Romania)

Cleaning solution for CA80HA

Reagents/standard solutions/cleaner for analyzer

CY80HA-R2+TT (Slovenia)

Standard solution CaCO3 65 mg/l

Reagents/standard solutions/cleaner for analyzer

CY80HA-R2+TT (Spain)

Standard solution CaCO3 65 mg/l

Reagents/standard solutions/cleaner for analyzer

CY80HA_aktiv (Malta)

Reagent RK for CA80HA

Reagents/standard solutions/cleaner for analyzer

CY80HA-R2+SP (Italy)

Reagent set (SP) for CA80HA

Reagents/standard solutions/cleaner for analyzer

CY80HA-R2+TA (Slovakia)

Standard solution CaCO3 0 mg/l

Reagents/standard solutions/cleaner for analyzer

CY80HA-R2+ST (United Arab Emirates)

Reagent set for CA80HA, ready to prepare

Reagents/standard solutions/cleaner for analyzer

CY80HA-R2+ST (Romania)

Reagent set for CA80HA, ready to prepare

Reagents/standard solutions/cleaner for analyzer

CY80HA-R2+TA (France)

Standard solution CaCO3 0 mg/l

Reagents/standard solutions/cleaner for analyzer

CY80HA-R2+TT (European Union)

Standard solution CaCO3 65 mg/l

Reagents/standard solutions/cleaner for analyzer

CY80HA-R2+TP (Switzerland (French))

Standard solution CaCO3 10 mg/l

Reagents/standard solutions/cleaner for analyzer

CY80HA-R2+ST (Japan)

Reagent set for CA80HA, ready to prepare

Reagents/standard solutions/cleaner for analyzer

CY80HA-R2+TT (Estonia)

Standard solution CaCO3 65 mg/l

Reagents/standard solutions/cleaner for analyzer

CY80HA-R2+TP (Norway)

Standard solution CaCO3 10 mg/l

Reagents/standard solutions/cleaner for analyzer

CY80HA-R2+MT (Hungary)

standard solution 1600mg/L CaCO3

Reagents/standard solutions/cleaner for analyzer

CY80HA_aktiv (Germany)

Reagent RK for CA80HA

Reagents/standard solutions/cleaner for analyzer

CY800-R211 (Greece)

Cleaning solution for CA80HA

Reagents/standard solutions/cleaner for analyzer

CY80HA-R2+TA (European Union)

Standard solution CaCO3 0 mg/l

Reagents/standard solutions/cleaner for analyzer

CY80HA-R2+TA (China)

Standard solution CaCO3 0 mg/l

Reagents/standard solutions/cleaner for analyzer

CY80HA-R2+TL (Finland)

Standard solution CaCO3 1,0 mg/l

Reagents/standard solutions/cleaner for analyzer

CY80HA-R2+TT (Switzerland (French))

Standard solution CaCO3 65 mg/l

Reagents/standard solutions/cleaner for analyzer

CY800-R211 (Switzerland (French))

Cleaning solution for CA80HA

Reagents/standard solutions/cleaner for analyzer

CY80HA-R2+TP (Belgium)

Standard solution CaCO3 10 mg/l

Reagents/standard solutions/cleaner for analyzer

CY80HA-R2+TP (South Korea)

Standard solution CaCO3 10 mg/l

Reagents/standard solutions/cleaner for analyzer

CY80HA_aktiv (Mexico)

Reagent RK for CA80HA

Reagents/standard solutions/cleaner for analyzer

CY80HA-R2+SP (Slovakia)

Reagent set (SP) for CA80HA

Reagents/standard solutions/cleaner for analyzer

CY80HA-R2+TT (Lithuania)

Standard solution CaCO3 65 mg/l

Reagents/standard solutions/cleaner for analyzer

CY80HA-R2+SP (Slovenia)

Reagent set (SP) for CA80HA

Reagents/standard solutions/cleaner for analyzer

CY80HA-R2+TA (Lithuania)

Standard solution CaCO3 0 mg/l

Reagents/standard solutions/cleaner for analyzer

CY80HA-R2+TL (Bulgaria)

Standard solution CaCO3 1,0 mg/l

Reagents/standard solutions/cleaner for analyzer

CY80HA-R2+ST (Portugal)

Reagent set for CA80HA, ready to prepare

Reagents/standard solutions/cleaner for analyzer

CY80HA-R2+SP (Ireland)

Reagent set (SP) for CA80HA

Reagents/standard solutions/cleaner for analyzer

CY80HA-R2+TL (Latvia)

Standard solution CaCO3 1,0 mg/l

Reagents/standard solutions/cleaner for analyzer

CY80HA-R2+MT (Spain)

standard solution 1600mg/L CaCO3

Reagents/standard solutions/cleaner for analyzer

CY80HA-R2+ST (Finland)

Reagent set for CA80HA, ready to prepare

Reagents/standard solutions/cleaner for analyzer

CY80HA-R2+TT (Croatia)

Standard solution CaCO3 65 mg/l

Reagents/standard solutions/cleaner for analyzer

CY80HA-R2+ST (Canada)

Reagent set for CA80HA, ready to prepare

Reagents/standard solutions/cleaner for analyzer

CY80HA-R2+TA (Turkey)

Standard solution CaCO3 0 mg/l

Reagents/standard solutions/cleaner for analyzer

CY80HA-R2+TP (Denmark)

Standard solution CaCO3 10 mg/l

Reagents/standard solutions/cleaner for analyzer

CY80HA-R2+SP (Romania)

Reagent set (SP) for CA80HA

Reagents/standard solutions/cleaner for analyzer

CY80HA-R2+MT (United Arab Emirates)

standard solution 1600mg/L CaCO3

Reagents/standard solutions/cleaner for analyzer

CY80HA-R2+TP (Russia)

Standard solution CaCO3 10 mg/l

Reagents/standard solutions/cleaner for analyzer

CY80HA-R2+ST (Switzerland (French))

Reagent set for CA80HA, ready to prepare

Reagents/standard solutions/cleaner for analyzer

CY80HA-R2+TT (United Arab Emirates)

Standard solution CaCO3 65 mg/l

Reagents/standard solutions/cleaner for analyzer

CY80HA-R2+TP (USA)

Standard solution CaCO3 10 mg/l

Reagents/standard solutions/cleaner for analyzer

CY80HA-R2+TA (Russia)

Standard solution CaCO3 0 mg/l

Reagents/standard solutions/cleaner for analyzer

CY80HA-R2+TL (India)

Standard solution CaCO3 1,0 mg/l

Reagents/standard solutions/cleaner for analyzer

CY80HA-R2+TL (China)

Standard solution CaCO3 1,0 mg/l

Reagents/standard solutions/cleaner for analyzer

CY80HA_aktiv (Hungary)

Reagent RK for CA80HA

Reagents/standard solutions/cleaner for analyzer

CY80HA-R2+TT (Canada (French))

Standard solution CaCO3 65 mg/l

Reagents/standard solutions/cleaner for analyzer

CY80HA-R2+TP (Mexico)

Standard solution CaCO3 10 mg/l

Reagents/standard solutions/cleaner for analyzer

CY80HA-R2+TP (Italy)

Standard solution CaCO3 10 mg/l

Reagents/standard solutions/cleaner for analyzer

CY80HA-R2+TT (Ukraine)

Standard solution CaCO3 65 mg/l

Reagents/standard solutions/cleaner for analyzer

CY80HA-R2+ST (Czech Republic)

Reagent set for CA80HA, ready to prepare

Reagents/standard solutions/cleaner for analyzer

CY80HA_aktiv (Slovenia)

Reagent RK for CA80HA

Reagents/standard solutions/cleaner for analyzer

CY80HA-R2+ST (USA)

Reagent set for CA80HA, ready to prepare

Reagents/standard solutions/cleaner for analyzer

CY80HA-R2+ST (India)

Reagent set for CA80HA, ready to prepare

Reagents/standard solutions/cleaner for analyzer

CY80HA-R2+TT (Latvia)

Standard solution CaCO3 65 mg/l

Reagents/standard solutions/cleaner for analyzer

CY80HA-R2+TT (China)

Standard solution CaCO3 65 mg/l

Reagents/standard solutions/cleaner for analyzer

CY800-R211 (South Korea)

Cleaning solution for CA80HA

Reagents/standard solutions/cleaner for analyzer

CY80HA-R2+ST (Poland)

Reagent set for CA80HA, ready to prepare

Reagents/standard solutions/cleaner for analyzer

CY80HA-R2+SP (Croatia)

Reagent set (SP) for CA80HA

Reagents/standard solutions/cleaner for analyzer

CY80HA-R2+TP (Ireland)

Standard solution CaCO3 10 mg/l

Reagents/standard solutions/cleaner for analyzer

CY80HA-R2+ST (Sweden)

Reagent set for CA80HA, ready to prepare

Reagents/standard solutions/cleaner for analyzer

CY800-R211 (Mexico)

Cleaning solution for CA80HA

Reagents/standard solutions/cleaner for analyzer

CY80HA-R2+MT (Mexico)

standard solution 1600mg/L CaCO3

Reagents/standard solutions/cleaner for analyzer

CY80HA-R2+TP (Saudi Arabien)

Standard solution CaCO3 10 mg/l

Reagents/standard solutions/cleaner for analyzer

CY80HA-R2+SP (Latvia)

Reagent set (SP) for CA80HA

Reagents/standard solutions/cleaner for analyzer

CY80HA-R2+TA (Portugal)

Standard solution CaCO3 0 mg/l

Reagents/standard solutions/cleaner for analyzer

CY80HA-R2+TP (Belgium (Dutch))

Standard solution CaCO3 10 mg/l

Reagents/standard solutions/cleaner for analyzer

CY800-R211 (Italy)

Cleaning solution for CA80HA

Reagents/standard solutions/cleaner for analyzer

CY80HA-R2+TP (Sweden)

Standard solution CaCO3 10 mg/l

Reagents/standard solutions/cleaner for analyzer

CY80HA-R2+MT (Romania)

standard solution 1600mg/L CaCO3

Reagents/standard solutions/cleaner for analyzer

CY80HA-R2+TA (Switzerland)

Standard solution CaCO3 0 mg/l

Reagents/standard solutions/cleaner for analyzer

CY80HA-R2+ST (Slovenia)

Reagent set for CA80HA, ready to prepare

Reagents/standard solutions/cleaner for analyzer

CY800-R211 (New Zealand)

Cleaning solution for CA80HA

Reagents/standard solutions/cleaner for analyzer

CY80HA_aktiv (Switzerland)

Reagent RK for CA80HA

Reagents/standard solutions/cleaner for analyzer

CY80HA-R2+TA (South Korea)

Standard solution CaCO3 0 mg/l

Reagents/standard solutions/cleaner for analyzer

CY80HA-R2+TL (Mexico)

Standard solution CaCO3 1,0 mg/l

Reagents/standard solutions/cleaner for analyzer

CY80HA-R2+TL (Portugal)

Standard solution CaCO3 1,0 mg/l

Reagents/standard solutions/cleaner for analyzer

CY80HA-R2+SP (Switzerland)

Reagent set (SP) for CA80HA

Reagents/standard solutions/cleaner for analyzer

CY80HA-R2+SP (Hungary)

Reagent set (SP) for CA80HA

Reagents/standard solutions/cleaner for analyzer

CY80HA-R2+MT (Italy)

standard solution 1600mg/L CaCO3

Reagents/standard solutions/cleaner for analyzer

CY800-R211 (USA)

Cleaning solution for CA80HA

Reagents/standard solutions/cleaner for analyzer

CY80HA-R2+TP (Romania)

Standard solution CaCO3 10 mg/l

Reagents/standard solutions/cleaner for analyzer

CY80HA-R2+TT (Norway)

Standard solution CaCO3 65 mg/l

Reagents/standard solutions/cleaner for analyzer

CY80HA-R2+TT (United Arab Emirates)

Standard solution CaCO3 65 mg/l

Reagents/standard solutions/cleaner for analyzer

CY80HA-R2+TL (South Korea)

Standard solution CaCO3 1,0 mg/l

Reagents/standard solutions/cleaner for analyzer

CY80HA-R2+TL (Estonia)

Standard solution CaCO3 1,0 mg/l

Reagents/standard solutions/cleaner for analyzer

CY800-R211 (Switzerland)

Cleaning solution for CA80HA

Reagents/standard solutions/cleaner for analyzer

CY80HA-R2+TA (Saudi Arabien)

Standard solution CaCO3 0 mg/l

Reagents/standard solutions/cleaner for analyzer

CY80HA-R2+TA (Poland)

Standard solution CaCO3 0 mg/l

Reagents/standard solutions/cleaner for analyzer

CY80HA-R2+TT (Malta)

Standard solution CaCO3 65 mg/l

Reagents/standard solutions/cleaner for analyzer

CY800-R211 (Slovenia)

Cleaning solution for CA80HA

Reagents/standard solutions/cleaner for analyzer

CY80HA-R2+SP (Czech Republic)

Reagent set (SP) for CA80HA

Reagents/standard solutions/cleaner for analyzer

CY80HA-R2+TL (USA)

Standard solution CaCO3 1,0 mg/l

Reagents/standard solutions/cleaner for analyzer

CY80HA-R2+SP (Estonia)

Reagent set (SP) for CA80HA

Reagents/standard solutions/cleaner for analyzer

CY80HA-R2+ST (Canada (French))

Reagent set for CA80HA, ready to prepare

Reagents/standard solutions/cleaner for analyzer

CY80HA-R2+TP (Australia)

Standard solution CaCO3 10 mg/l

Reagents/standard solutions/cleaner for analyzer

CY80HA-R2+SP (Norway)

Reagent set (SP) for CA80HA

Reagents/standard solutions/cleaner for analyzer

CY80HA-R2+MT (Canada)

standard solution 1600mg/L CaCO3

Reagents/standard solutions/cleaner for analyzer

CY80HA-R2+MT (Czech Republic)

standard solution 1600mg/L CaCO3

Reagents/standard solutions/cleaner for analyzer

CY80HA_aktiv (France)

Reagent RK for CA80HA

Reagents/standard solutions/cleaner for analyzer

CY800-R211 (Brasilien)

Cleaning solution for CA80HA

Reagents/standard solutions/cleaner for analyzer

CY80HA-R2+SP (USA)

Reagent set (SP) for CA80HA

Reagents/standard solutions/cleaner for analyzer

CY80HA-R2+TT (Russia)

Standard solution CaCO3 65 mg/l

Reagents/standard solutions/cleaner for analyzer

CY80HA-R2+MT (Switzerland (French))

standard solution 1600mg/L CaCO3

Reagents/standard solutions/cleaner for analyzer

CY80HA-R2+TA (Mexico)

Standard solution CaCO3 0 mg/l

Reagents/standard solutions/cleaner for analyzer

CY800-R211 (United Arab Emirates)

Cleaning solution for CA80HA

Reagents/standard solutions/cleaner for analyzer

CY80HA-R2+ST (Brasilien)

Reagent set for CA80HA, ready to prepare

Reagents/standard solutions/cleaner for analyzer

CY80HA-R2+TL (Croatia)

Standard solution CaCO3 1,0 mg/l

Reagents/standard solutions/cleaner for analyzer

CY80HA-R2+TL (Australia)

Standard solution CaCO3 1,0 mg/l

Reagents/standard solutions/cleaner for analyzer

CY80HA_aktiv (Denmark)

Reagent RK for CA80HA

Reagents/standard solutions/cleaner for analyzer

CY80HA-R2+TA (Denmark)

Standard solution CaCO3 0 mg/l

Reagents/standard solutions/cleaner for analyzer

CY80HA-R2+TA (Bulgaria)

Standard solution CaCO3 0 mg/l

Reagents/standard solutions/cleaner for analyzer

CY80HA-R2+MT (Malta)

standard solution 1600mg/L CaCO3

Reagents/standard solutions/cleaner for analyzer

CY80HA-R2+MT (Lithuania)

standard solution 1600mg/L CaCO3

Reagents/standard solutions/cleaner for analyzer

CY80HA-R2+TA (Czech Republic)

Standard solution CaCO3 0 mg/l

Reagents/standard solutions/cleaner for analyzer

CY80HA-R2+ST (Mexico)

Reagent set for CA80HA, ready to prepare

Reagents/standard solutions/cleaner for analyzer

CY80HA-R2+TT (Poland)

Standard solution CaCO3 65 mg/l

Reagents/standard solutions/cleaner for analyzer

CY80HA-R2+ST (Australia)

Reagent set for CA80HA, ready to prepare

Reagents/standard solutions/cleaner for analyzer

CY800-R211 (Saudi Arabien)

Cleaning solution for CA80HA

Reagents/standard solutions/cleaner for analyzer

CY80HA-R2+ST (China)

Reagent set for CA80HA, ready to prepare

Reagents/standard solutions/cleaner for analyzer

CY80HA-R2+TL (United Kingdom)

Standard solution CaCO3 1,0 mg/l

Reagents/standard solutions/cleaner for analyzer

CY80HA-R2+ST (Switzerland (Italian))

Reagent set for CA80HA, ready to prepare

Reagents/standard solutions/cleaner for analyzer

CY80HA-R2+TA (New Zealand)

Standard solution CaCO3 0 mg/l

Reagents/standard solutions/cleaner for analyzer

CY80HA_aktiv (Canada)

Reagent RK for CA80HA

Reagents/standard solutions/cleaner for analyzer

CY80HA_aktiv (Sweden)

Reagent RK for CA80HA

Reagents/standard solutions/cleaner for analyzer

CY800-R211 (Turkey)

Cleaning solution for CA80HA

Reagents/standard solutions/cleaner for analyzer

CY80HA_aktiv (South Africa)

Reagent RK for CA80HA

Reagents/standard solutions/cleaner for analyzer

CY80HA-R2+ST (European Union)

Reagent set for CA80HA, ready to prepare

Reagents/standard solutions/cleaner for analyzer

CY80HA-R2+SP (Russia)

Reagent set (SP) for CA80HA

Reagents/standard solutions/cleaner for analyzer

CY800-R211 (Slovakia)

Cleaning solution for CA80HA

Reagents/standard solutions/cleaner for analyzer

CY80HA_aktiv (Netherlands)

Reagent RK for CA80HA

Reagents/standard solutions/cleaner for analyzer

CY80HA-R2+SP (Switzerland (French))

Reagent set (SP) for CA80HA

Reagents/standard solutions/cleaner for analyzer

CY80HA-R2+MT (Estonia)

standard solution 1600mg/L CaCO3

Reagents/standard solutions/cleaner for analyzer

CY80HA-R2+ST (Austria)

Reagent set for CA80HA, ready to prepare

Reagents/standard solutions/cleaner for analyzer

CY80HA-R2+MT (Turkey)

standard solution 1600mg/L CaCO3

Reagents/standard solutions/cleaner for analyzer

CY800-R211 (Bulgaria)

Cleaning solution for CA80HA

Reagents/standard solutions/cleaner for analyzer

CY80HA-R2+TP (United Arab Emirates)

Standard solution CaCO3 10 mg/l

Reagents/standard solutions/cleaner for analyzer

CY80HA-R2+SP (Austria)

Reagent set (SP) for CA80HA

Reagents/standard solutions/cleaner for analyzer

CY80HA_aktiv (India)

Reagent RK for CA80HA

Reagents/standard solutions/cleaner for analyzer

CY80HA-R2+TP (Malta)

Standard solution CaCO3 10 mg/l

Reagents/standard solutions/cleaner for analyzer

CY80HA-R2+TT (Canada)

Standard solution CaCO3 65 mg/l

Reagents/standard solutions/cleaner for analyzer

CY80HA-R2+TP (Netherlands)

Standard solution CaCO3 10 mg/l

Reagents/standard solutions/cleaner for analyzer

CY80HA_aktiv (Italy)

Reagent RK for CA80HA

Reagents/standard solutions/cleaner for analyzer

CY80HA-R2+TT (Czech Republic)

Standard solution CaCO3 65 mg/l

Reagents/standard solutions/cleaner for analyzer

CY800-R211 (Finland)

Cleaning solution for CA80HA

Reagents/standard solutions/cleaner for analyzer

CY80HA-R2+MT (USA)

standard solution 1600mg/L CaCO3

Reagents/standard solutions/cleaner for analyzer

CY80HA-R2+TP (Greece)

Standard solution CaCO3 10 mg/l

Reagents/standard solutions/cleaner for analyzer

CY80HA-R2+TA (Switzerland (French))

Standard solution CaCO3 0 mg/l

Reagents/standard solutions/cleaner for analyzer

CY80HA_aktiv (Poland)

Reagent RK for CA80HA

Reagents/standard solutions/cleaner for analyzer

CY80HA-R2+MT (France)

standard solution 1600mg/L CaCO3

Reagents/standard solutions/cleaner for analyzer

CY80HA-R2+ST (France)

Reagent set for CA80HA, ready to prepare

Reagents/standard solutions/cleaner for analyzer

CY80HA-R2+TA (Australia)

Standard solution CaCO3 0 mg/l

Reagents/standard solutions/cleaner for analyzer

CY80HA-R2+ST (Belgium)

Reagent set for CA80HA, ready to prepare

Reagents/standard solutions/cleaner for analyzer

CY80HA-R2+TT (France)

Standard solution CaCO3 65 mg/l

Reagents/standard solutions/cleaner for analyzer

CY80HA-R2+TL (Italy)

Standard solution CaCO3 1,0 mg/l

Reagents/standard solutions/cleaner for analyzer

CY80HA-R2+MT (Belgium)

standard solution 1600mg/L CaCO3

Reagents/standard solutions/cleaner for analyzer

CY80HA-R2+TP (Ukraine)

Standard solution CaCO3 10 mg/l

Reagents/standard solutions/cleaner for analyzer

CY80HA-R2+TP (South Africa)

Standard solution CaCO3 10 mg/l

Reagents/standard solutions/cleaner for analyzer

CY80HA-R2+MT (Finland)

standard solution 1600mg/L CaCO3

Reagents/standard solutions/cleaner for analyzer

CY80HA-R2+TP (Germany)

Standard solution CaCO3 10 mg/l

Reagents/standard solutions/cleaner for analyzer

CY80HA-R2+ST (Norway)

Reagent set for CA80HA, ready to prepare

Reagents/standard solutions/cleaner for analyzer

CY80HA-R2+ST (Italy)

Reagent set for CA80HA, ready to prepare

Reagents/standard solutions/cleaner for analyzer

CY80HA-R2+TA (Ireland)

Standard solution CaCO3 0 mg/l

Reagents/standard solutions/cleaner for analyzer

CY80HA_aktiv (Czech Republic)

Reagent RK for CA80HA

Reagents/standard solutions/cleaner for analyzer

CY800-R211 (Netherlands)

Cleaning solution for CA80HA

Reagents/standard solutions/cleaner for analyzer

CY80HA-R2+TT (Belgium (Dutch))

Standard solution CaCO3 65 mg/l

Reagents/standard solutions/cleaner for analyzer

CY80HA-R2+TA (Italy)

Standard solution CaCO3 0 mg/l

Reagents/standard solutions/cleaner for analyzer

CY80HA-R2+TP (Canada (French))

Standard solution CaCO3 10 mg/l

Reagents/standard solutions/cleaner for analyzer

CY80HA-R2+TL (Czech Republic)

Standard solution CaCO3 1,0 mg/l

Reagents/standard solutions/cleaner for analyzer

CY80HA-R2+TP (Austria)

Standard solution CaCO3 10 mg/l

Reagents/standard solutions/cleaner for analyzer

CY80HA-R2+TP (Finland)

Standard solution CaCO3 10 mg/l

Reagents/standard solutions/cleaner for analyzer

CY80HA-R2+MT (Poland)

standard solution 1600mg/L CaCO3

Reagents/standard solutions/cleaner for analyzer

CY800-R211 (South Africa)

Cleaning solution for CA80HA

Reagents/standard solutions/cleaner for analyzer

CY80HA-R2+TL (Japan)

Standard solution CaCO3 1,0 mg/l

Reagents/standard solutions/cleaner for analyzer

CY80HA-R2+TL (Netherlands)

Standard solution CaCO3 1,0 mg/l

Reagents/standard solutions/cleaner for analyzer

CY80HA-R2+TT (Portugal)

Standard solution CaCO3 65 mg/l

Reagents/standard solutions/cleaner for analyzer

CY80HA-R2+SP (Malta)

Reagent set (SP) for CA80HA

Reagents/standard solutions/cleaner for analyzer

CY80HA-R2+TT (Switzerland)

Standard solution CaCO3 65 mg/l

Reagents/standard solutions/cleaner for analyzer

CY80HA-R2+MT (Slovakia)

standard solution 1600mg/L CaCO3

Reagents/standard solutions/cleaner for analyzer

CY80HA-R2+TA (United Arab Emirates)

Standard solution CaCO3 0 mg/l

Reagents/standard solutions/cleaner for analyzer

CY80HA-R2+ST (Slovakia)

Reagent set for CA80HA, ready to prepare

Reagents/standard solutions/cleaner for analyzer

CY80HA-R2+TT (South Korea)

Standard solution CaCO3 65 mg/l

Reagents/standard solutions/cleaner for analyzer

CY80HA-R2+MT (Netherlands)

standard solution 1600mg/L CaCO3

Reagents/standard solutions/cleaner for analyzer

CY80HA-R2+TL (United Arab Emirates)

Standard solution CaCO3 1,0 mg/l

Reagents/standard solutions/cleaner for analyzer

CY80HA-R2+TP (Slovakia)

Standard solution CaCO3 10 mg/l

Reagents/standard solutions/cleaner for analyzer

CY80HA-R2+MT (Australia)

standard solution 1600mg/L CaCO3

Reagents/standard solutions/cleaner for analyzer

CY80HA-R2+TP (India)

Standard solution CaCO3 10 mg/l

Reagents/standard solutions/cleaner for analyzer

CY80HA-R2+TT (Belgium)

Standard solution CaCO3 65 mg/l

Reagents/standard solutions/cleaner for analyzer

CY80HA-R2+ST (Malta)

Reagent set for CA80HA, ready to prepare

Reagents/standard solutions/cleaner for analyzer

CY80HA-R2+TP (United Arab Emirates)

Standard solution CaCO3 10 mg/l

Reagents/standard solutions/cleaner for analyzer

CY80HA-R2+ST (Denmark)

Reagent set for CA80HA, ready to prepare

Reagents/standard solutions/cleaner for analyzer

CY80HA-R2+MT (Latvia)

standard solution 1600mg/L CaCO3

Reagents/standard solutions/cleaner for analyzer

CY80HA-R2+MT (South Africa)

standard solution 1600mg/L CaCO3

Reagents/standard solutions/cleaner for analyzer

CY80HA-R2+SP (Belgium)

Reagent set (SP) for CA80HA

Reagents/standard solutions/cleaner for analyzer

CY80HA-R2+MT (Ukraine)

standard solution 1600mg/L CaCO3

Reagents/standard solutions/cleaner for analyzer

CY80HA-R2+TT (Turkey)

Standard solution CaCO3 65 mg/l

Reagents/standard solutions/cleaner for analyzer

CY80HA-R2+TP (Czech Republic)

Standard solution CaCO3 10 mg/l

Reagents/standard solutions/cleaner for analyzer

CY80HA-R2+ST (Turkey)

Reagent set for CA80HA, ready to prepare

Reagents/standard solutions/cleaner for analyzer

New Analyzer Platform

Productcode: CA80HA-
verklaring Number: EC_00650_01.18

Viomax, UV, Turbimax, TURBIDITY AND TOTAL SUSPENDED SOLIDS, TOCII, Stip-Scan, Stamolys, SPECTROMETER, OxyMax W, OxyMax H, New Analyzer Platform, Liquistation M, Liquiport, Isemax, Cell growth, Absorbance

Productcode: CAS40D-, CAS51D-, CAS74-, CAS80E-, CKF50-, CKI50-, COS22D-, COS31-, COS41-, COS51D-, COS61-, COS61D-, COS81D-, CSF48-, CSP44-, CUS50D-, CUS51D-, CUS52D-, CVF52-, CVI52-, OUSAF11-, OUSAF12-, OUSAF21-, OUSAF22-, OUSAF46-, OUSBT66-, OUSTF10-, CAM74-, CA71AL-, CA71AM-, CA71CL-, CA71COD-, CA71CR-, CA71CU-, CA71FE-, CA71HA-, CA71HY-, CA71MN-, CA71NO-, CA71PH-, CA71SI-, CA72TOC-, CA76NA-, CA80AL-, CA80AM-, CA80COD-, CA80CR-, CA80FE-, CA80HA-, CA80MN-, CA80NO-, CA80PH-, CA80SI-, CA80TN-, CA80TP-
Regio: Russia (Declaration of Conformity)
Keurnummer: EAEC D-DE.AD07.B.01363/19

Viomax, UV, Turbimax, TURBIDITY AND TOTAL SUSPENDED SOLIDS, TOCII, Stip-Scan, Stamolys, SPECTROMETER, OxyMax W, OxyMax H, New Analyzer Platform, Liquistation M, Liquiport, Isemax, Cell growth, Absorbance

Productcode: CAM74-, CAS40D-, CAS51D-, CAS74-, CAS80E-, CKF50-, CKI50-, COS22D-, COS31-, COS41-, COS51D-, COS61-, COS61D-, COS81D-, CSF48-, CSP44-, CUS50D-, CUS51D-, CUS52D-, CVF52-, CVI52-, OUSAF11-, OUSAF12-, OUSAF22-, OUSAF46-, OUSBT66-, OUSTF10-, CA70SI-, CA71AL-, CA71AM-, CA71CL-, CA71CR-, CA71CU-, CA71FE-, CA71HA-, CA71HY-, CA71MN-, CA71NO-, CA71PH-, CA71SI-, CA72TOC-, CA76NA-, CA80AL-, CA80AM-, CA80COD-, CA80CR-, CA80FE-, CA80HA-, CA80MN-, CA80NO-, CA80PH-, CA80SI-, CA80TN-, CA80TP-
Keurnummer: EAEC RU D-DE.AD07.B.01362/19

ACCESSORIES: COLORIMETRIC, New Analyzer Platform

Productcode: CA80TP-, CA80TN-, CA80SI-, CA80PHY-, CA80PHB-, CA80PH-, CA80NO-, CA80NA-, CA80MN-, CA80HA-, CA80FE-, CA80CR-, CA80COD-, CA80AM-, CA80AL-
Software Version: 01.07

Turbimax, TopHit, OxyMax W, OxyMax H, OrbiSint, OrbiPore, OrbiPac, New Analyzer Platform, Memosens, InduMax P, InduMax H, ConduMax W, ConduMax H, Chloromax, Ceramax, CeraLiquid, CeraGel

Productcode: CPS171D-, CPS31D-, CPS341D-, CPS41D-, CPS41E-, CPS42D-, CPS441D-, CPS471D-, CPS47D-, CPS491D-, CPS71D-, CPS71E-, CPS72D-, CPS76D-, CPS77D-, CPS91D-, CPS91E-, CPS92D-, CPS96D-, CPS97D-, CUS50D-, CUS51D-, CUS52D-, CA80HA-, CA80SI-, CCS120D-, CCS142D-, CCS50D-, CCS51D-, CLS15D-, CLS16D-, CLS21D-, CLS50D-, CLS54D-, CLS82D-, COS22D-, COS51D-, COS61D-, COS81D-, CPF81D-, CPF82D-, CPS11D-, CPS11E-, CPS12D-, CPS12E-, CPS16D-
Regio: Russia
Keurnummer: OC.C.31.004.A NO 75181

New Analyzer Platform

Productcode: CA80AL-, CA80PH-, CA80NO-, CA80CR-, CA80FE-, CA80HA-, CA80SI-, CA80AM-, CA80MN-
Regio: Canada, USA
Keuringsinstantie: CSA

Ordinary Location Product Safety

New Analyzer Platform

Productcode: CA80AL-, CA80AM-, CA80CR-, CA80FE-, CA80HA-, CA80MN-, CA80NO-, CA80PH-, CA80SI-
Regio: Canada, USA
Keuringsinstantie: CSA

Ordinary Location Product Safety
Accessoires / Spare parts
Maintenance booklet CA80xx for download

Reagent / Standard solution CY80HA

Reagent set for CA80HA ::long shelf life ::or respectively standard solution

Cleaner CY800

Cleaning solution for Liquiline System CA80 Contains dangerous goods

CAV800 Maintenance kit Liquisystem CA8x

Kits with all maintenance parts for Liquiline System CA8x analyzers Content: dispensers, hoses, connectors, O-ring for the sample collector, filter mats. Optional: in-and outlet hoses(PA), Liquidmanager without motor (PT) or 2 sample collector beakers(PV)

Liquiline System CAC800

Sample hoses for Liquiline System with different lengths

CAC880 Inlet and Outlet hoses CA8x

Inlet and outlet hoses for Liquiline System CA80 in heated and unheated version.

Kit: display kabel

CM442/CM444/CM448/CSF48