Digital combined pH/ORP sensor
Memosens CPS76D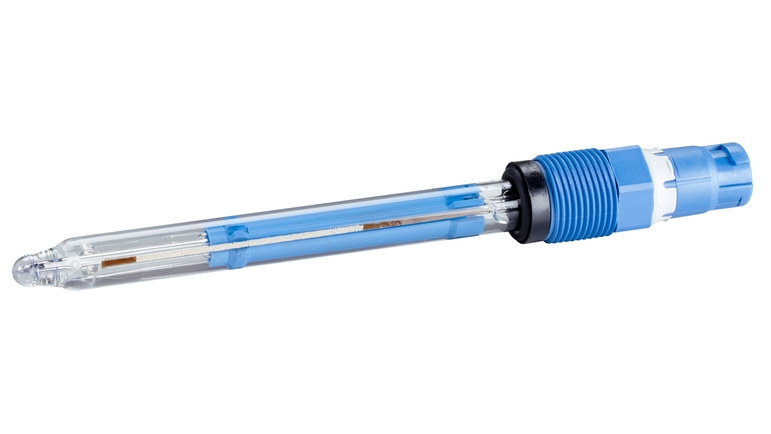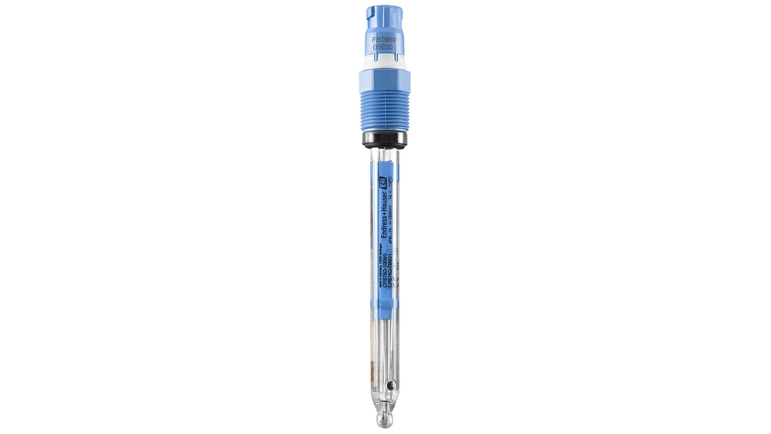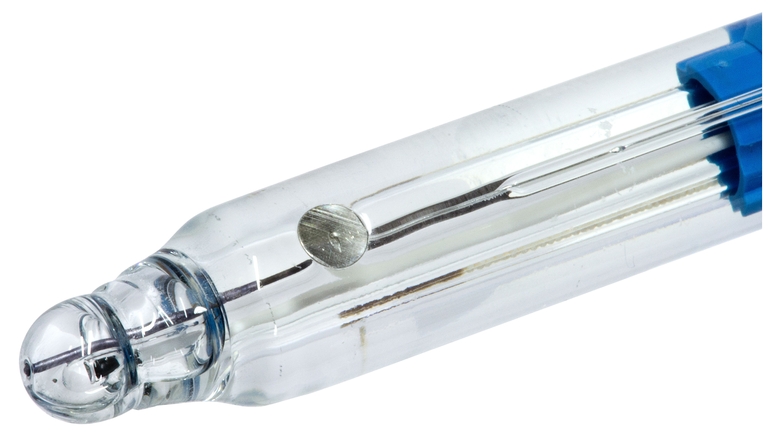 Memosens glass electrode for the chemical and life sciences industries
Memosens CPS76D is the expert for simultaneous pH and ORP measurement in demanding processes and hygienic applications, offering a better process control and increased quality. The sensor measures reliably at high temperatures and is non-toxic assuring highest safety of your products. Thanks to Memosens digital technology, CPS76D combines maximum process and data integrity with simple operation. It resists corrosion and moisture, enables lab calibration and facilitates predictive maintenance.
Eenvoudige producten

Gemakkelijk te selecteren, installeren en gebruiken
Technische topkwaliteit
Eenvoud
Standaardproducten

Betrouwbaar, robuust en onderhoudsarm
Technische topkwaliteit
Eenvoud
High-end producten

Functioneel en uiterst doelmatig
Technische topkwaliteit
Eenvoud
Gespecialiseerde producten

Ontworpen voor veeleisende applicaties
Technische topkwaliteit
Eenvoud
FLEX selectie
Technische topkwaliteit
Eenvoud

Fundamental selectie

Voldoe aan uw basismeetvoorwaarden

Technische topkwaliteit

Eenvoud

Lean selectie

Beheers eenvoudig uw belangrijkste processen

Technische topkwaliteit

Eenvoud

Extended selectie

Optimaliseer uw processen met innovatieve technologieën

Technische topkwaliteit

Eenvoud

Xpert selectie

Beheers uw meest uitdagende applicaties

Technische topkwaliteit

Eenvoud
Overzicht specificaties

Measurement range

Process temperature

-15°C ... 140°C
(5°F - 284°F)

Process pressure

max. 13 bar
(188 psi)depends on selected version
Loading alternative products
Snelle selectie
Kies uit één van de voorgestelde opties
Individuele configuratie
Ga verder met uw keuze uit alle mogelijke opties
Voordelen

Simultaneous measurement of pH, ORP and rH values (in rH mode) for a better process overview

Additional platinum electrode enables constant monitoring of reference impedance and thus sensor quality

Robust and resistant to poisoning thanks to new...
Toepassingsgebied

Process technology and monitoring of processes with:
- Quickly changing pH values
- High proportion of electrode poisons such as H2S

Chemical processes

Hygienic and sterile applications:
- Fermenters
- Biotechnology
- Life sciences

With ATEX, FM, and CSA...
Documenten / handleidingen / software
Memosens CPS76D Technical Information

Combination of pH and ORP electrode with Memosens technology

Technische informatie (TI)

Memosens CPS16D/76D/96D Operating Instructions

Combined pH and ORP electrodes with Memosens technology
Kombination aus pH- und Redoxelektrode mit Memosens-Technologie

Inbedrijfsstellingsvoorschriften (BA)

Memosens pH/ORP Sicherheitshinweise für elektrische Betriebsmittel im explosionsgefährdeten Bereich Safety instructions for electrical apparatus for explosion-hazardous areas Conseils de sécurité pour matériels électriques destinés aux zones explosibles Safety Instructions

Safety instructions for electrical apparatus for explosion-hazardous
areas

Ex Veiligheidsinstructies (XA)

Memosens pH/ORP Sicherheitshinweise für elektrische Betriebsmittel im explosionsgefährdeten Bereich Safety instructions for electrical apparatus for explosion-hazardous areas Conseils de sécurité pour matériels électriques destinés aux zones explosibles Safety Instructions

Safety instructions for electrical apparatus for explosion-hazardous
areas

Ex Veiligheidsinstructies (XA)

Manufacturer Declaration

TSE/BSE free

Monitoring wylotu oczyszczalni ścieków FE_09_2010

Nowoczesna platforma urządzeń do monitoringu wylotu oczyszczalni
ścieków.

Nowoczesne pomiary pH- PS_10_2011

Procesy technologiczne, technologia Memosens, Topcal S CPC310–
automatyczny system pomiarowy.

Przyrządy pomiarowe i techniki w przemyśle farmaceutycznym- ŚPF/03/2010

Parametry analityczne procesu a w szczególności pH wymagają
regularnej kalibracji lub dopasowania oraz regularnej konserwacji,
znacznie częściej, niż inne zmienne sterowane.

Systemy pomiarowe w energetyce- ECiZ_10_2010

Pomiary przewodności elektrolitycznej oraz stężenia tlenu śladowego w
branży energetycznej.

pH-Messung in Industrieprozessen

Auswahl- und Engineering-Hilfe für verschiedene Industriebranchen und
Applikationen

Competentie Brochure (CP)

03/20

pH measurement in industrial processes

Selection and engineering guide for different industries and
applications

Competentie Brochure (CP)

02/20

Watch your process intensely

The new combined pH/ORP electrodes from Endress+Hauser for better
process control and quality

Beobachten Sie Ihren Prozess genau

Die neuen pH/Redox Kombielektroden CPS16D, CPS76D und CPS96D für
bessere Prozesskontrolle und Qualität

Memosens digital sensor technology for liquid analysis (mp4 format, 61.7 MB)

De Memosens technologie van Endress+Hauser is een revolutie in
vloeistofanalyse.
Het zet een analoge meetwaarde om in een digitaal signaal dat geheel
galvanisch
gescheiden naar de transmitter gaat.
Memosens sensoren slaan kalibratie-, sensor- en procesdata op in hun
interne
geheugen. Dit zorgt voor een juiste processturing en optimaal onderhoud.

Memosens digital sensor technology for liquid analysis (mp4 format, 61.7 MB)

La technologie Memosens Endress et Hauser révolutionne l'analyse
physico-
chimique. Elle convertit les valeurs mesurées en signaux numériques et
les transfère
au transmetteur via une connexion sans contact.
Les capteurs Memosens mémorisent les données d'étalonnage, de capteur et
de
process, ce qui permet un contrôle précis du process et une maintenance
optimale.

Memosens - Digitale Sensortechnologie für die Flüssigkeitsanalyse (flv-Format, 17.8 MB)

Memosens digitalisiert den Messwert im Sensor und überträgt ihn
kontaktlos zum Messumformer.
Dieses Video zeigt, wie Memosens funktioniert und wie PAT-Mitarbeiter
davon profitieren.

Memosens - Digitale Sensortechnologie für die Flüssigkeitsanalyse (mp4-Format, 61.7 MB)

Memosens digitalisiert den Messwert im Sensor und überträgt ihn
kontaktlos zum
Messumformer.
Dieses Video zeigt, wie Memosens funktioniert und wie PAT-Mitarbeiter
davon
profitieren.

Memosens digital sensor technology for liquid analysis (mp4 format, 61.7 MB)

Memosens converts the measured value to a digital signal and transfers
it to the transmitter without a contacting connection.
This video shows how it works and how people in process analytics
profit from it.

Tecnología Memosens - Fácil, segura y sencilla (mp4-Format, 61.7 MB)

La tecnología Memosens de Endress+Hauser ha revolucionado el análisis de
líquidos.
Convierte el valor medido en una señal digital, y la transfiere por
inducción al transmisor.

Memosens digital sensor technology for liquid analysis (flv format, 17.2 MB)

Memosens converts the measured value to a digital signal and transfers
it to the transmitter without a contacting connection.
This video shows how it works and how people in process analytics
profit from it.

Memosens

Productcode: CPS76D-
verklaring Number: HE_01167_01.19

CeraGel, CeraLiquid, Memocheck, Memosens, Messkabel, OrbiPore, OrbiSint, TopHit

Productcode: CYP02D-, CYP01D-, CYK20-, CYK10-, CPS96D-, CPS92D-, CPS91D-, CPS76D-, CPS72D-, CPS71D-, CPS491D-, CPS471D-, CPS441D-, CPS42D-, CPS41D-, CPS171D-, CPS16D-, CPS12D-, CPS11D-
verklaring Number: EC_00356_03.16

TopHit, OrbiSint, OrbiPore, Messkabel, Memosens, Memocheck, Ceramax, CeraLiquid, CeraGel

Productcode: CYP03D-, CYP02D-, CYP01D-, CYK20-, CYK10-, CPS96D-, CPS92D-, CPS91D-, CPS76D-, CPS72D-, CPS71D-, CPS491D-, CPS471D-, CPS441D-, CPS42D-, CPS41D-, CPS341D-, CPS31D-, CPS171D-, CPS16D-, CPS12D-, CPS11D-
verklaring Number: EC_00105_02.15

CeraGel, CeraLiquid, Memosens, OrbiPore, OrbiSint

Productcode: CPS11D-, CPS12D-, CPS16D-, CPS41D-, CPS42D-, CPS71D-, CPS72D-, CPS76D-, CPS91D-, CPS92D-, CPS96D-
verklaring Number: EC_00385_02.16

CeraGel, CeraLiquid, Memocheck, Memosens, Messkabel, OrbiPore, OrbiSint, TopHit

Productcode: CYP02D-, CYP01D-, CYK20-, CYK10-, CPS96D-, CPS92D-, CPS91D-, CPS76D-, CPS72D-, CPS71D-, CPS491D-, CPS471D-, CPS441D-, CPS42D-, CPS41D-, CPS171D-, CPS16D-, CPS12D-, CPS11D-
verklaring Number: EC_00356_02.16

CeraGel, CeraLiquid, Memocheck, Memosens, Messkabel, OrbiPore, OrbiSint, TopHit

Productcode: CYP02D-, CYP01D-, CYK20-, CYK10-, CPS96D-, CPS92D-, CPS91D-, CPS76D-, CPS72D-, CPS71D-, CPS491D-, CPS471D-, CPS441D-, CPS42D-, CPS41D-, CPS16D-, CPS12D-, CPS11D-
verklaring Number: EC_00387_01.16

TopHit, Sensor, PuriSys, OrbiSint, OrbiPore, OrbiPac, Memosens, Liquisys pH/ORP, Liquisys Oxygen, Liquisys Chlorine, Liquiline M, Liquiline, CeraTex, Ceramax, CeraLiquid, CeraGel

Productcode: CPS47D-, CPS471D-, CPS471-, CPS441D-, CPS441-, CPS42D-, CPS42-, CPS41E-, CPS41D-, CPS41-, CPS341D-, CPS31D-, CPS31-, CPS171D-, CPS16D-, CPS491-, CPS491D-, CPS64-, CPS71-, CPS71D-, CPS71E-, CPS72-, CPS72D-, CPS76D-, CPS77D-, CPS91-, CPS91E-, CPS92-, CPS92D-, CPS96D-, CPS97D-, CCM223-, CCM253-, CM14-, CM42-, CM442-, CM442R-, CM444-, CM444R-, CM448-, CM448R-, CM44P-, CM72-, CM82-, COM223-, COM223F-, COM253-, COM253F-, CPF201-, CPF81-, CPF81D-, CPF82-, CPF82D-, CPM223-, CPM253-, CPS11-, CPS11D-, CPS11E-, CPS12-, CPS12D-, CPS12E-, CPS13-
Regio: Russia (TR CU)
Keuringsinstantie: EAC
Keurnummer: EAEC D-DE.AD07.B.01363/19

TopHit, Sensor, PuriSys, OrbiSint, OrbiPore, OrbiPac, Memosens, Liquisys pH/ORP, Liquisys Oxygen, Liquisys Chlorine, Liquiline M, Liquiline, CeraTex, Ceramax, CeraLiquid, CeraGel

Productcode: CPS491-, CPS47D-, CPS471D-, CPS471-, CPS441D-, CPS441-, CPS42D-, CPS42-, CPS41E-, CPS41D-, CPS41-, CPS341D-, CPS31D-, CPS31-, CPS171D-, CPS491D-, CPS64-, CPS71-, CPS71D-, CPS71E-, CPS72-, CPS72D-, CPS76D-, CPS77D-, CPS91-, CPS91D-, CPS91E-, CPS92-, CPS92D-, CPS96D-, CPS97D-, CPS16D-, CCM223-, CCM253-, CM14-, CM42-, CM442-, CM442R-, CM444-, CM444R-, CM448-, CM448R-, CM44P-, CM72-, CM82-, COM223-, COM223F-, COM253-, COM253F-, CPF201-, CPF81-, CPF81D-, CPF82-, CPF82D-, CPM223-, CPM253-, CPS11-, CPS11D-, CPS11E-, CPS12-, CPS12D-, CPS12E-, CPS13-
Regio: Russia (TR CU)
Keuringsinstantie: EAC
Keurnummer: EAEC RU D-DE.AD07.B.01362/19

TopHit, OxyMax W, OxyMax H, OrbiSint, OrbiPore, OrbiPac, Messkabel, Memosens, Memocheck, Liquiline, InduMax P, ConduMax W, ConduMax H, Chloromax, CeraLiquid, CeraGel

Productcode: CPS41D-, CPS42D-, CPS441D-, CPS471D-, CPS491D-, CPS71D-, CPS72D-, CPS76D-, CPS91D-, CPS92D-, CPS96D-, CYK10-, CYK20-, CYP01D-, CYP02D-, CPS16D-, CPS12D-, CPS11D-, CPF82D-, CPF81D-, COS51D-, COS22D-, COS21D-, CM448R-, CM444R-, CLS50D-, CLS21D-, CLS16D-, CLS15D-, CCS142D-
Regio: USA, Canada
Keuringsinstantie: INTERTEK (ETL)
Catagorie: I/2/A,B,C,D/T6, I/2/A,B,C,D/T4A
Bescherming: NI

TopHit, Memosens, InduMax P, OxyMax W, OxyMax H, OrbiSint, OrbiPore, OrbiPac, OEM, Messkabel, ConduMax W, ConduMax H, CeraLiquid, CeraGel

Productcode: CPS471D-, CLS50D-, COS22D-, CLS82D-, COS51D-, COS21D-, CPS491D-, CPS71D-, CPS72D-, CPS76D-, CPS91D-, CPS92D-, CPS96D-, CYK10-, CYK20-, OCLS82D-, OCOS81D-, OLS21D-, OPS11D-, OPS171D-, OPS91D-, OPS12D-, OYK10-, CPS441D-, CPS42D-, CPS41D-, CPS171D-, CPS16D-, CPS12D-, CPS11D-, CPF81D-, CPF82D-, COS81D-, CLS21D-, CLS16D-, CLS15D-
Regio: USA, Canada
Keuringsinstantie: CSA

TopHit, OxyMax W, OxyMax H, OrbiSint, OrbiPore, Messkabel, Memosens, Memocheck, ConduMax W, ConduMax H, CeraLiquid, CeraGel

Productcode: CYP02D-, CYP01D-, CYK20-, CYK10-, CPS96D-, CPS92D-, CPS91D-, CPS76D-, CPS72D-, CPS71D-, CPS491D-, CPS471D-, CPS441D-, CPS42D-, CPS41D-, CPS16D-, CPS12D-, CPS11D-, COS51D-, COS22D-, CLS21D-, CLS16D-, CLS15D-
Regio: International (IECEx)
Keuringsinstantie: EXAM (DMT, BVS)

TopHit, OxyMax W, OxyMax H, OrbiSint, OrbiPore, Messkabel, Memosens, Memocheck, ConduMax W, ConduMax H, CeraLiquid, CeraGel

Productcode: CYP02D-, CYP01D-, CYK20-, CYK10-, CPS96D-, CPS92D-, CPS91D-, CPS76D-, CPS72D-, CPS71D-, CPS491D-, CPS471D-, CPS441D-, CPS42D-, CPS41D-, CPS16D-, CPS12D-, CPS11D-, COS51D-, COS22D-, CLS21D-, CLS16D-, CLS15D-
Regio: International (IECEx)
Keuringsinstantie: EXAM (DMT, BVS)

TopHit, OxyMax W, OxyMax H, OrbiSint, OrbiPore, Messkabel, Memosens, Memocheck, ConduMax W, ConduMax H, CeraLiquid, CeraGel

Productcode: CYP02D-, CYP01D-, CYK20-, CYK10-, CPS96D-, CPS92D-, CPS91D-, CPS76D-, CPS72D-, CPS71D-, CPS491D-, CPS471D-, CPS441D-, CPS42D-, CPS41D-, CPS16D-, CPS12D-, CPS11D-, COS51D-, COS22D-, CLS21D-, CLS16D-, CLS15D-
Regio: International (IECEx)
Keuringsinstantie: EXAM (DMT, BVS)

TopHit, Sensor, OxyMax W, OxyMax H, OrbiTex, OrbiSint, OrbiPore, Memosens, Liquiline M, InduMax P, InduMax H, ConduMax W, ConduMax H, CeraLiquid, CeraGel

Productcode: CPS42-, CPS42D-, CPS43-, CPS441-, CPS441D-, CPS471-, CPS471D-, CPS491-, CPS491D-, CPS64-, CPS71-, CPS71D-, CPS72-, CPS72D-, CPS76D-, CPS91-, CPS91D-, CPS92D-, CPS96D-, CPS41D-, CPS41-, CPS21-, CPS16D-, CPS13-, CPS12D-, CPS12-, CPS11D-, CPS11-, COS81D-, COS51D-, COS22D-, CM42-, CLS82D-, CLS54-, CLS50D-, CLS50-, CLS21D-, CLS16D-, CLS15D-
Regio: Russia (TR CU)
Keuringsinstantie: EAC
Bescherming: Ex ia IIC T3 Ga, Ex ia IIC T4 Ga, Ex ia IIC T6 Ga, Ex ib [ia Ga] IIC T4 Gb, Ex ib [ia Ga] IIC T6 Gb

CeraGel, CeraLiquid, Memosens, Messkabel, OrbiPore, OrbiSint

Productcode: CYK20-, CYK10-, CPS96D-, CPS92D-, CPS91D-, CPS76D-, CPS72D-, CPS71D-, CPS42D-, CPS41D-, CPS31D-, CPS171D-, CPS16D-, CPS12D-, CPS11D-
Regio: China
Keuringsinstantie: NEPSI

TopHit, OxyMax W, OxyMax H, OrbiSint, OrbiPore, Messkabel, Memosens, Memocheck, ConduMax W, ConduMax H, CeraLiquid, CeraGel

Productcode: CYP02D-, CYP01D-, CYK20-, CYK10-, CPS96D-, CPS92D-, CPS91D-, CPS76D-, CPS72D-, CPS71D-, CPS491D-, CPS471D-, CPS441D-, CPS42D-, CPS41D-, CPS16D-, CPS12D-, CPS11D-, COS51D-, COS22D-, CLS21D-, CLS16D-, CLS15D-
Regio: International (IECEx)
Keuringsinstantie: EXAM (DMT, BVS)

TopHit, OxyMax W, OxyMax H, OrbiSint, OrbiPore, Memosens, ConduMax W, ConduMax H, Ceramax, CeraLiquid, CeraGel

Productcode: CPS96D-, CPS92D-, CPS91D-, CPS76D-, CPS72D-, CPS71D-, CPS491D-, CPS471D-, CPS441D-, CPS42D-, CPS41D-, CPS341D-, CPS171D-, CPS16D-, CPS12D-, CPS11D-, COS81D-, COS51D-, COS22D-, CLS82D-, CLS21D-, CLS16D-, CLS15D-
Regio: South Korea
Keuringsinstantie: KTL
Bescherming: Ex ia IIC T6...T3

CeraGel, CeraLiquid, Memosens, OrbiPore, OrbiSint, TopHit

Productcode: CPS96D-, CPS92D-, CPS91D-, CPS76D-, CPS72D-, CPS71D-, CPS42D-, CPS41D-, CPS16D-, CPS12D-, CPS11D-
Regio: China
Keuringsinstantie: NEPSI

TopHit, OxyMax W, OxyMax H, OrbiSint, OrbiPore, Messkabel, Memosens, Memocheck, ConduMax W, ConduMax H, Ceramax, CeraLiquid, CeraGel

Productcode: CYP02D-, CYP01D-, CYK20-, CYK10-, CPS96D-, CPS92D-, CPS91D-, CPS76D-, CPS72D-, CPS71D-, CPS491D-, CPS471D-, CPS441D-, CLS15D-, CLS16D-, CLS21D-, CLS82D-, COS22D-, COS51D-, CPS11D-, CPS12D-, CPS16D-, CPS171D-, CPS341D-, CPS41D-, CPS42D-
Regio: International (IECEx)
Keuringsinstantie: EXAM (DMT, BVS)

TopHit, OxyMax W, OxyMax H, OrbiSint, OrbiPore, OrbiPac, Memosens, Liquiline, InduMax P, ConduMax W, ConduMax H, Chloromax, CeraLiquid, CeraGel

Productcode: CPF81D-, CPF82D-, CPS11D-, CPS12D-, CPS16D-, CPS171D-, CPS41D-, CPS42D-, CPS441D-, CPS471-, CPS471D-, CPS491-, CPS71D-, CPS72D-, CPS76D-, CPS91D-, CPS92D-, CPS96D-, COS81D-, CCS120D-, CCS142D-, CCS50D-, CCS51D-, CLS15D-, CLS16D-, CLS21D-, CLS50D-, CLS82D-, CM442-, CM442R-, CM444-, CM444R-, CM448-, CM448R-, COS21D-, COS22D-, COS51D-
Regio: Canada, USA
Keuringsinstantie: CSA

CeraGel, CeraLiquid, Memosens, OrbiPac, OrbiPore, OrbiSint, TopHit

Productcode: CPS96D-, CPS92D-, CPS91D-, CPS76D-, CPS72D-, CPS71D-, CPS42D-, CPS41D-, CPS171D-, CPS16D-, CPS12D-, CPS11D-
Regio: China
Keuringsinstantie: NEPSI

CeraGel, CeraLiquid, Memosens, Messkabel, OrbiPore, OrbiSint

Productcode: CYK20-, CYK10-, CPS96D-, CPS92D-, CPS91D-, CPS76D-, CPS72D-, CPS71D-, CPS42D-, CPS41D-, CPS31D-, CPS171D-, CPS16D-, CPS12D-, CPS11D-
Regio: China
Keuringsinstantie: NEPSI

TopHit, OxyMax W, OxyMax H, OrbiSint, OrbiPore, Messkabel, Memosens, Memocheck, ConduMax W, ConduMax H, Ceramax, CeraLiquid, CeraGel

Productcode: CYP02D-, CYP01D-, CYK20-, CYK10-, CPS96D-, CPS92D-, CPS91D-, CPS76D-, CPS72D-, CPS71D-, CPS491D-, CPS471D-, CPS441D-, CPS42D-, CLS15D-, CLS16D-, CLS21D-, CLS82D-, COS22D-, COS51D-, COS81D-, CPS11D-, CPS12D-, CPS16D-, CPS171D-, CPS31D-, CPS341D-, CPS41D-
Regio: International (IECEx)
Keuringsinstantie: EXAM (DMT, BVS)

TopHit, OxyMax W, OxyMax H, OrbiSint, OrbiPore, Messkabel, Memosens, Memocheck, ConduMax W, ConduMax H, Ceramax, CeraLiquid, CeraGel

Productcode: CYP02D-, CYP01D-, CYK20-, CYK10-, CPS96D-, CPS92D-, CPS91D-, CPS76D-, CPS72D-, CPS71D-, CPS491D-, CPS471D-, CPS441D-, CPS42D-, CPS41D-, CPS341D-, CPS171D-, CPS16D-, CPS12D-, CPS11D-, COS81D-, COS51D-, COS22D-, CLS82D-, CLS21D-, CLS16D-, CLS15D-
Regio: International (IECEx)
Keuringsinstantie: EXAM (DMT, BVS)

InduMax P, Liquiline M, Memosens

Productcode: CPS41-, CPS41D-, CPS42-, CPS42D-, CPS441-, CPS441D-, CPS471-, CPS471D-, CPS491-, CPS491D-, CPS64-, CPS71-, CPS71D-, CPS72-, CPS72D-, CPS76D-, CPS91-, CPS91D-, CPS92-, CPS92D-, CPS96D-, CTS1-, CYK10-, CYP01D-, CYP02D-, OPS171D-, CLS12-, CLS13-, CLS15-, CLS15D-, CLS16-, CLS16D-, CLS21-, CLS21D-, CLS50-, CLS50D-, CLS82D-, CM42-, COS21D-, CPS171D-, CPS16D-, CPS13-, CPS12D-, CPS12-, CPS11D-, CPS11-, CPF82D-, CPF82-, CPF81D-, CPF81-, COS51D-, COS22D-
Regio: USA
Keuringsinstantie: FM

CeraGel, CeraLiquid, Memosens, OrbiPore, OrbiSint

Productcode: CPS11D-, CPS12D-, CPS16D-, CPS31D-, CPS41D-, CPS42D-, CPS71D-, CPS72D-, CPS76D-, CPS91D-, CPS92D-, CPS96D-
Regio: Canada (CRN)
Keuringsinstantie: CRN

Viomax, New Analyzer Platform, Memosens, InduMax P, Turbimax, TopHit, Sample Preparations, OxyMax W, OxyMax H, OrbiSint, OrbiPore, OrbiPac, OEM, ConduMax W, InduMax H, ConduMax H, Chloromax, Ceramax, CeraLiquid, CeraGel

Productcode: CPS16D-, CAS51D-, CLS50D-, COS22D-, CLS82D-, CLS54D-, CAT860-, CA80AL-, COS51D-, CPS171D-, CPS31D-, CPS341D-, CPS41D-, CPS42D-, CPS441D-, CPS471D-, CPS491D-, CPS71D-, CPS72D-, CPS76D-, CPS91D-, CPS92D-, CUS50D-, CUS52D-, CPS12D-, CPS96D-, OCCS50D-, OCUS51D-, CPS11D-, CPF82D-, CPF81D-, COS81D-, COS61D-, CLS21D-, CLS16D-, CLS15D-, CCS142D-, CAT820-, CAT810-
Regio: Russia
Keuringsinstantie: Rosstandart
Keurnummer: DE.C.31.004.A NO 70194

SmarTec, Memosens, InduMax P, OxyMax W, OxyMax H, OrbiPac, Liquiline M, InduMax H, ConduMax W, ConduMax H

Productcode: CPS96D-, CM42-, CLS50D-, COS22D-, CLS82D-, CLS54D-, COS51D-, CLS54-, CLS52-, CPS76D-, CPS16D-, CPF82D-, CPF82-, CPF81D-, CPF81-, CLS50-, CLS30-, CLS16D-, CLS21D-, CLS21-, CLS15D-, CLS15-, CLS13-, CLS12-, CLD18-
Regio: Russia
Keuringsinstantie: Rosstandart
Keurnummer: OC.C.31.004.A NO 55929/1

Viomax, Turbimax, TopHit, OxyMax W, OxyMax H, OrbiSint, OrbiPore, OrbiPac, Memosens, Liquiline M, Liquiline, Isemax, InduMax P, InduMax H, ConduMax W, ConduMax H, Chloromax, Ceramax, CeraLiquid, CeraGel

Productcode: CPS47D-, CPS471D-, CPS441D-, CPS42D-, CPS41E-, CPS41D-, CPS341D-, CPS31D-, CPS171D-, CPS16D-, CPS12E-, CPS12D-, CPS11E-, CPS11D-, CPS491D-, CPS71D-, CPS71E-, CPS72D-, CPS76D-, CPS77D-, CPS91D-, CPS91E-, CPS92D-, CPS96D-, CPS97D-, CUS50D-, CUS51D-, CUS52D-, CAS40D-, CCS120D-, CCS142D-, CCS50D-, CCS51D-, CLS15D-, CLS15E-, CLS16D-, CLS16E-, CLS21D-, CLS21E-, CLS50D-, CLS54D-, CLS82D-, CLS82E-, CM14-, CM442-, CM442R-, CM444-, CM444R-, CM448-, CM448R-, COS22D-, COS51D-, COS61D-, COS81D-, CPF81D-, CPF82D-
Regio: Russia
Keuringsinstantie: Rosstandart
Keurnummer: OC.C.31.004.A NO 54218/1

Turbimax, TopHit, OxyMax W, OxyMax H, OrbiSint, OrbiPore, OrbiPac, New Analyzer Platform, Memosens, InduMax P, InduMax H, ConduMax W, ConduMax H, Chloromax, Ceramax, CeraLiquid, CeraGel

Productcode: CPS171D-, CPS31D-, CPS341D-, CPS41D-, CPS41E-, CPS42D-, CPS441D-, CPS471D-, CPS47D-, CPS491D-, CPS71D-, CPS71E-, CPS72D-, CPS76D-, CPS77D-, CPS91D-, CPS91E-, CPS92D-, CPS96D-, CPS97D-, CUS50D-, CUS51D-, CUS52D-, CA80HA-, CA80SI-, CCS120D-, CCS142D-, CCS50D-, CCS51D-, CLS15D-, CLS16D-, CLS21D-, CLS50D-, CLS54D-, CLS82D-, COS22D-, COS51D-, COS61D-, COS81D-, CPF81D-, CPF82D-, CPS11D-, CPS11E-, CPS12D-, CPS12E-, CPS16D-
Regio: Russia
Keurnummer: OC.C.31.004.A NO 75181
Accessoires / Spare parts