iTEMP TMT187
Temperature head transmitter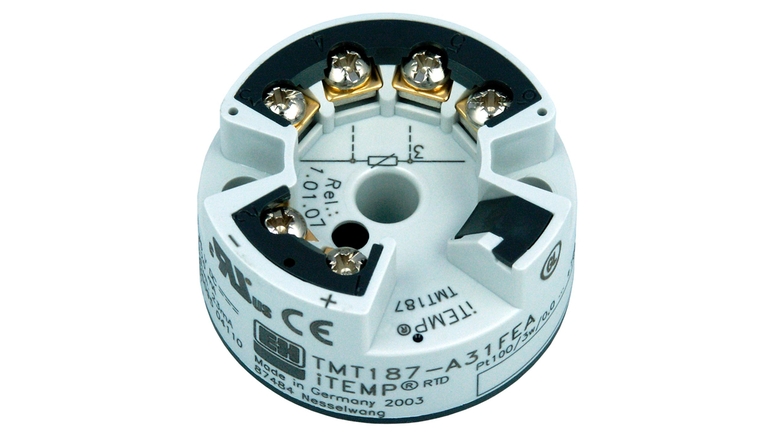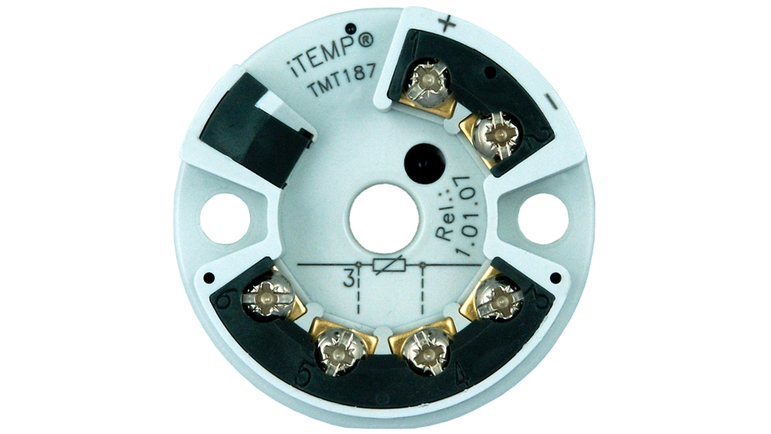 Transformation of the sensor signal into a stable and standardized output signal for all industries
The transmitter is designed for the transformation of an RTD Pt100 sensor signal in a fixed measuring range. The standardized output signal used for process measurement is a 4 to 20 mA signal. This means fast, easy and cost-saving temperature measuring as well as reliable and precise measured values for for a wide range of industry applications.
Snelle selectie
Kies uit één van de voorgestelde opties
Individuele configuratie
Ga verder met uw keuze uit alle mogelijke opties
Voordelen

High accuracy in complete ambient temperature range


Failure information when sensor breaks or short-circuits as per NAMUR NE 43

EMC as per NAMUR NE 21, CE

Ex approval: ATEX Ex ia and dust zone 22 in compliance with EN 50281-1; FM IS; CSA IS

UL recognized...
Toepassingsgebied

Fixed range temperature head transmitter for converting a Pt100 input signal into an 4 to 20 mA analog output signal


Input: Resistance thermometer (RTD) Pt100
Documenten / handleidingen / software
Accessoires / Spare parts
The unit is not repairable

Reservedelenset voor TMT181/187/188/182

(4 schroeven, 6 veren, 10 veerringen)

DIN rail montageclip voor koptransmitter

Geschikt voor de montage van een temperatuur koptransmitter op DIN rail.

Veldbehuizing TAF10

Geschikt voor alle E+H temperatuur koptransmitters. Gegoten aluminium behuizing IP66. Afmetingen: 100x100x60 mm (bxhxd).