TMT142C
TC Thermometer, fieldtransmitter, display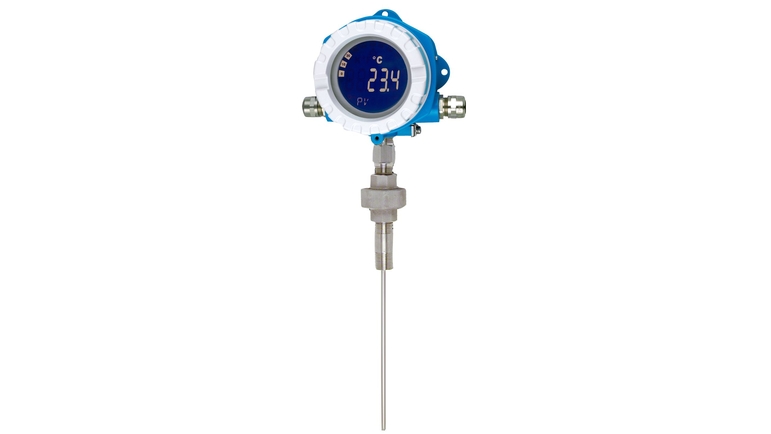 Safe monitoring of process temperatures in challenging applications e. g. in the Oil & Gas industry
The robust thermometer is designed for use in demanding and safety relevant applications e.g. in the Chemical, Oil & Gas and Energy industry. The thermometer fulfills the corresponding safety requirements due to various certificates and tests. The use of a transmitter leads to higher accuracy and reliability in comparison to directly wired sensors.
Snelle selectie
Kies uit één van de voorgestelde opties
Individuele configuratie
Ga verder met uw keuze uit alle mogelijke opties
Voordelen

Dual compartment housing

Backlit display with large measured value, bar graph and fault condition indication

Galvanic isolation 2 kV (sensor input to the output)

Wide range of threaded thermowell connections available as standard

Replaceable measuring...
Toepassingsgebied

The temperature assembly TMT142C is a compact thermometer specifically designed to fulfill the requirements of different process industries such as the chemical, petrochemical and energy but even suitable to other general purpose applications.
The...
Documenten / handleidingen / software
Accessoires / Spare parts
Nr

5

Order code

TMT142X-HH

Nr

5

Order code

TMT142X-HI

Nr

5

Order code

TMT142X-HK

Nr

5

Order code

TMT142X-HL

TMT162/RIA141 dekselblokkering

Screw, washer, spring washer

Nr

2+3

Order code

TMT142X-DA

Nr

2+3

Order code

TMT142X-DC

Adapter NPT1/2/M20x1.5 cable entry

TMT162 verloop M20 -> M24 x 1,5

TMT162/RIA141 M20x1,5 wartel

Cable gland NPT1/2, D4,5-8.5 IP68

.

Display fitt.kit field housing (3 piece)

Verpakking= 3 stuks

Blanks (blind) M20x1.5 EEx-d/XP

Blanks (blind) NPT1/2, 3.1655.53

Blanks (blind) G1/2" Ex-d/XP

Stekker (blind) 1/2NPT V4A

Insert TEC300

Replaceable Insert (MgO). Connection to EEx d head with 1/2NPT.

Commubox FXA195

Modem to connect HART field devices to a computer via USB. Commissioning of field devices with software tool. :: To connect to a intrinsically safe signal circuit. :: SIL2, IEC61508.