Reliable monitoring of measured values
Anytime and anywhere
The new multi-parameter handheld instrument from Endress+Hauser enables easy and reliable monitoring of measured values. Whether it's in a lab or in the field, the Liquiline Mobile CML18 can be used in a wide range of applications and fits in any shirt pocket.
Vorteile
Easy operation

Use your existing tablets and smartphones for operation and commissioning.

Benefit from all the advantages of Memosens technology

Memosens sensors offer you the safest data transmission, the highest measured value availability and total ease of use.

Trust your measured values

Using the same technology for process, laboratory and grab sample measurements provides you with full consistency.

Simplify your daily work

Hot plug & play with pre-calibrated Memosens sensors enables you to rapidly change from one parameter to another.

Use it as a data logger

Save more than 10,000 measured values with time and date stamp.
A talented all-rounder for maximum flexibility
With the Liquiline Mobile CML18, you can measure pH, ORP, conductivity and dissolved oxygen—using just one single device. The current temperature measurement is displayed in parallel. Thanks to digital Memosens technology, switching between different sensors is child's play. Simply replace the sensors directly at the measuring point. The device immediately detects which sensor is connected, automatically loads the saved sensor data and displays the correct measured value directly.
Data logger
Sensors no longer need to be adjusted onsite and can instead be adjusted in the comfort of a lab or workshop. If you wish to monitor your process over a longer time period, you can use the Liquiline Mobile CML18 as a data logger and store more than 10,000 measured values with a date and time stamp.
Maximum data security thanks to Memosens
The Liquiline Mobile CML18 with Memosens technology guarantees maximum data security, delivering measured values that are 100% reliable. Regardless of where or when a measured value needs to be monitored, the device always supplies values that are correct.
Memosens technology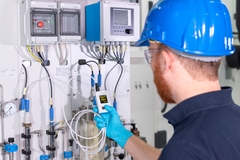 Thanks to Memosens technology, the sensors are equipped with a microprocessor, which is integrated in the head and converts all of the sensor signals to a robust digital signal, making them insensitive to moisture or other environmental influences. Using these reliable measured values, the user can quickly take the required measures and keep the process running under optimized conditions.
Data consistency between lab and process
When analyzing a sample, the use of different measuring technologies can often result in deviations between the lab measurement and the measurement recorded in the process. With the Liquiline Mobile CML18, the same Memosens sensors that are used in the process can also be used in the lab. This guarantees the complete consistency of data between lab and process measurements.
Lab pH sensor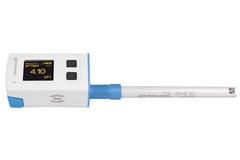 In cases requiring a particularly fast response time, the new robust lab pH sensor, the Memosens CPL51E, is the ideal choice. It uses the same Memosens technology as the process sensors, but is optimized for a fast response time in sample analysis and laboratory applications that do not require a high degree of temperature- and pressure-resistance.
Intuitive operation
The Liquiline Mobile CML18 can be operated easily using the intuitive SmartBlue app. All measured values and sensor data are transferred via a secure Bluetooth connection to the app on your smartphone or tablet. The app provides you with a convenient way to make settings, adjustments and read out sensor values and measured values.
Wireless charging function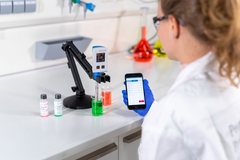 In addition, the Liquiline Mobile CML18 has an integrated, wireless charging function, which enables inductive charging using a Qi-certified charger, just as easily as with your smartphone.
Perfekt für Basisanwendungen

Einfachste Auswahl, Installation und Bedienung
Leistungsumfang
Einfache Auswahl
Optimierter Leistungsumfang für Standardanwendungen

Einfache Auswahl, Installation und Bedienung
Leistungsumfang
Einfache Auswahl
Maximaler Leistungsumfang für breiten Einsatzbereich

Einfache Installation und Bedienung
Leistungsumfang
Einfache Auswahl
Höchster Nutzen durch Spezialisierung auf Anwendung

Einfache Installation und Bedienung
Leistungsumfang
Einfache Auswahl
FLEX Auswahl
Leistungsumfang
Einfache Auswahl

Fundamental Auswahl

Perfekt für Basisanwendungen

Leistungsumfang

Einfache Auswahl

Lean Auswahl

Optimierter Leistungsumfang für Standardanwendungen

Leistungsumfang

Einfache Auswahl

Extended Auswahl

Maximierte Effizienz in Standardanwendungen im Life Cycle

Leistungsumfang

Einfache Auswahl

Xpert Auswahl

Herausragende Leistung für besondere Anwendungen

Leistungsumfang

Einfache Auswahl