Gateway
for remote monitoring
Connect Sensor FXA30B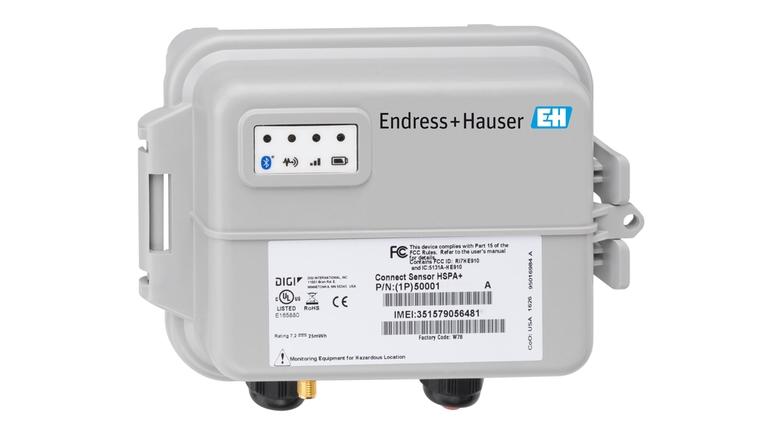 Battery-powered remote cellular monitoring of connected field devices
Connect Sensor FXA30B is a fully integrated, battery-powered cellular gateway with inputs for connecting to a wide range of field devices. Designed to work in rugged industrial environments, the FXA30B is the ideal solution for remote monitoring in places where power is not easily available. It can even be used as power supply for the field device and measured values can be visualized via the SupplyCare Hosting cloud solution.
Eenvoudige producten

Gemakkelijk te selecteren, installeren en gebruiken
Technische topkwaliteit
Eenvoud
Standaardproducten

Betrouwbaar, robuust en onderhoudsarm
Technische topkwaliteit
Eenvoud
High-end producten

Functioneel en uiterst doelmatig
Technische topkwaliteit
Eenvoud
Gespecialiseerde producten

Ontworpen voor veeleisende applicaties
Technische topkwaliteit
Eenvoud
FLEX selectie
Technische topkwaliteit
Eenvoud

Fundamental selectie

Voldoe aan uw basismeetvoorwaarden

Technische topkwaliteit

Eenvoud

Lean selectie

Beheers eenvoudig uw belangrijkste processen

Technische topkwaliteit

Eenvoud

Extended selectie

Optimaliseer uw processen met innovatieve technologieën

Technische topkwaliteit

Eenvoud

Xpert selectie

Beheers uw meest uitdagende applicaties

Technische topkwaliteit

Eenvoud
Overzicht specificaties

Input

4x 4...20 mA analog
1x digital input or pulse counter (if not configured as digital output)
Modbus RS485

Output

1x digital output (if not configured as digital input)
Snelle selectie
Kies uit één van de voorgestelde opties
Individuele configuratie
Ga verder met uw keuze uit alle mogelijke opties
Voordelen

Level, flow and pressure visualization at the desk regardless of location and powered by the gateway in remote areas

Easy connection to field devices

If desired, bundled with cellular communication service

Flexible for battery use on remote places or...
Toepassingsgebied

Battery-powered remote cellular monitoring of connected analog as well as digital field devices via mobile communications.

External, configurable power outputs eliminate the need for sensor power supplies

Configuration of measuring and transmission...
Documenten / handleidingen / software
Accessoires / Spare parts
Fixed Antenna: LTE, GSM, UMTS, WLAN

Vaste antenne voor montage aan verticale oppervlakken. Kabellengte: 3m. Toepassing: LTE 800MHz, LTE 2.6GHz, GSM 900/1800, UMTS, WLAN 2,4 GHz (WiMAX, WiFi). Gebruik: FXA42. Binnen en buiten gebruik. Montage via beugel. Omnidirectionele karakteristiek. Radiator beschermd door een plastic buis. HF-kabel rechtstreeks aangesloten op antenne. 10 cm ruimte tussen de antenne van 15dB isolatie.

Spare battery-lithium-thionyl chloride

Bestaat uit: Lithium-thionylchloride (Li-SOCl2). Type: ER34615 7,2V 14Ah. Niet-oplaadbaar. Gebruik: Connect Sensor FXA30. Geleverd met aansluiting voor verbinding Sensor FXA30. Gevaren Id. UN38.3. Batterijen worden beschouwd als gevaarlijke goederen en er kunnen importheffingen in rekening worden gebracht,afhankelijk van het land van levering.

Cellular antenna LTE 746-2700MHz, swivel

Gebruik: Connect Sensor FXA30, LTE en GSM. Frequenties: 698-960/1710-2170/2500- 2700Mhz. Nominale impedantie: 50 ohm. VSWR: 2,5: 1. Polarisatie: lineair verticaal. Stralingspatroon: omni. Vermogen: 3 watt. De 0 min-2 max. Gewicht: 1.66oz (47g). Lengte x breedte: 228mm x 25mm (9 "x 1"). Werktemperatuur [°C]: -30 tot +70.

Mounting kit, Connect Sensor

Gebruik: Connect Sensor FXA30. Voor wandmontage. Bestaande uit: 4x kleine haakjes. 4x schroeven.

No spare parts available.