RMA42
Process transmitter with control unit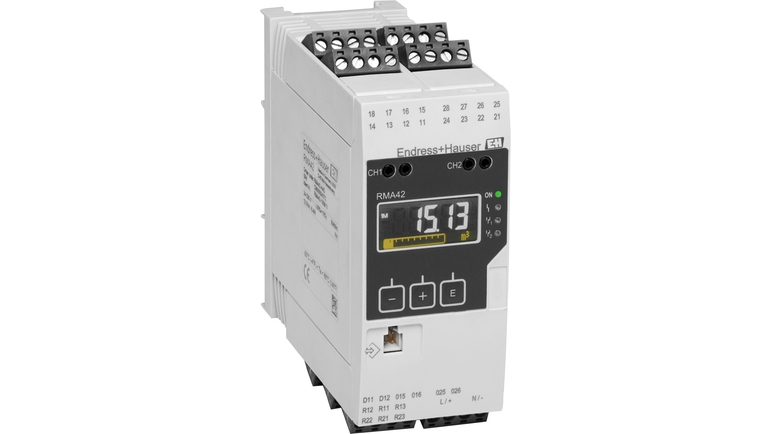 Universal transmitter, loop power supply, barrier and limit switch in one device!
Analog measured values are indicated, evaluated and calculated by the process transmitter. With the integrated loop power supply two-wire sensors can be powered. The universal inputs enable the connection of current, voltage, RTDs and TCs. Limit values can be monitored and relays can be switched. Via analog outputs process signals can be forwarded. The integrated application package "differential pressure" allows the quick and easy commissioning for differential pressure applications.

Snelle selectie
Kies uit één van de voorgestelde opties
Individuele configuratie
Ga verder met uw keuze uit alle mogelijke opties
Voordelen

SIL 2 approval (optional);

Marine approval

1 or 2 calculated values and linearization table

Min./max. value saved

5-digit 7-segment LC display, backlit

1 or 2 universal inputs

2 relays (optional)

Digital status output (Open Collector)
Toepassingsgebied

The RMA42 process transmitter exhibits a display, analog inputs for process and status signals, analog and digital outputs, and an interface for configuration. Connected sensors can be powered by the integrated LPS. All measured and calculated values...
Documenten / handleidingen / software
Accessoires / Spare parts
Nr

4

Order code

RMA42X-NA

Nr

4

Order code

RMA42X-NB

Nr

4

Order code

RMA42X-NC

Nr

4

Order code

RMA42X-ND

Preline RXA42X beschermbehuizing

Beschermingsklasse: IP67 Voorzien van 90 mm DIN-rail, 1 PG 13,5 en 4 PG11 kabelwartels

Nr

5

Order code

RMA42X-NE

Nr

5

Order code

RMA42X-NF

Nr

5

Order code

RMA42X-NG

Nr

5

Order code

RMA42X-NH

Configuratiekit TXU10

Set-up software incl. USB- interfacekabel. Dit betreft een product uit het E-direct portfolio waar staffelprijzen aan gekoppeld zijn. Kijk voor meer informatie op www.e-direct.endress.com