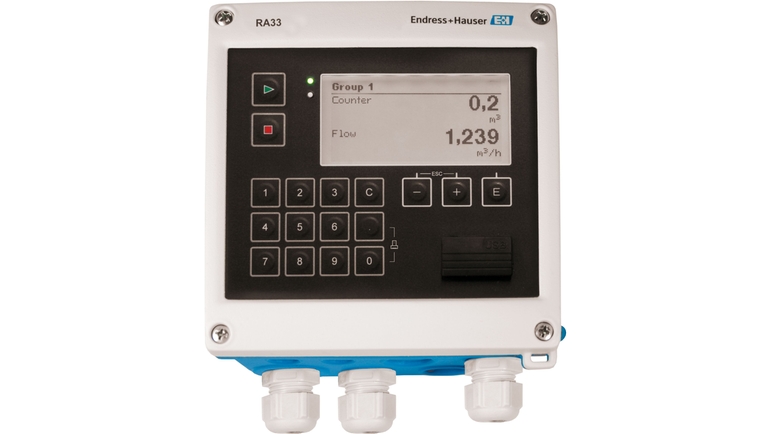 Recording and controlling of batch operations
The Batch Controller RA33 is designed to record flow and control output signals for valves and pumps to ensure the exact dosing of predefined batch quantities. The measured volume can be corrected with the temperature/density compensation function. The filling process can be optimized with an automatic or fixed after-run correction. Mineral oils can be corrected according to the ASTM D1250-04 standard.
Snelle selectie
Kies uit één van de voorgestelde opties
Individuele configuratie
Ga verder met uw keuze uit alle mogelijke opties
Voordelen

Fixed and automatic after-run correction for constant, extremely accurate results

Higher quality through fast and exact dosing

Optional volume correction for mineral oils as per ASTM D1250-04

Detailed logging of protocols (preset counter, volume counter,...
Toepassingsgebied

Recording and controlling of batch operations. Typical applications include:

Food industry

Chemical industry

Pharmaceutical industry

Oil & gas industry
Documenten / handleidingen / software
Accessoires / Spare parts
Terminal strip 3 pole FMC1,5/3-ST-3,5

Voor digitaal I/O en RS485

Nr

8

Order code

XPR0001-KA

Nr

8

Order code

XPR0001-KB

Nr

8

Order code

XPR0001-KC

Nr

8

Order code

XPR0001-KE

Field Data Manager Software MS20

Visualisatie software en database voor visualisatie van historische gegevens als gemeten waarden, kalibratie of configuratie. Manipulatie beschermde SQL-database, grafische visualisatie, tafels voor meetwaarden, alarmen of gebeurtenissen, online help, gebruikersbeheer, Automatisch uitlezen van de gegevens op het apparaat. Automatische data export in verschillende formaten of in beveiligde formaat voor back-up of vermindering van de database. Notitie: Alleen de versie FDM essentiële ondersteunt RSG30, RSG35, RSG 40 alsook RSG 45 en heeft een beperkte functionaliteit.