Digitale pH-sensor
Ceragel CPS71D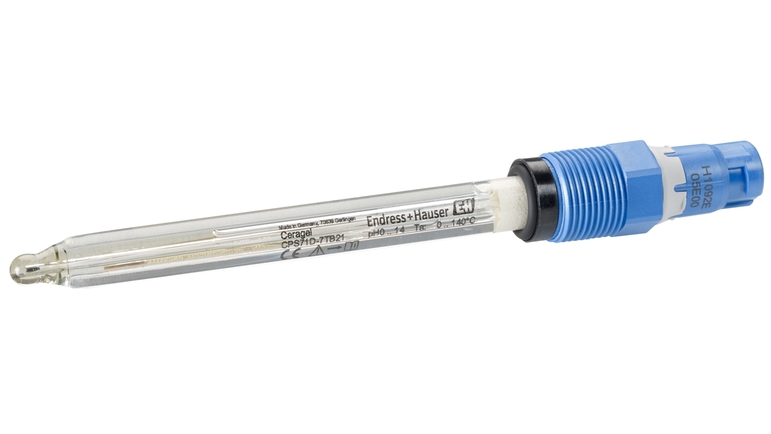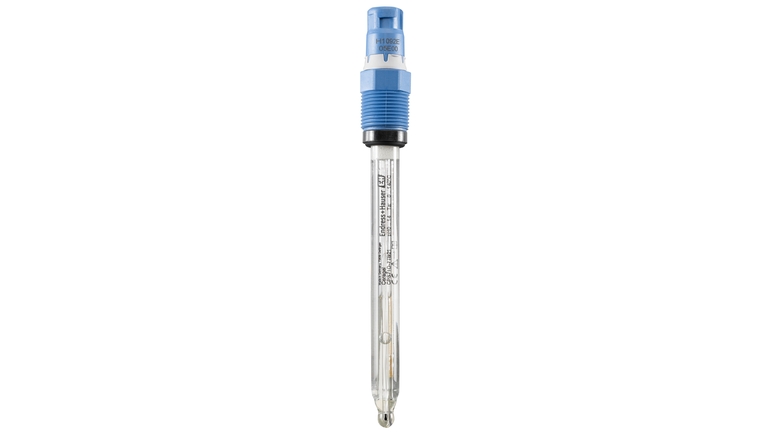 Memosens-glaselektrode voor de chemische industrie en de life sciences-industrie
Ceragel CPS71D is de digitale specialist voor veeleisende processen en hygiënische toepassingen. De bacteriebestendige gel garandeert stabiele metingen, zelfs in stromende media of lage geleidbaarheid. De sensor meet betrouwbaar bij hoge temperaturen en is gifvrij, waardoor maximale veiligheid is gewaarborgd. Dankzij de digitale Memosens-technologie combineert de CPS71D een optimale proces- en data-integriteit met een eenvoudige bediening. Deze is bestand tegen corrosie en vocht, maakt kalibratie in het laboratorium mogelijk en vereenvoudigt voorspellend onderhoud.
Eenvoudige producten

Gemakkelijk te selecteren, installeren en gebruiken
Technische topkwaliteit
Eenvoud
Standaardproducten

Betrouwbaar, robuust en onderhoudsarm
Technische topkwaliteit
Eenvoud
High-end producten

Functioneel en uiterst doelmatig
Technische topkwaliteit
Eenvoud
Gespecialiseerde producten

Ontworpen voor veeleisende applicaties
Technische topkwaliteit
Eenvoud
FLEX selectie
Technische topkwaliteit
Eenvoud

Fundamental selectie

Voldoe aan uw basismeetvoorwaarden

Technische topkwaliteit

Eenvoud

Lean selectie

Beheers eenvoudig uw belangrijkste processen

Technische topkwaliteit

Eenvoud

Extended selectie

Optimaliseer uw processen met innovatieve technologieën

Technische topkwaliteit

Eenvoud

Xpert selectie

Beheers uw meest uitdagende applicaties

Technische topkwaliteit

Eenvoud
Overzicht specificaties

Measurement range

Process temperature

0 to 140 °C (32 to 284 °F)

Process pressure

1 to 14 bar (15 to 203 psi)
Loading alternative products
Snelle selectie
Kies uit één van de voorgestelde opties
Individuele configuratie
Ga verder met uw keuze uit alle mogelijke opties
Voordelen

De sensor is bestand tegen sterke zuren, basen en zeer organische belastingen

Geschikt voor CIP/SIP en sterilisatie, waardoor een hoge nauwkeurigheid is gewaarborgd

Vrij van dierlijke materialen en van acrylamide

Optimale procesveiligheid dankzij...
Toepassingsgebied

Procestechnologie en monitoring van processen met:
- snel veranderende pH-waarden
- hoog aandeel elektrodegiffen zoals H2S

Chemische industrie

Hygiënische en steriele toepassingen:
- fermentoren
- biotechnologie
- life sciences

Met ATEX-, FM- en CSA-...
Documenten / handleidingen / software
Ceragel CPS71D and CPS71 Technical Information

pH single-rod measuring cells, analog or with digital Memosens
technology

Technische informatie (TI)

pH/ORP-sensoren en referentiehalfcellen

Sensoren met Memosens-technologie en analoge sensoren

Inbedrijfsstellingsvoorschriften (BA)

Memosens pH/ORP Safety instructions for electrical apparatus in explosion-hazardous areas Safety Instructions

Safety instructions for electrical apparatus for explosion-hazardous
areas

Ex Veiligheidsinstructies (XA)

Memosens pH/ORP Sicherheitshinweise für elektrische Betriebsmittel im explosionsgefährdeten Bereich Safety instructions for electrical apparatus for explosion-hazardous areas Conseils de sécurité pour matériels électriques destinés aux zones explosibles Safety Instructions

Safety instructions for electrical apparatus for explosion-hazardous
areas

Ex Veiligheidsinstructies (XA)

Memosens pH/ORP Sicherheitshinweise für elektrische Betriebsmittel im explosionsgefährdeten Bereich Safety instructions for electrical apparatus for explosion-hazardous areas Conseils de sécurité pour matériels électriques destinés aux zones explosibles Safety Instructions

Safety instructions for electrical apparatus for explosion-hazardous
areas

Ex Veiligheidsinstructies (XA)

Manufacturer Declaration

TSE/BSE free

Memoclip

Äußere Kennzeichnung von digitalen Sensoren und Kabeln mit
Memosens-Technologie

Speciale Documentatie (SD)

Kurzanleitung pH-/Redox-Sensoren - Short Instructions pH/ORP sensors

pH-/Redox-Sensoren - pH/ORP sensors

Speciale Documentatie (SD)

Save time and make your cell growth process safer with OUSBT66

Save time and make your cell growth process safer with OUSBT66

Industrieoplossingen (SO)

07/17

OUSBT66 spart Zeit und erhöht die Prozesssicherheit

OUSBT66 spart Zeit und erhöht die Prozesssicherheit

Industrieoplossingen (SO)

07/17

Expertise in liquid analysis

From sensors to complete turnkey solutions

Kompetenz in der Flüssigkeitsanalyse

Vom Sensor bis zur schlüsselfertigen Komplettlösung

Catálogo Portfolio Analítica

Desde sensores hasta soluciones completas

Jistota v analýze kapalin

Od senzorů po kompletní dodávku na klíč

Esperti nell'analisi dei liquidi

Dai sensori singoli a soluzioni
complete "chiavi in mano"

pH 測定セレクションガイド

産業プロセスにおける pH 測定

Competentie Brochure (CP)

08/15

CP00010C pH measurement in industrial processes for US market

Selection and engineering guide for your industry and application

Competentie Brochure (CP)

04/15

Measurement and control aspect of pH using inductively coupled with bidirectional Memosens technology in flue gas desulfurization process

White Paper CP971C pH measurement and control in a power utility is an
integral part of process. The scrubber efficiency is highlydependent on
the pH. Numerous opportunities were revealed for saving time, as well as
the cost and materials in power plants. In afossil fuel power plant,
the
chemical energy stored in coal, oil, natural gas, shale oil, oxygen and
air
is converted into thermal, mechanical and finally into electrical
energy. In
other words, water is heated to steam, which spins a steam turbine. The
steam turbine drives an electrical generator.

Competentie Brochure (CP)

04/11

pH-Messung in Industrieprozessen

Auswahl- und Engineering-Hilfe für verschiedene Industriebranchen und
Applikationen

Competentie Brochure (CP)

03/20

pH measurement in industrial processes

Selection and engineering guide for different industries and
applications

Competentie Brochure (CP)

02/20

CP01202C pH Sensors:Calibrate, clean, perform a calibration check or...?

This white paper will address
Knowing when to do a pH sensor calibration versus a calibration
check
How to properly clean a pH sensor
How to perform a pH sensor calibration
A decision tree for step by step guidance

Competentie Brochure (CP)

02/12

Ceragel CPS71D: Der zuverlässige pH-Sensor für Life Sciences

Stabile Messung für stabile Prozesse: Das neue Gel verbessert die
Eigenschaften der Ceragel für Messwert-Stabilität und
Widerstandsfähigkeit und verlängert ihre Lebensdauer

Ceragel CPS71D: The reliable pH sensor for Life Sciences

Stable measurement for stable processes: The new gel improves
Ceragel's performance in terms of measurement stability and resistance
and extends its life time

Ceragel CPS71D

Digitale pH-Messelektrode mit kontaktloser digitaler Signalübertragung,
Memosenstechnologie (Speicherung Sensorkenndaten im Elektrodenkopf),
ausgeführt als Kombi-Elektrode mit integriertem Temperaturfühler,
Messelektrode und Bezugselektrode mit Keramikdiaphragma

Memosens CPS71D

Digital pH-measurement electrode with contactless, digital signal
transmission, Memosens technology (characteristic sensor data memorized
in the sensor head), designed as a combination electrode with integrated
temperature sensor, measuring electrode and reference electrode with
ceramic diaphragm

Memosens digital sensor technology for liquid analysis (mp4 format, 61.7 MB)

De Memosens technologie van Endress+Hauser is een revolutie in
vloeistofanalyse.
Het zet een analoge meetwaarde om in een digitaal signaal dat geheel
galvanisch
gescheiden naar de transmitter gaat.
Memosens sensoren slaan kalibratie-, sensor- en procesdata op in hun
interne
geheugen. Dit zorgt voor een juiste processturing en optimaal onderhoud.

Memosens digital sensor technology for liquid analysis (mp4 format, 61.7 MB)

La technologie Memosens Endress et Hauser révolutionne l'analyse
physico-
chimique. Elle convertit les valeurs mesurées en signaux numériques et
les transfère
au transmetteur via une connexion sans contact.
Les capteurs Memosens mémorisent les données d'étalonnage, de capteur et
de
process, ce qui permet un contrôle précis du process et une maintenance
optimale.

Memosens - Digitale Sensortechnologie für die Flüssigkeitsanalyse (flv-Format, 17.8 MB)

Memosens digitalisiert den Messwert im Sensor und überträgt ihn
kontaktlos zum Messumformer.
Dieses Video zeigt, wie Memosens funktioniert und wie PAT-Mitarbeiter
davon profitieren.

Memosens - Digitale Sensortechnologie für die Flüssigkeitsanalyse (mp4-Format, 61.7 MB)

Memosens digitalisiert den Messwert im Sensor und überträgt ihn
kontaktlos zum
Messumformer.
Dieses Video zeigt, wie Memosens funktioniert und wie PAT-Mitarbeiter
davon
profitieren.

Tecnología Memosens - Fácil, segura y sencilla (mp4-Format, 61.7 MB)

La tecnología Memosens de Endress+Hauser ha revolucionado el análisis de
líquidos.
Convierte el valor medido en una señal digital, y la transfiere por
inducción al transmisor.

Memosens digital sensor technology for liquid analysis (flv format, 17.2 MB)

Memosens converts the measured value to a digital signal and transfers
it to the transmitter without a contacting connection.
This video shows how it works and how people in process analytics
profit from it.

Memosens digital sensor technology for liquid analysis (mp4 format, 61.7 MB)

Memosens converts the measured value to a digital signal and transfers
it to the transmitter without a contacting connection.
This video shows how it works and how people in process analytics
profit from it.

CeraGel

Productcode: CPS71D-
verklaring Number: HE_00958_03.18

CeraGel, CeraLiquid, Memosens, OrbiPore, OrbiSint

Productcode: CPS11-, CPS11D-, CPS12D-, CPS31D-, CPS41-, CPS41D-, CPS71D-, CPS72D-, CPS91D-
verklaring Number: HE_01182_01.19
Specificatie van de fabrikant: RoHS

CeraGel, CeraLiquid, Memocheck, Memosens, Messkabel, OrbiPore, OrbiSint, TopHit

Productcode: CYP02D-, CYP01D-, CYK20-, CYK10-, CPS96D-, CPS92D-, CPS91D-, CPS76D-, CPS72D-, CPS71D-, CPS491D-, CPS471D-, CPS441D-, CPS42D-, CPS41D-, CPS171D-, CPS16D-, CPS12D-, CPS11D-
verklaring Number: EC_00356_02.16

TopHit, OrbiSint, OrbiPore, Messkabel, Memosens, Memocheck, Ceramax, CeraLiquid, CeraGel

Productcode: CYP03D-, CYP02D-, CYP01D-, CYK20-, CYK10-, CPS96D-, CPS92D-, CPS91D-, CPS76D-, CPS72D-, CPS71D-, CPS491D-, CPS471D-, CPS441D-, CPS42D-, CPS41D-, CPS341D-, CPS31D-, CPS171D-, CPS16D-, CPS12D-, CPS11D-
verklaring Number: EC_00105_02.15

OxyMax W, OxyMax H, OrbiSint, OrbiPore, OrbiPac, Messkabel, Memosens, Liquiline, InduMax P, InduMax H, ConduMax W, ConduMax H, CeraLiquid, CeraGel

Productcode: CYK20-, CYK10-, CPS92D-, CPS72D-, CPS71D-, CPS42D-, CPS41D-, CPS31D-, CPS16D-, CPS12D-, CPS11D-, CPF82D-, COS81D-, COS51D-, COS22D-, COS21D-, CML18-, CLS82D-, CLS54D-, CLS50D-, CLS21D-, CLS16D-, CLS15D-
verklaring Number: EC_00828_01.20

CeraGel, CeraLiquid, Memocheck, Memosens, Messkabel, OrbiPore, OrbiSint, TopHit

Productcode: CYP02D-, CYP01D-, CYK20-, CYK10-, CPS96D-, CPS92D-, CPS91D-, CPS76D-, CPS72D-, CPS71D-, CPS491D-, CPS471D-, CPS441D-, CPS42D-, CPS41D-, CPS16D-, CPS12D-, CPS11D-
verklaring Number: EC_00387_01.16

CeraGel, CeraLiquid, Memosens, OrbiPore, OrbiSint

Productcode: CPS11D-, CPS12D-, CPS16D-, CPS41D-, CPS42D-, CPS71D-, CPS72D-, CPS76D-, CPS91D-, CPS92D-, CPS96D-
verklaring Number: EC_00385_02.16

CeraGel, CeraLiquid, Memocheck, Memosens, Messkabel, OrbiPore, OrbiSint, TopHit

Productcode: CYP02D-, CYP01D-, CYK20-, CYK10-, CPS96D-, CPS92D-, CPS91D-, CPS76D-, CPS72D-, CPS71D-, CPS491D-, CPS471D-, CPS441D-, CPS42D-, CPS41D-, CPS171D-, CPS16D-, CPS12D-, CPS11D-
verklaring Number: EC_00356_03.16

TopHit, Sensor, PuriSys, OrbiSint, OrbiPore, OrbiPac, Memosens, Liquisys pH/ORP, Liquisys Oxygen, Liquisys Chlorine, Liquiline M, Liquiline, CeraTex, Ceramax, CeraLiquid, CeraGel

Productcode: CPS491-, CPS47D-, CPS471D-, CPS471-, CPS441D-, CPS441-, CPS42D-, CPS42-, CPS41E-, CPS41D-, CPS41-, CPS341D-, CPS31D-, CPS31-, CPS171D-, CPS491D-, CPS64-, CPS71-, CPS71D-, CPS71E-, CPS72-, CPS72D-, CPS76D-, CPS77D-, CPS91-, CPS91D-, CPS91E-, CPS92-, CPS92D-, CPS96D-, CPS97D-, CPS16D-, CCM223-, CCM253-, CM14-, CM42-, CM442-, CM442R-, CM444-, CM444R-, CM448-, CM448R-, CM44P-, CM72-, CM82-, COM223-, COM223F-, COM253-, COM253F-, CPF201-, CPF81-, CPF81D-, CPF82-, CPF82D-, CPM223-, CPM253-, CPS11-, CPS11D-, CPS11E-, CPS12-, CPS12D-, CPS12E-, CPS13-
Regio: Russia (TR CU)
Keuringsinstantie: EAC
Keurnummer: EAEC RU D-DE.AD07.B.01362/19

TopHit, Sensor, PuriSys, OrbiSint, OrbiPore, OrbiPac, Memosens, Liquisys pH/ORP, Liquisys Oxygen, Liquisys Chlorine, Liquiline M, Liquiline, CeraTex, Ceramax, CeraLiquid, CeraGel

Productcode: CPS47D-, CPS471D-, CPS471-, CPS441D-, CPS441-, CPS42D-, CPS42-, CPS41E-, CPS41D-, CPS41-, CPS341D-, CPS31D-, CPS31-, CPS171D-, CPS16D-, CPS491-, CPS491D-, CPS64-, CPS71-, CPS71D-, CPS71E-, CPS72-, CPS72D-, CPS76D-, CPS77D-, CPS91-, CPS91E-, CPS92-, CPS92D-, CPS96D-, CPS97D-, CCM223-, CCM253-, CM14-, CM42-, CM442-, CM442R-, CM444-, CM444R-, CM448-, CM448R-, CM44P-, CM72-, CM82-, COM223-, COM223F-, COM253-, COM253F-, CPF201-, CPF81-, CPF81D-, CPF82-, CPF82D-, CPM223-, CPM253-, CPS11-, CPS11D-, CPS11E-, CPS12-, CPS12D-, CPS12E-, CPS13-
Regio: Russia (TR CU)
Keuringsinstantie: EAC
Keurnummer: EAEC D-DE.AD07.B.01363/19

TopHit, OxyMax W, OxyMax H, OrbiSint, OrbiPore, Messkabel, Memosens, Memocheck, ConduMax W, ConduMax H, Ceramax, CeraLiquid, CeraGel

Productcode: CYP02D-, CYP01D-, CYK20-, CYK10-, CPS96D-, CPS92D-, CPS91D-, CPS76D-, CPS72D-, CPS71D-, CPS491D-, CPS471D-, CPS441D-, CPS42D-, CPS41D-, CPS341D-, CPS171D-, CPS16D-, CPS12D-, CPS11D-, COS81D-, COS51D-, COS22D-, CLS82D-, CLS21D-, CLS16D-, CLS15D-
Regio: International (IECEx)
Keuringsinstantie: EXAM (DMT, BVS)

TopHit, OxyMax W, OxyMax H, OrbiSint, OrbiPore, OrbiPac, Messkabel, Memosens, Memocheck, Liquiline, InduMax P, ConduMax W, ConduMax H, Chloromax, CeraLiquid, CeraGel

Productcode: CPS41D-, CPS42D-, CPS441D-, CPS471D-, CPS491D-, CPS71D-, CPS72D-, CPS76D-, CPS91D-, CPS92D-, CPS96D-, CYK10-, CYK20-, CYP01D-, CYP02D-, CPS16D-, CPS12D-, CPS11D-, CPF82D-, CPF81D-, COS51D-, COS22D-, COS21D-, CM448R-, CM444R-, CLS50D-, CLS21D-, CLS16D-, CLS15D-, CCS142D-
Regio: USA, Canada
Keuringsinstantie: INTERTEK (ETL)
Catagorie: I/2/A,B,C,D/T6, I/2/A,B,C,D/T4A
Bescherming: NI

TopHit, OxyMax W, OxyMax H, OrbiSint, OrbiPore, Messkabel, Memosens, Memocheck, ConduMax W, ConduMax H, CeraLiquid, CeraGel

Productcode: CYP02D-, CYP01D-, CYK20-, CYK10-, CPS96D-, CPS92D-, CPS91D-, CPS76D-, CPS72D-, CPS71D-, CPS491D-, CPS471D-, CPS441D-, CPS42D-, CPS41D-, CPS16D-, CPS12D-, CPS11D-, COS51D-, COS22D-, CLS21D-, CLS16D-, CLS15D-
Regio: International (IECEx)
Keuringsinstantie: EXAM (DMT, BVS)

TopHit, OxyMax W, OxyMax H, OrbiSint, OrbiPore, Messkabel, Memosens, Memocheck, ConduMax W, ConduMax H, Ceramax, CeraLiquid, CeraGel

Productcode: CYP02D-, CYP01D-, CYK20-, CYK10-, CPS96D-, CPS92D-, CPS91D-, CPS76D-, CPS72D-, CPS71D-, CPS491D-, CPS471D-, CPS441D-, CPS42D-, CLS15D-, CLS16D-, CLS21D-, CLS82D-, COS22D-, COS51D-, COS81D-, CPS11D-, CPS12D-, CPS16D-, CPS171D-, CPS31D-, CPS341D-, CPS41D-
Regio: International (IECEx)
Keuringsinstantie: EXAM (DMT, BVS)

CeraLiquid, CeraGel, OxyMax W, OxyMax H, OrbiSint, OrbiPore, Messkabel, Memosens, Memocheck, ConduMax W, ConduMax H, Ceramax

Productcode: CYP02D-, CYP01D-, CYK20-, CYK10-, CPS92D-, CPS91D-, CPS72D-, CPS71D-, CPS491D-, CPS471D-, CPS441D-, CPS42D-, CPS41D-, CPS341D-, CPS171D-, CPS12D-, CPS11D-, COS51D-, COS22D-, COS21D-, CLS82D-, CLS21D-, CLS16D-, CLS15D-
Regio: Europe (ATEX)
Keuringsinstantie: EXAM (DMT, BVS)

TopHit, OxyMax W, OxyMax H, OrbiSint, OrbiPore, Memosens, ConduMax W, ConduMax H, Ceramax, CeraLiquid, CeraGel

Productcode: CPS96D-, CPS92D-, CPS91D-, CPS76D-, CPS72D-, CPS71D-, CPS491D-, CPS471D-, CPS441D-, CPS42D-, CPS41D-, CPS341D-, CPS171D-, CPS16D-, CPS12D-, CPS11D-, COS81D-, COS51D-, COS22D-, CLS82D-, CLS21D-, CLS16D-, CLS15D-
Regio: South Korea
Keuringsinstantie: KTL
Bescherming: Ex ia IIC T6...T3

TopHit, OxyMax W, OxyMax H, OrbiSint, OrbiPore, Messkabel, Memocheck, ConduMax W, ConduMax H, CeraLiquid, CeraGel

Productcode: CYP02D-, CYP01D-, CYK10-, CPS92D-, CPS91D-, CPS72D-, CPS71D-, CPS491D-, CPS471D-, CPS441D-, CPS42D-, CPS41D-, CPS12D-, CPS11D-, COS51D-, COS22D-, CLS21D-, CLS16D-, CLS15D-
Regio: International (IECEx)
Keuringsinstantie: EXAM (DMT, BVS)

TopHit, Sensor, OxyMax W, OxyMax H, OrbiTex, OrbiSint, OrbiPore, Memosens, Liquiline M, InduMax P, InduMax H, ConduMax W, ConduMax H, CeraLiquid, CeraGel

Productcode: CPS42-, CPS42D-, CPS43-, CPS441-, CPS441D-, CPS471-, CPS471D-, CPS491-, CPS491D-, CPS64-, CPS71-, CPS71D-, CPS72-, CPS72D-, CPS76D-, CPS91-, CPS91D-, CPS92D-, CPS96D-, CPS41D-, CPS41-, CPS21-, CPS16D-, CPS13-, CPS12D-, CPS12-, CPS11D-, CPS11-, COS81D-, COS51D-, COS22D-, CM42-, CLS82D-, CLS54-, CLS50D-, CLS50-, CLS21D-, CLS16D-, CLS15D-
Regio: Russia (TR CU)
Keuringsinstantie: EAC
Bescherming: Ex ia IIC T3 Ga, Ex ia IIC T4 Ga, Ex ia IIC T6 Ga, Ex ib [ia Ga] IIC T4 Gb, Ex ib [ia Ga] IIC T6 Gb

InduMax P, Liquiline M, Memosens

Productcode: CPS41-, CPS41D-, CPS42-, CPS42D-, CPS441-, CPS441D-, CPS471-, CPS471D-, CPS491-, CPS491D-, CPS64-, CPS71-, CPS71D-, CPS72-, CPS72D-, CPS76D-, CPS91-, CPS91D-, CPS92-, CPS92D-, CPS96D-, CTS1-, CYK10-, CYP01D-, CYP02D-, OPS171D-, CLS12-, CLS13-, CLS15-, CLS15D-, CLS16-, CLS16D-, CLS21-, CLS21D-, CLS50-, CLS50D-, CLS82D-, CM42-, COS21D-, CPS171D-, CPS16D-, CPS13-, CPS12D-, CPS12-, CPS11D-, CPS11-, CPF82D-, CPF82-, CPF81D-, CPF81-, COS51D-, COS22D-
Regio: USA
Keuringsinstantie: FM

TopHit, OxyMax W, OxyMax H, OrbiSint, OrbiPore, OrbiPac, Memosens, Liquiline, InduMax P, ConduMax W, ConduMax H, Chloromax, CeraLiquid, CeraGel

Productcode: CPF81D-, CPF82D-, CPS11D-, CPS12D-, CPS16D-, CPS171D-, CPS41D-, CPS42D-, CPS441D-, CPS471-, CPS471D-, CPS491-, CPS71D-, CPS72D-, CPS76D-, CPS91D-, CPS92D-, CPS96D-, COS81D-, CCS120D-, CCS142D-, CCS50D-, CCS51D-, CLS15D-, CLS16D-, CLS21D-, CLS50D-, CLS82D-, CM442-, CM442R-, CM444-, CM444R-, CM448-, CM448R-, COS21D-, COS22D-, COS51D-
Regio: Canada, USA
Keuringsinstantie: CSA

TopHit, OxyMax W, OxyMax H, OrbiSint, OrbiPore, Messkabel, Memosens, Memocheck, ConduMax W, ConduMax H, CeraLiquid, CeraGel

Productcode: CYP02D-, CYP01D-, CYK20-, CYK10-, CPS96D-, CPS92D-, CPS91D-, CPS76D-, CPS72D-, CPS71D-, CPS491D-, CPS471D-, CPS441D-, CPS42D-, CPS41D-, CPS16D-, CPS12D-, CPS11D-, COS51D-, COS22D-, CLS21D-, CLS16D-, CLS15D-
Regio: International (IECEx)
Keuringsinstantie: EXAM (DMT, BVS)

CeraGel, CeraLiquid, OrbiPore, OrbiSint

Productcode: CPS11D-, CPS12D-, CPS41D-, CPS42D-, CPS71D-, CPS72D-, CPS91D-
Regio: Japan
Keuringsinstantie: TIIS

TopHit, OxyMax W, OxyMax H, OrbiSint, OrbiPore, Messkabel, Memosens, Memocheck, ConduMax W, ConduMax H, CeraLiquid, CeraGel

Productcode: CYP02D-, CYP01D-, CYK20-, CYK10-, CPS96D-, CPS92D-, CPS91D-, CPS76D-, CPS72D-, CPS71D-, CPS491D-, CPS471D-, CPS441D-, CPS42D-, CPS41D-, CPS16D-, CPS12D-, CPS11D-, COS51D-, COS22D-, CLS21D-, CLS16D-, CLS15D-
Regio: International (IECEx)
Keuringsinstantie: EXAM (DMT, BVS)

TopHit, OxyMax W, OxyMax H, OrbiSint, OrbiPore, Messkabel, Memosens, Memocheck, ConduMax W, ConduMax H, CeraLiquid, CeraGel

Productcode: CYP02D-, CYP01D-, CYK20-, CYK10-, CPS96D-, CPS92D-, CPS91D-, CPS76D-, CPS72D-, CPS71D-, CPS491D-, CPS471D-, CPS441D-, CPS42D-, CPS41D-, CPS16D-, CPS12D-, CPS11D-, COS51D-, COS22D-, CLS21D-, CLS16D-, CLS15D-
Regio: International (IECEx)
Keuringsinstantie: EXAM (DMT, BVS)

OxyMax W, OxyMax H, OrbiSint, OrbiPore, Messkabel, Memosens, Memocheck, ConduMax W, ConduMax H, Ceramax, CeraLiquid, CeraGel

Productcode: CYP02D-, CYP01D-, CYK20-, CYK10-, CPS92D-, CPS91D-, CPS72D-, CPS71D-, CPS491D-, CPS471D-, CPS441D-, CPS42D-, CPS41D-, CPS341D-, CPS171D-, CPS12D-, CPS11D-, COS81D-, COS51D-, COS22D-, COS21D-, CLS82D-, CLS21D-, CLS16D-, CLS15D-
Regio: Europe (ATEX)
Keuringsinstantie: EXAM (DMT, BVS)

CeraGel, CeraLiquid, Memosens, OrbiPac, OrbiPore, OrbiSint, TopHit

Productcode: CPS96D-, CPS92D-, CPS91D-, CPS76D-, CPS72D-, CPS71D-, CPS42D-, CPS41D-, CPS171D-, CPS16D-, CPS12D-, CPS11D-
Regio: China
Keuringsinstantie: NEPSI

CeraGel, CeraLiquid, Memosens, Messkabel, OrbiPore, OrbiSint

Productcode: CYK20-, CYK10-, CPS96D-, CPS92D-, CPS91D-, CPS76D-, CPS72D-, CPS71D-, CPS42D-, CPS41D-, CPS31D-, CPS171D-, CPS16D-, CPS12D-, CPS11D-
Regio: China
Keuringsinstantie: NEPSI

CeraGel, CeraLiquid, Memosens, Messkabel, OrbiPore, OrbiSint

Productcode: CYK20-, CYK10-, CPS96D-, CPS92D-, CPS91D-, CPS76D-, CPS72D-, CPS71D-, CPS42D-, CPS41D-, CPS31D-, CPS171D-, CPS16D-, CPS12D-, CPS11D-
Regio: China
Keuringsinstantie: NEPSI

TopHit, Memosens, InduMax P, OxyMax W, OxyMax H, OrbiSint, OrbiPore, OrbiPac, OEM, Messkabel, ConduMax W, ConduMax H, CeraLiquid, CeraGel

Productcode: CPS471D-, CLS50D-, COS22D-, CLS82D-, COS51D-, COS21D-, CPS491D-, CPS71D-, CPS72D-, CPS76D-, CPS91D-, CPS92D-, CPS96D-, CYK10-, CYK20-, OCLS82D-, OCOS81D-, OLS21D-, OPS11D-, OPS171D-, OPS91D-, OPS12D-, OYK10-, CPS441D-, CPS42D-, CPS41D-, CPS171D-, CPS16D-, CPS12D-, CPS11D-, CPF81D-, CPF82D-, COS81D-, CLS21D-, CLS16D-, CLS15D-
Regio: USA, Canada
Keuringsinstantie: CSA

TopHit, OxyMax W, OxyMax H, OrbiSint, OrbiPore, Messkabel, Memosens, Memocheck, ConduMax W, ConduMax H, Ceramax, CeraLiquid, CeraGel

Productcode: CYP02D-, CYP01D-, CYK20-, CYK10-, CPS96D-, CPS92D-, CPS91D-, CPS76D-, CPS72D-, CPS71D-, CPS491D-, CPS471D-, CPS441D-, CLS15D-, CLS16D-, CLS21D-, CLS82D-, COS22D-, COS51D-, CPS11D-, CPS12D-, CPS16D-, CPS171D-, CPS341D-, CPS41D-, CPS42D-
Regio: International (IECEx)
Keuringsinstantie: EXAM (DMT, BVS)

CeraGel, CeraLiquid, Memosens, OrbiPore, OrbiSint, TopHit

Productcode: CPS96D-, CPS92D-, CPS91D-, CPS76D-, CPS72D-, CPS71D-, CPS42D-, CPS41D-, CPS16D-, CPS12D-, CPS11D-
Regio: China
Keuringsinstantie: NEPSI

CeraGel, Memosens

Productcode: CPS171D-, CPS71-, CPS71D-, OPS171D-, OPS71-
Regio: Europe
Keuringsinstantie: TU München

CeraGel, Memosens

Productcode: CPS171D-, CPS71-, CPS71D-, OPS171D-, OPS71-
Regio: Europe
Keuringsinstantie: TU München

CeraGel, CeraLiquid, OrbiPore, OrbiSint

Productcode: CPS11D-, CPS12D-, CPS41D-, CPS71D-, CPS72D-, CPS42D-, CPS91D-, CPS92D-

CeraGel, CeraLiquid, Memosens, OrbiPore, OrbiSint

Productcode: CPS11D-, CPS12D-, CPS16D-, CPS31D-, CPS41D-, CPS42D-, CPS71D-, CPS72D-, CPS76D-, CPS91D-, CPS92D-, CPS96D-
Regio: Canada (CRN)
Keuringsinstantie: CRN

Viomax, New Analyzer Platform, Memosens, InduMax P, Turbimax, TopHit, Sample Preparations, OxyMax W, OxyMax H, OrbiSint, OrbiPore, OrbiPac, OEM, ConduMax W, InduMax H, ConduMax H, Chloromax, Ceramax, CeraLiquid, CeraGel

Productcode: CPS16D-, CAS51D-, CLS50D-, COS22D-, CLS82D-, CLS54D-, CAT860-, CA80AL-, COS51D-, CPS171D-, CPS31D-, CPS341D-, CPS41D-, CPS42D-, CPS441D-, CPS471D-, CPS491D-, CPS71D-, CPS72D-, CPS76D-, CPS91D-, CPS92D-, CUS50D-, CUS52D-, CPS12D-, CPS96D-, OCCS50D-, OCUS51D-, CPS11D-, CPF82D-, CPF81D-, COS81D-, COS61D-, CLS21D-, CLS16D-, CLS15D-, CCS142D-, CAT820-, CAT810-
Regio: Russia
Keuringsinstantie: Rosstandart
Keurnummer: DE.C.31.004.A NO 70194

Turbimax, TopHit, OxyMax W, OxyMax H, OrbiSint, OrbiPore, OrbiPac, New Analyzer Platform, Memosens, InduMax P, InduMax H, ConduMax W, ConduMax H, Chloromax, Ceramax, CeraLiquid, CeraGel

Productcode: CPS171D-, CPS31D-, CPS341D-, CPS41D-, CPS41E-, CPS42D-, CPS441D-, CPS471D-, CPS47D-, CPS491D-, CPS71D-, CPS71E-, CPS72D-, CPS76D-, CPS77D-, CPS91D-, CPS91E-, CPS92D-, CPS96D-, CPS97D-, CUS50D-, CUS51D-, CUS52D-, CA80HA-, CA80SI-, CCS120D-, CCS142D-, CCS50D-, CCS51D-, CLS15D-, CLS16D-, CLS21D-, CLS50D-, CLS54D-, CLS82D-, COS22D-, COS51D-, COS61D-, COS81D-, CPF81D-, CPF82D-, CPS11D-, CPS11E-, CPS12D-, CPS12E-, CPS16D-
Regio: Russia
Keurnummer: OC.C.31.004.A NO 75181

Viomax, Turbimax, TopHit, OxyMax W, OxyMax H, OrbiSint, OrbiPore, OrbiPac, Memosens, Liquiline M, Liquiline, Isemax, InduMax P, InduMax H, ConduMax W, ConduMax H, Chloromax, Ceramax, CeraLiquid, CeraGel

Productcode: CPS47D-, CPS471D-, CPS441D-, CPS42D-, CPS41E-, CPS41D-, CPS341D-, CPS31D-, CPS171D-, CPS16D-, CPS12E-, CPS12D-, CPS11E-, CPS11D-, CPS491D-, CPS71D-, CPS71E-, CPS72D-, CPS76D-, CPS77D-, CPS91D-, CPS91E-, CPS92D-, CPS96D-, CPS97D-, CUS50D-, CUS51D-, CUS52D-, CAS40D-, CCS120D-, CCS142D-, CCS50D-, CCS51D-, CLS15D-, CLS15E-, CLS16D-, CLS16E-, CLS21D-, CLS21E-, CLS50D-, CLS54D-, CLS82D-, CLS82E-, CM14-, CM442-, CM442R-, CM444-, CM444R-, CM448-, CM448R-, COS22D-, COS51D-, COS61D-, COS81D-, CPF81D-, CPF82D-
Regio: Russia
Keuringsinstantie: Rosstandart
Keurnummer: OC.C.31.004.A NO 54218/1
Accessoires / Spare parts