Easytemp TMR31
Compact thermometer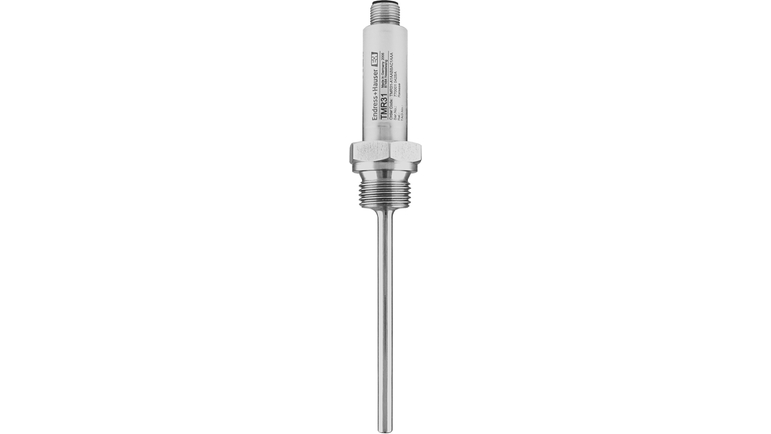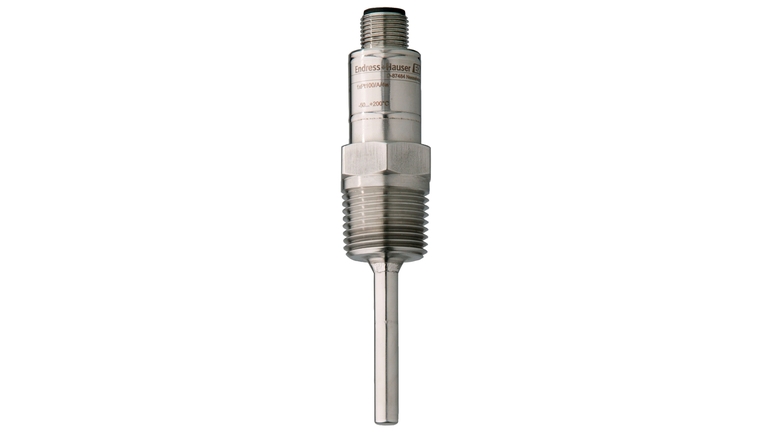 Compact, fast and precise for the measurement of process temperatures in common industries
With cost efficiency, optimal use of space, reliable operation, easy installation and commissioning the TMR31 fulfills the requirements of modern process measurement technology. Vibration-proof integrated thin-film sensors guarantee highest operational safety at the fastest response times.
Snelle selectie
Kies uit één van de voorgestelde opties
Individuele configuratie
Ga verder met uw keuze uit alle mogelijke opties
Voordelen

Small, compact design made entirely of stainless steel

Extremely short response times

Highly accurate even with short insertion lengths

4-wire, Pt100 or PC-programmable transmitter with 4 to 20 mA output

Configuration and visualization with ReadWin® 2000 PC...
Toepassingsgebied

The Easytemp TMR31 compact thermometers are used to measure temperatures from -50 °C to +150 °C (-58 °F to +302 °F), or up to +200 °C (+392 °F) with neck. The most common installation locations are tanks and pipes. TMR31 with process connections for...
Documenten / handleidingen / software
Accessoires / Spare parts
The unit is not repairable

Gasket 26x21,3x1,5 (M21-1/2") Copper

TAG print/configuration 2 x 18 char

Papieren tag 3x16 karakters Wetzer

Adapter Upgrade TXU10

4 pin plug to M12.

Collar welding boss d6 PEEK + screw

Beweegbaar met afdichtingsklep, Wasmachine + drukschroef G1/2, Materiaal van bevochtigde delen: 316L, PEEK, Max. Prozessdruck: 10 bar (145 psi) Dit betreft een product uit het E-direct portfolio met een scherpe netto prijs. Kijk voor meer informatie op www.e-direct.endress.com

Collar welding boss d6 PEEK w/o screw

Beweegbaar met afdichtingsklep + wasser, Materiaal van bevochtigde delen: 316L, PEEK, Max. Procesdruk: 10 bar (145 psi) Dit betreft een product uit het E-direct portfolio met een scherpe netto prijs. Kijk voor meer informatie op www.e-direct.endress.com

Screw G1/2" + Sealing cone PEEK

Kabel, M12x1 plug L=5m

5m kabel 4 x 0,34 mm2, gegoten PVC haakse nippel M12x1 connector schroef Cu Sn/Ni, IP67. Dit betreft een product uit het E-direct portfolio met een scherpe netto prijs. Kijk voor meer informatie op www.e-direct.endress.com

Connector M12x1,5 haakse uitvoering

Plug met 4 schroefklemmen (geleverd zonder kabel)

Kabelset 4p D18 IP69K

PVC kabel, 4 x 0.34 mm2 (22 AWG) met M12x1 aansluitmoer van roestvaststaal; recht/female type connector; schroefplug; lengte 5 m; IP69K.

Configuratiekit TXU10

Set-up software incl. USB- interfacekabel. Dit betreft een product uit het E-direct portfolio waar staffelprijzen aan gekoppeld zijn. Kijk voor meer informatie op www.e-direct.endress.com

Knelfitting TA50

Schroef in. Dit betreft een product uit het E-direct portfolio met een scherpe netto prijs. Kijk voor meer informatie op www.e-direct.endress.com

Accessoires Datamanager RXU10