WirelessHART Fieldgate SWG70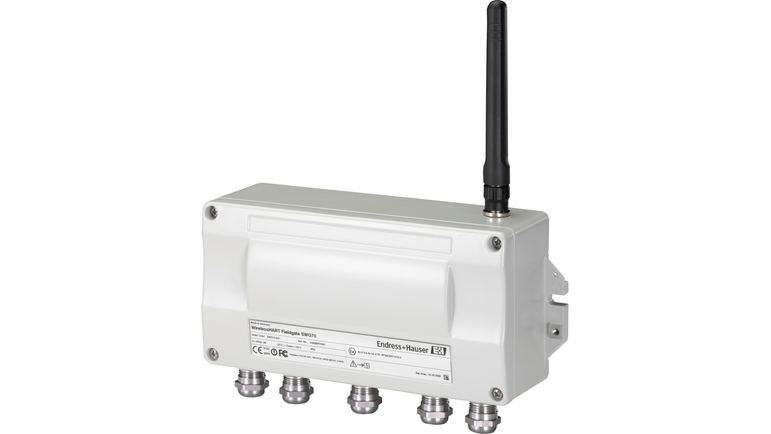 Intelligente WirelessHART-gateway met ethernet- en RS-485-interface
De WirelessHART Fieldgate SWG70 van Endress+Hauser is ontworpen om te fungeren als interface tussen een systeem dat gebruikmaakt van ethernet of RS-485 als fysieke laag en een WirelessHART-netwerk. De gateway is geschikt om in een explosiegevaarlijke omgeving (zone 2) te worden gemonteerd. Naargelang de behoeften kan een integrale of externe antenne worden gemonteerd.
Eenvoudige producten

Gemakkelijk te selecteren, installeren en gebruiken
Technische topkwaliteit
Eenvoud
Standaardproducten

Betrouwbaar, robuust en onderhoudsarm
Technische topkwaliteit
Eenvoud
High-end producten

Functioneel en uiterst doelmatig
Technische topkwaliteit
Eenvoud
Gespecialiseerde producten

Ontworpen voor veeleisende applicaties
Technische topkwaliteit
Eenvoud
FLEX selectie
Technische topkwaliteit
Eenvoud

Fundamental selectie

Voldoe aan uw basismeetvoorwaarden

Technische topkwaliteit

Eenvoud

Lean selectie

Beheers eenvoudig uw belangrijkste processen

Technische topkwaliteit

Eenvoud

Extended selectie

Optimaliseer uw processen met innovatieve technologieën

Technische topkwaliteit

Eenvoud

Xpert selectie

Beheers uw meest uitdagende applicaties

Technische topkwaliteit

Eenvoud
Overzicht specificaties

Output

Ethernet (10 BASE-T/10 BASE TX)
- Configurable for HART IP and MODBUS TCP communication
RS-485 serial interface
- Configurable for HART Version 7.0 or MODBUS RTU communication
EtherNet/IP interface

Display
Loading alternative products
Snelle selectie
Kies uit één van de voorgestelde opties
Individuele configuratie
Ga verder met uw keuze uit alle mogelijke opties
Voordelen

Eenvoudige inbedrijfstelling en diagnose van een zelforganiserend WirelessHART-netwerk

Naadloze integratie van informatie van procesinstrumenten in superieure systeemtoepassingen met gestandaardiseerde protocollen, zoals MODBUS, EtherNet/IP, HART-IP of OPC

Draadloze configuratie en draadloos beheer van intelligente procesinstrumenten in de fabriek met behulp van FieldCare

Flexibele Fieldgate-werking in ex-gevaarlijke...
Toepassingsgebied

Procesoptimalisatie, tank- en silobewaking/voorraadbeheer, toestandsbewaking van instrumenten. De WirelessHART-gateway converteert gegevens van draadloze instrumenten en slaat deze op in een formaat dat compatibel is met andere systemen. De gateway...
Documenten / handleidingen / software
Accessoires / Spare parts
Remote dipole antenna

Bestaat uit: Dipoolantenne, montage kit Gebruik: WirelessHART Fieldgate

Remote panel antenna

Bestaat uit: Panel antenne, montage kit Gebruik: WirelessHART Fieldgate

Remote cabinet antenna

Consists of: Cabinet antenna, mounting kit Usage: WirelessHART Fieldgate

Lightning / EMP protector

Bestaat uit: Bliksem / EMP protector Gebruik: WirelessHART Fieldgate

Nr

3;5

Order code

71131509

Coaxial cable 2,5 meter

Bestaat uit: Coax kabel 2,5 meter Gebruik: WirelessHART Fieldgate

Nr

3;5

Order code

71131508

Coaxial cable 5 meter

Consists of: Coaxial cable 5 meter Usage: WirelessHART Fieldgate

Nr

3;5

Order code

71131507

Coaxial cable 10 meter

Consists of: Coaxial cable 10 meter Usage: WirelessHART Fieldgate

Nr

3;5

Order code

71131506

Coaxial cable 15 meter

Consists of: Coaxial cable 15 meter Usage: WirelessHART Fieldgate

Replacement antenna

Consists of: Default dipole antenna Usage: WirelessHART Fieldgate