COD analyzer
Liquiline System CA80COD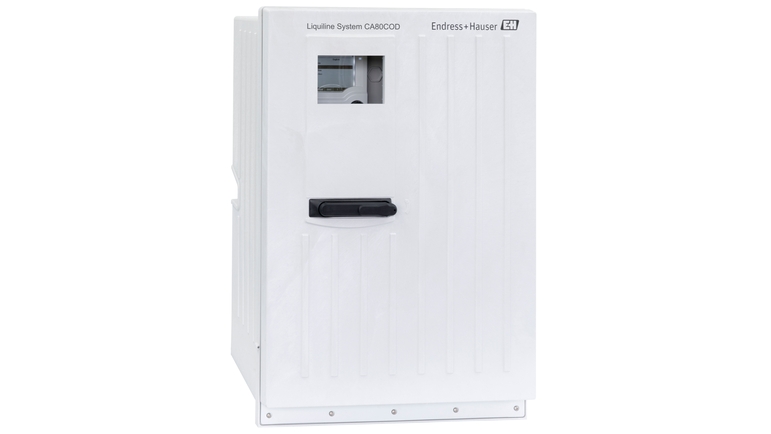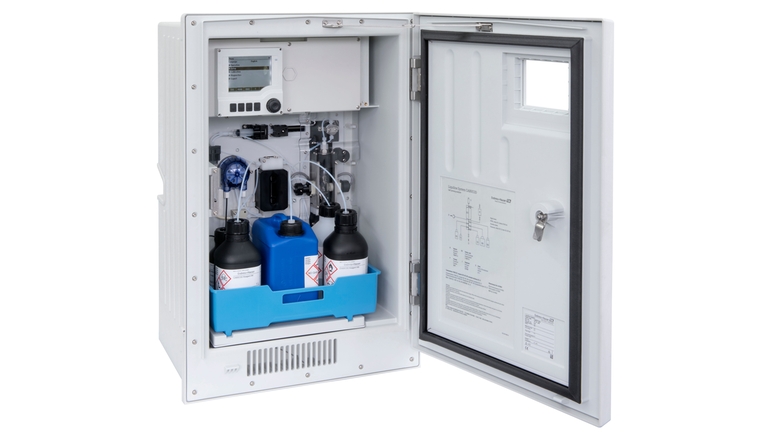 Analyzer for chemical oxygen demand in environmental monitoring, industrial and municipal wastewater
Liquiline System CA80COD offers constant online measurement of the chemical oxygen demand (COD). It supports you in monitoring the cleaning capacity of wastewater treatment plants and enables load-based billing for industrial dischargers. Automatic calibration and cleaning save operating costs while advanced diagnostics with remote access help to provide process documentation to authorities. The COD analyzer's software-controlled safety functions ensure the highest level of occupational safety.
Eenvoudige producten

Gemakkelijk te selecteren, installeren en gebruiken
Technische topkwaliteit
Eenvoud
Standaardproducten

Betrouwbaar, robuust en onderhoudsarm
Technische topkwaliteit
Eenvoud
High-end producten

Functioneel en uiterst doelmatig
Technische topkwaliteit
Eenvoud
Gespecialiseerde producten

Ontworpen voor veeleisende applicaties
Technische topkwaliteit
Eenvoud
FLEX selectie
Technische topkwaliteit
Eenvoud

Fundamental selectie

Voldoe aan uw basismeetvoorwaarden

Technische topkwaliteit

Eenvoud

Lean selectie

Beheers eenvoudig uw belangrijkste processen

Technische topkwaliteit

Eenvoud

Extended selectie

Optimaliseer uw processen met innovatieve technologieën

Technische topkwaliteit

Eenvoud

Xpert selectie

Beheers uw meest uitdagende applicaties

Technische topkwaliteit

Eenvoud
Overzicht specificaties

Measurement range

10 to 5000 mg/l O2 COD
40 to 20000 mg/l O2 COD

Process temperature

4 to 40 °C (39 to 104 °F)

Process pressure
Loading alternative products
Snelle selectie
Kies uit één van de voorgestelde opties
Individuele configuratie
Ga verder met uw keuze uit alle mogelijke opties
Voordelen

Established COD dichromate method directly comparable to laboratory results.

Meeting industry needs: The analyzer is perfectly suited for environmental monitoring, industrial and municipal wastewater.

Fast and easy process integration: Direct...
Toepassingsgebied

The Liquiline System COD analyzer monitors:

Inlet and outlet of wastewater treatment plants for documentation purposes and calculation of the cleaning capacity

Discharges of industrial wastewater treatment plants to determine discharge fees and to...
Documenten / handleidingen / software
Liquiline System CA80COD Technical Information

Analyzer for determining chemical oxygen demand (COD)

Technische informatie (TI)

Liquiline System CA80COD

Colorimetric analyzer for chemical oxygen demand

Inbedrijfsstellingsvoorschriften (BA)

Memosens Operating Instructions

Sensor inputs with Memosens protocol

Inbedrijfsstellingsvoorschriften (BA)

Liquiline System CA80COD

Colorimetrische analyzer voor chemisch zuurstofverbruik

Short Instruction (KA)

02/20

Kit CA80 Outdoor

Kit for mounting analyzer on a post outdoor

Special Documentation Liquiline 4-wire Platform

EtherNet/IP guideline

Speciale Documentatie (SD)

CM44x/R/P / CSFxx / CA80xx

Webserver Guideline

Speciale Documentatie (SD)

CY80COD für/for Liquiline System CA80COD Mischen der Reagenzien / Mixing of the reagent Special Documentation

Mischen der Reagenzien / Mixing of the reagent

Speciale Documentatie (SD)

Activation codes kit

For extended functionality

Speciale Documentatie (SD)

CM44x/R/P / CSFxx / CA80xx

PROFIBUS Guideline

Speciale Documentatie (SD)

Special Documentation Liquiline 4-wire Platform

Modbus Guideline

Speciale Documentatie (SD)

Making sure your WWTP runs and runs and runs

Efficient and effective wastewater treatment

Competentie Brochure (CP)

08/18

Damit Ihre Kläranlage läuft und läuft und läuft

Effizienz und Effektivität in der Abwasseraufbereitung

Competentie Brochure (CP)

08/18

Keeping track of water quality

Online TOC and COD measurement for reliable wastewater monitoring in the
paper
industry

Die Wasserqualität im Blick

Online TOC- und COD-Messung für sichere Abwasserüberwachung in der
Papierindustrie

Surveiller la qualité de l'eau

Mesure en ligne du COT et de la DCO pour une surveillance fiable des
eaux usées dans
l'industrie du papier

Organische Last unter Kontrolle

Sichere Analyse des chemischen Sauerstoffbedarfs mit Liquiline System
CA80COD

Organic load under control

Safe analysis of the chemical oxygen demand with Liquiline System
CA80COD

严格控制有机物污染

Liquiline System CA80COD 安全分析化学需氧量

CSB-Prozessanalysengerät Liquiline CA80COD

Für die Bestimmung des chemischen Sauerstoffbedarfs nach der Dichromat-
Standardmethode.

Firmware for Liquiline platform - version 01.08.00

Firmware for Liquiline CM44(R), Liquiline CM44P(R), Liquistation CSF34,
Liquistation CSF48, Liquiport CSP44, Liquiline System CA80

GSD Single, GSD_EH_DP_AN_LiquilineCA80xx_0x155E, 29.06.2020 (Analysis, Liquiline, 0x155E)

PROFIBUS DP,

PROFIBUS System Version: Any

General Station Description (GSD)

1.30

EDS Single, EDS_EH_EIP_AN_Liquiline_0x109F_0x02_0x01, 30.07.2016 (Analysis, Liquiline)

EtherNet/IP,

EtherNet IP System Version: Any

Electronic Data Sheet (EDS)

2.1

EDD Single, PDM_DP_AN_Liquiline_0x155E_0x04_0x01, 05.08.2016 (Analysis, Liquiline, 0x155E)

PROFIBUS DP,

PDM Version: 6.1, 8.2

Electronic Data Description (EDD)

1.00.00

DTM Single, Liquiline_CA80xx_DP_FW_01_06_zz_Dev_Rev_4, 06.11.2020 (Analysis, Liquiline, 0x155E)

PROFIBUS DP,

DeviceCare Version: 1.07.00

Field Xpert - SMT70 Version: 1.05.00

FieldCare Version: 2.15.00

PACTware Version: 4.1

Device Type Manager (DTM)

1.11.0.0

DTM Single, Liquiline_CA80xx_DP_FW_01_07_zz_Dev_Rev_4, 06.11.2020 (Analysis, Liquiline, 0x155E)

PROFIBUS DP,

DeviceCare Version: 1.07.00

Field Xpert - SMT70 Version: 1.05.00

FieldCare Version: 2.15.00

PACTware Version: 5.0

Device Type Manager (DTM)

1.11.0.0

DTM Single, Liquiline_CA80xx_CDI_FW_1_06_zz_Dev_Rev_01, 18.11.2020 (Analysis, Liquiline, 0x119F)

Common Device Interface,

DeviceCare Version: 1.07.00

Field Xpert - SMT70 Version: 1.05.00

FieldCare Version: 2.15.00

Device Type Manager (DTM)

1.0.14.0

AOP Single, RS_EIP_AN_Liquiline_CA80xx_0x109F_0x02_0x01_AOP, 27.06.2018 (Analysis, Liquiline)

EtherNet/IP,

RA RSLogix 5000 Version: V15 and later

Add On Profile (AOP)

1.22

ComDTM Single, CDI_CommDTM, 02.12.2019

Common Device Interface,

DeviceCare Version: 1.05.00

FieldCare Version: 2.13.00

Communication DTM

2.09.07

CY80COD-CC+TW (Canada)

Standard solution for CA80COD, COD-O2 500mg/L

Reagents/standard solutions/cleaner for analyzer

CY80COD-CC+TW (Denmark)

Standard solution for CA80COD, COD-O2 500mg/L

Reagents/standard solutions/cleaner for analyzer

CY80COD-CC+TW (Italy)

Standard solution for CA80COD, COD-O2 500mg/L

Reagents/standard solutions/cleaner for analyzer

CY80COD-CC+T8 (Saudi Arabien)

Standard solution COD 1500 mg/l O2

Reagents/standard solutions/cleaner for analyzer

CY80COD-CC+SD (United Arab Emirates)

Reagent set (SD) for CA80COD

Reagents/standard solutions/cleaner for analyzer

CY80COD-CC+T8 (China)

Standard solution COD 1500 mg/l O2

Reagents/standard solutions/cleaner for analyzer

CY80COD-CC+T8 (Japan)

Standard solution COD 1500 mg/l O2

Reagents/standard solutions/cleaner for analyzer

CY80COD-CC+TW (Bulgaria)

Standard solution for CA80COD, COD-O2 500mg/L

Reagents/standard solutions/cleaner for analyzer

CY80COD-CC+T8 (India)

Standard solution COD 1500 mg/l O2

Reagents/standard solutions/cleaner for analyzer

CY80COD-CC+SD (Russia)

Reagent set (SD) for CA80COD

Reagents/standard solutions/cleaner for analyzer

CY80COD-CC+T6 (Lithuania)

Standard solution COD 0 mg/l O2

Reagents/standard solutions/cleaner for analyzer

CY80COD-CC+TW (Austria)

Standard solution for CA80COD, COD-O2 500mg/L

Reagents/standard solutions/cleaner for analyzer

CY80COD-CC+T8 (Canada (French))

Standard solution COD 1500 mg/l O2

Reagents/standard solutions/cleaner for analyzer

CY80COD-CC+TW (Croatia)

Standard solution for CA80COD, COD-O2 500mg/L

Reagents/standard solutions/cleaner for analyzer

CY80COD-CC+TW (Netherlands)

Standard solution for CA80COD, COD-O2 500mg/L

Reagents/standard solutions/cleaner for analyzer

CY80COD-CC+T8 (France)

Standard solution COD 1500 mg/l O2

Reagents/standard solutions/cleaner for analyzer

CY80COD-CC+TW (Latvia)

Standard solution for CA80COD, COD-O2 500mg/L

Reagents/standard solutions/cleaner for analyzer

CY80COD-CC+T8 (Sweden)

Standard solution COD 1500 mg/l O2

Reagents/standard solutions/cleaner for analyzer

CY80COD-CC+TW (Finland)

Standard solution for CA80COD, COD-O2 500mg/L

Reagents/standard solutions/cleaner for analyzer

CY80COD-CC+SD (Estonia)

Reagent set (SD) for CA80COD

Reagents/standard solutions/cleaner for analyzer

CY80COD-CC+SD (China)

Reagent set (SD) for CA80COD

Reagents/standard solutions/cleaner for analyzer

CY80COD-CC+T6 (Norway)

Standard solution COD 0 mg/l O2

Reagents/standard solutions/cleaner for analyzer

CY80COD-CC+TW (USA)

Standard solution for CA80COD, COD-O2 500mg/L

Reagents/standard solutions/cleaner for analyzer

CY80COD-CC+T8 (South Africa)

Standard solution COD 1500 mg/l O2

Reagents/standard solutions/cleaner for analyzer

CY80COD-CC+TW (Norway)

Standard solution for CA80COD, COD-O2 500mg/L

Reagents/standard solutions/cleaner for analyzer

CY80COD-CC+TW (Romania)

Standard solution for CA80COD, COD-O2 500mg/L

Reagents/standard solutions/cleaner for analyzer

CY80COD-CC+SD (Austria)

Reagent set (SD) for CA80COD

Reagents/standard solutions/cleaner for analyzer

CY80COD-CC+T6 (Finland)

Standard solution COD 0 mg/l O2

Reagents/standard solutions/cleaner for analyzer

CY80COD-CC+T6 (Canada)

Standard solution COD 0 mg/l O2

Reagents/standard solutions/cleaner for analyzer

CY80COD-CC+T8 (USA)

Standard solution COD 1500 mg/l O2

Reagents/standard solutions/cleaner for analyzer

CY80COD-CC+T6 (USA)

Standard solution COD 0 mg/l O2

Reagents/standard solutions/cleaner for analyzer

CY80COD-CC+SD (Germany)

Reagent set (SD) for CA80COD

Reagents/standard solutions/cleaner for analyzer

CY80COD-CC+T6 (Estonia)

Standard solution COD 0 mg/l O2

Reagents/standard solutions/cleaner for analyzer

CY80COD-CC+SD (Australia)

Reagent set (SD) for CA80COD

Reagents/standard solutions/cleaner for analyzer

CY80COD-CC+T6 (Latvia)

Standard solution COD 0 mg/l O2

Reagents/standard solutions/cleaner for analyzer

CY80COD-CC+T6 (Sweden)

Standard solution COD 0 mg/l O2

Reagents/standard solutions/cleaner for analyzer

CY80COD-CC+T6 (Turkey)

Standard solution COD 0 mg/l O2

Reagents/standard solutions/cleaner for analyzer

CY80COD-CC+TW (France)

Standard solution for CA80COD, COD-O2 500mg/L

Reagents/standard solutions/cleaner for analyzer

CY80COD-CC+SD (Croatia)

Reagent set (SD) for CA80COD

Reagents/standard solutions/cleaner for analyzer

CY80COD-CC+SD (Portugal)

Reagent set (SD) for CA80COD

Reagents/standard solutions/cleaner for analyzer

CY80COD-CC+TW (Sweden)

Standard solution for CA80COD, COD-O2 500mg/L

Reagents/standard solutions/cleaner for analyzer

CY80COD-CC+TW (Lithuania)

Standard solution for CA80COD, COD-O2 500mg/L

Reagents/standard solutions/cleaner for analyzer

CY80COD-CC+TW (South Korea)

Standard solution for CA80COD, COD-O2 500mg/L

Reagents/standard solutions/cleaner for analyzer

CY80COD-CC+T6 (Spain)

Standard solution COD 0 mg/l O2

Reagents/standard solutions/cleaner for analyzer

CY80COD-CC+SD (Slovakia)

Reagent set (SD) for CA80COD

Reagents/standard solutions/cleaner for analyzer

CY80COD-CC+TW (Greece)

Standard solution for CA80COD, COD-O2 500mg/L

Reagents/standard solutions/cleaner for analyzer

CY80COD-CC+T8 (Russia)

Standard solution COD 1500 mg/l O2

Reagents/standard solutions/cleaner for analyzer

CY80COD-CC+TW (Mexico)

Standard solution for CA80COD, COD-O2 500mg/L

Reagents/standard solutions/cleaner for analyzer

CY80COD-CC+T6 (Ireland)

Standard solution COD 0 mg/l O2

Reagents/standard solutions/cleaner for analyzer

CY80COD-CC+SD (India)

Reagent set (SD) for CA80COD

Reagents/standard solutions/cleaner for analyzer

CY80COD-CC+T6 (Portugal)

Standard solution COD 0 mg/l O2

Reagents/standard solutions/cleaner for analyzer

CY80COD-CC+T8 (Portugal)

Standard solution COD 1500 mg/l O2

Reagents/standard solutions/cleaner for analyzer

CY80COD-CC+SD (Ireland)

Reagent set (SD) for CA80COD

Reagents/standard solutions/cleaner for analyzer

CY80COD-CC+T8 (Mexico)

Standard solution COD 1500 mg/l O2

Reagents/standard solutions/cleaner for analyzer

CY80COD-CC+T6 (Ukraine)

Standard solution COD 0 mg/l O2

Reagents/standard solutions/cleaner for analyzer

CY80COD-CC+SD (Switzerland)

Reagent set (SD) for CA80COD

Reagents/standard solutions/cleaner for analyzer

CY80COD-CC+SD (European Union)

Reagent set (SD) for CA80COD

Reagents/standard solutions/cleaner for analyzer

CY80COD-CC+SD (Italy)

Reagent set (SD) for CA80COD

Reagents/standard solutions/cleaner for analyzer

CY80COD-CC+T8 (Finland)

Standard solution COD 1500 mg/l O2

Reagents/standard solutions/cleaner for analyzer

CY80COD-CC+SD (Sweden)

Reagent set (SD) for CA80COD

Reagents/standard solutions/cleaner for analyzer

CY80COD-CC+T6 (South Korea)

Standard solution COD 0 mg/l O2

Reagents/standard solutions/cleaner for analyzer

CY80COD-CC+SD (United Arab Emirates)

Reagent set (SD) for CA80COD

Reagents/standard solutions/cleaner for analyzer

CY80COD-CC+TW (China)

Standard solution for CA80COD, COD-O2 500mg/L

Reagents/standard solutions/cleaner for analyzer

CY80COD-CC+T8 (Slovenia)

Standard solution COD 1500 mg/l O2

Reagents/standard solutions/cleaner for analyzer

CY80COD-CC+SD (Malta)

Reagent set (SD) for CA80COD

Reagents/standard solutions/cleaner for analyzer

CY80COD-CC+T8 (Switzerland (French))

Standard solution COD 1500 mg/l O2

Reagents/standard solutions/cleaner for analyzer

CY80COD-CC+SD (Ukraine)

Reagent set (SD) for CA80COD

Reagents/standard solutions/cleaner for analyzer

CY80COD-CC+TW (Germany)

Standard solution for CA80COD, COD-O2 500mg/L

Reagents/standard solutions/cleaner for analyzer

CY80COD-CC+TW (Turkey)

Standard solution for CA80COD, COD-O2 500mg/L

Reagents/standard solutions/cleaner for analyzer

CY80COD-CC+TW (European Union)

Standard solution for CA80COD, COD-O2 500mg/L

Reagents/standard solutions/cleaner for analyzer

CY80COD-CC+T8 (Canada)

Standard solution COD 1500 mg/l O2

Reagents/standard solutions/cleaner for analyzer

CY80COD-CC+T6 (Slovenia)

Standard solution COD 0 mg/l O2

Reagents/standard solutions/cleaner for analyzer

CY80COD-CC+SD (Belgium (Dutch))

Reagent set (SD) for CA80COD

Reagents/standard solutions/cleaner for analyzer

CY80COD-CC+T6 (Czech Republic)

Standard solution COD 0 mg/l O2

Reagents/standard solutions/cleaner for analyzer

CY80COD-CC+T6 (Greece)

Standard solution COD 0 mg/l O2

Reagents/standard solutions/cleaner for analyzer

CY80COD-CC+T6 (Austria)

Standard solution COD 0 mg/l O2

Reagents/standard solutions/cleaner for analyzer

CY80COD-CC+TW (Spain)

Standard solution for CA80COD, COD-O2 500mg/L

Reagents/standard solutions/cleaner for analyzer

CY80COD-CC+T8 (Switzerland)

Standard solution COD 1500 mg/l O2

Reagents/standard solutions/cleaner for analyzer

CY80COD-CC+TW (Russia)

Standard solution for CA80COD, COD-O2 500mg/L

Reagents/standard solutions/cleaner for analyzer

CY80COD-CC+SD (Canada (French))

Reagent set (SD) for CA80COD

Reagents/standard solutions/cleaner for analyzer

CY80COD-CC+T8 (Romania)

Standard solution COD 1500 mg/l O2

Reagents/standard solutions/cleaner for analyzer

CY80COD-CC+SD (Canada)

Reagent set (SD) for CA80COD

Reagents/standard solutions/cleaner for analyzer

CY80COD-CC+SD (USA)

Reagent set (SD) for CA80COD

Reagents/standard solutions/cleaner for analyzer

CY80COD-CC+T6 (Malta)

Standard solution COD 0 mg/l O2

Reagents/standard solutions/cleaner for analyzer

CY80COD-CC+T8 (Belgium (Dutch))

Standard solution COD 1500 mg/l O2

Reagents/standard solutions/cleaner for analyzer

CY80COD-CC+T8 (Germany)

Standard solution COD 1500 mg/l O2

Reagents/standard solutions/cleaner for analyzer

CY80COD-CC+T6 (Germany)

Standard solution COD 0 mg/l O2

Reagents/standard solutions/cleaner for analyzer

CY80COD-CC+T6 (United Kingdom)

Standard solution COD 0 mg/l O2

Reagents/standard solutions/cleaner for analyzer

CY80COD-CC+T6 (Canada (French))

Standard solution COD 0 mg/l O2

Reagents/standard solutions/cleaner for analyzer

CY80COD-CC+SD (Japan)

Reagent set (SD) for CA80COD

Reagents/standard solutions/cleaner for analyzer

CY80COD-CC+T6 (Mexico)

Standard solution COD 0 mg/l O2

Reagents/standard solutions/cleaner for analyzer

CY80COD-CC+SD (Switzerland (French))

Reagent set (SD) for CA80COD

Reagents/standard solutions/cleaner for analyzer

CY80COD-CC+TW (Japan)

Standard solution for CA80COD, COD-O2 500mg/L

Reagents/standard solutions/cleaner for analyzer

CY80COD-CC+T8 (South Korea)

Standard solution COD 1500 mg/l O2

Reagents/standard solutions/cleaner for analyzer

CY80COD-CC+TW (Czech Republic)

Standard solution for CA80COD, COD-O2 500mg/L

Reagents/standard solutions/cleaner for analyzer

CY80COD-CC+T6 (Netherlands)

Standard solution COD 0 mg/l O2

Reagents/standard solutions/cleaner for analyzer

CY80COD-CC+T8 (Spain)

Standard solution COD 1500 mg/l O2

Reagents/standard solutions/cleaner for analyzer

CY80COD-CC+T6 (United Arab Emirates)

Standard solution COD 0 mg/l O2

Reagents/standard solutions/cleaner for analyzer

CY80COD-CC+TW (Poland)

Standard solution for CA80COD, COD-O2 500mg/L

Reagents/standard solutions/cleaner for analyzer

CY80COD-CC+T8 (Czech Republic)

Standard solution COD 1500 mg/l O2

Reagents/standard solutions/cleaner for analyzer

CY80COD-CC+TW (Portugal)

Standard solution for CA80COD, COD-O2 500mg/L

Reagents/standard solutions/cleaner for analyzer

CY80COD-CC+T6 (European Union)

Standard solution COD 0 mg/l O2

Reagents/standard solutions/cleaner for analyzer

CY80COD-CC+T6 (Australia)

Standard solution COD 0 mg/l O2

Reagents/standard solutions/cleaner for analyzer

CY80COD-CC+SD (New Zealand)

Reagent set (SD) for CA80COD

Reagents/standard solutions/cleaner for analyzer

CY80COD-CC+T6 (India)

Standard solution COD 0 mg/l O2

Reagents/standard solutions/cleaner for analyzer

CY80COD-CC+T6 (Switzerland)

Standard solution COD 0 mg/l O2

Reagents/standard solutions/cleaner for analyzer

CY80COD-CC+TW (Belgium)

Standard solution for CA80COD, COD-O2 500mg/L

Reagents/standard solutions/cleaner for analyzer

CY80COD-CC+T6 (France)

Standard solution COD 0 mg/l O2

Reagents/standard solutions/cleaner for analyzer

CY80COD-CC+T6 (New Zealand)

Standard solution COD 0 mg/l O2

Reagents/standard solutions/cleaner for analyzer

CY80COD-CC+TW (Hungary)

Standard solution for CA80COD, COD-O2 500mg/L

Reagents/standard solutions/cleaner for analyzer

CY80COD-CC+TW (Switzerland (Italian))

Standard solution for CA80COD, COD-O2 500mg/L

Reagents/standard solutions/cleaner for analyzer

CY80COD-CC+SD (Slovenia)

Reagent set (SD) for CA80COD

Reagents/standard solutions/cleaner for analyzer

CY80COD-CC+T6 (Saudi Arabien)

Standard solution COD 0 mg/l O2

Reagents/standard solutions/cleaner for analyzer

CY80COD-CC+SD (United Kingdom)

Reagent set (SD) for CA80COD

Reagents/standard solutions/cleaner for analyzer

CY80COD-CC+T6 (Japan)

Standard solution COD 0 mg/l O2

Reagents/standard solutions/cleaner for analyzer

CY80COD-CC+TW (New Zealand)

Standard solution for CA80COD, COD-O2 500mg/L

Reagents/standard solutions/cleaner for analyzer

CY80COD-CC+SD (Spain)

Reagent set (SD) for CA80COD

Reagents/standard solutions/cleaner for analyzer

CY80COD-CC+T6 (Belgium)

Standard solution COD 0 mg/l O2

Reagents/standard solutions/cleaner for analyzer

CY80COD-CC+SD (Belgium)

Reagent set (SD) for CA80COD

Reagents/standard solutions/cleaner for analyzer

CY80COD-CC+T8 (Australia)

Standard solution COD 1500 mg/l O2

Reagents/standard solutions/cleaner for analyzer

CY80COD-CC+T6 (China)

Standard solution COD 0 mg/l O2

Reagents/standard solutions/cleaner for analyzer

CY80COD-CC+T6 (Romania)

Standard solution COD 0 mg/l O2

Reagents/standard solutions/cleaner for analyzer

CY80COD-CC+T8 (European Union)

Standard solution COD 1500 mg/l O2

Reagents/standard solutions/cleaner for analyzer

CY80COD-CC+TW (Ukraine)

Standard solution for CA80COD, COD-O2 500mg/L

Reagents/standard solutions/cleaner for analyzer

CY80COD-CC+T6 (South Africa)

Standard solution COD 0 mg/l O2

Reagents/standard solutions/cleaner for analyzer

CY80COD-CC+T6 (Switzerland (Italian))

Standard solution COD 0 mg/l O2

Reagents/standard solutions/cleaner for analyzer

CY80COD-CC+TW (United Arab Emirates)

Standard solution for CA80COD, COD-O2 500mg/L

Reagents/standard solutions/cleaner for analyzer

CY80COD-CC+TW (Estonia)

Standard solution for CA80COD, COD-O2 500mg/L

Reagents/standard solutions/cleaner for analyzer

CY80COD-CC+SD (Finland)

Reagent set (SD) for CA80COD

Reagents/standard solutions/cleaner for analyzer

CY80COD-CC+T8 (Malta)

Standard solution COD 1500 mg/l O2

Reagents/standard solutions/cleaner for analyzer

CY80COD-CC+T8 (Lithuania)

Standard solution COD 1500 mg/l O2

Reagents/standard solutions/cleaner for analyzer

CY80COD-CC+TW (Australia)

Standard solution for CA80COD, COD-O2 500mg/L

Reagents/standard solutions/cleaner for analyzer

CY80COD-CC+T8 (Austria)

Standard solution COD 1500 mg/l O2

Reagents/standard solutions/cleaner for analyzer

CY80COD-CC+T6 (Croatia)

Standard solution COD 0 mg/l O2

Reagents/standard solutions/cleaner for analyzer

CY80COD-CC+SD (Bulgaria)

Reagent set (SD) for CA80COD

Reagents/standard solutions/cleaner for analyzer

CY80COD-CC+TW (Switzerland (French))

Standard solution for CA80COD, COD-O2 500mg/L

Reagents/standard solutions/cleaner for analyzer

CY80COD-CC+SD (Turkey)

Reagent set (SD) for CA80COD

Reagents/standard solutions/cleaner for analyzer

CY80COD-CC+SD (Switzerland (Italian))

Reagent set (SD) for CA80COD

Reagents/standard solutions/cleaner for analyzer

CY80COD-CC+T8 (Latvia)

Standard solution COD 1500 mg/l O2

Reagents/standard solutions/cleaner for analyzer

CY80COD-CC+T6 (Poland)

Standard solution COD 0 mg/l O2

Reagents/standard solutions/cleaner for analyzer

CY80COD-CC+T8 (Estonia)

Standard solution COD 1500 mg/l O2

Reagents/standard solutions/cleaner for analyzer

CY80COD-CC+TW (United Kingdom)

Standard solution for CA80COD, COD-O2 500mg/L

Reagents/standard solutions/cleaner for analyzer

CY80COD-CC+TW (India)

Standard solution for CA80COD, COD-O2 500mg/L

Reagents/standard solutions/cleaner for analyzer

CY80COD-CC+TW (United Arab Emirates)

Standard solution for CA80COD, COD-O2 500mg/L

Reagents/standard solutions/cleaner for analyzer

CY80COD-CC+T6 (Russia)

Standard solution COD 0 mg/l O2

Reagents/standard solutions/cleaner for analyzer

CY80COD-CC+SD (South Africa)

Reagent set (SD) for CA80COD

Reagents/standard solutions/cleaner for analyzer

CY80COD-CC+T6 (Belgium (Dutch))

Standard solution COD 0 mg/l O2

Reagents/standard solutions/cleaner for analyzer

CY80COD-CC+T6 (Switzerland (French))

Standard solution COD 0 mg/l O2

Reagents/standard solutions/cleaner for analyzer

CY80COD-CC+TW (South Africa)

Standard solution for CA80COD, COD-O2 500mg/L

Reagents/standard solutions/cleaner for analyzer

CY80COD-CC+T8 (Turkey)

Standard solution COD 1500 mg/l O2

Reagents/standard solutions/cleaner for analyzer

CY80COD-CC+T8 (Ireland)

Standard solution COD 1500 mg/l O2

Reagents/standard solutions/cleaner for analyzer

CY80COD-CC+T6 (Denmark)

Standard solution COD 0 mg/l O2

Reagents/standard solutions/cleaner for analyzer

CY80COD-CC+T6 (Bulgaria)

Standard solution COD 0 mg/l O2

Reagents/standard solutions/cleaner for analyzer

CY80COD-CC+SD (Denmark)

Reagent set (SD) for CA80COD

Reagents/standard solutions/cleaner for analyzer

CY80COD-CC+SD (Latvia)

Reagent set (SD) for CA80COD

Reagents/standard solutions/cleaner for analyzer

CY80COD-CC+T8 (United Arab Emirates)

Standard solution COD 1500 mg/l O2

Reagents/standard solutions/cleaner for analyzer

CY80COD-CC+T6 (Italy)

Standard solution COD 0 mg/l O2

Reagents/standard solutions/cleaner for analyzer

CY80COD-CC+TW (Slovenia)

Standard solution for CA80COD, COD-O2 500mg/L

Reagents/standard solutions/cleaner for analyzer

CY80COD-CC+SD (Norway)

Reagent set (SD) for CA80COD

Reagents/standard solutions/cleaner for analyzer

CY80COD-CC+T8 (United Arab Emirates)

Standard solution COD 1500 mg/l O2

Reagents/standard solutions/cleaner for analyzer

CY80COD-CC+T6 (Slovakia)

Standard solution COD 0 mg/l O2

Reagents/standard solutions/cleaner for analyzer

CY80COD-CC+TW (Ireland)

Standard solution for CA80COD, COD-O2 500mg/L

Reagents/standard solutions/cleaner for analyzer

CY80COD-CC+SD (Hungary)

Reagent set (SD) for CA80COD

Reagents/standard solutions/cleaner for analyzer

CY80COD-CC+T8 (Bulgaria)

Standard solution COD 1500 mg/l O2

Reagents/standard solutions/cleaner for analyzer

CY80COD-CC+SD (France)

Reagent set (SD) for CA80COD

Reagents/standard solutions/cleaner for analyzer

CY80COD-CC+T8 (New Zealand)

Standard solution COD 1500 mg/l O2

Reagents/standard solutions/cleaner for analyzer

CY80COD-CC+SD (Lithuania)

Reagent set (SD) for CA80COD

Reagents/standard solutions/cleaner for analyzer

CY80COD-CC+TW (Saudi Arabien)

Standard solution for CA80COD, COD-O2 500mg/L

Reagents/standard solutions/cleaner for analyzer

CY80COD-CC+T8 (Slovakia)

Standard solution COD 1500 mg/l O2

Reagents/standard solutions/cleaner for analyzer

CY80COD-CC+T6 (Hungary)

Standard solution COD 0 mg/l O2

Reagents/standard solutions/cleaner for analyzer

CY80COD-CC+SD (Mexico)

Reagent set (SD) for CA80COD

Reagents/standard solutions/cleaner for analyzer

CY80COD-CC+T8 (Ukraine)

Standard solution COD 1500 mg/l O2

Reagents/standard solutions/cleaner for analyzer

CY80COD-CC+TW (Slovakia)

Standard solution for CA80COD, COD-O2 500mg/L

Reagents/standard solutions/cleaner for analyzer

CY80COD-CC+SD (Greece)

Reagent set (SD) for CA80COD

Reagents/standard solutions/cleaner for analyzer

CY80COD-CC+SD (Poland)

Reagent set (SD) for CA80COD

Reagents/standard solutions/cleaner for analyzer

CY80COD-CC+SD (Netherlands)

Reagent set (SD) for CA80COD

Reagents/standard solutions/cleaner for analyzer

CY80COD-CC+SD (South Korea)

Reagent set (SD) for CA80COD

Reagents/standard solutions/cleaner for analyzer

CY80COD-CC+TW (Belgium (Dutch))

Standard solution for CA80COD, COD-O2 500mg/L

Reagents/standard solutions/cleaner for analyzer

CY80COD-CC+T8 (Poland)

Standard solution COD 1500 mg/l O2

Reagents/standard solutions/cleaner for analyzer

CY80COD-CC+T8 (Hungary)

Standard solution COD 1500 mg/l O2

Reagents/standard solutions/cleaner for analyzer

CY80COD-CC+T8 (Norway)

Standard solution COD 1500 mg/l O2

Reagents/standard solutions/cleaner for analyzer

CY80COD-CC+TW (Canada (French))

Standard solution for CA80COD, COD-O2 500mg/L

Reagents/standard solutions/cleaner for analyzer

CY80COD-CC+T8 (United Kingdom)

Standard solution COD 1500 mg/l O2

Reagents/standard solutions/cleaner for analyzer

CY80COD-CC+T8 (Greece)

Standard solution COD 1500 mg/l O2

Reagents/standard solutions/cleaner for analyzer

CY80COD-CC+T8 (Switzerland (Italian))

Standard solution COD 1500 mg/l O2

Reagents/standard solutions/cleaner for analyzer

CY80COD-CC+T8 (Belgium)

Standard solution COD 1500 mg/l O2

Reagents/standard solutions/cleaner for analyzer

CY80COD-CC+T6 (United Arab Emirates)

Standard solution COD 0 mg/l O2

Reagents/standard solutions/cleaner for analyzer

CY80COD-CC+SD (Romania)

Reagent set (SD) for CA80COD

Reagents/standard solutions/cleaner for analyzer

CY80COD-CC+SD (Saudi Arabien)

Reagent set (SD) for CA80COD

Reagents/standard solutions/cleaner for analyzer

CY80COD-CC+T8 (Italy)

Standard solution COD 1500 mg/l O2

Reagents/standard solutions/cleaner for analyzer

CY80COD-CC+T8 (Netherlands)

Standard solution COD 1500 mg/l O2

Reagents/standard solutions/cleaner for analyzer

CY80COD-CC+SD (Czech Republic)

Reagent set (SD) for CA80COD

Reagents/standard solutions/cleaner for analyzer

CY80COD-CC+TW (Switzerland)

Standard solution for CA80COD, COD-O2 500mg/L

Reagents/standard solutions/cleaner for analyzer

CY80COD-CC+TW (Malta)

Standard solution for CA80COD, COD-O2 500mg/L

Reagents/standard solutions/cleaner for analyzer

Viomax, UV, Turbimax, TURBIDITY AND TOTAL SUSPENDED SOLIDS, TOCII, Stip-Scan, Stamolys, SPECTROMETER, OxyMax W, OxyMax H, New Analyzer Platform, Liquistation M, Liquiport, Isemax, Cell growth, Absorbance

Productcode: CAS40D-, CAS51D-, CAS74-, CAS80E-, CKF50-, CKI50-, COS22D-, COS31-, COS41-, COS51D-, COS61-, COS61D-, COS81D-, CSF48-, CSP44-, CUS50D-, CUS51D-, CUS52D-, CVF52-, CVI52-, OUSAF11-, OUSAF12-, OUSAF21-, OUSAF22-, OUSAF46-, OUSBT66-, OUSTF10-, CAM74-, CA71AL-, CA71AM-, CA71CL-, CA71COD-, CA71CR-, CA71CU-, CA71FE-, CA71HA-, CA71HY-, CA71MN-, CA71NO-, CA71PH-, CA71SI-, CA72TOC-, CA76NA-, CA80AL-, CA80AM-, CA80COD-, CA80CR-, CA80FE-, CA80HA-, CA80MN-, CA80NO-, CA80PH-, CA80SI-, CA80TN-, CA80TP-
Regio: Russia (Declaration of Conformity)
Keurnummer: EAEC D-DE.AD07.B.01363/19

Viomax, UV, Turbimax, TURBIDITY AND TOTAL SUSPENDED SOLIDS, TOCII, Stip-Scan, Stamolys, SPECTROMETER, OxyMax W, OxyMax H, New Analyzer Platform, Liquistation M, Liquiport, Isemax, Cell growth, Absorbance

Productcode: CAM74-, CAS40D-, CAS51D-, CAS74-, CAS80E-, CKF50-, CKI50-, COS22D-, COS31-, COS41-, COS51D-, COS61-, COS61D-, COS81D-, CSF48-, CSP44-, CUS50D-, CUS51D-, CUS52D-, CVF52-, CVI52-, OUSAF11-, OUSAF12-, OUSAF22-, OUSAF46-, OUSBT66-, OUSTF10-, CA70SI-, CA71AL-, CA71AM-, CA71CL-, CA71CR-, CA71CU-, CA71FE-, CA71HA-, CA71HY-, CA71MN-, CA71NO-, CA71PH-, CA71SI-, CA72TOC-, CA76NA-, CA80AL-, CA80AM-, CA80COD-, CA80CR-, CA80FE-, CA80HA-, CA80MN-, CA80NO-, CA80PH-, CA80SI-, CA80TN-, CA80TP-
Keurnummer: EAEC RU D-DE.AD07.B.01362/19

ACCESSORIES: COLORIMETRIC, New Analyzer Platform

Productcode: CA80TP-, CA80TN-, CA80SI-, CA80PHY-, CA80PHB-, CA80PH-, CA80NO-, CA80NA-, CA80MN-, CA80HA-, CA80FE-, CA80CR-, CA80COD-, CA80AM-, CA80AL-
Software Version: 01.07

New Analyzer Platform

Productcode: CA80AL-, CA80AM-, CA80COD-, CA80CR-, CA80FE-, CA80NO-, CA80PH-, CA80PHB-, CA80PHY-, CA80TP-
Regio: International
Keuringsinstantie: PI, PROFIBUS International

Liquiport, Liquistation M, New Analyzer Platform

Productcode: CA80COD-, CA80CR-, CA80FE-, CA80NO-, CA80PH-, CA80TP-, CSF48-, CSP44-
Regio: Russia
Keuringsinstantie: Rosstandart
Keurnummer: DE.C.31.004.A_66676

New Analyzer Platform

Productcode: CA80COD-, CA80TP-
Regio: Canada, USA
Keuringsinstantie: CSA

Ordinary Location Product Safety
Accessoires / Spare parts
Maintenance booklet CA80xx for download

Reagent / Standard solution CY80COD

Reagent set, respectively standard solution, for Liquiline System CA80COD Contains dangerous goods

CAV880 Maint. kit CA80 sum parameters

CAV880 wear parts CA80 sum parameters

Safety bottle plastic black 1l

Safety bottle plastic without colour 1l

Nr

210

Order code

71431075

Kit CA80COD: waste hose

Alleen gebruiken met de nieuwe afvoerklep 71431077 Kit CA80COD: afvoerklep!

Kit CA80COD/TP: PTFE hose (5 m)

Kit CA80COD/TP: hose connectors (20 pcs)

Nr

217

Order code

71431081

Kit CA80COD/TP: dilution valve

Alleen te gebruiken met 71324153. Kit CA80COD/TP: Gefarmeerde slang (2 m)!

Nr

215

Order code

71431077

Kit CA80COD: waste valve

Alleen te gebruiken met nieuwe afvoerslang 71431075 Kit CA80COD: Gebruik de afvoerslang!

Nr

305

Order code

71272410

Kit: module ETH

Uitbreidingskaart Webserver voor Liquiline CM44x, CM44xR en CSF48. Achteraf via upgradecode uitbreidbaar naar Modbus TCP of EtherNet/IP

Kit CA80COD/TP light bar. linear drive

Kit: 1x set of terminals basic module

CM442/CM444/CM448/CSF48/CSP44

Kit: 1x klemmensetmodule AOR

CM442/CM444/CM448/CSF48

Kit: 1x set of terminals module 4R

CM442/CM444/CM448/CSF48

Kit: 1x set of terminals module 4AO

CM442/CM444/CM448/CSF48

Kit: 1x set of terminals module 2xAI,485

CM442/CM444/CM448/CSF48

Kit: 1x set of terminals module DIO

Nr

313

Order code

71127100

SD-kaart met firmware, 1GB

Industriële flitsaandrijving, Liquiline-firmware voor 4-draads platform CM442/CM444/CM448/CSF48

Kit CA80xx: 1 digitale sensoringang

Kit CA80xx: 2x digitale sensoringang

Nr

315

Order code

71111053

CM442 Extension module AOR (2R+2I)

Uitbreidingskaart bestaande uit: 2x relais, 2x 0/4...20 mA uitgang tbv CM442/CM444/CM448/CSF48

Nr

316

Order code

71125375

CM442 Extension module 2R (2 x Relay)

Uitbreidingskaart bestaande uit: 2x relais tbv CM442/CM444/CM448/CSF48

Nr

317

Order code

71125376

CM442 Extension module 4R (4x Relay)

Uitbreidingskaart bestaande uit: 4x relais tbv CM442/CM444/CM448/CSF48

Nr

318

Order code

71135632

Kit: module 2AO

Uitbreidingskaart bestaande uit: 2x 0/4...20mA uitgang tbv CM442/CM444/CM448/CSF48

Nr

319

Order code

71135633

Kit: module 4AO

Uitbreidingskaart bestaande uit: 4x 0/4...20mA uitgang tbv CM442/CM444/CM448/CSF48

Nr

320

Order code

71135634

Kit: module 485

Uitbreidingskaart bestaande uit: Ethernet configuratie. Vervolgens wijzigbaar mbv code naar Profibus DP of Modbus RS485 of Modbus TCP tbv CM442/CM444/CM448/CSF48

Nr

323

Order code

71135631

Kit: module 2DS

Uitbreidingskaart bestaande uit: 2x digitale Memosens-ingangen tbv CM442/CM444/CM448/CSF48

Nr

324

Order code

71135638

Kit: module DIO

2x digital in, 2x digital out CM442/CM444/CM448/CSF48

Nr

305

Order code

71279809

Upgrade Kit: Modul ETH + Modbus TCP

(+Webserver) CM442/CM444/CM448/CSF48 CM442R/CM444R/CM448R

Nr

305

Order code

71279812

Upgrade Kit: Modul ETH + EtherNet/IP

(+Webserver) CM442/CM444/CM448/CSF48 CM442R/CM444R/CM448R

Nr

320

Order code

71140888

Upgrade Kit: Module 485 + Profibus DP

(+Ethernet configuratie) CM442 / CM444 / CM448 / CSF48

Nr

320

Order code

71140889

Upgrade Kit: Module 485 + Modbus RS485

(+Ethernet configuratie) tbv Liquiline transmitters: CM442/CM444/CM448 of Liquistation CSF48

Upgrade code: Modbus TCP f.module ETH

Enter this code to change active fieldbus protocol to Modbus TCP (provide serial number of device) CM442/CM444/CM448/CSF48 CM442R/CM444R/CM448R

Upgrade code: EtherNet/IP for module ETH

Enter this code to change active fieldbus protocol to EtherNet/IP (provide serial number of device) CM442/CM444/CM448/CSF48 CM442R/CM444R/CM448R

Upgrade code: Profibus DP f. module 485

Enter this code to change active fieldbus protocol to Profibus DP (provide serial number of device) CM442 / CM444 / CM448 / CSF48

Upgrade code: Modbus RS 485 f.module 485

Enter this code to change active fieldbus protocol to Modbus RS485 (provide serial number of device) CM442 / CM444 / CM448 / CSF48 CM442R / CM444R / CM448R

Upgrade code: EtherNet/IP f.module 485

Enter this code to change active fieldbus protocol to EtherNet/IP (provide serial number of device) CM442/CM444/CM448/CSF48 CM442R/CM444R/CM448R

Nr

321

Order code

71141366

Kit module extention backplane

CM444/CM448/CSF48

Nr

322

Order code

71135639

Kit: module 2AI

Uitbreidingskaart bestaande uit: 2x 0/4...20mA ingang tbv CM442/CM444/CM448/CSF48