1-kanaals transmitter
Liquiline M CM42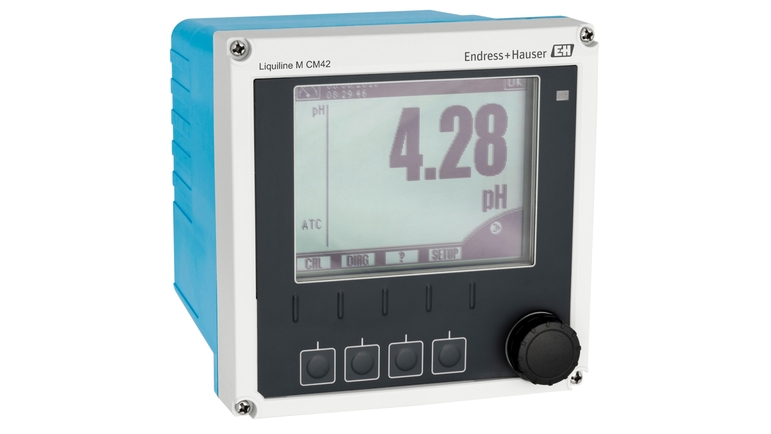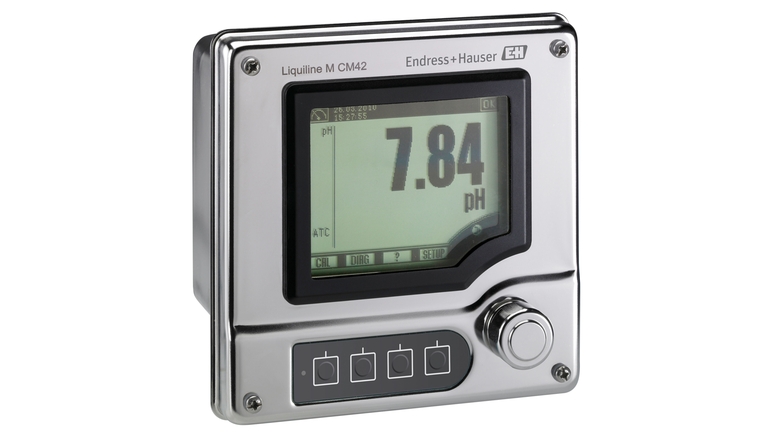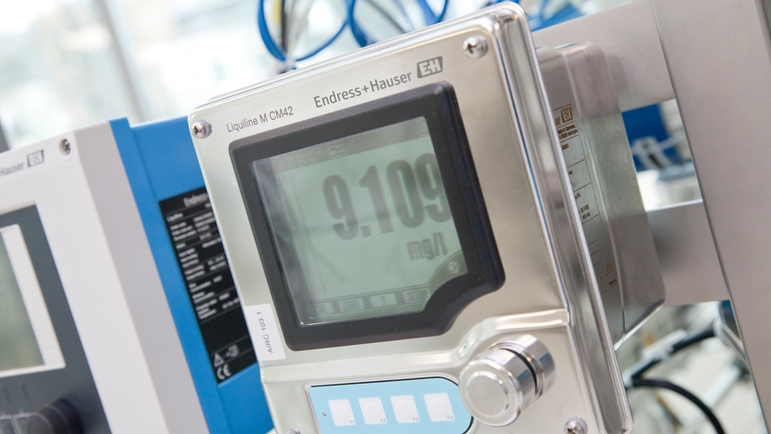 Tweedraads procesinstrument voor gebruik in gevaarlijke en niet-gevaarlijke omgevingen
De Liquiline M CM42 is een robuuste transmitter voor pH-/ORP-, geleidbaarheids- en zuurstofmetingen. Dit instrument is perfect voor veeleisende omgevingen, zoals hygiënische of gevaarlijke omgevingen of omgevingen waar hoge eisen worden gesteld aan de functionele veiligheid. Dankzij het intuïtieve bedieningsconcept van de Liquiline is de inbedrijfstelling, de bediening en het onderhoud zeer eenvoudig. Doordat u eenvoudig van de ene naar de andere parameter kunt overschakelen en het instrument naadloos in het systeem kunt integreren, kunt u het instrument volledig aan uw meettaak aanpassen.
Eenvoudige producten

Gemakkelijk te selecteren, installeren en gebruiken
Technische topkwaliteit
Eenvoud
Standaardproducten

Betrouwbaar, robuust en onderhoudsarm
Technische topkwaliteit
Eenvoud
High-end producten

Functioneel en uiterst doelmatig
Technische topkwaliteit
Eenvoud
Gespecialiseerde producten

Ontworpen voor veeleisende applicaties
Technische topkwaliteit
Eenvoud
FLEX selectie
Technische topkwaliteit
Eenvoud

Fundamental selectie

Voldoe aan uw basismeetvoorwaarden

Technische topkwaliteit

Eenvoud

Lean selectie

Beheers eenvoudig uw belangrijkste processen

Technische topkwaliteit

Eenvoud

Extended selectie

Optimaliseer uw processen met innovatieve technologieën

Technische topkwaliteit

Eenvoud

Xpert selectie

Beheers uw meest uitdagende applicaties

Technische topkwaliteit

Eenvoud
Overzicht specificaties

Input

One or two channel transmitter (with one reference connection)

Output

1/2 x 4 to 20 mA, HART, Profibus PA, FF
Additional second output possible, also later

Ingres protection
Loading alternative products
Snelle selectie
Kies uit één van de voorgestelde opties
Individuele configuratie
Ga verder met uw keuze uit alle mogelijke opties
Voordelen

Eenvoudige inbedrijfstelling met snelle installatie en navigatie

De Memosens-technologie maakt plug & play mogelijk met vooraf gekalibreerde Memosens-sensoren

Compact modulair ontwerp

Voorspellend-onderhoudssysteem detecteert wanneer een sensor moet worden...
Toepassingsgebied

De Liquiline CM42-transmitter is geschikt voor alle procestoepassingen, bijvoorbeeld in de volgende industrieën:

Chemie

Voedingsmiddelen & drank

Life sciences

Elektriciteit & energie

Olie & gas

Primaries & metaal

De Liquiline CM42 bevat de volgende protocollen...
Documenten / handleidingen / software
Accessoires / Spare parts
For repair of devices with ex-approval

please contact your local

E+H Sales- and serviceorganisation

Nr

14

Order code

51517504

Kit CM42: Kabelwartels M20 PC/SS

De kit kan worden gebruikt voor apparaten met polyethyleen carbonaat (PC)-behuizing en voor apparaten met roestvrijstalen (SS) behuizing.

Nr

14

Order code

51517505

Kit CM42: Kabelwartels NPT1/2" PC/SS

De kit kan worden gebruikt voor apparaten met polyethyleen carbonaat (PC) behuizing en voor apparaten met roestvrijstalen (RVS) behuizing.

Nr

14

Order code

51517506

Kit CM42: Kabelwartels G 1/2" PC

Gebruik deze kit alleen voor apparaten met een polyethyleen carbonaat (PC)-behuizing en niet voor apparaten met roestvrijstalen (SS) behuizing.

Nr

14

Order code

71426655

Kit CM42: Kabelwartels G 1/2" SS

Gebruik deze kit alleen voor apparaten met roestvrijstalen (RVS) behuizing en niet voor apparaten met een behuizing van poly carbonaat (PC).

Pijpmontagekit CM42 RVS

Toepassing: CM42 roestvrij staal Buisdiameter 20-61 mm horizontale, verticale montage Materiaal: roestvrij staal

Pijpmontagekit CM42 PC

Toepassing: CM42 Polycarbonaat Pijp diameter: 20-61 mm Horizontaal, verticale mounting Materiaal: roestvrij staal, poedergecoat

Spare RFID TAG

Consists of: RFID TAG, fixing wire, crimp sleeve.

Beschermingskap 253x228 mm, Polycarb.

Toepassing: Liquiline CM42 Materiaal: Polycarbonaat

Weather protection cover CYY101

Toepassing: CYH101/CYH112 houder

PANEELINBOUWKIT 138X138MM (RVS)

Toepassing: CM42 roestvrij staal Voor uitsparing 138 x 138 mm 5,44 x 5,44 inch

PANEELINBOUWKIT 138X138MM POLYCARB.

Toepassing: CM42 Polycarbonaat Voor uitsparing 138 x 138 mm 5,44 x 5,44 inch