MLTTS00
Modular thermometer with RTD or TC insert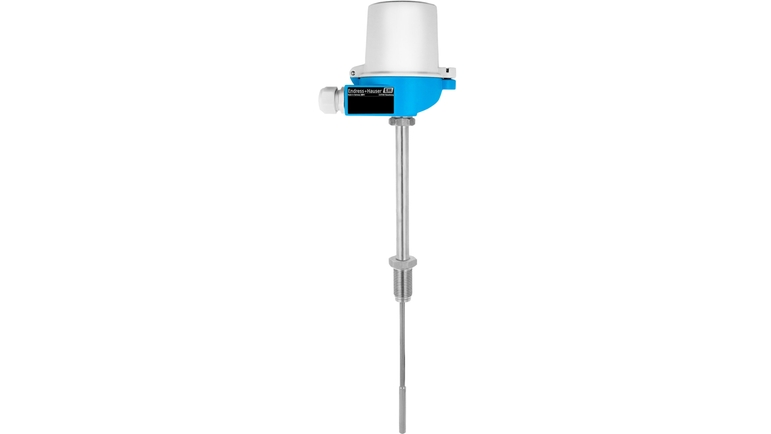 Designed for use in the Oil & Gas industry. For installation in already existing thermowells
The modular and robust thermometer finds its use in applications for the Oil & Gas industry but also in almost all industries. An optional head transmitter, with all common communication protocols, makes the device ready to use with enhanced measurement accuracy and reliability compared to directly wired sensors. The thermometer can be ordered either with resistance (RTD) or with thermocouple (TC) insert.
Snelle selectie
Kies uit één van de voorgestelde opties
Individuele configuratie
Ga verder met uw keuze uit alle mogelijke opties
Voordelen

High degree of flexibility thanks to modular design with standard terminal heads as per DIN EN 50446 and customer-specific immersion lengths

Types of protection for use in hazardous locations: Intrinsic Safety (Ex ia)
Toepassingsgebied

Designed for use in the Oil & Gas industry with universal range of application:

Suitable for installation in already existing thermowells

Measuring range: Resistance insert (RTD) –50 to +500 °C (–58 to +932 °F), thermocouple (TC): –40 to +1 100 °C (–40...
Documenten / handleidingen / software
MLTTS00 Technical Information

Modular thermometer for use in the Oil & Gas industry, RTD- or
TC-insert, selectable

Technische informatie (TI)

RTD-thermometer, Process TC Heavy duty, Process TC General purpose, Process TC Explosion proof, Process TC direct in contact, Process TC Direct contact, Process RTD Hygienic, Process RTD Heavy duty, Process RTD General purpose, Process RTD Explosion proof, Process RTD direct in contact, Process RTD Direct contact, Plugs RTD direct contact, Magphant, Low cost RTD General purpose, Industrial Modular Thermometer

Productcode: TR15-, TR13-, TR12-, TR11-, TR10-, TMT470L-, TMT162R-, TMT162C-, TMT142R-, TMT142C-, TMR35L-, TMR35-, TMR31L-, TMR31-, TM411-, TM401-, TH56-, TH55-, TH54-, TH53-, TH52-, TH51-, TR24-, TTR35-, TTR31-, TST90-, TST602-, TST487-, TST434-, TST41N-, TST414-, TST410-, TST40N-, TST310-, TST187-, TSM487-, TSM187-, TSC310-, TR88-, TR66-, TR65-, TR63-, TR62-, TR61-, TR25-, TH27-, T55-, T54-, T53-, T15-, T14-, T13-, OTR96-, OTR95-, OTR94-, OTR93-, OTR92-, OTR91-, OTR90-, OTR35-, OTR31-, MLTTS01-, MLTTS00-, GPTL-, DTT35L-, DTT35-, DTT31L-, DTT31-, TAF11-, TH18-, TH17-, TH15-, TH14-, TH13-, TH12-, TH11-, TEC420-, TC88-, TC66-, TC65-, TC63-, TC62-, TC61-, TC15-, TC13-, TC12-, TC10-, TAF16-, TAF12T-, TAF12S-, TAF12D-
verklaring Number: EC_00568_01.17
Accessoires / Spare parts
Spare parts kit ring D21/di 10xgreen,10p

Verpakkingseenheid: 10 stuks

Extension cable TC IEC 2x type K

L=180mm, 3 stuks

Meetinzet TPC100

Thermokoppel meetinzet, diam. 3 of 6mm, isolatie MgO, RVS mantel. Opbouw conform EN 60584, DIN 43735, ANSI MC96.1. Warme las geïsoleerd of geaard. Meetbereik type J: -40...750°C Meetbereik type K: -40...1100°C

Insert iTHERM TS111

Vervangbaar, metrische versie volgens DIN43735.

Extension neck for thermowell TN15

Gelaste nekconstructie van pijpmateriaal.

iTEMP TMT82, Transmitter HART

2-draads temperatuurtransmitter. Dubbele universele sensoringang. Galvanische scheiding 2 kV (input/ output). Toepassing: RTD, TC, Ohm en mV. :: Zeer betrouwbaar door drift detectie en sensor back-up. :: Optioneel ook voor veiligheidskritieke applicaties door middel van SIL 2/3 acc. naar IEC61508

iTEMP TMT84, Transmitter PA

PROFIBUS PA temperatuur transmitter voor kop- of veldmontage met dubbele sensoringang en advanced diagnostics voor sensorbewaking. Profibus PA Profile 3.02. Galvanische isolatie 2kV. Stroomverbruik: 11 mA. Montage: aansluitkop vorm B, DIN EN50446. Standaard fabrieksinstelling: Kanaal 1: Pt100, 3-draads, oC. kanaal 2: inactief. Meerdere configuraties selecteerbaar.

iTEMP TMT85, Transmitter FF

FOUNDATION Fieldbus temperatuur transmitter voor kop- of veldmontage met dubbele sensoringang en advanced diagnostics voor sensorbewaking. Galvanische isolatie 2 kV Meetsignaal: RTD, TC, Ohm, mV. Stroomverbruik: 11 mA.

iTEMP TMT182, koptransmitter HART

Temperatuurtransmitter, Protocol HART. Toepassing: RTD, TC, TC, Ohm, mV. 2-draads 4-20mA, SIL2, galvanische isolatie. Foutreactie: NAAM NE 43. Montage: kopvorm B, DIN EN50446. UL vermeld.