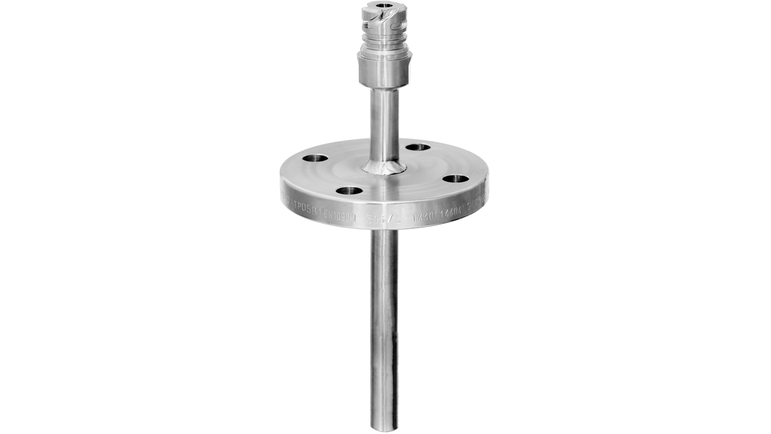 Welded thermowell for a variety of industrial applications
This thermowell designed according to DIN 43772 guarantees a high resistance to most industrial process environments. It is made from pipe or tube and is available in a wide range of diameters and materials. A specially designed thermowell tip ensures fast response times for a more efficient process control. Oversheaths in PTFE or tantalum can withstand extremely corrosive process conditions. It is offered with a variety of process connections: flanges, threads, weld-in or compression fittings.
Eenvoudige producten

Gemakkelijk te selecteren, installeren en gebruiken
Technische topkwaliteit
Eenvoud
Standaardproducten

Betrouwbaar, robuust en onderhoudsarm
Technische topkwaliteit
Eenvoud
High-end producten

Functioneel en uiterst doelmatig
Technische topkwaliteit
Eenvoud
Gespecialiseerde producten

Ontworpen voor veeleisende applicaties
Technische topkwaliteit
Eenvoud
FLEX selectie
Technische topkwaliteit
Eenvoud

Fundamental selectie

Voldoe aan uw basismeetvoorwaarden

Technische topkwaliteit

Eenvoud

Lean selectie

Beheers eenvoudig uw belangrijkste processen

Technische topkwaliteit

Eenvoud

Extended selectie

Optimaliseer uw processen met innovatieve technologieën

Technische topkwaliteit

Eenvoud

Xpert selectie

Beheers uw meest uitdagende applicaties

Technische topkwaliteit

Eenvoud
Overzicht specificaties

Max. process pressure (static)

Depending on configuration up to 100 bar

Maximum standard immersion length

Max. immersion length on request
Snelle selectie
Kies uit één van de voorgestelde opties
Individuele configuratie
Ga verder met uw keuze uit alle mogelijke opties
Voordelen

Modular configuration according to DIN 43772

iTHERM QuickNeck: cost and time savings thanks to simple, tool-free recalibration of the insert

Extension, immersion length and total length can be chosen according to process requirements

Wide choice of...
Toepassingsgebied

Protects the temperature sensor against physical and chemical stress

High robustness for challenging process conditions

Pressure range: up to 100 bar (1450 psi)

For use in pipes, containers or tanks

Improved ease of maintenance (sensor replacement without...
Documenten / handleidingen / software
Accessoires / Spare parts