EngyCal RS33
Steam calculator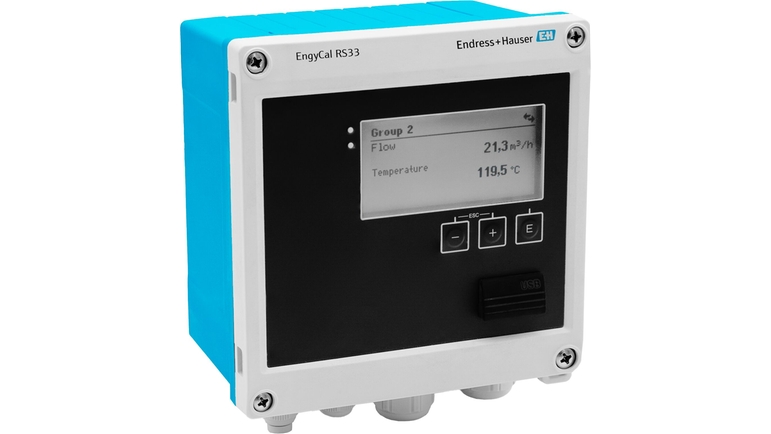 Steam calculator for recording steam mass and energy flow for saturated or superheated steam
The steam calculator EngyCal RS33 is used to record steam mass and energy flow of saturated and superheated steam. The calculation is based on the measured process variables volume flow, temperature and/or pressure.
The EngyCal RS33 uses the standard IAPWS IF97 to calculate the mass and energy flow of steam. The density and enthalpy of the steam are calculated from the input variables pressure and temperature.
Snelle selectie
Kies uit één van de voorgestelde opties
Individuele configuratie
Ga verder met uw keuze uit alle mogelijke opties
Voordelen

Compensation of differential pressure flow measurement

Calculation according to international water steam tables

Electronic matching of the temperature sensor (sensor-transmitter matching) with the arithmetic unit enables highly accurate temperature...
Toepassingsgebied

Recording and billing energy quantities in steam applications (steam heat quantity, steam heat differential). Typical applications include:

Food industry

Chemical industry

Pharmaceutical industry

Power plants

Building systems and plant engineering
Documenten / handleidingen / software
Accessoires / Spare parts
Terminal strip 3 pole FMC1,5/3-ST-3,5

Voor digitaal I/O en RS485

Nr

8

Order code

XPR0001-KA

Nr

8

Order code

XPR0001-KB

Nr

8

Order code

XPR0001-KC

Nr

8

Order code

XPR0001-KD

Field Data Manager Software MS20

Visualisatie software en database voor visualisatie van historische gegevens als gemeten waarden, kalibratie of configuratie. Manipulatie beschermde SQL-database, grafische visualisatie, tafels voor meetwaarden, alarmen of gebeurtenissen, online help, gebruikersbeheer, Automatisch uitlezen van de gegevens op het apparaat. Automatische data export in verschillende formaten of in beveiligde formaat voor back-up of vermindering van de database. Notitie: Alleen de versie FDM essentiële ondersteunt RSG30, RSG35, RSG 40 alsook RSG 45 en heeft een beperkte functionaliteit.