Memograph M RSG45
geavanceerde datamanager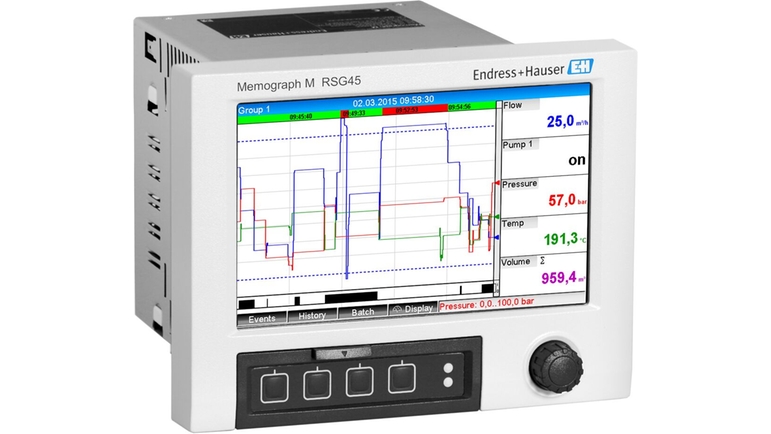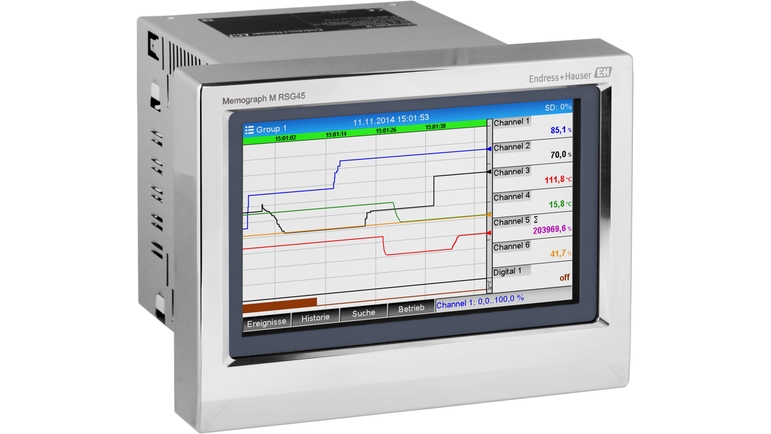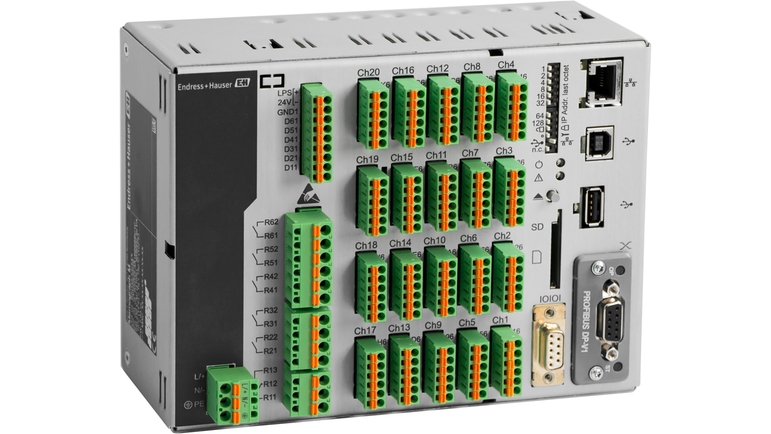 Bespaart, visualiseert, analyseert en communiceert
De geavanceerde datamanager is een flexibel en krachtig systeem voor het organiseren van proceswaarden. Dankzij de intuïtieve bediening past de Memograph M zich snel en eenvoudig aan elke toepassing aan. De proceswaarden worden duidelijk weergegeven op het display en veilig vastgelegd, limieten worden bewaakt en geanalyseerd. Via communicatieprotocollen kunnen de gemeten en berekende waarden gemakkelijk worden gecommuniceerd naar bovenliggende systemen en kunnen installatiemodules met elkaar worden verbonden. Ook leverbaar als DIN-rail uitvoering zonder display.
Eenvoudige producten

Gemakkelijk te selecteren, installeren en gebruiken
Technische topkwaliteit
Eenvoud
Standaardproducten

Betrouwbaar, robuust en onderhoudsarm
Technische topkwaliteit
Eenvoud
High-end producten

Functioneel en uiterst doelmatig
Technische topkwaliteit
Eenvoud
Gespecialiseerde producten

Ontworpen voor veeleisende applicaties
Technische topkwaliteit
Eenvoud
FLEX selectie
Technische topkwaliteit
Eenvoud

Fundamental selectie

Voldoe aan uw basismeetvoorwaarden

Technische topkwaliteit

Eenvoud

Lean selectie

Beheers eenvoudig uw belangrijkste processen

Technische topkwaliteit

Eenvoud

Extended selectie

Optimaliseer uw processen met innovatieve technologieën

Technische topkwaliteit

Eenvoud

Xpert selectie

Beheers uw meest uitdagende applicaties

Technische topkwaliteit

Eenvoud
Overzicht specificaties

Input

20 analog (max) (U, I, TC, RTD, frequency, pulse)
20 HART (max) (HART, 4…20mA)
14 digital (max) (control, event and counting inputs)

Output

12 relays (max)
2 analog (max) (I, pulse)
1 transmitter power supply

Display

TFT 7" colour graphic display
TFT 7" colour graphic display with touch panel

Storage/Recording

internal memory
SD card
USB flash drive

Calculations

Mass/heat quantity
heat quantity difference
Loading alternative products
Snelle selectie
Kies uit één van de voorgestelde opties
Individuele configuratie
Ga verder met uw keuze uit alle mogelijke opties
Aanvullende componenten
RIA16
lusgevoede indicator

Uitstekend afleesbare indicatie van een 4-20 mA-signaal met trendstaafdiagram voor een beter procesoverzicht
Voordelen

Hoge mate van gegevensbeveiliging: fraudebestendige gegevensopslag en gepersonaliseerde toegangsautorisatie met elektronische handtekening (FDA 21 CFR 11)

HART-ingangskaart: direct aangesloten HART-sensoren zorgen voor nauwkeurige proceswaarden voor...
Toepassingsgebied

De oplossing voor al uw taken. Bijvoorbeeld voor:

Procesmeettechnologie

Elektriciteitscentrales en energievoorziening

Stoomketelbewaking/berekening stoomketelefficiëntie

Voedingsmiddelenindustrie en farmaceutische industrie

Installatie- en instrumentenbouw,...
Documenten / handleidingen / software
Accessoires / Spare parts
Jack screw short (1 piece)

Memorycard SD 1GB, industrial

Nr

E

Order code

XPR0011-A2

Nr

E

Order code

XPR0011-A3

Terminal strip 6 pole FMC1,5/6-ST-3,5

voor analoge ingang

Terminal strip 4pole FMC1,5/4-ST-3,5

Memograph M: voor analoge uitgang (op digitaal I/O kaart) RIA45 voor analoog input niet Ex CM14 (tbv Memosens ingang)

Terminal strip 10 pole FMC1,5/10-ST-3,5

voor digitale input op digitaal I/O bord

Terminal strip 9 pole FMC1,5/9-ST-3,5

voor digitale ingang op voedingskaart

Terminal strip 3 pole FKC2,5/3-ST-5,08

voor relais 1 + 2 (twee richtingen)

Terminal strip 4 pole FKC2,5/4-ST-5,08

voor relais 2+3 en relais op digitale I/O-kaart

Terminal strip 6 pole FKC2,5/6-ST-5,08

voor relais 4 + 5 + 6 op voeding boord

Terminal plug 3pole "N L PE" pitch 5.08

for power supply from unit No. DB001004267 orange coloured connector

Terminal plug 3pole "N L PE" pitch 5.08

Nr

G

Order code

XPR0011-NA

Nr

G

Order code

XPR0011-NB

Nr

G

Order code

XPR0011-NC

Nr

G

Order code

XPR0011-ND

Nr

H

Order code

XPR0011-A4

Nr

H

Order code

XPR0011-A6

Connection board backside DIN rail

PROFIBUS DP-Slave Modul RSG45

voor uitbreidingssleuf achterpaneel

EtherNet/IP I/O adapter (slave) RSG45

voor uitbreidingssleuf achterpaneel

PROFINET I/O Modul V1.16 RSG45 < V2.04

voor uitbreidingsslot achterpaneel

PROFINET I/O Modul V1.38 RSG45 V2.04.xx

V2.04.xx en hoger voor achterpaneel van uitbreidingssleuf

Field Data Manager Software MS20

Visualization software and database for visualization of historical data like measured values, calibration or configuration. Manipulation protected SQL database, graphical visualization, tables for measured values, alarms or events, online help, user administration, Automatic read out of device data. Automatic data export in various formats or in secured format for backup or reduction of database. Note: The version FDM essential only supports RSG30, RSG35, RSG40 as well as RSG45 and has a restricted functionality.

Software RSG45 (release code) XPR0012