Overzicht voordelen
Het paneel bevat alle noodzakelijke sensoren, transmitter en armatuur voor het meten van vrij chloor samen met de pH voor compensatie. Het paneel levert betrouwbare bewaking van zwem- en proceswater alsmede utiliteiten voor elke industrie.
Het is volledig gemonteerd en getest, inclusief halfgeleidende componenten. Alles wat u nog moet doen is aansluiten op de medialeiding en beginnen met meten.
Dit betekent eenvoudiger plannen, sneller in bedrijf stellen en verbeterde beveiliging bij het selecteren van de meettechnologie.

Eenvoudige installatie en inbedrijfstelling

Monteer de oplossing, sluit deze aan op voeding en water, en u bent operationeel.

Eenvoudig en veilig

De Memosens-sensoren voor vrij chloor en pH zijn vooraf gekalibreerd en klaar voor gebruik. De contactloze, inductieve signaaloverdracht elimineert alle problemen die het gevolg zijn van vocht, temperatuur of EMC-storingen.

Betrouwbare medium flow en meting

De Flowfit CYA27-armatuur met geïntegreerde flowbewaking zorgt ervoor dat uw meting altijd operationeel is.

Flexibiliteit voor toekomstige eisen

Het modulaire ontwerp van de armatuur biedt de optimale flexibiliteit voor het upgraden van uw meetpunten met opgeloste zuurstof, ORP of geleidbaarheid tot 6 variabelen, voor een perfecte aanpassing aan uw proceseisen.
Overzicht van bundel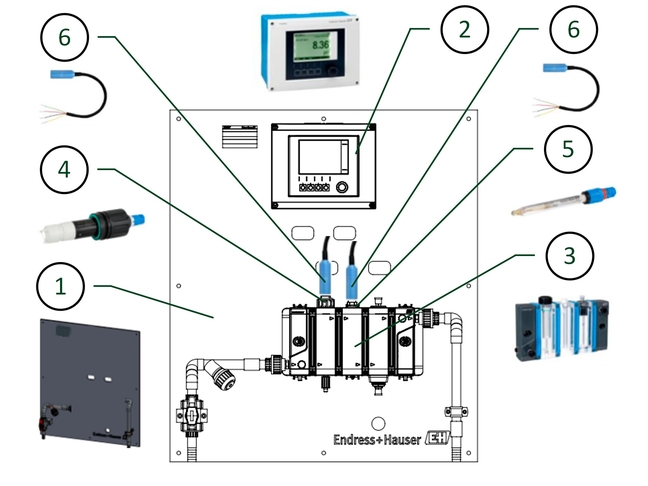 Componenten en preconfiguratie
Om de compatibiliteit van de componenten met elkaar te waarborgen, zijn er bepaalde fixaties. Open parameters geeft u de keuze van een individuele configuratie.

Componenten kunnen worden geconfigureerd in de bundel in het winkelwagentje

1

Technical Special Product Analysis CSOL

>>Parameter, transmitter:

2

1-/2-kanaals transmitter
Liquiline CM442

2x digital input, 2x digital output

3

Flow assembly for multi-parameter measurements Flowfit CYA27

CYA27-AA1A12A10AAAAAAAAAAAAA1

>30 l/h (standaard flowinstelling)

Materiaalmodule/afdichtingen:

Desinfectie + pH + flow indicatie

4

Digitale sensor voor vrij chloor
Memosens CCS51D

Niet gevaarlijk gebied + UKCA Markering

5

Digitale pH-sensor
Memosens CPS31E

Basis versie, nulpunt pH 7,0 temperatuur sensor NTC 30k

1–12 pH, -15…80°C, 0,8…4 bar (abs)

1 keramisch diafragma, zoutvoorraad, verzadigd KCl, Ag/AgCl

6

Digitale meetkabel
CYK10

Losse aders (met eindhuls)
Eenvoudige producten

Gemakkelijk te selecteren, installeren en gebruiken
Technische topkwaliteit
Eenvoud
Standaardproducten

Betrouwbaar, robuust en onderhoudsarm
Technische topkwaliteit
Eenvoud
High-end producten

Functioneel en uiterst doelmatig
Technische topkwaliteit
Eenvoud
Gespecialiseerde producten

Ontworpen voor veeleisende applicaties
Technische topkwaliteit
Eenvoud
FLEX selectie
Technische topkwaliteit
Eenvoud

Fundamental selectie

Voldoe aan uw basismeetvoorwaarden

Technische topkwaliteit

Eenvoud

Lean selectie

Beheers eenvoudig uw belangrijkste processen

Technische topkwaliteit

Eenvoud

Extended selectie

Optimaliseer uw processen met innovatieve technologieën

Technische topkwaliteit

Eenvoud

Xpert selectie

Beheers uw meest uitdagende applicaties

Technische topkwaliteit

Eenvoud