Multichannel transmitter
Liquiline CM44P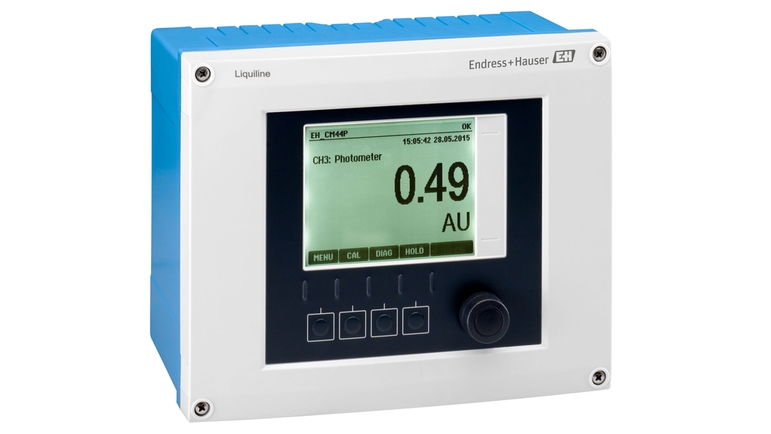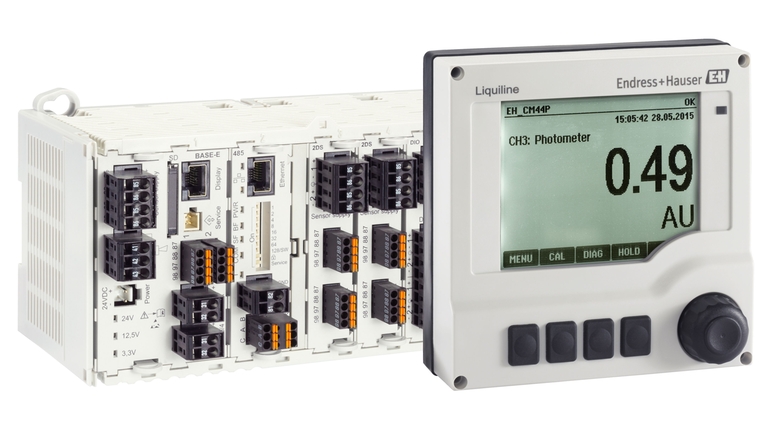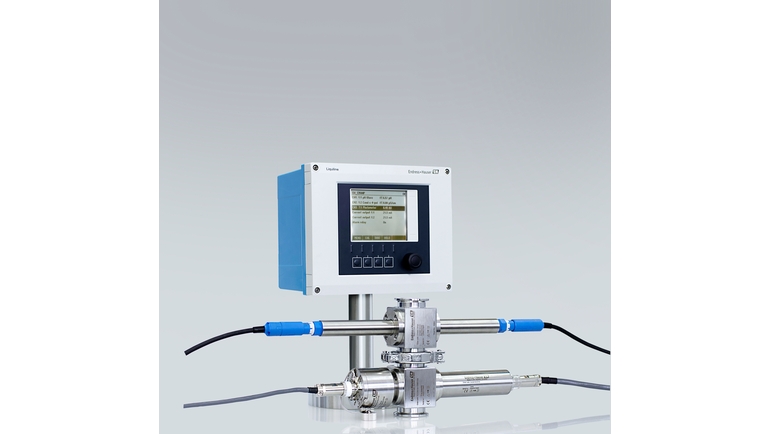 Multiparameter device for process photometers and Memosens sensors
Liquiline CM44P is the first transmitter that gives you the opportunity of combining process photometers and Memosens sensors. It facilitates the setup of complete measuring points for monitoring processes such as chromatography, fermentation, phase separation and filtration. The transmitter saves time and money by offering seamless system integration, simple operation and a reduced need for spare part stock. Liquiline CM44P brings all benefits of the Liquiline platform to process photometers.
Snelle selectie
Kies uit één van de voorgestelde opties
Individuele configuratie
Ga verder met uw keuze uit alle mogelijke opties
Voordelen

Intelligent design: One controller for all parameters including process photometers

Cost-saving and comfortable set-up of measuring points: Combine up to two process photometers and four Memosens sensors for a perfect fit to your application

Easy to...
Toepassingsgebied

Liquiline CM44P is especially suited for applications in the following industries:

Life Sciences

Food & Beverages

Chemicals

Oil & Gas

Liquiline CM44P features all common communication protocols and interfaces, such as:

0/4...20 mA

HART

PROFIBUS DP

Modbus...
Documenten / handleidingen / software
Accessoires / Spare parts
Kit base module BASE-E

2x 0/4..20 mA out, alarm relay 2x digital sensor, with connection cable CM444/CM448

Nr

14

Order code

71293900

Nr

14

Order code

71313181

Nr

14

Order code

71272410

Kit: module ETH

Uitbreidingskaart Webserver voor Liquiline CM44x, CM44xR en CSF48. Achteraf via upgradecode uitbreidbaar naar Modbus TCP of EtherNet/IP

Nr

14

Order code

71111053

CM442 Extension module AOR (2R+2I)

Uitbreidingskaart bestaande uit: 2x relais, 2x 0/4...20 mA uitgang tbv CM442/CM444/CM448/CSF48

Nr

14

Order code

71125375

CM442 Extension module 2R (2 x Relay)

Uitbreidingskaart bestaande uit: 2x relais tbv CM442/CM444/CM448/CSF48

Nr

14

Order code

71125376

CM442 Extension module 4R (4x Relay)

Uitbreidingskaart bestaande uit: 4x relais tbv CM442/CM444/CM448/CSF48

Nr

14

Order code

71135631

Kit: module 2DS

Uitbreidingskaart bestaande uit: 2x digitale Memosens-ingangen tbv CM442/CM444/CM448/CSF48

Nr

14

Order code

71135632

Kit: module 2AO

Uitbreidingskaart bestaande uit: 2x 0/4...20mA uitgang tbv CM442/CM444/CM448/CSF48

Nr

14

Order code

71135633

Kit: module 4AO

Uitbreidingskaart bestaande uit: 4x 0/4...20mA uitgang tbv CM442/CM444/CM448/CSF48

Nr

14

Order code

71135634

Kit: module 485

Uitbreidingskaart bestaande uit: Ethernet configuratie. Vervolgens wijzigbaar mbv code naar Profibus DP of Modbus RS485 of Modbus TCP tbv CM442/CM444/CM448/CSF48

Nr

14

Order code

71135639

Kit: module 2AI

Uitbreidingskaart bestaande uit: 2x 0/4...20mA ingang tbv CM442/CM444/CM448/CSF48

Nr

14

Order code

71135638

Nr

17

Order code

71155580

Kit: Connecting cable power supply

CM444/CM448

Nr

21

Order code

71222277

Kit CM444R/8R DINrail powersupply 230VAC

Nr

21

Order code

71222279

Kit CM444R/8R DINrail powersupply 24 VDC

Kit CM442: fieldhousing cover w. display

CM442/CM444/CM448

Kit: Field housing cover with navigator

w/o display module!

Nr

24

Order code

71185295

Kit: extern display, paneelmontage

Deur/paneelmontage. Kunststof. Navigator+Softkey bediening. IP66 Tbv CM442R, CM444R, CM448R. Eenvoudig te installeren, ook achteraf, middels boormal en meegeleverde kabel.

Kit CM442: power distribution terminals

CM442/CM444/CM448

Kit CM442: enclosure lower part plastic

CM442/CM444/CM448

Upgr.code:EtherNet/IP+Webserver f. BASE2

Upgr.code: Modbus TCP+Webserver f. BASE2

Upgrade code: Webserver for BASE2

Upgr.code: PROFINET+Webserver for BASE2

Nr

10,12

Order code

71101765

Kit CM442:mechanical inner housing parts

Cable mounting rail with double clamps Insert side panels CM442/CM444/CM448

Nr

15

Order code

71101768

Kit CM442: Set 6 pieces cable glands M

complete set for field housing CM442/CM444/CM448

Nr

15

Order code

71101770

Kit CM442:Set 6 pieces cable glands NPT

complete set for field housing CM442/CM444/CM448

Nr

15

Order code

71101771

Kit CM442: Set 6 pieces cable glands G

complete set for field housing CM442/CM444/CM448

Kit CM442: 6closing plugs f cable entry

CM442 / CM444 / CM448

Kit: 1x set of terminals basic module

CM442/CM444/CM448/CSF48/CSP44

Kit CM442: 1set of terminals AOR-Exten.

CM442/CM444/CM448/CSF48

Kit: 1x set of terminals module 4R

CM442/CM444/CM448/CSF48

Kit: 1x set of terminals module 4AO

CM442/CM444/CM448/CSF48

Kit: 1x set of terminals module 2xAI,485

CM442/CM444/CM448/CSF48

Kit: 1x set of terminals module DIO

Kit: Set wiring stickers CM44x modules

Kit: Set 10x hinges for housingcover

CM442/CM444/CM448

Nr

6,13

Order code

71107455

Kit CM442: set 5end and blind cover

CM442/CM444/CM448/CSF48

Nr

16

Order code

71107456

Kit CM442: M12-panel socket 6-pol.compl.

fully assembled CM442 / CM444 / CM448

Kit M12 ext.jack ProfibusDP/Modbus RS485

B-coded, fully assembled CM442/CM444/CM448/CSF48

Kit: M12 external jack for Ethernet

D-coded, fully assembled CM442/CM444/CM448/CSF48

Nr

14

Order code

71140888

Upgrade Kit: Module 485 + Profibus DP

(+Ethernet configuratie) CM442 / CM444 / CM448 / CSF48

Nr

14

Order code

71279809

Upgrade Kit: Modul ETH + Modbus TCP

(+Webserver) CM442/CM444/CM448/CSF48 CM442R/CM444R/CM448R

Nr

14

Order code

71279812

Upgrade Kit: Modul ETH + EtherNet/IP

(+Webserver) CM442/CM444/CM448/CSF48 CM442R/CM444R/CM448R

Nr

14

Order code

71293900

Nr

14

Order code

71313181

Nr

14

Order code

71272410

Kit: module ETH

Uitbreidingskaart Webserver voor Liquiline CM44x, CM44xR en CSF48. Achteraf via upgradecode uitbreidbaar naar Modbus TCP of EtherNet/IP

Nr

14

Order code

71111053

CM442 Extension module AOR (2R+2I)

Uitbreidingskaart bestaande uit: 2x relais, 2x 0/4...20 mA uitgang tbv CM442/CM444/CM448/CSF48

Nr

14

Order code

71125375

CM442 Extension module 2R (2 x Relay)

Uitbreidingskaart bestaande uit: 2x relais tbv CM442/CM444/CM448/CSF48

Nr

14

Order code

71125376

CM442 Extension module 4R (4x Relay)

Uitbreidingskaart bestaande uit: 4x relais tbv CM442/CM444/CM448/CSF48

Nr

14

Order code

71135631

Kit: module 2DS

Uitbreidingskaart bestaande uit: 2x digitale Memosens-ingangen tbv CM442/CM444/CM448/CSF48

Spare RFID TAG

Consists of: RFID TAG, fixing wire, crimp sleeve.

Nr

14

Order code

71135632

Kit: module 2AO

Uitbreidingskaart bestaande uit: 2x 0/4...20mA uitgang tbv CM442/CM444/CM448/CSF48

Nr

14

Order code

71135633

Kit: module 4AO

Uitbreidingskaart bestaande uit: 4x 0/4...20mA uitgang tbv CM442/CM444/CM448/CSF48

Nr

14

Order code

71135634

Kit: module 485

Uitbreidingskaart bestaande uit: Ethernet configuratie. Vervolgens wijzigbaar mbv code naar Profibus DP of Modbus RS485 of Modbus TCP tbv CM442/CM444/CM448/CSF48

Nr

14

Order code

71135639

Kit: module 2AI

Uitbreidingskaart bestaande uit: 2x 0/4...20mA ingang tbv CM442/CM444/CM448/CSF48

Nr

14

Order code

71135638

Nr

16

Order code

71107456

Kit CM442: M12-panel socket 6-pol.compl.

fully assembled CM442 / CM444 / CM448

Kit M12 ext.jack ProfibusDP/Modbus RS485

B-coded, fully assembled CM442/CM444/CM448/CSF48

Kit: M12 external jack for Ethernet

D-coded, fully assembled CM442/CM444/CM448/CSF48

keycode: HART

digital communication (provide serial number of device) CM442 / CM444 / CM448 / CSF48 CM442R / CM444R / CM448R

Upgradecode: 2 digital sensor inputs

(provide serial number of device) CM442 / CSF48

Upgrade code: Profibus DP f. module 485

Enter this code to change active fieldbus protocol to Profibus DP (provide serial number of device) CM442 / CM444 / CM448 / CSF48

Upgrade code: 2x 0/4..20mA Output

for module BASE-E (provide serial number of device CM444/CM448

Upgrade code: Feedforward control

Upgrade code: Feedforward control requires 0/4..20mA Input or digital communication (provide serial number of device) CM442/CM444/CM448/CSF48 CM442R/CM444R-CM448R

Upgrade code: Measuring Range Switch

Upgrade code: Measuring Range Switch requires digital Input or digital communication (provide serial number of device CM442/CM444/CM448/CSF48 CM442R/CM444R/CM448R

Upgrade code: Chemoclean Plus

requires relays or digital outputs or digital fieldbus communication and optional digital inputs (provide serial number of device) CM442/CM444/CM448/CSF48 CM442R/CM444R/CM448R

Upgrade code: Modbus TCP f.module ETH

Enter this code to change active fieldbus protocol to Modbus TCP (provide serial number of device) CM442/CM444/CM448/CSF48 CM442R/CM444R/CM448R

Upgrade code: EtherNet/IP for module ETH

Enter this code to change active fieldbus protocol to EtherNet/IP (provide serial number of device) CM442/CM444/CM448/CSF48 CM442R/CM444R/CM448R

SD-Card, 1GB, Industrial Flash Drive

.

SD-Card, 1GB, incl. CM442 firmware

Industrial Flash Drive, Liquiline firmware for 4-wire platform CM442 / CM444 / CM448 / CSF48

Weather protection cover CYY101

Toepassing: CYH101/CYH112 houder

Velco cable connector, 4 pieces

4 stuks, tbv sensorkabel

Pijpbevestigingsset voor CM442

Voor montage op ronde pijp (diameter<50 mm)

Kit: extern display, portable

Draagbaar display, inclusief kabel, voor inbedrijfname van CM442R, CM444R en CM448R IP65