Overzicht voordelen
Bewaak uw afvalwatertoepassingen betrouwbaar met de digitale Memosens 2.0-sensor CPF81E, zelfs onder zware omstandigheden in een afvalwaterzuiveringsinstallatie. Profiteer van betrouwbare metingen in abrasieve media, een maximale procesintegriteit en een eenvoudige bediening. Dankzij de grote flexibiliteit van het Liquiline transmitter-platform is het meetpunt toekomstbestendig en kan het worden aangepast aan uw behoeften.

Digitale Memosens 2.0-technologie

Eenvoudige bediening dankzij een echt plug-and-play systeem en een handig overzicht van de laatste acht kalibraties en afstellingen.

Gereed voor voorspellend onderhoud

Geavanceerde technologieën, zoals de pH-belastingsmatrix en Heartbeat Technology, maken volledig voorspellend onderhoud mogelijk. Een PLC is niet nodig bij de Liquiline-transmitter, wat maximale flexibiliteit biedt voor operators.

Flexibele aanpassing

Dankzij het modulaire montagesysteem is vrijwel elk type montage mogelijk, in open bassins of in kanalen. Het instrument kan te allen tijde worden aangepast of uitgebreid.

Geaccrediteerde productie van bufferoplossingen

NIST-traceerbare bufferoplossingen staan garant voor nauwkeurige metingen en aanpassingen en zorgen voor de beste prestaties.
Overzicht van bundel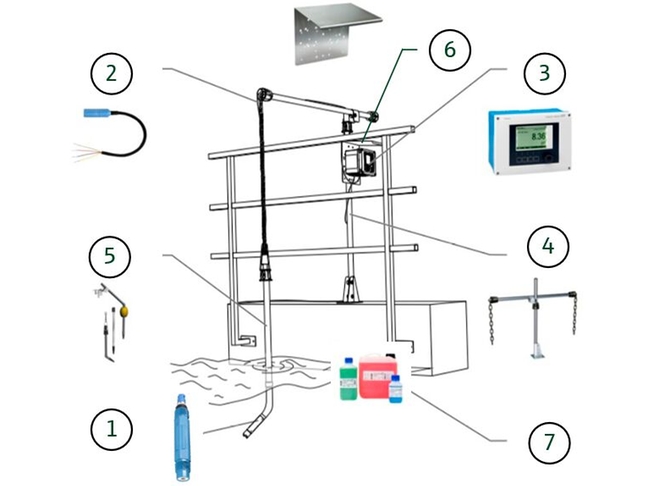 Componenten en preconfiguratie
Om de compatibiliteit van de componenten met elkaar te waarborgen, zijn er bepaalde fixaties. Open parameters geeft u de keuze van een individuele configuratie.

Componenten kunnen worden geconfigureerd in de bundel in het winkelwagentje

1

Digitale pH-sensor Memosens CPF81E

Basisversie, Procesaansluiting NPT 3/4", nulpunt pH 7,0, temperatuursensor NTC 30k

0–11 pH, 0…80°C, 0,8…11 bar (abs)

Teflon ring diafragma tweekamerbehuizing, 3 M KNO3, 3 M KCl, Ag/AgCl

23mm, bolvormig membraan, elektrode bescherming

2

3

1-/2-kanaals transmitter
Liquiline CM442

Bijgesloten (niet gemonteerd)

4

Modulair houdersysteem
Flexdip CYH112

Montage van horizontale pijp:

5

Dompelarmatuur
Flexdip CYA112


6

Weather protection cover CYY101

Roestvrijstaal 1.4301, 320x300x270mm

7

pH-buffers
CPY20


Buffer analyse certificaat
Eenvoudige producten

Gemakkelijk te selecteren, installeren en gebruiken
Technische topkwaliteit
Eenvoud
Standaardproducten

Betrouwbaar, robuust en onderhoudsarm
Technische topkwaliteit
Eenvoud
High-end producten

Functioneel en uiterst doelmatig
Technische topkwaliteit
Eenvoud
Gespecialiseerde producten

Ontworpen voor veeleisende applicaties
Technische topkwaliteit
Eenvoud
FLEX selectie
Technische topkwaliteit
Eenvoud

Fundamental selectie

Voldoe aan uw basismeetvoorwaarden

Technische topkwaliteit

Eenvoud

Lean selectie

Beheers eenvoudig uw belangrijkste processen

Technische topkwaliteit

Eenvoud

Extended selectie

Optimaliseer uw processen met innovatieve technologieën

Technische topkwaliteit

Eenvoud

Xpert selectie

Beheers uw meest uitdagende applicaties

Technische topkwaliteit

Eenvoud