Micropilot FWR30
The cloud connected radar level sensor
Plastic tanks are often located in remote locations. This causes a number of challenges for level measurement, especially when there is not just one tank, but several tanks that are widely scattered. Ideally, remote access to the tanks and the setting of specific limits is possible, which then trigger a notification.
Benefits
Full transparency in storage and transportation of liquids

Simplified solution from procurement to operations

Secure data transmission combined with a flexible, digital service portfolio

Information access from everywhere at any time
In 85% of all production plants, however, level measurement is highly complex or very time- and cost-intensive. For this reason, missing stocks are often only registered when the tank has already run empty and the production process has come to a stagnation. The Micropilot FWR30 combined with digital services is the worlds first wireless 80GHz IIoT radar sensor.
It is developed to provide all information to manage inventory in remote and mobile applications and designed to provide continuous simplicity – in purchase, installation and usage. The smart level transmitter unifies high-end technology in a cost-effective sensor. Its simplicity and the essential features safe time, ensure continuity and optimize logistics and storage processes.
Transparency at any time
The IIoT radar sensor delivers facts where previously only assumptions were possible. It combines a reliable measurement, using 80GHz radar technology and provides access to information on asset and inventory status from everywhere at any time.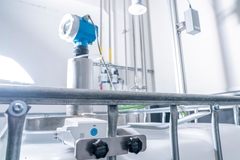 On top of that, the cloud based solution delivers information on the container location, ambient temperature, measured value history as well as battery and connectivity status. Additionally the certified Netilion cloud service follows the high level of security and data privacy requirements.
Simplicity from scratch
The Micropilot FWR30 with Netilion cloud services is designed to simplify the process – from procurement to operations. The wireless and battery powered sensor is mounted on any plastic tank in a few simple steps by the user.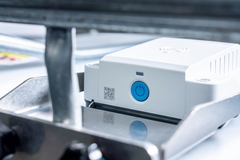 Commissioning is done by pressing a single button and without the need for sensor calibration. By scanning the QR code in the Netilion web app, the system can be used immediately. The plug and play solution is designed to fit perfectly on stackable tanks without affecting their handling.
Flexibility and scalability
Different types of digital service enable a flexible and best possible process support, depending on the requirements of each application. Everything can be accessed with Netilion Value up to Netilion Inventory and SupplyCare Hosting, using any device like smartphone, tablet or desktop computer.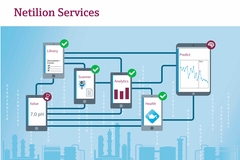 Netilion Value is a digital service for value monitoring. It provides a dashboard, values, historical data, alarming and notification, using a straightforward user interface. Smart sensors can be integrated and connected in a few clicks. In addition to that Netilion Inventory offers a simplified monitoring service to support basic inventory management applications.
It comes with add ons like a basic forecast and an easy overview on the status of tanks, silos and containers - estimated in spring 2020. SupplyCare Hosting is an Inventory Management Solution which helps to reduce inventory costs and increase productivity. Furthermore it optimizes the supply chain with individual IT solutions for inventory management and the integration of data into company processes and ERP systems.
Typical applications
Level measurement and tracking of mobile plastic tanks like IBCs – moving goods, wireless, remote access

Level measurement and inventory management of plastic tanks which are not located on a plant (different stations) – widely distributed, remote access, delivery planning

Level measurement and inventory management of mobile and stationary plastic tanks in production – difficult to power supply, fast and easy commissioning, transparency when running out of safety stock
Simple products

Easy to select, install and operate
Technical excellence
Simplicity
Standard products

Reliable, robust and low-maintenance
Technical excellence
Simplicity
High-end products

Highly functional and convenient
Technical excellence
Simplicity
Specialized products

Designed for demanding applications
Technical excellence
Simplicity
FLEX selections
Technical excellence
Simplicity

Fundamental selection

Meet your basic measurement needs

Technical excellence

Simplicity

Lean selection

Handle your core processes easily

Technical excellence

Simplicity

Extended selection

Optimize your processes with innovative technologies

Technical excellence

Simplicity

Xpert selection

Master your most challenging applications

Technical excellence

Simplicity