Cleaning unit
Cleanfit Control CYC25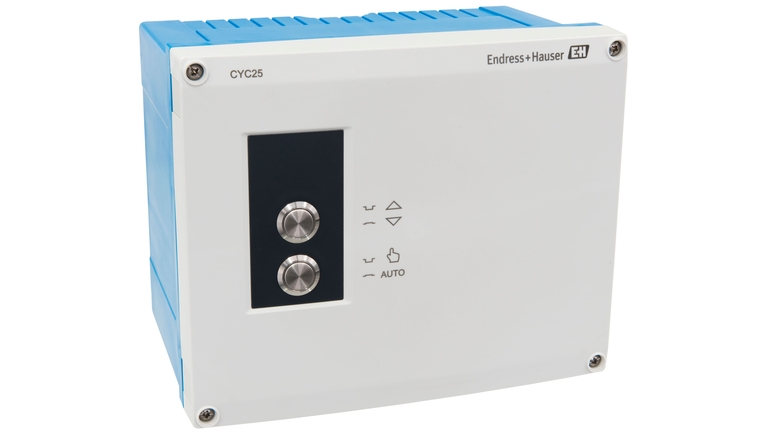 Unit for retractable assemblies in water & wastewater, food, paper and primaries
Only a clean sensor delivers reliable measured values. Cleanfit Control CYC25 in combination with Liquiline CM44 and Chemoclean Plus enables automated, regular cleaning of sensors. It thus guarantees highly accurate measured values for more process safety. Cleanfit Control also reduces process downtime and minimizes maintenance effort since there is no need to remove the sensor for cleaning.

Quick selection
Choose from our suggested options
Individual configuration
Continue your selection from all possible options
Benefits

Very high degree of safety: In-process cleaning, no electrode removal necessary

Automatic cleaning on detection of electrode fouling results in highly accurate, reliable measured values

High availability: Long electrode life due to regular cleaning

Low...
Field of application

Cleanfit Control allows automatic cleaning of sensors installed in retractable assemblies. This means that sensor performance can be maintained at a high level without any interruption to the process. Cleanfit Control is excellently suited to the...
Documents / Manuals / Software
Accessories / Spare parts
Kit Sensor output interface

Kit CYC25: cover with gasket CYC25

Kit: Set 10x hinges for housingcover

CM442/CM444/CM448

Kit CYC25: set hose connector

Kit CDC90 canister with pump/fittings

Hose connection set PVDF, G 1/4"-DN 12

for porge chamber for CPA450

Hose connection set 1.4404, G 1/4"/DN12

Hose connection set PVDF G 1/4"/D16

Hose connection set 1.4404, G 1/4"/D16

Kit strainer element for water filter

Kit pressure reducer with manometer